Passport-Size Photo in Pixels—What You Need To Know
When taking a passport photo, the first thing you need to do is learn and understand the official requirements. What can you wear when taking a picture? What is the required background color? What should be the appropriate size of the photo?
In this article, we will teach you everything you need to know about the resolution requirements of a passport-size photo in pixels. Alternatively, you can skip the hassle and to get your passport picture prepared for submission within five minutes.
General Passport-Size Photo Dimensions
As far as size and dimensions are concerned, you must adhere to the following specifications:
Dimensions—The size of the photo must be 2 x 2 inches. This is approximately 5 cm x 5 cm
Paper quality—The photo should be printed on high-quality matte or glossy photo paper. There should be no creases or smudges on it
Dimensions of your head—Your head should measure between 1 to 1 ⅜ inches (25 mm to 35 mm) from the top of your head to the bottom of your chin
Passport Photo Size in Pixels
According to the U.S. State Department guidelines for passports, the digital images must be in a square aspect or 1:1 ratio. The minimum and maximum number of pixels should be 600 x 600 and 1200 x 1200, respectively. The photo needs to have high resolution, with no grainy or blurry parts.
Your passport photo should be in color (24 bits per pixel) in sRGB color space and must be saved in JPEG format. Since the file size must not be over 240 kB, you should compress the image to fit the maximum file size. Keep in mind that the compression ratio should not exceed 20:1, or photo quality gets affected.
Are Passport and Visa Photos the Same Size?
The passport requirements are set by the issuing country, but the visa requirements are set by the country you intend to visit. Every country has different rules. While some accept digital photos, others may want physical copies similar to passport photos.
How To Take a High-Quality Passport Photo
To take a high-quality photo, you should ensure the following:
Your cell phone camera should have a decent sensor size to be able to take high-resolution photos
You should set up proper lighting to avoid shadows and blurs
It is important to avoid filters and digital enhancers. While you may be able to beautify your face with them, you might end up ruining the quality of your photo
How To Edit an Existing Passport Photo
When you're editing your photo, you must confirm that the photo has a resolution of at least 300 pixels per inch (12 pixels per millimeter). Here are the steps you need to follow to edit your picture:
Upload an image to any photo editing software
Resize and rotate it as required
Crop it to a square image of at least 600 x 600 pixels
Save the photo to your computer
Print it to attach to your passport application
Other Passport Photo Requirements
While size is important, your choice of attire also matters a lot. Here are the key items you can and cannot wear in a passport photo:
Acceptable
Unacceptable

Everyday clothing
Business attire
Light natural makeup
Facial tattoos and permanent piercings
Prescriptions glasses if you can provide a doctor's statement verifying you have weak eyesight

Heavy makeup
Face masks or veils
Headbands or scrunchies
Sunglasses or tinted glasses
Headphones or hands-free devices
Jewelry that hides your features
Hats or headscarves unless you wear them for medical or religious reasons
In case you are taking the photo at home, you should be acquainted with other requirements, such as:
The background of the photo should be white
Your picture should not be older than six months
You cannot take a selfie, but you need to face the camera
Your expression should be as neutral as possible, but that shouldn't stop you from putting up a slight smile. Look as natural as you can
Is it getting difficult to keep up with all these requirements? Go the easy way and use our app to make the necessary adjustments to your passport photo online.
DoNotPay Is the Best Passport Photo Editor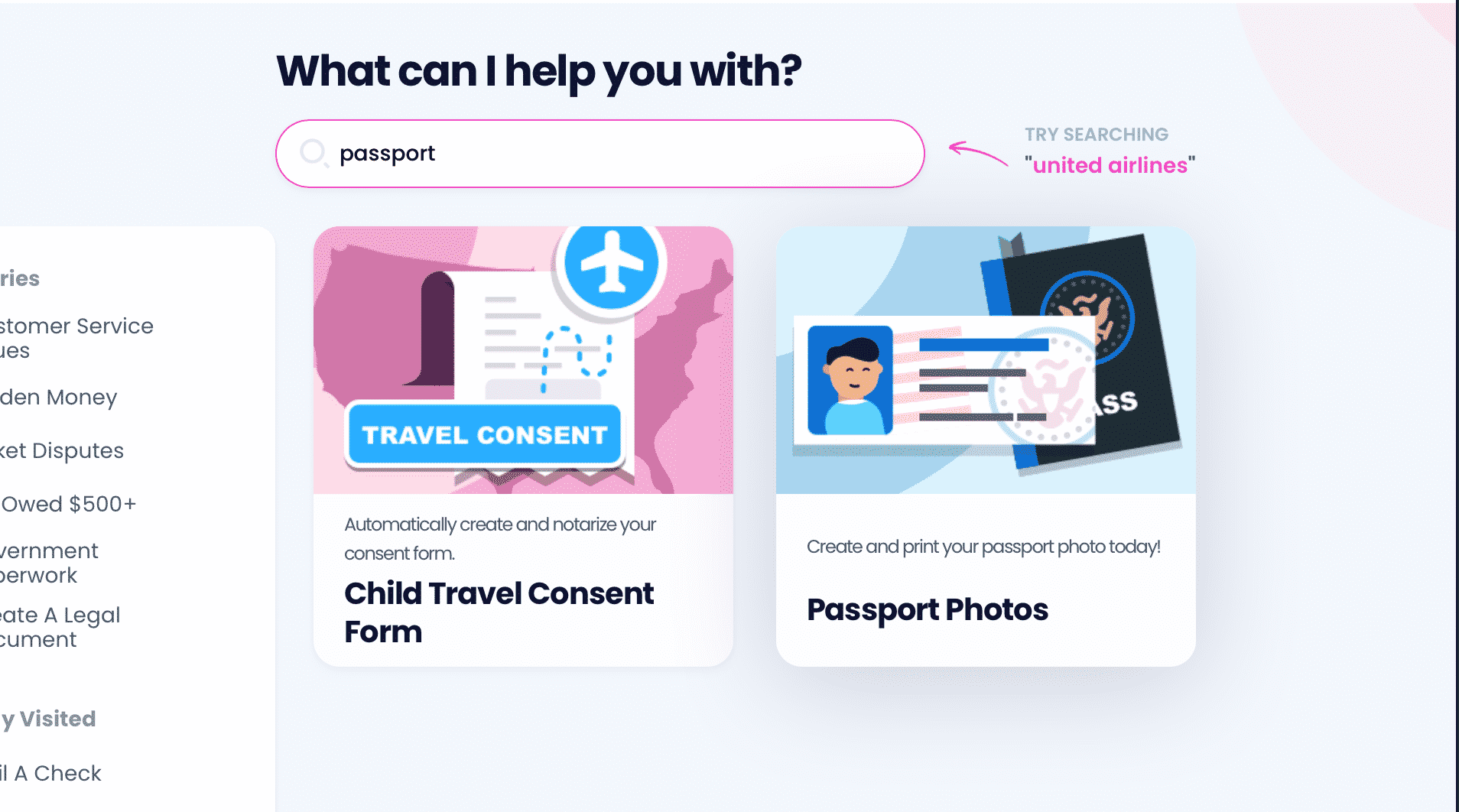 Why should you worry about your passport photo requirements when we're here to help you out? DoNotPay can edit your digital passport photo to pass the government standards and email it to you within minutes!
Here is what you need to do:
from your web browser
Select the Passport Photos feature
Upload your picture
Our AI software will start working on the editing process immediately. Once we're done with the adjustments, we'll email you the photo. If you want to get printed copies, enter your U.S. address and choose the shipping option you prefer.
Learn More About Passport Photos With DoNotPay
That is not all we can do! We also offer numerous guides where you can find tips regarding other passport photo requirements. DoNotPay can teach you:
Find your place of residence in the table below to see where you can have your passport photo taken:
DoNotPay Makes All Issues Go Away in Several Clicks
Using DoNotPay comes with plenty of advantages, the main one being that you can resolve just about anything in a matter of clicks. It doesn't get any easier than that!
Do you need to fax a document, draw up an agreement, submit a FOIA request, get a contract notarized, file a warranty or insurance claim, get a burner number, schedule a DMV appointment, or appeal a parking ticket as soon as possible? Sign up now and clear out your schedule because we'll handle it all!
Are you looking for your missing money? Do you need help with your utility bills or property taxes? We're here to help!
Get Rid of Paperwork With Your AI-Driven Assistant
Even though paperwork belongs in the past, we have to keep dealing with it almost daily. To avoid this annoyance, you can just use DoNotPay!
If you need to compose a demand letter to a rude neighbor, submit a claim for a late or missing package, request compensation from an airline, or sue any company in small claims court, we have your back!
All you need to do is sign up, tell us what you need, and resolve any issue in a matter of minutes!