Find Out Where To Get Passport Photos in Phoenix Without Breaking a Sweat
To travel internationally, the first thing you need is a valid passport. Besides extensive paperwork, you'll need to submit a photo and since you'll have to live with it for ten years, better get a good one.
This article will guide you through the passport photo requirements and explain where to get passport photos in Phoenix without a hassle. Subscribe to our app and get your passport photo online before you can say "travel the world."
Places To Get Passport Photos in Phoenix
If you want to get your photo professionally taken, there are many places in Phoenix you can visit. Every option has its pros and cons, so we present the details to make your search easier. Check out the table below before deciding:
Locations To Get Your Passport Photos
Details
Pharmacies
Many local pharmacies offer walk-in passport photo services, including:

If you're skeptical about doing walk-ins, call to schedule an appointment

Retail stores
You can also visit retail stores, such as Target and Walmart. You might need to book a meeting first
Courier service providers
Some courier and shipping centers that provide passport photography services include:
Photography studios
Another option is to go to a reliable photo studio. Since photographers are experts in taking pictures, they might charge a much higher rate for photos compared to retail stores and pharmacies
Do You Have Another Alternative To Get Your Passport Photo in Phoenix?
If you're not happy with driving around and visiting crowded places, you can take your picture at home. Here is a step-by-step guide to taking a digital passport photo:
Choose a white wall or door as your background. Remember that any other color or pattern is not allowed
Place a chair in front of the background
Set up your phone, tablet, or camera on a tripod, ensuring that the lighting is appropriate. If you don't have a tripod, find someone who can take a good photo of you
Sit up straight while looking directly into the camera. You must keep both eyes open
Keep a neutral expression. Avoid frowning, grimacing, or giving a wide smile
If you're not the type of person who can naturally strike a pose, try practicing in front of the mirror before taking the actual photo.
What You Need To Know About Passport Photo Requirements
Before taking your passport photo, get fully acquainted with the State Department's requirements. We have listed the crucial details below:
The photo should not be older than six months
The dimensions of the photo should be 2 x 2 inches (5.1 cm x 5.1 cm)
The image should be in high resolution, with the number of pixels ranging from 600 x 600 to 1200 x 1200
It must be printed on matte or glossy photo paper, free from any spots or blurs
Your head should measure between 1 and 1 ⅜ inches (between 25 mm and 35 mm) from top to bottom
Selfies, filters, and digital enhancements of your features are not allowed
Refrain from wearing the following:

Uniforms
Camouflage attire
Excessive jewelry
Face masks or veils
Heavy makeup
Hats or head coverings (unless you wear them for medical or religious reasons)
Hairbands or scrunchies
Are the requirements too demanding? Choose DoNotPay to do the hard work for you!
DoNotPay Is the Best Passport Photo Editor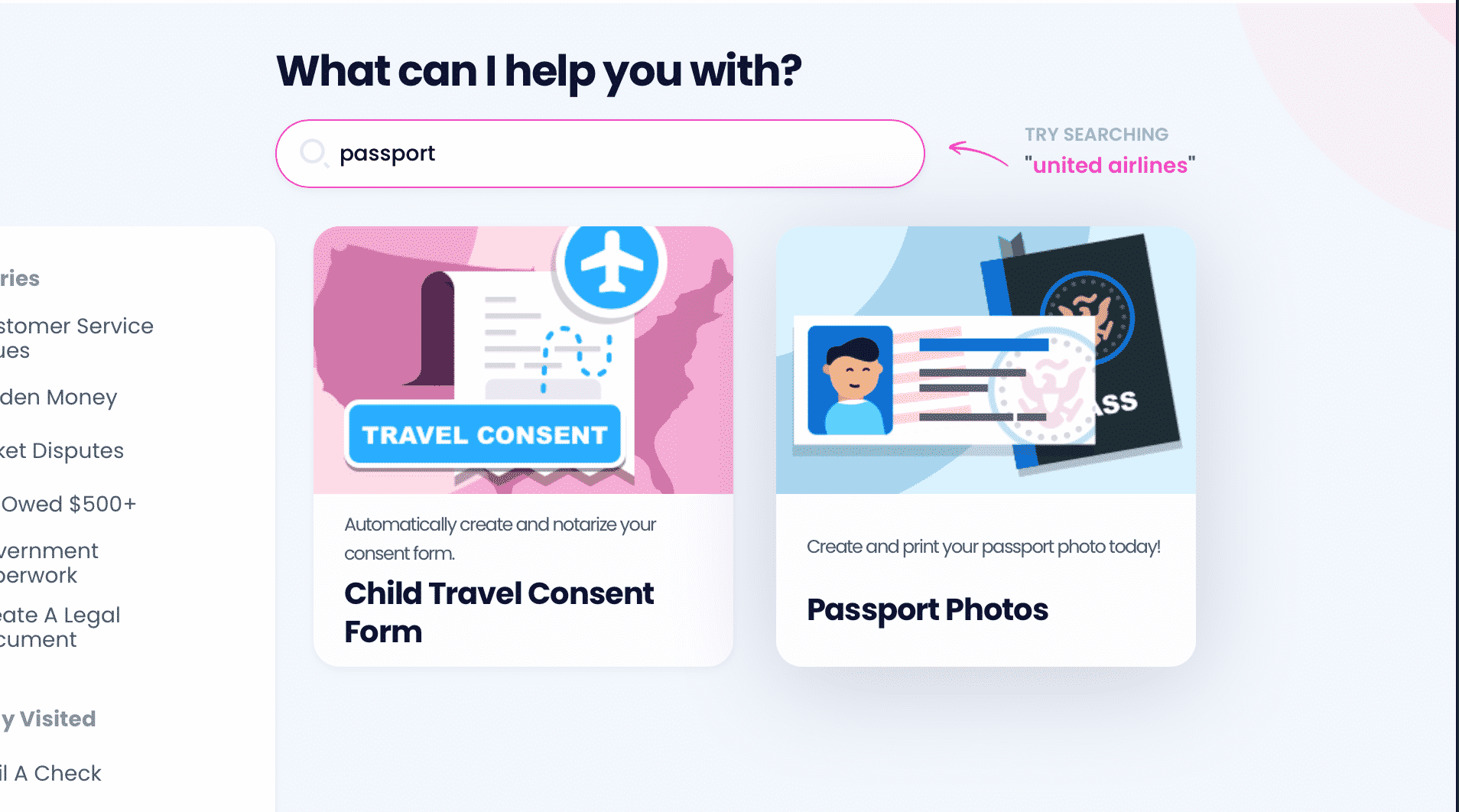 Passport photos are tricky to take because there are too many rules to follow. One mistake, and you risk getting your application rejected. Why worry about it when we have a practical solution? With our Passport Photos tool, your image will fit the required standards!
Complete the following steps to get the perfect picture:
Access DoNotPay from your web browser
Choose the Passport Photos feature
Upload your photo
Once we make the necessary adjustments, we will email the photo to you. If you need physical copies to add to your application, enter your Phoenix or any other U.S. address. We'll ship the photographs within three to ten business days.
Have More Questions About Passport Photos? DoNotPay Answers Them Instantly!
Do you have additional questions about passport photos? DoNotPay offers all the info you need. Here are a few common issues we can assist you with:
Find your place of residence in the table below to see where you can have your passport photo taken:
Manage Your Tasks Easily With Our Help
DoNotPay is the perfect solution whenever you need to resolve legal or bureaucratic matters. Here's a fraction of what our AI-driven app can help you out with:
No Matter What You Need, DoNotPay Is by Your Side
Do you have a bunch of subscriptions that you waste money on but don't even use? We can help you cancel them effortlessly! After that, our app can initiate a refund request and make sure you get your money back.
Facing financial difficulties? DoNotPay can help you lower your bills, get free raffle tickets, get gift card cash back, find your missing assets, and so much more!
For a low monthly fee, you'll get access to our impressive range of products, so sign up now!