How To Take a Digital Passport Photo Effortlessly
To travel the world, the first thing you need to have is a passport. To get a valid passport, you need to include appropriate passport photos in your application.
In this text, DoNotPay will guide you through the process of taking a digital passport photo. Subscribe to our app to ease the process and get practical advice on:
What Is a Digital Photo on a Passport?
You can provide a digital photo from your phone or camera and have it printed on your passport. There are specific digital image requirements that need to be taken into account:
The image dimensions must be in a square aspect ratio—the minimum and maximum acceptable dimensions are 600 x 600 pixels and 1200 x 1200 pixels, respectively
The image should be 24 bits per pixel in sRGB color space
The file should be saved in JPEG file format
The size of the image should not be more than 240 kB
In case the image is larger and needs to be compressed, the compression ratio needs to be less than or equal to 20:1
In case you already have a printed photo, make sure it is 2 x 2 inches and scanned at a resolution of 300 pixels per inch.
Requirements for a Passport Application Photo
It is quite easy to take your own passport photo if you are acquainted with the digital photo requirements. Here is an overview of some crucial conditions when taking the picture:
The photograph must be taken within the last six months
The measurement of the photograph should be 2 x 2 inches (5 x 5 cm)
The applicant's head in the photography must fall between 1 and 1 ⅜ inches (2.5 to 3.5 cm) vertically
The photo should be taken in front of a white background
You should be facing the camera directly
Both of your ears need to be visible
If you're taking the photo using your phone, you're not allowed to take a selfie.
How To Get a Digital Passport Photo
To take a digital photo, here are the steps that you should follow:
Find a white background in your house—it can be a wall or a door
Set up good lighting so that the picture comes out clear
Set up the timer on your camera device, or ask someone to take the picture for you
Sit straight, directly in front of the camera, with a neutral expression.
Don't look sullen or grim. You can't show your teeth, but you can give a slight smile. Make sure not to use any filters or enhancers to change your features. Your passport application will automatically be rejected if you do.
Take multiple photos so that you can choose the most suitable option.
What To Wear When Taking Digital Passport Pictures
You want to look good in your passport picture because it is going to be your identity proof for the next decade. The State Department has set certain regulations on what you can and cannot wear in the photo, as mentioned in the table below:
| | |
| --- | --- |
| Can You Wear | Yes/No |
| Prescription glasses | No, especially if you have a glare on them. In case you can't take off your glasses due to medical reasons, take a signed note from your doctor |
| Sunglasses or tinted glasses | No |
| Hat | No, unless you wear it for religious or medical reasons. In either case, you need to provide a signed statement to an official |
| Head covering or scarf | No. If the head covering is required for religious reasons, you should provide a signed statement that you cannot take it off for religious reasons |
| Uniform | No. Both children and adults cannot wear uniforms or camouflage attire |
| Face mask | No. If you're worried about social distancing, you can request your photographer to maintain a distance of six feet |
| Makeup | Yes, since you can't add filters or retouch your photo |
| Hair that covers your ears | No. Your hair should either be tied neatly or brushed back behind your shoulders so that your ears are visible. Your hair should not cover any part of your face |
| Business attire | Yes, especially if you're going on a business trip |
| Headphones or wireless devices | No |
| Jewelry | Yes, but only if it is a permanent facial piercing that does not obstruct your facial features |
Try not to wear tank tops or shirts with a low neckline because it might seem like you're naked if the picture gets cropped. Since it is mandatory to have a white background, try wearing darker colors to stand out.
Use DoNotPay To Create the Perfect Passport Photo at Home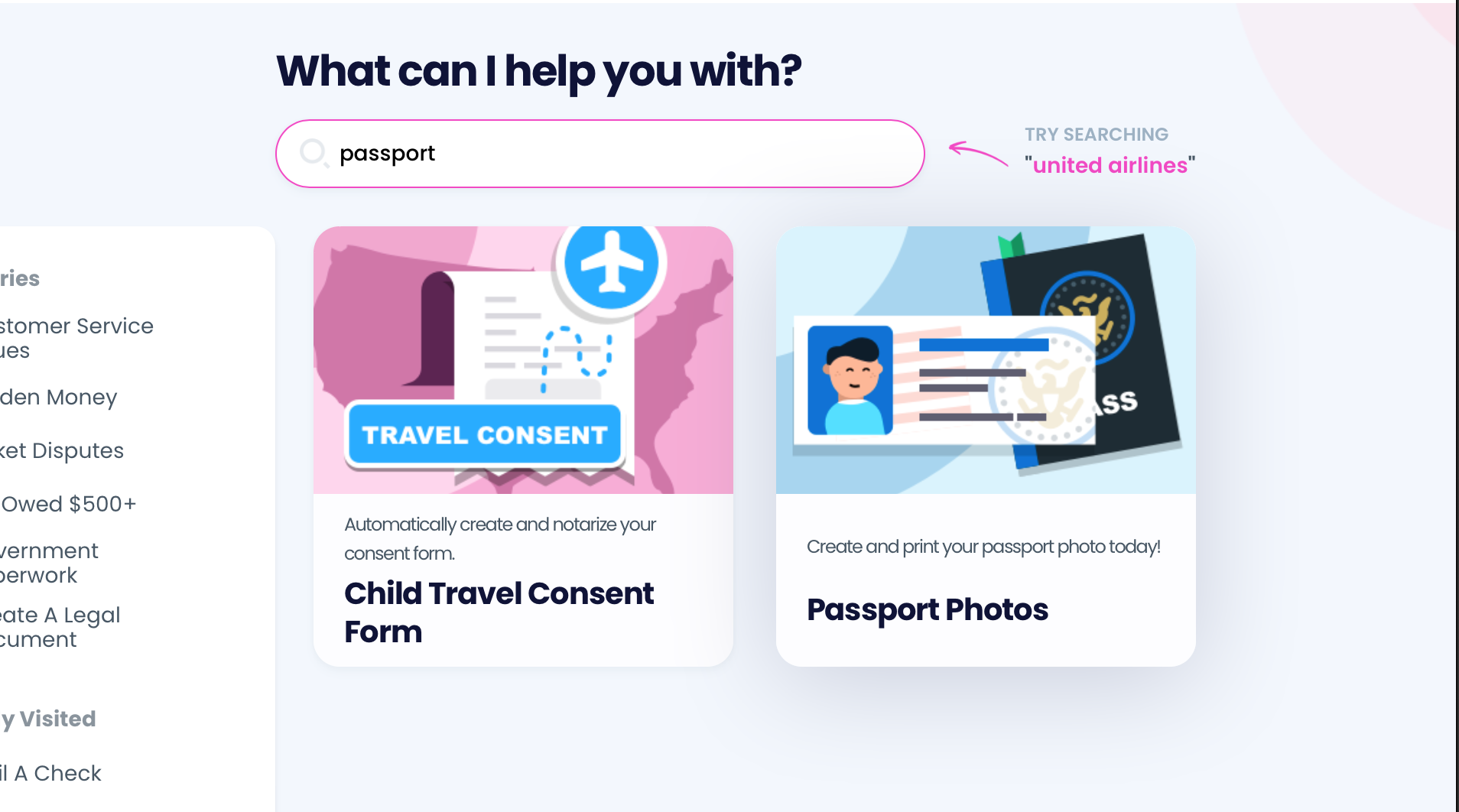 Why go through the hassle of going outside to get your photo taken when you can do it at home yourself? With our AI-powered technology, DoNotPay can make the necessary adjustments to fulfill the passport photo requirements. Here is a list of straightforward instructions you need to follow:
Open DoNotPay in your web browser
Type Passport Photos in the search bar
Take a picture or upload an existing one
DoNotPay's AI-powered product will adjust the picture to meet the digital photo requirements and email it to you. In case you want a physical copy, we can mail two copies to you. We offer economy, expedited, and rush shipping options, depending on the urgency of your application.
Find your place of residence in the table below to see where you can have your passport photo taken:
Manage Your Tasks Easily With Our Help
DoNotPay is the perfect solution whenever you need to resolve legal or bureaucratic matters. Here's a fraction of what our AI-driven app can help you out with:
No Matter What You Need, DoNotPay Is by Your Side
Do you have a bunch of subscriptions that you waste money on but don't even use? We can help you cancel them effortlessly! After that, our app can initiate a refund request and make sure you get your money back.
Facing financial difficulties? DoNotPay can help you lower your bills, get free raffle tickets, get gift card cash back, find your missing assets, and so much more!
For a low monthly fee, you'll get access to our impressive range of products, so sign up now!