Looking For the Info on Where To Get Passport Photos in Minneapolis?
Taking passport photos might seem easy, but in reality, it can be quite challenging to fulfill all the requirements. If it's been a while since you needed a passport photo, you probably should refresh your knowledge of the official requirements.
If you don't know where to get passport photos in Minneapolis, DoNotPay can help! and get digital passport photos, complying with the official government passport photo requirements.
Passport Photo Requirements in the U.S.
Here is the overview of the rules you need to comply with to avoid getting your passport application rejected:
The photo must be taken within the last six months
The background must be white—no other colors or patterns are allowed
The picture cannot be a selfie—if you're not sure how to take a proper photo yourself, you can ask a friend or family member to take one for you
You cannot use any filters or enhancers on the picture
More Info on Passport Photos
Here is some more information that you need to learn before taking a passport photo:
Size—The size of the photo must be 2 x 2 inches (51 x 51 mm)
Paper—The photo must be printed on appropriate matte or glossy paper
Expressions—You need to have a neutral expression with a natural smile. You are not allowed to show your teeth, but that doesn't mean you have to look sullen or grim
Pose—You should be facing the camera directly, and your ears need to be visible
Clothes—You can choose to wear whatever you want in case it's everyday clothes or business attire. You can't wear:

Uniform or camouflage
Headphones or wireless devices
Hats
Head coverings or scarves—unless it is for a religious reason (If so, you need to provide a signed statement confirming this)
Jewelry—permanent piercings are allowed, but you cannot wear pieces that obstruct your facial features
Face masks—if you're worried about social distancing, you can request the photographer to maintain a six feet distance
Glasses—prescription glasses are allowed if you bring a signed doctor's statement

Makeup—You can use light and natural makeup
Where To Get Passport Photos in MN
It can be complicated to fulfill all passport photo requirements. For that reason, it is a good idea to use specialized kiosks or even hire a professional photographer. Here is a list of places you can visit to get your passport photo taken in Minneapolis:
Places in MN
Details
Walgreens
Visit the Walgreens stores. Pay $14.99 and get your picture taken. You will receive two passport-sized photos that meet the government's requirements. If they don't, you can return them, provided you present the purchase receipt
CVS
Visit a CVS location near you. Two passport photos cost $14.99. In case you want multiple photos, CVS charges $2.99 for two extra photos.

You will need to wait to have the photos printed since CVS usually emails them

UPS Store
Go to the nearest UPS store to get your photo taken. You will be charged $11.99 for the picture
Travel agencies
Several travel agencies also offer professional photography services. You can check out travel agencies in Minneapolis on online platforms like Yelp
Other places
Many stores offer professional passport photography services. If you go ahead with this option, make sure the photographer knows the requirements properly
What To Consider When Getting Your Passport Photo Taken
Although photographers are going to ensure that your photo is professional and meets all the official specifications, you also need to keep the following factors in mind:
Cost—Most professional photographers are pricey and will charge you extra if you want more photos
Time efficiency—Some places don't offer email services, so you will have to wait while they print the pictures
Business hours—You need to adjust your schedule based on somebody else's work hours or even risk going to an automated kiosk that is out of service
What if we told you there's an easier way out without wasting your time and money? Subscribe to DoNotPay and get your passport photo taken at home!
DoNotPay Can Generate Your Passport Photo in an Instant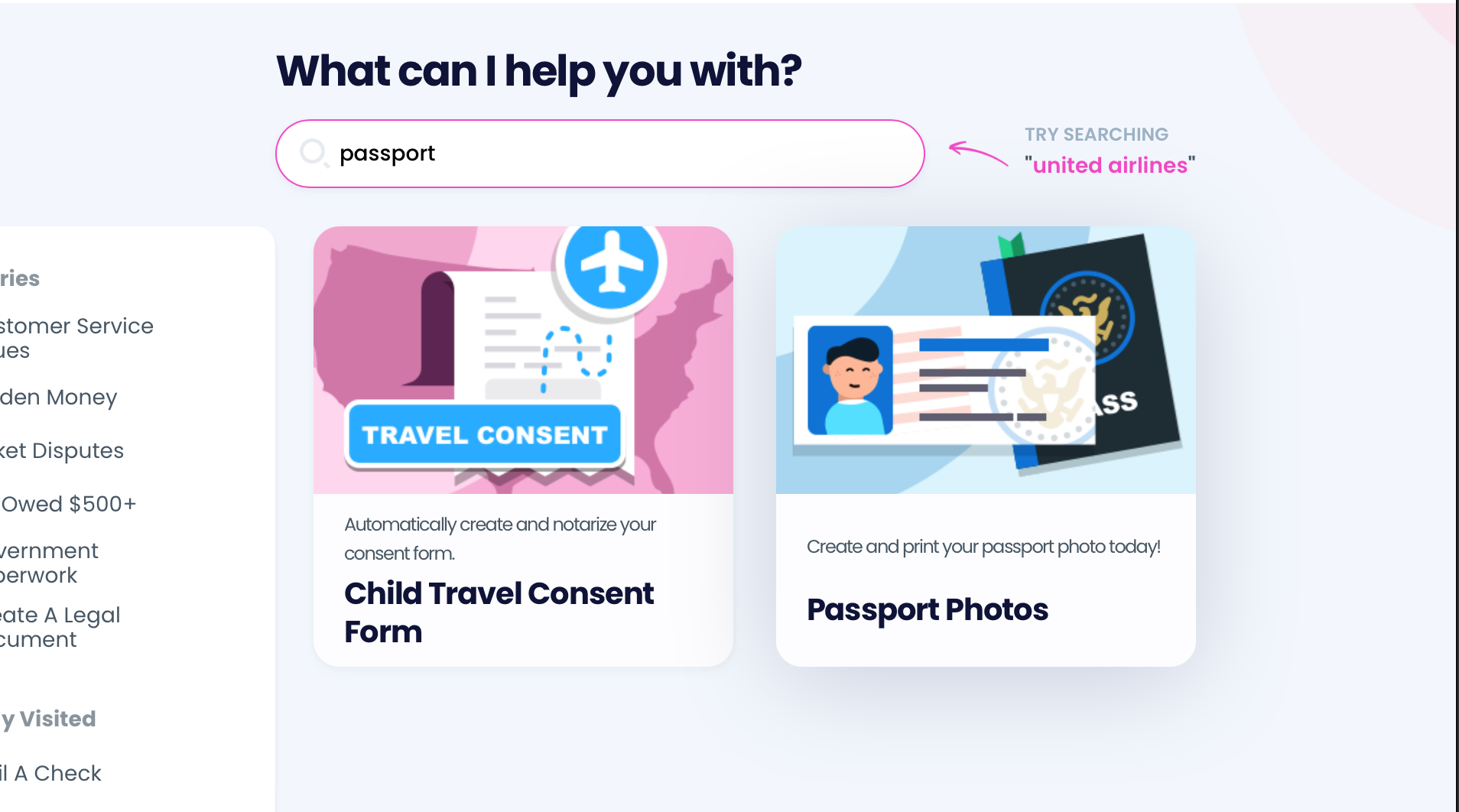 Do you want to spend hours waiting for your passport photo to be printed, or do you want to get everything done online and save yourself the trouble? DoNotPay can help you avoid the hassle of choosing a location, paying a considerable amount for passport photos, or waiting in lines. With our Passport Photos product, you can get your photo taken and edited according to the government's requirements in a few clicks.
Follow these instructions to get your photo:
from a web browser
Search for the Passport Photos feature
Take a picture on your phone—you can also upload an existing one
Choose whether you want to receive your photo via email or have two physical copies delivered to you by mail
Want More Info on Passport Photos? DoNotPay Can Help!
Do you need to learn more before you take your photo? DoNotPay's learning center provides valuable info on passport photos and answers common questions, such as:
Find your place of residence in the table below to see where you can have your passport photo taken:
Manage Your Tasks Easily With Our Help
DoNotPay is the perfect solution whenever you need to resolve legal or bureaucratic matters. Here's a fraction of what our AI-driven app can help you out with:
Lowering your property taxes
No Matter What You Need, DoNotPay Is by Your Side
Do you have a bunch of subscriptions that you waste money on but don't even use? We can help you cancel them effortlessly! After that, our app can initiate a refund request and make sure you get your money back.
Facing financial difficulties? DoNotPay can help you lower your bills, get free raffle tickets, get gift card cash back, find your missing assets, and so much more!
For a low monthly fee, you'll get access to our impressive range of products, so sign up now!