How To Print Passport Photos on a 4x6 Paper Without a Hassle
Traveling the world is a dream for many, but it cannot become a reality if you don't have a valid passport. To get a passport, you need to fulfill the passport photo requirements.
In this article, DoNotPay will teach you how to print passport photos on 4x6 paper without any trouble. to get digital passport photos edited according to the official passport photo requirements.
Passport Photo Requirements Explained
Before you start printing your photos, you should get familiar with the general requirements for taking them. It is crucial to follow the photo requirements to a T because your passport acceptance depends on it.
The following conditions must be met to move forward to the next step:
The photo must be taken within the last six months
The size of the photo needs to measure 2x2 inches (5x5 cm)
The photo needs to be taken in front of a white background
You must be facing the camera directly
Both of your ears must be visible
Your head in the picture must be between 1 and 1 ⅜ inches (2.5–3.5 cm) when measured vertically
When taking a passport photo, you must be sitting up straight and looking into the camera with a neutral expression. It does not mean you have to look serious or sullen. Even if you can't show your teeth, you can still have a slight smile.
What To Wear When Taking a Passport Photo
Everyone wants to look good in photos, especially if the photo is going to be in a visible place for the next ten years. While you can dress however you like, there are still certain dos and don'ts when it comes to passport photos and appropriate attire.
Here is a table explaining the items that you can and cannot wear when taking your passport photo:
| | |
| --- | --- |
| Questionable Items | Can You Wear Them? |
| Glasses | No, especially if there's a glare on them. In case you can't take them off due to medical reasons, take a signed note from your doctor |
| Hat | No |
| Head covering or scarf | No. If the head covering is religious, you should include a signed statement that you cannot take it off for religious reasons |
| Uniform | No. Neither children nor adults can wear uniforms when taking the passport photo |
| Face mask | No |
| Makeup | Yes, since photo retouching isn't allowed in passport photos |
| Hair that covers your ears | No. Your hair should either be tied neatly or brushed back behind your shoulders so that your ears and shirt are visible. Your hair should not cover any part of your face |
| Business attire | Yes, especially if you're going on business trips often |
| Headphones or wireless devices | No |
| Jewelry | Yes, if you have permanent facial piercings. You can't wear jewelry that obstructs your facial features |
Your face should be clear in the picture. Don't use popular Instagram or Snapchat filters to make your picture look more appealing.
Tips on How To Take Your Own Passport Photo
Technically, you can take photos at home, provided that you meet the photo requirements. It might seem super easy to do it, but it can sometimes be difficult to cover all the bases. Here's what you need to do:
Choose a white wall or door where you can take the photo
Ensure that the setting you've chosen has good lighting
Set up your camera or cell phone
Set a timer on the device or ask someone to take the picture for you
Sit in front of the device and hold your pose till the photo clicks
No one takes the perfect photo on the first try, so don't be disappointed if yours doesn't come out perfectly the first time. Take multiple photos and choose the best one.
How To Print Passport-Size Photos on a 4x6 Paper
Going out to get a passport photo taken is not only tedious and time-consuming but can also be heavy on your wallet. If you don't know where to get your passport photo taken, you will end up at the nearest shop, which might charge you approximately $15 for a single photograph. To save your hard-earned money, print your photos at home.
The best way to do it is to follow these instructions:
Take your photo with a digital camera
Transfer it to your computer
Make a 4x6 canvas in Photoshop
Import your photos and crop them
Fit the photos into their allotted rectangles
Select Print at 100%
You need to print the photo on matte or glossy paper using an inkjet printer. If you are filling your passport application online, scan the passport photo and add it to your application.
This process may seem difficult and can require a lot of technical knowledge. Sign up for our app and create passport photos easily without much hassle.
Create Passport Photos From the Comfort of Your Home Using DoNotPay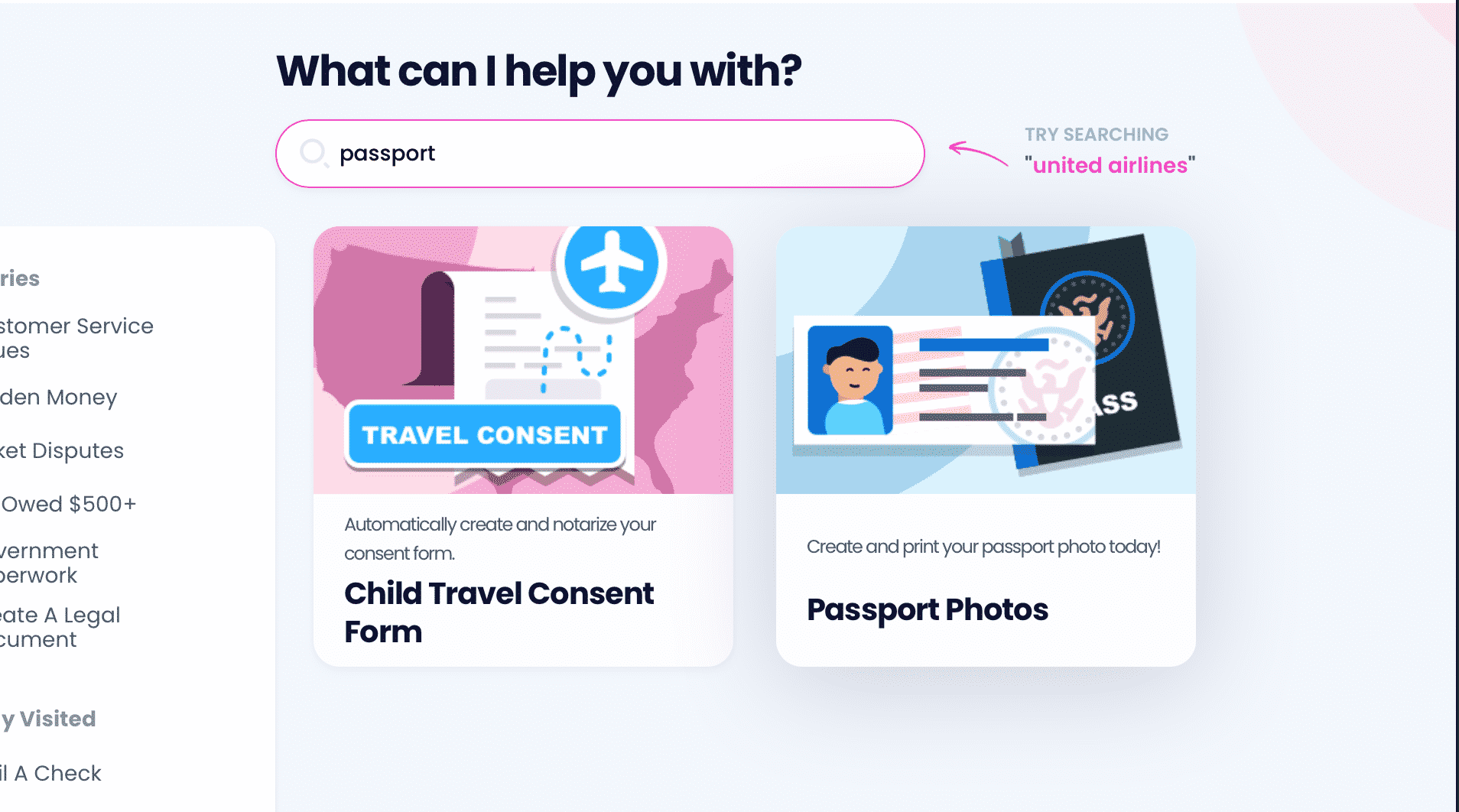 Want to get the perfect passport photo without leaving your home? Use DoNotPay! Our app's AI makes the necessary adjustments to your photo to ensure that it meets all the requirements. This includes the following fixes:
Cropping
Altering
Resizing
Adjusting the background
Fixing contrast and lighting
Here is what you need to do to get started:
from your web browser
Search for the Passport Photos feature
Take a picture on your phone or upload an existing one
DoNotPay's AI-powered program will make the required adjustments. Once the photo is adjusted, you will receive it via email. DoNotPay also provides you with an option to get it printed and mailed to your physical address in the U.S. You can get your photo anywhere from three to ten business days, depending on the type of shipping you choose.
Should you have any issues with your photo, we provide an option for you to ask questions or voice your concerns.
Find your place of residence in the table below to see where you can have your passport photo taken:
Rely on DoNotPay When You're Too Tired for Bureaucratic Hurdles
Are you sick of all the bureaucratic tasks you need to complete? So were all of our users before they signed up for our robot lawyer app. DoNotPay can take care of anything—you just need to click a few times, and we'll help you:
Can't Tolerate Corporate Attitudes? Neither Can We!
Our app's goal is to fight big corporations and help you get justice. If you feel like a company wronged you, we can assist you in suing it in small claims court. If you need to draw up a legal document, have it notarized, and fax it, DoNotPay can take care of that as well.
Feel like you're being discriminated against at your workplace? We have a product that will help you file a charge of discrimination with the EEOC in no time! Are you threatened by a stalker or harasser? No need to worry about it—DoNotPay will protect you and help you earn off them at the same time.