Can You Wear Glasses in a Passport Photo—Mystery Solved
Creating an ideal passport photo isn't easy—starting from the size and facial expressions to all other criteria the picture must meet. One of the most common questions when it comes to taking a passport picture is related to eyewear.
Can you wear glasses in a passport photo? What should you do if you have a specific health condition that doesn't let you remove them when taking a picture? No worries—all answers to your burning questions are right here! We also offer you an extra tip by teaching you how to get a perfect passport photo without breaking a sweat.
General Requirements for an Acceptable Passport Photo
When taking a passport picture, it's crucial to follow the official guidelines of the U.S. Department of State's Bureau of Consular Affairs. It proposes some basic requirements you must meet so that you avoid mistakes that would delay your application. The picture must:
Be filter-free (in case it's a digital photo)
Show opened eyes and face turned to the camera directly
Represent your current physical appearance and clearly identify you
Be taken within the last six months
Have the prescribed size—2 x 2 inches (51 mm x 51 mm)
Be taken in front of a white or off-white background
Feature the specific measures of the head—it must range between 1 and 1 ⅜ inches (25 mm and 35 mm) from the top of your head to the bottom of your chin
Be printed without borders and on matte paper
The photo shouldn't:
Be blurry or grainy
Be changed digitally
Have holes or smudges or be damaged in any other way
Are Glasses Allowed in Passport Photos?
According to the decision made in 2016, the U.S. Department of State doesn't allow applicants to wear glasses, sunglasses, or tinted glasses in passport photos. The reason for this is a huge number of rejected applications due to face identification difficulties. Logically, submitting passport photos with glasses may delay the processing of your passport application.
Can You Wear Prescription Glasses in Passport Photos?
Prescription glasses often create a glare on the photos that makes identification difficult. This is why they must be removed unless your medical condition requires you to wear glasses all the time. You can avoid taking them off by providing a signed statement from your doctor. The document should be submitted along with your application.
Even if you can take a passport photo with prescription glasses, you must ensure that your face is completely visible. This means that the lenses mustn't make a reflection that would make the picture unclear or hide your eyes in any way.
What Else Won't Be Accepted in Your Passport Picture?
Besides all types of glasses, there are many other clothing items, accessories, and objects you shouldn't wear when taking a passport photo. Here's a table listing these:
Clothes and Accessories
Other Objects

Uniforms (unless it's religious attire)
Hats, head coverings, and other headgear
National costumes (unless their nature is religious)
Traditional face masks or veils
Jewelry and piercings that cover your face too much

Headphones
Wireless devices
Hands-free devices
You should also avoid:
Posing
Having a wide smile
Closing your eyes
Making strange facial expressions
DoNotPay Guarantees a Perfect Passport Photo Within Seconds!
To get a great passport picture, you must go through quite a burdensome process. If you decide to take a digital photo, there are a lot of adjustments you must make to adapt it to national standards. Why waste your time editing or visiting a photographer when you can subscribe to DoNotPay and get an ideal passport picture online within minutes?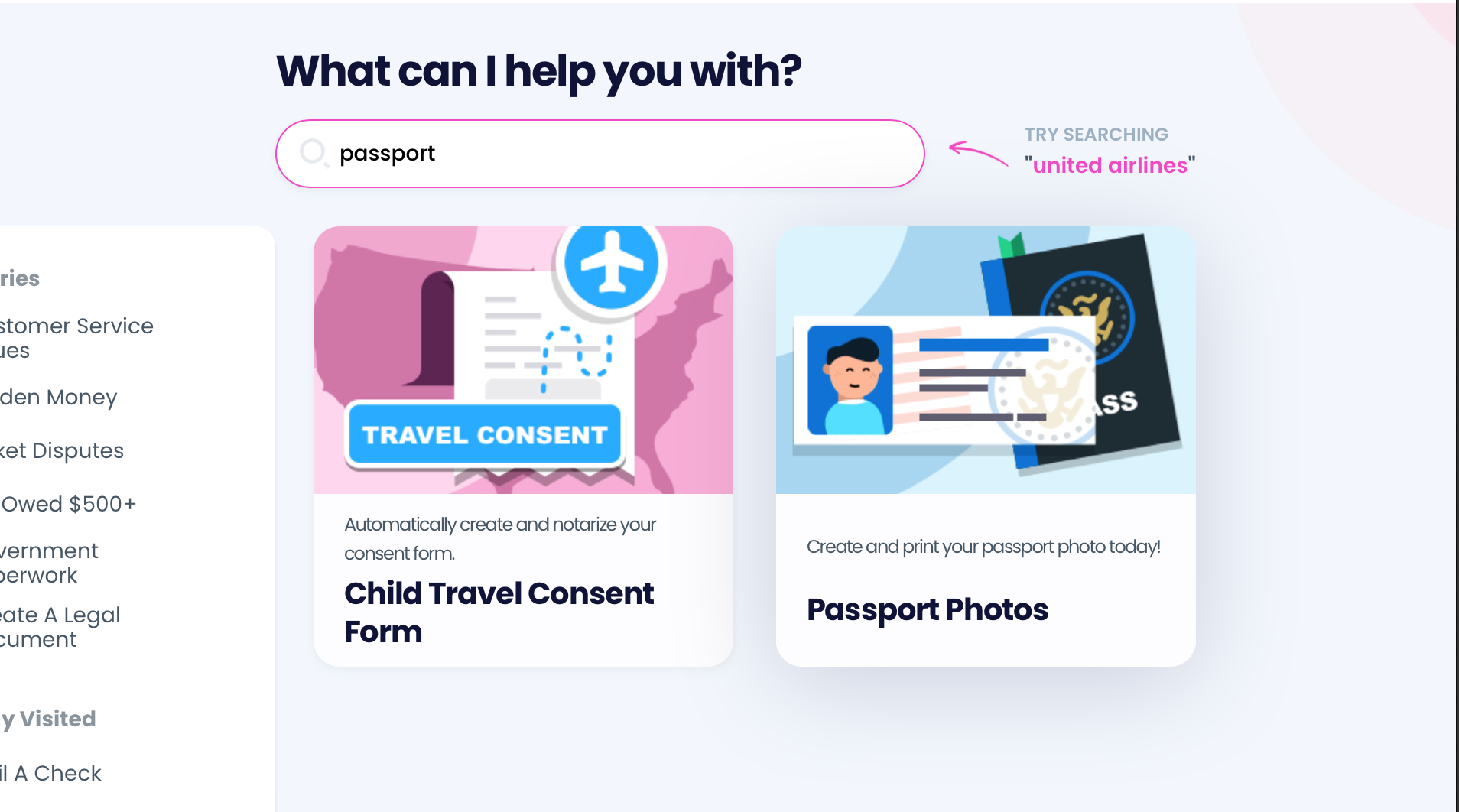 Once you take a digital photo of yourself at home, we will:
Scan it
Perform all the necessary changes related to:
Background
Photo dimensions
Contrast and lighting
Upon polishing your picture, we will send you a digital version by email. You can also choose to receive physical copies—all you have to do is provide us with your mailing address and choose a convenient shipping method!
How To Use DoNotPay To Create a Flawless Passport Photo
Here's how our feature works:
and find the Passport Photos option
Upload a digital photo or snap one on your phone at the given moment
Once you do that, wait for our system to check your picture and make the necessary corrections. If the app notifies you that your face can't be detected, you can click on Try Another Photo and give it another go.
Find Out More About Passport Photos With DoNotPay
Don't take risks with unverified info—check out our knowledge base and:
Find your place of residence in the table below to see where you can have your passport photo taken:
Discover DoNotPay's Product Range
DoNotPay has a vast range of products that help you earn and save money and fight bureaucracy. Check out how to get insurance or warranty, file a FOIA request, send anything through online fax, draw up a tailor-made legal document, get documents notarized, get a college fee waiver, sign up for any clinical trial, and so much more!
Your personal AI-powered assistant can also lend its helping hand if you need to fight email or text spam, get robocall compensation, request refunds from airlines, draw up a child travel consent form, prepare for government tests, and combat workplace discrimination successfully.
Save and Earn Money
The best part of using DoNotPay is that you can both save and earn money. As soon as you sign up, make sure you check out how you can find missing money, get free raffle tickets, get compensation for victims of crime, report a late or missing delivery and get a refund for it, and request gift card cash back.
If you want to sign up for a free trial risk-free, cancel any subscription-based service, request a refund from a company, sue anyone in small claims court, or jump the phone queue when getting in touch with customer service reps, you can always count on us.