Find Out Walmart's Passport Photo Cost and Other Details
Having your passport photo taken is a complex task, considering strict passport photo requirements set by the U.S. Department of State. If you don't want to risk having your passport application rejected over a technicality, you should visit a location with a reliable passport photo service.
Walmart is one of the most accessible and affordable places to get your passport photo taken. If you want to know what Walmart's passport photo cost is, look no further! will explain all you need to know about Walmart's passport photo service and recommend an even more appealing alternative!
What Should Your Passport Photo Look Like?
Every passport issuance facility demands a passport photo to:
Be of proper size—exactly 2 x 2 inches (51 x 51 mm), with a 1–1 ⅜ inches (25–35 mm) head size, measured from the bottom of your chin to the top of your head
Not be older than six months
Display a full view of your face
Be printed on matte or glossy photo paper
Be in high resolution
Not be digitally altered (e.g., with Instagram filters)
Be free of holes, greases, smudges, and shadows
How Can You Take Passport Photos at Walmart?
If there's a Walmart near you, it's logical to consider that location for having your passport photos taken. Bear in mind that you need to call them ahead since not all stores offer passport photo services.
Once you establish that the Walmart in your vicinity can help, your next steps are to:
Head over to the store
Inform the store representative that you need passport photo services
Have your passport photo taken on the spot
Pick up the printed copies or have them delivered to your home address
What if your local Walmart doesn't have a photo center in the store? You can use Walmart's online processing tool to upload a digital photo and have it printed at Walmart. You would have to:
Select Passport Photos from the photos selection on Walmart's website
Tap on Upload photos
Position the image in Walmart's template
Make necessary adjustments to the photo
Click on Preview to check the image
Select Add to Cart and click through to complete the purchase
Pick up the printouts or arrange a home delivery service
How Much Are Passport Photos at Walmart?
Passport photo services in Walmart currently cost $7.44. For that price, you'll get two 2 x 2 images printed on the same sheet of photo paper.
Tips for Taking Passport Photos
If you decide to upload your passport photo and have it printed at Walmart, you must be familiar with passport photo regulations. Here's what your should do when taking your passport photo at home:
Ask a third party to take your headshot—Selfies are forbidden
Stand in front of a white background—Avoid colored or patterned walls and remove all objects from the frame
Wear your everyday clothes—You can take a picture in a suit if you frequently travel for business, but otherwise avoid:

Costumes
Uniforms
Extravagant clothes

Remove accessories—Take off anything that threatens to make face recognition difficult, such as:

Hats
Headgear
Bulky jewelry
Oversized scarves

Make sure your face is visible—If you have to wear accessories for medical or religious reasons (which you should emphasize in your passport application), ensure that:

There's no glare (if you're wearing prescription glasses)
They don't cover any part of your face

Have a neutral facial expression—You are allowed to have a natural smile
Assume an appropriate posture—Face the camera directly and avoid:

Tilting your head
Turning sideways
Looking down
Where Else Can I Get Relatively Cheap Passport Photos?
Numerous other facilities offer more-or-less affordable passport photo services. Bear in mind that you have to call them ahead and confirm that they can help you.
Check out the table below for more details:
Where Can I Have My Passport Photo Taken?
Description
Pharmacies and drugstores
Check out your local:

Most of these places will charge you around $15

Passport acceptance facilities
Some locations that accept passport applications will offer to snap your passport photo for a few additional bucks. Inquire at your nearest:

Post office
Court clerk's office
Public library
Any government facility

Shipping stores
You may get passport photo service at your local:
Membership-based companies
AAA charges their members considerably less for passport photos and may even offer them for free to those with a high-level membership
Let DoNotPay Provide a High-Quality Passport Photo With Almost No Effort
Having your photo taken in Walmart or any of the above-mentioned locations has disadvantages. You will either waste time looking for a place with a photo center or risk having your passport photo rejected by taking and adjusting it yourself.
What if there's another way? You could combine:
Paying a reasonable price
Having your photo adjusted for you
Getting the image printed and delivered to you by mail in record time
If it sounds too good to be true, it isn't. Sign up for DoNotPay and get a passport photo that ticks all the boxes without leaving your house!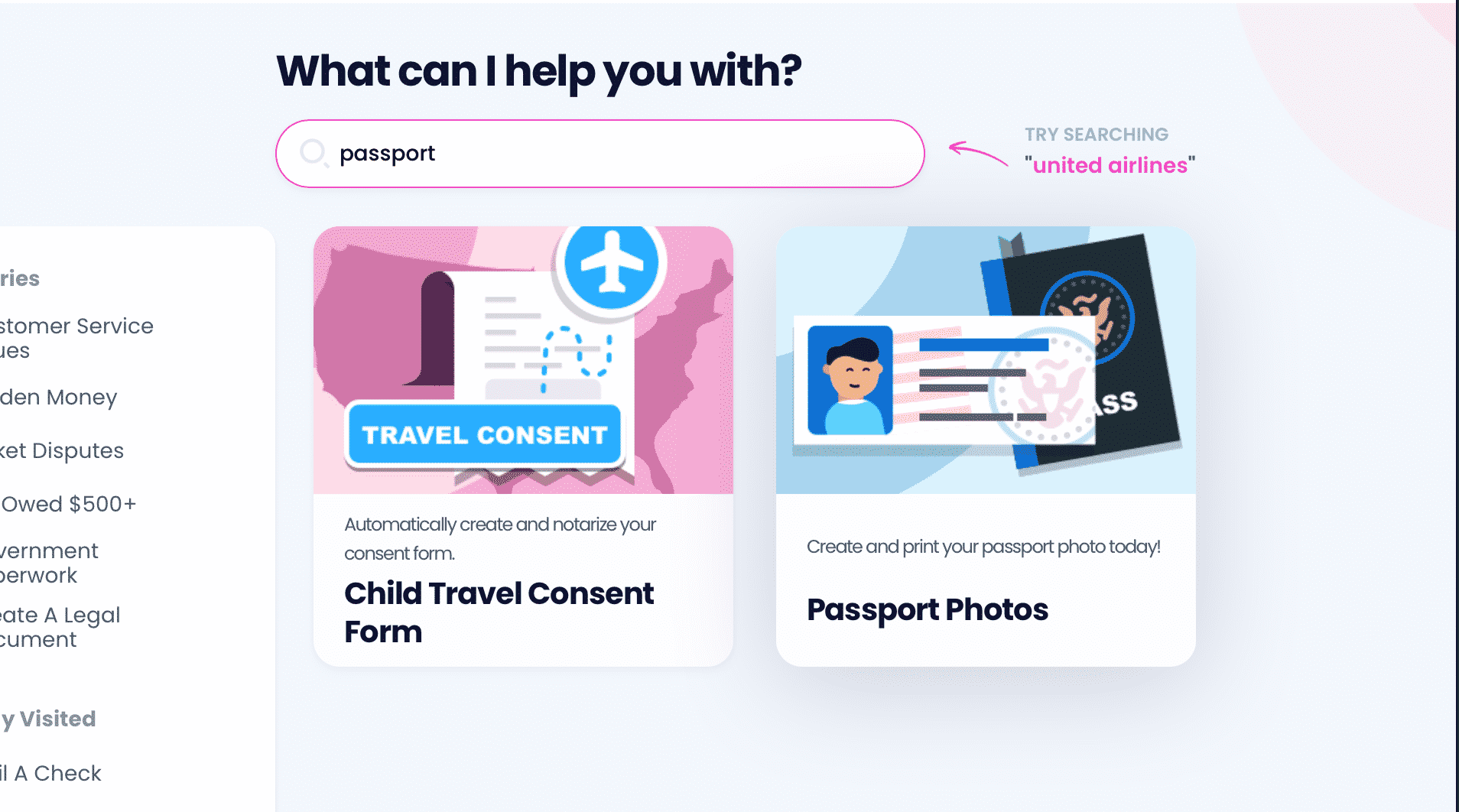 All you need to do is ask someone to take your headshot and:
Select the Passport Photos tool
Upload your photo
Indicate how and when you'd like to receive the photo
We'll take over by positioning the image, fixing the size, and removing shadows. With our service, you can be sure the photo meets all government standards! You'll get your picture by email in minutes and by mail in three to ten days—depending on your preference.
Find your place of residence in the table below to see where you can have your passport photo taken:
Good Things Come in Small Packages
Siri and Google Assistant are great in their own right, but their skills leave a lot to be desired when it comes to the practicalities of our daily lives. DoNotPay is an app, a true pocket-sized assistant that has the power and the know-how to help you deal with navigating bureaucracy and fighting for your rights efficiently.
Our platform, accessible from your phone or computer, is brimming with products that will help you:
From Government Tests Preparation to Copyright Protection
Whether you are getting ready for your driving test or wish to protect your creative work, DoNotPay has something in store for you.
We can help you handle some serious tasks—like suing someone in small claims court or reporting workplace discrimination—or deal with more mundane activities, such as getting that leftover money from your used gift cards.
The best part is that your DoNotPay subscription gives you access to all our services, be it online fax or virtual credit cards!