Where To Get Passport Photos Taken in Chicago—What You Need To Know
The first step in your passport application process is taking your passport photo. It might seem easy in theory, but you have to make sure you follow all the standards set by the U.S. State Department, such as the size, resolution, and background color.
If you don't know where to get passport photos taken in Chicago, look no further! DoNotPay provides the ultimate guide on how and where to get your passport pictures without a hassle. Sign up for our service and get the ultimate passport photo online without breaking a sweat.
Where To Get a Passport Photo in Chicago
Chicago is full of places where you can get your passport picture taken. Whatever location you choose, make sure to call before you go to get info about the cost, business hours, and printing time.
Check out the list below for locations you can visit:
Pharmacies—Visit your local pharmacies, like CVS, Rite Aid, or Walgreens, to get your passport picture taken
Retail stores—Go to stores, such as Walmart and Target. Make sure to call and check if the one near you is offering this service
Photography studios—Opt for a professional photography studio if money is not a concern. Keep in mind that some photographers at photo studios might not be aware of the official passport photo requirements
Passport acceptance facilities—Get your passport picture taken at passport application facilities, such as:

Public libraries
Court clerk's offices
Government offices
Post offices

Passport expediting services—Hire a passport expeditor to file your passport application if you're in a hurry to get your passport. This service also includes getting your passport photo taken
What To Consider When Using a Passport Photo Service
Although you might feel that you're getting a professional passport photo service, you also need to be aware of the following factors:
Cost—Walmart charges approximately $7 for passport pictures, but other locations may charge as high as $20. In case you choose a photography studio, you might even have to pay double
Time—When opting for passport photo service, you need to consider the business hours and printing time
Satisfaction—You will need to ensure that the photographer is fully acquainted with the official passport photo requirements
Save yourself the hassle and take your passport picture at home!
What You Need To Know About Passport Photo Requirements
Whether you want to have your picture taken or take it yourself, you need to meet the acceptable standards.
Take a look at the table below to get acquainted with the dos and don'ts of taking passport photos:
What To Do
What To Avoid

Ensure the dimensions of your picture are 2 x 2 inches (5.1 cm x 5.1 cm)
Confirm that your head measures between 1 and 1 ⅜ inches (25 mm to 35 mm) from the top of your head to the bottom of your chin
Ensure that the photo has been taken in the last six months
Print the picture on matte or glossy photo paper, free of holes, creases, and smudges
Make sure the photo is in high resolution—between 600 x 600 and 1200 x 1200 pixels
Wear everyday or business attire
Take the photo in front of a white background

Frowning or smiling widely in your picture
Obstructing your facial features with your hair
Wearing any the following:

Hats or head coverings
Face masks or veils
Sunglasses or tinted glasses
Large jewelry
Heavy makeup
Costume or uniform

Wearing a hat, prescription glasses, or head covering without a medical or religious reason. If you can't remove them, present a signed statement confirming this
Taking a selfie
Using filters or enhancers to alter the picture
How To Take a Passport Photo Yourself
To take your passport picture at home, you need to follow these instructions:
Find or set up a white background
Place your camera on a tripod, ensuring there are no shadows or uneven lighting
Sit or stand in front of the camera with a natural expression
Take multiple photos so that you have options to choose from.
Forget About Other Places—Get Your Passport Photo Edited With the Help of DoNotPay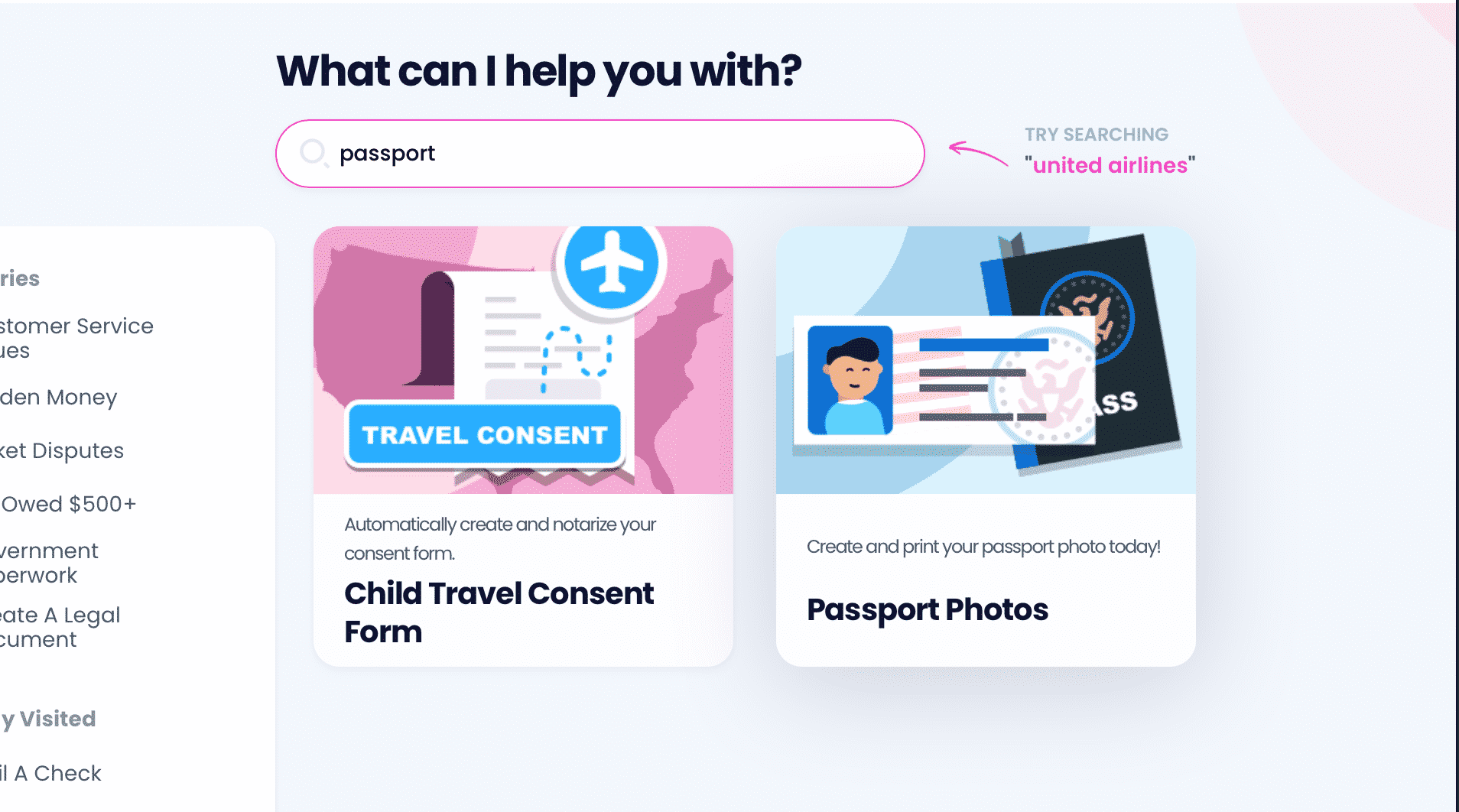 If the process of getting your passport photos seems too complicated, we're here to help you out! Our Passport Photos tool can adjust your digital passport photo according to national standards. Here's what you need to do once you access DoNotPay from your web browser:
Select the Passport Photos feature
Take your photo or upload an existing one
Enter your email address
Confirm whether you want to get your photos shipped
You can also choose a shipping option (rush, expedited, or economy) in case you want the pictures delivered. Once the process is completed, you will receive your photos via mail in three to ten business days.
Find your place of residence in the table below to see where you can have your passport photo taken:
DoNotPay Resolves Both Bureaucratic and Legal Issues
One of our app's best qualities is its versatility. You can use your personal AI-powered assistant to overcome both legal and bureaucratic obstacles without breaking a sweat. No more waiting in lines or breaking the bank due to sky-high lawyer fees!
Take a look at what you get access to for a low monthly fee:
Can DoNotPay Do Anything Else?
The world's first robot lawyer is capable of so much more! No matter if you want to find your unclaimed money, apply for clinical trials, get rid of email or text spam, prepare for a government test, fight workplace discrimination, or get gift card cash back, DoNotPay can help!
What are you waiting for? Sign up for DoNotPay now to enjoy our nifty products!