Top Tips on Where To Get Passport Photos in Honolulu
A physical or digital passport picture not older than six months is one of the requirements for getting your passport in order. If you are planning to leave Hawaii for a trip soon, you may want to check out the best locations where you can get appropriate images for your document.
Read our guide and find out where to get passport photos in Honolulu and what the costs of such services are. We will also explain how can help you generate a perfect passport picture at home effortlessly!
Where To Take Passport Photos in Honolulu
Besides specialized photo stores and studios, Honolulu has loads of other places where you can have your passport photo taken. The following table shows an overview of all types of locations that offer such services in the city:
Type of Location
Companies
Passport agencies and offices

Honolulu Passport Agency
Honolulu Passport Service
Kapi'olani Community College Passport Acceptance Office
Hawaii State Library

Photo stores

Pro Camera Hawaii
Rainbow Photo Lab
Image City
Wong's Photos

Stores and outlets
Courier companies
Pharmacies
What Is the Cost of Getting a Passport Photo in Honolulu?
The most secure option to have your passport picture taken is hiring a professional photographer or visiting a photo store. The bad news is that these service providers usually charge way more than other companies.
If you don't want to spend too much cash on a simple photo, you can consider cheaper places, such as big-box stores or pharmacies. To make your choice easier, we compiled a short list containing price info for all facilities that offer passport photo services in Honolulu:
Price Range
Location
$5.00–$10.00

Walmart—$7.44
Target—$9.99 in a store or $12.99 when ordered online

$10.01–$15.00

AAA—$10.00 to $15.00
UPS—$11.99
FedEx—$14.59
Walgreens—$14.99
CVS—$14.99
USPS—$15.00

Price available upon request

All passport agencies and libraries
All photo stores and studios
MFS Freight Service
Can You Take a Passport Photo Yourself?
Yes, you can. There's an option to take a digital picture with your smartphone or camera and edit it using online photo tools or apps. It's a great solution if you want to:
Make a suitable picture for free
Avoid looking for a convenient photo service provider
Skip traveling to a photo store or studio
Taking a snapshot for a passport should be considered a serious task as there are certain rules you must follow. If your photo doesn't comply with the requirements presented by the U.S. Department of State's Bureau of Consular Affairs, it can get rejected, and your application may be placed on hold. To avoid this, check out the basic steps you should take to make a proper passport image:
Set up a plain white background
Wear plain-colored clothes without prints
Make sure your hair doesn't cover your face
Remove any accessories that may hide portions of your face, such as:

Hats and scarves
Head coverings and headbands
Large pieces of jewelry
Huge piercings
Hearing aids, headphones, and other hands-free devices

Sit up or stand straight, looking right at the camera
Put on a blank facial expression—a slight smile is acceptable
DoNotPay Helps You Get a Passport Photo Swiftly and Efficiently
If hiring a professional or taking a snapshot yourself seems too costly or complicated, entrust the quality of your passport photo to DoNotPay!
With our app, you can get your image checked and edited based on the official requirements of the U.S. Department of State. You don't need to know anything about adjusting features like contrast or lighting—we will do it in your stead!
Here are the steps you must follow to use our service once you :
Search for the Passport Photo product
Attach a photo from your smartphone gallery or take a snap with your camera
Leave your email address
State whether you want us to send you physical copies as well and enter your shipping details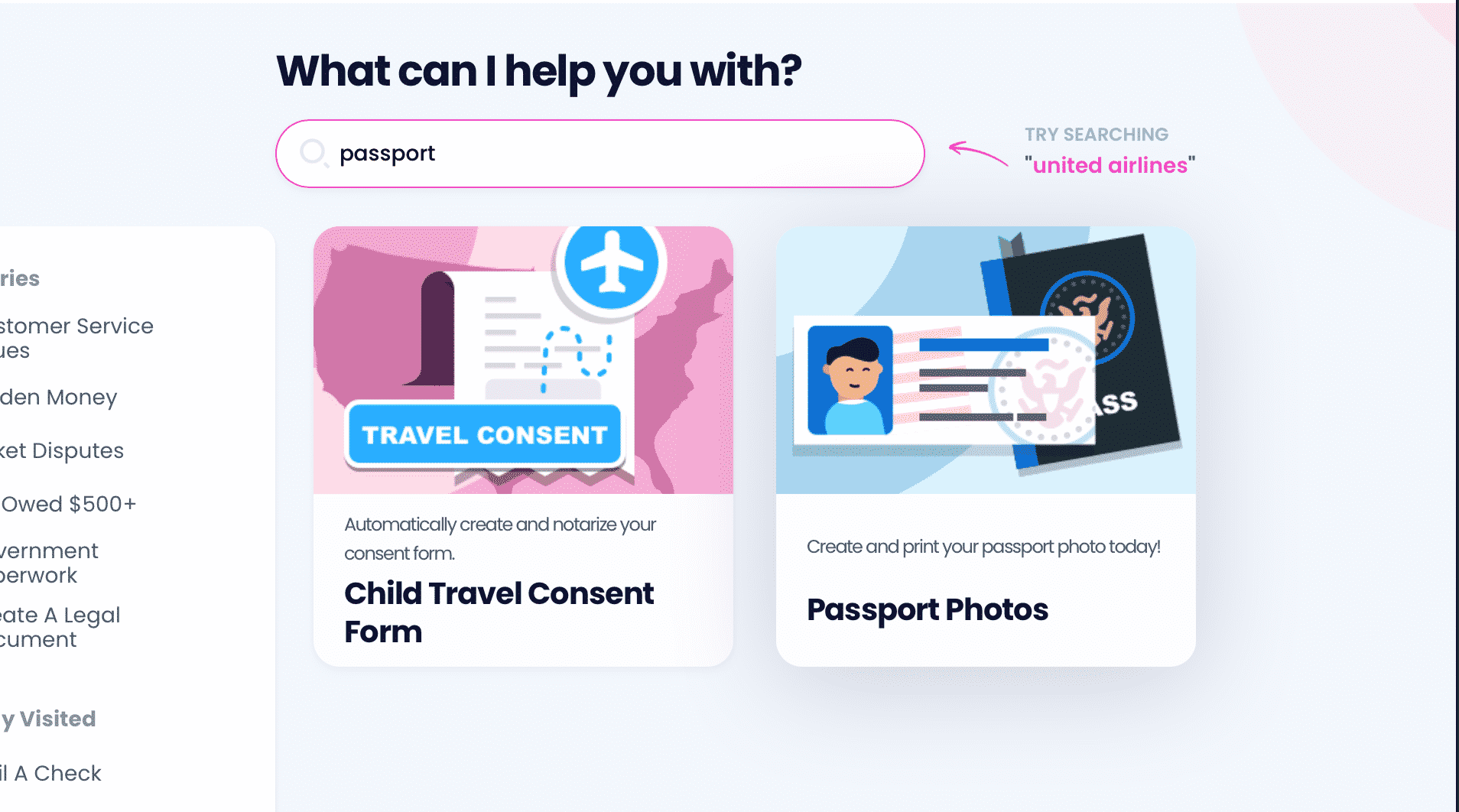 Digital copies of your new passport photo will be sent to your email address as soon as you submit all the necessary details. Should you decide to get physical photos, too, you can pick a convenient shipping method and expect delivery within three to ten business days.
The app will notify you in case we don't manage to recognize your facial features in the photo and allow you to have another picture scanned!
Use other DoNotPay guides to simplify your passport application procedure and learn more about passport pictures and the best ways to have them taken in various locations, including:
Not Sure if You'll Have Enough Money at the End of the Month? We Can Help
Most Americans go through financial hurdles daily. You don't need to put up with it all—as soon as you sign up for our app and voice your struggles, we will provide our assistance! DoNotPay is capable of:
Dealing With a Greedy Company? No Need To Worry
Are you dealing with a company that doesn't want to cooperate and keeps ignoring your consumer rights? No problem—DoNotPay can help you sue the company in small claims court and win your case.
If you need us to draw up a legal document, get it notarized, and fax it to the court, we can do that as well.
Have you been trying to reach the company's customer support reps with no success? Don't get stressed—our app will gladly wait in the phone queue in your stead and notify you as soon as someone picks up.