How Many Passport Photos Do I Need for the Adjustment of Status—Explained
Filing the adjustment of status means applying for permanent residence—a green card—in the U.S. if you have a nonimmigrant immigration status. Like any other application, it requires specific documents and some passport-sized pictures.
How many passport photos do I need for the adjustment of status? Where can I get the appropriate photos? What should they look like? Read our guide to find the answers to all these dilemmas and learn how to create a great passport-size image at home in a snap !
What Is the Required Number of Passport Photos for the Adjustment of Status?
The I-485 Form, also known as Application to Register Permanent Residence or Adjust Status, requires two passport-sized pictures. You may also need a few additional copies depending on the supporting documents you should submit. The rest of the forms you must fill out depend on the category you are applying for.
Make sure to prepare:
Two passport-style photos if completing the I-765 Form (Application for Employment Authorization)
Two more passport-style images if completing the I-131 Form (Application for Travel Document)
What Requirements Should Your Photos Meet?
Whether you need the photos for a passport or a green card application, they must be taken according to the U.S. Department of State's requirements. The table below explains the essential rules you must adhere to:
Criteria
Details
Size
2 x 2 inches (51 mm x 51 mm)
Head size in the photo
Between 1 and 1 ⅜ inches from the top to the bottom of the face
Size in pixels
600 x 600 to 1200 x 1200 pixels
Taken
In the last six months
Printing paper
Top-quality matte or glossy 4 x 6 inch paper
Background settings

White or off-white
Shadow-free

Position

Blank face expression
Open eyes and closed mouth
Direct look at the camera
Mild smile allowed

Unacceptable clothing

Uniforms
Garments that look like a part of a uniform
Camouflage clothes
National costumes

Unacceptable accessories

Glasses and other eyewear—prescription glasses allowed only if you have a signed statement from your doctor
Headgear, head coverings, and hats—except for the ones worn for religious reasons
Bulky hair accessories
Scarves or high collars
Huge pieces of jewelry or piercings that cover the face

Other unacceptable flaws
What Are the Ways To Get a Passport-Sized Photo?
There are three methods of getting pictures for your document:
Taking and editing a photo yourself
Visiting a photo store or a studio
Having the picture taken at specific locations in the city
Check out the details of each option in the table below:
Option
Explanation
Taking a photo yourself
When creating a passport picture, you must take care of all the steps and do everything yourself. You should:

Ask someone to take a photo in your stead because selfies aren't acceptable
Ensure that all the proposed requirements are completed
Transfer the image to a PC or laptop

Having your picture taken by a professional
Photo studios and photo stores usually have professional equipment. The staff knows how to take a good photo, which means you probably won't need to worry about meeting the established standards. The disadvantage of this option is that it's quite expensive
Getting your photo at designated locations
Many national companies and retailers also offer photo services. All you should do is find their branch in your vicinity and visit it. You can try with:
DoNotPay Generates a Flawless Photo for Your Application in a Jiffy!
Not only is getting a proper passport-size photo expensive, but it's usually quite challenging. If you don't want to waste a lot of money on a simple small picture in a photo store, subscribe to DoNotPay and get a suitable image at home within minutes!
We provide a Passport Photos tool that can check your image and adjust all the details that don't match the requirements. This way, you get an ideal picture of the required dimensions, with fixed background and improved contrast and lighting settings. The best part is that you don't need to do anything but click a few times!
Here's what the procedure of creating a perfect photo with us looks like:
from any web browser
Search for the Passport Photos product
Attach the photo
Input your email address and also your shipping details (if you want us to send physical pictures to your home address)
Once you complete these steps, check your inbox—you should receive digital photos in a matter of minutes! In case you prefer to have physical copies too, choose one of the three available mailing methods:
Economy Shipping (five to ten business days)
Expedited Shipping (four business days)
Rush Shipping (three business days)
Find your place of residence in the table below to see where you can have your passport photo taken: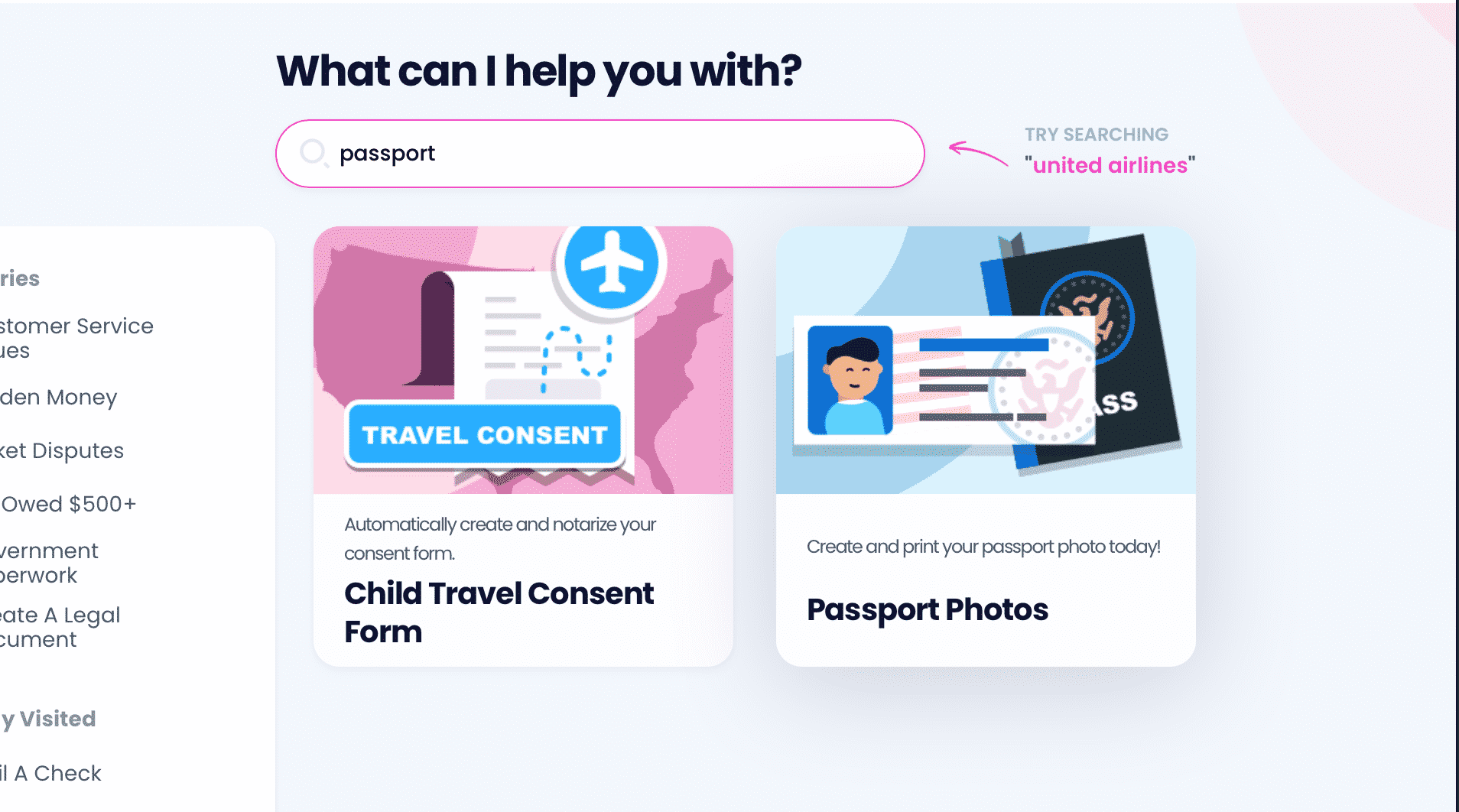 You Can Count on DoNotPay To Resolve Any Issue
Are you stuck in the never-ending subscription cancellation procedures? Do you want to demand a refund once you finally reach a customer support rep? Is the company refusing to cooperate? No need for stress—your personal assistant can lend a helping hand.
Is there anything else we can help you with? You bet! Once you sign up, we can resolve a number of issues in your stead. Count on our app if you're struggling with:
You Don't Have To Suffer in Silence
Have you been experiencing workplace discrimination lately? Do you have a real-life stalker or harasser that you're too scared to confront? Do you want to get rid of robocalls and text and email spammers once and for all? You're not alone—DoNotPay is by your side and will help you deal with all of these issues.
As soon as you subscribe to our app, you'll be able to use our products to your advantage and fight for your right worry-free!