How To Take a Passport Photo Online Without Breaking a Sweat
When was the last time you went to get your passport photo professionally taken? In the digital age, it is a hassle to waste time going to a store, getting your photo taken, and then waiting for it to get printed. What if we told you there was another way?
DoNotPay will show you how the process of taking your passport photo online works and provide you with the easiest way of getting a digital passport photo. Subscribe to our app, get your photos, and get the best advice on where to take passport photos and how to print passport photos on 4 x 6 paper.
Creating Passport Photos Online and Offline
There are many pros and cons of taking and editing a passport photo yourself versus hiring a professional to do it for you. See the table below for the detailed breakdown:
Pros
Cons
Digital Passport Photo

There's no need to leave your home
Printing the photos won't take hours
You don't have to pay for the photo

You might not be able to meet the requirements properly
You might not have good lighting in your home
If you're taking the picture with your cell phone camera, it might not have a good quality

Physical Passport Photo

A professional photographer will ensure that all passport requirements are properly met
Photography studios have good lighting and professional camera

The process is time-consuming
You have to pay to get the photo
If you need multiple copies, you'll need to pay more
How To Create Your Passport Photo Online
To create your passport photo, you need to make sure that you meet all passport photo requirements, such as:
The photograph should be taken within the last six months
The size must be 2 x 2 inches (5 x 5 cm)
The applicant's head must be between 1 and 1 ⅜ inches (2.5 to 3.5 cm) vertically
The photo must have a white background
You need to look straight into the camera
In case you want a digital passport photo for your online application, here are some additional requirements:
The image dimensions should be at least 600 x 600 pixels and 1200 x 1200 pixels at most
The color should be 24 bits per pixel in sRGB color space
The file should be saved in JPEG format
The image size shouldn't be more than 240 kB
If the size of the image is large and you need to compress it, the compression ratio should be less than or equal to 20:1
What To Wear When Taking a Passport Photo
Figuring out what to wear for your passport photo can be tricky. To understand what you are allowed to wear, take a look at the table below:
What To Wear
What Not To Wear

Simple outfit
Business attire
Permanent piercings
Prescription glasses, if you have a signed doctor's statement

Hats
Glasses, prescription or tinted
Camouflage prints or uniform
Jewelry that hides your face
Scarves or head coverings
Tank tops
Headphones or wireless devices
Your hair should be properly tied or held back so that facial features are not obscured.
Step-by-Step Guide to Taking Online Passport Photos on Your Own
If going out to spend money on passport photos seems like too much of a hassle, you also have the option of taking the photo at home and uploading it online. To get started, follow the instructions below:
Find a place in your home that has a white background and good lighting
Set your phone or camera so that it zooms on your face properly—alternatively, you can also ask someone to take your picture
Sit up straight, hold a pose, and give a slight smile to the camera
How To Print a Passport-Size Photo From Your Computer
If you have a printer at home, you can print your passport photo with ease. On most computers connected to a printer, the printing process entails these steps:
Transfer the photo from your camera or phone to your computer
Right-click on your photo
Click on Print
Select the printer, format, and paper type
Check the preview before pressing going ahead
Hit Print again
DoNotPay Can Guarantee the Perfect Passport Picture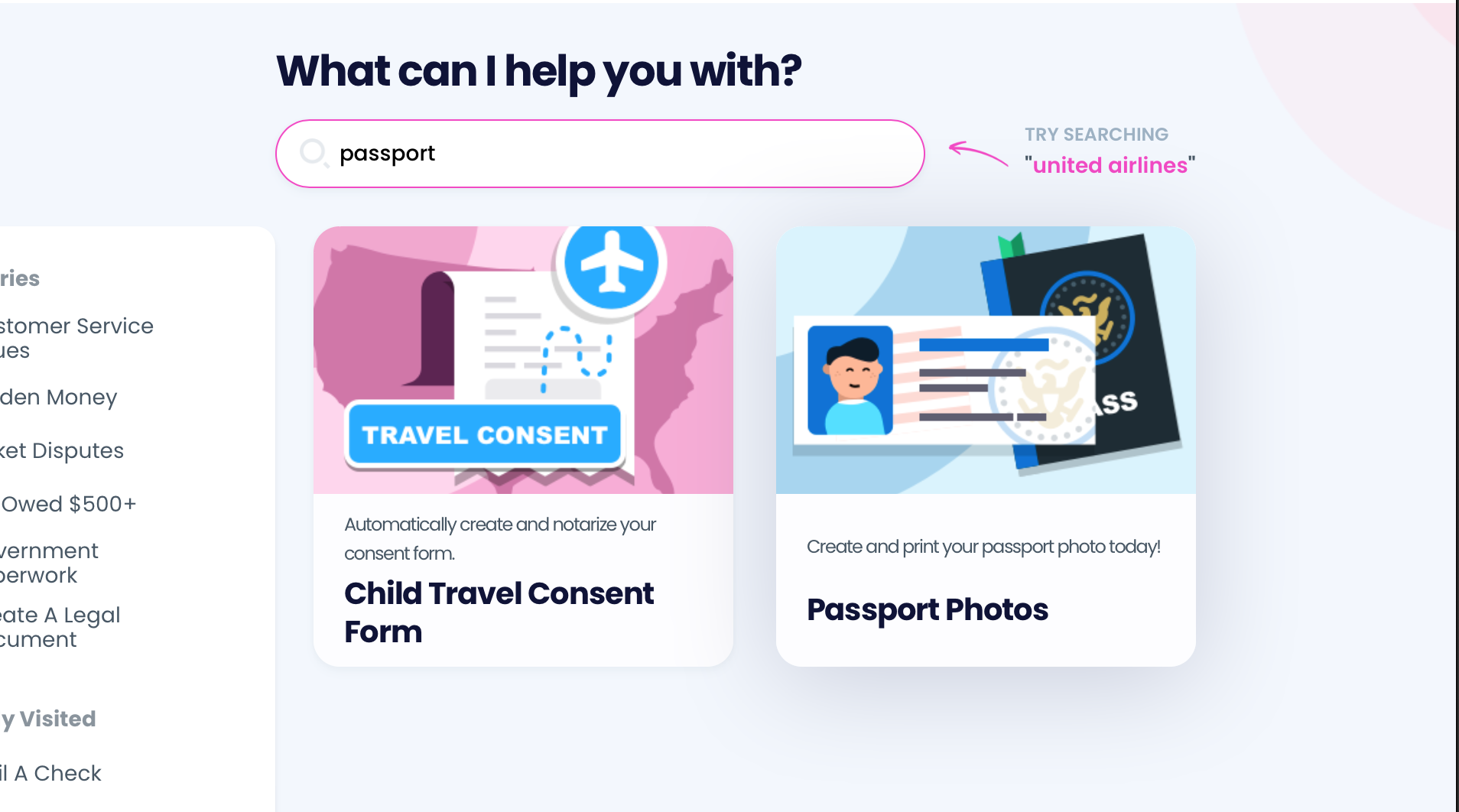 Do you need to take a passport photo but don't want to waste your time and money? We can help you take the photo that will meet all passport requirements from the comfort of your home in a few easy steps! Here is how you can do it:
Access DoNotPay from your web browser
Choose the Passport Photos product
Snap or upload your headshot
Our AI program will automatically adjust the photo according to the passport department's requirements. After making the required adjustments, DoNotPay will email the photo to you. In case you want a physical copy, we will mail two copies to your U.S. address. We offer economy, expedited, and rush shipping options, depending on your urgency level.
Find your place of residence in the table below to see where you can have your passport photo taken:
DoNotPay Resolves Both Bureaucratic and Legal Issues
One of our app's best qualities is its versatility. You can use your personal AI-powered assistant to overcome both legal and bureaucratic obstacles without breaking a sweat. No more waiting in lines or breaking the bank due to sky-high lawyer fees!
Take a look at what you get access to for a low monthly fee:
Can DoNotPay Do Anything Else?
The world's first robot lawyer is capable of so much more! No matter if you want to find your unclaimed money, apply for clinical trials, get rid of email or text spam, prepare for a government test, fight workplace discrimination, or get gift card cash back, DoNotPay can help!
What are you waiting for? Sign up for DoNotPay now to enjoy our nifty products!