Where To Take Passport Photos—The Mystery Solved
Having your passport photo taken is one of the crucial steps when applying for a new passport. While there are many places where you can take a photo, not many of them can help you meet strict passport photo requirements.
Knowing where to take a passport photo can help you save a great deal of time and ensure your passport application doesn't get rejected because of an unsatisfactory image. In this article, DoNotPat will present all suitable and convenient places where you can have your passport photo taken. We will even explain how to take a passport photo online!
Where To Take a Passport Photo
Unless you live in a totally isolated area, you probably have numerous places in your vicinity for snapping and printing your passport photo. Take a look at the table below for the ultimate rundown of the most convenient locations:
Where To Have Your Passport Photos Taken
Description
Shipping centers
Shipping centers that typically offer passport photography services are FedEx and UPS stores. Make sure to call your local shipping facility and confirm that you can have your picture taken at that exact location
Pharmacies
You can check your local pharmacy, such as CVS, Rite Aid, or Walgreens, to see if they offer passport photo services
Retail stores
Retail stores, including Target and Walmart, are typically the places to go to when you need to have your passport photo taken at an affordable price
Professional photography studios
While you may consider going to a professional photography studio to ensure the quality of your photographs, bear in mind that:

Not many photography studios offer passport photo service
You will have to pay a lot more than you typically would for having your passport photo taken

U.S. passport offices
Passport application acceptance facilities typically offer passport photo services to their clients. Since most of them are located in post offices, you can conveniently finish the whole procedure in one place, including:

Having your passport picture taken
Applying for the passport issuance
Sending the application for processing

Passport expediting services
Passport expediting services can send the application for you if you:

Are unable to visit a regional passport issuance agency
Need your passport done in two weeks or less

They typically offer passport photo-taking services but call them to confirm
How Much Do Places That Take Passport Photos Charge?
You typically have to pay between $0.35 and $15 to have your photo taken in one of the places with a passport photo service. Post offices arguably charge the most, but the price may be worth the convenience of having your photo taken at the same place where you can submit your passport application.
Places with the most affordable passport photo service prices are:
Walmart—$7.44
Rite Aid—from $7
UPS stores—$11.99
Target—$12.99
Walgreens—$14.99
CVS photo—$14.99
FedEx—$14.95
USPS—$15
AAA—$15 ($10 for basic members)
How To Take a Passport Photo at Home
Many people find having their passport photos taken professionally pricey and inconvenient. Luckily, you can facilitate the process and save time and money by snapping a photo at home.
If you decide to go about the procedure alone, you have to know the U.S. passport photo requirements regarding:
Appropriate background
Acceptable posture
Facial expressions (e.g., whether or not you are allowed to smile)
Suitable photo quality
You can use a tripod or ask a friend or a family member to snap your photo. Make sure to face the window when taking a picture since standing by a lamp can cast a shadow on your face.
It's also crucial to avoid patterned or colored backgrounds and put away all surrounding objects. You have to stand in front of a white background, facing the camera, with your eyes wide open.
If you are wearing prescription glasses, remove them when taking the photo. The same rule applies to wearing hats, headgear, earrings, and scarfs that threaten to cover a portion of your face and jeopardize your face recognition. You may leave the accessories only for religious or medical reasons—provided your face is clearly visible with them.
Taking Your Passport Photo—A Word of Caution
Certain actions should be avoided when taking a passport photo without professional help, including:
Using old pictures stored on your computer or cell phone (passport photos cannot be older than six months)
Taking selfies since it's prohibited
Using cheap, disposable cameras that produce low-quality photos (you can use a phone or a tablet with a high-resolution camera or a digital camera)
If taking the photo by yourself proves inconvenient, there is another option—DoNotPay. Sign up for our app to get the best of both worlds—a top-quality photo with minimum effort!
Take Homemade Passport Photos to a Whole Another Level With DoNotPay
Why would you overcomplicate taking your passport photo when it can be so simple? We will facilitate the process to the max if you:
Find our Create Passport Photo product
Snap a photo of yourself and upload it
Choose if you want us to:

Print and send you two copies of the photo via mail
Email the digital copies to your account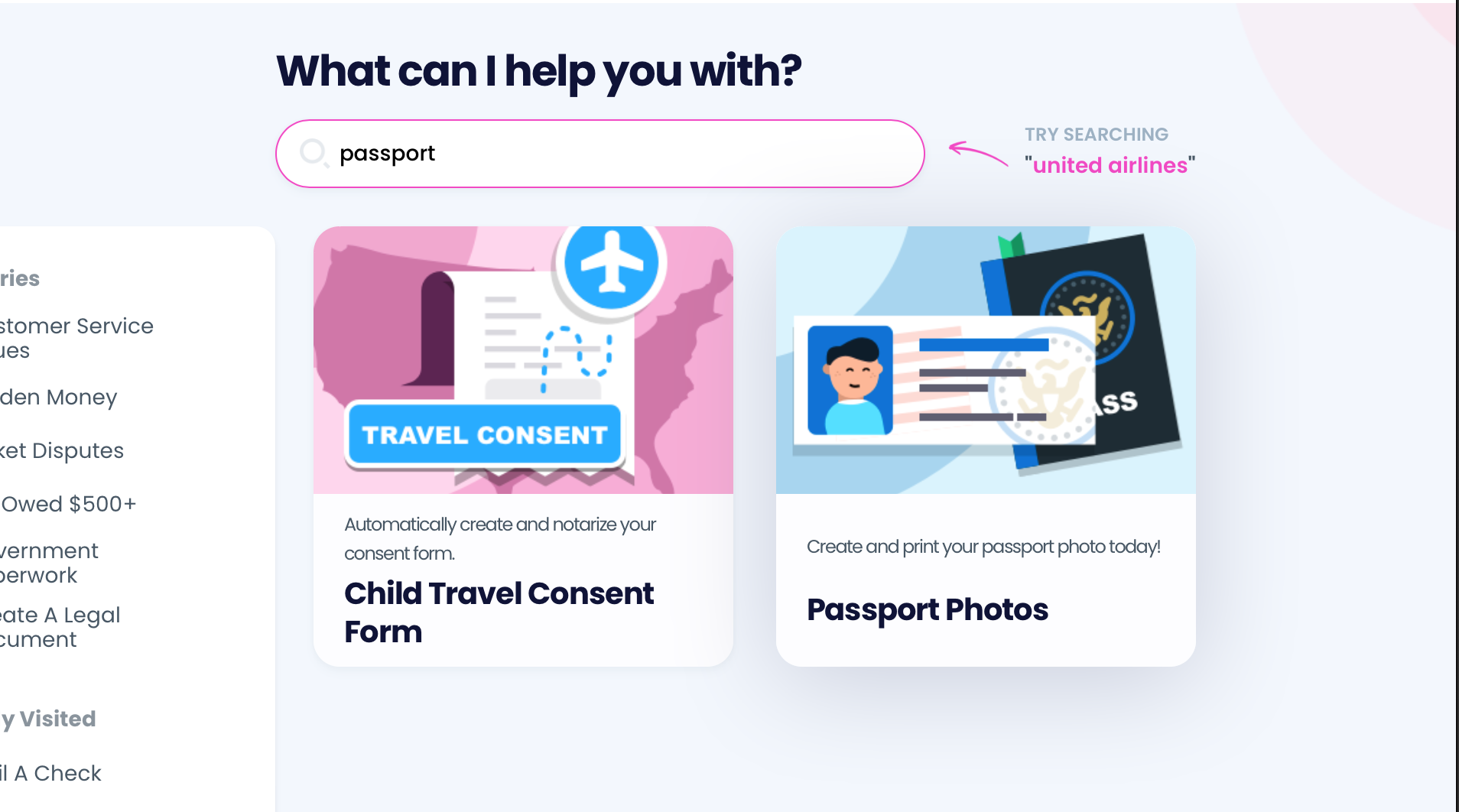 Our AI-powered app will process the photo and:
Make necessary adjustments to make sure the photo fits the requirements
Inform you if the photo needs to be retaken for a better result
If you're in a hurry and need printed copies, you can get them in as fast as three business days.
Find your place of residence in the table below to see where you can have your passport photo taken:
Outsmart Big Corporations by Using DoNotPay
Our platform is always on the side of regular people, and the number one item on our agenda is fighting for your rights.
If you need help requesting refunds for faulty products, late parcels, or canceled flights, you can turn to DoNotPay for help. Protect your privacy and stay one step ahead with our spam email collector, burner phone numbers, and virtual credit cards.
We will provide you with everything else you need in your fight—online fax, mailing service, and products for drafting legal documents and having them notarized online.
Improve Your Leisure Time Too!
You can win some serious battles with the help of DoNotPay—after all, our app can even get you ready for small claims court—but we offer numerous useful features that will improve the quality of your entertainment.
Signing up for free trials doesn't come with the risk of losing money anymore, and if you get bored with that new streaming service, you can easily cancel it using our app.
If entering raffles is your idea of fun, you'll be glad to know we can help you participate in all kinds of these games of chance. You can also review your knowledge using our government tests prep quizzes or retrieve any unclaimed money under your name and spend it on something fun!