Green Card Passport Photo Size and Other Requirements Explained
Taking a photo is easy nowadays because you can snap a pic with your phone in seconds. The process automatically gets complicated if you need it for your green card application.
Since your passport photo is an essential part of the green card application, it is crucial to know the green card passport photo size and other requirements.
Should you hire a professional photographer or take the passport photo at home? DoNotPay provides all the info you need.
What Is the Passport Photo Size for a Green Card?
For a green card, the passport photo size should be 2 x 2 inches, which is approximately 5 cm x 5 cm. In addition, your head must:
Measure between 1 and 1 ⅜ inches (25 mm to 35 mm) from the top of your head to the bottom of your chin
Occupy between 50% and 69% of the image's total height
Digital Passport Photo Requirements
In case you plan to submit a digital passport photo, here are the requirements you need to meet:
The dimensions should be in a square aspect ratio
Your passport photo should be in high resolution—minimum 600 x 600 and maximum 1200 x 1200 pixels
You should save your image in JPEG format
The size of the photo should not be bigger than 240 kB. If you need to compress the image, the compression ratio should be less than or equal to 20:1
If you have a printed passport photo, you can scan it, but make sure that the resolution is 300 pixels per inch (12 pixels per mm).
Additional Requirements for a Green Card Passport Photo
Besides the green card passport photo size, there are rules about other aspects of your photo. Your picture should be:
In color
Taken in front of a white background, with no shadows or uneven lighting
Snapped within the last six months
Printed on high-quality photo paper
You also need to make sure you meet these requirements:
You Should
You Should Not

Wear everyday clothing
Face the camera directly
Keep both eyes open
Make sure your entire face, including your ears, is visible
Have a neutral expression, without any frowns or wide smiles

Wear a uniform or costume
Put on a veil or face mask
Use heavy makeup that might alter your facial features
Wear hats or head coverings (unless you're wearing them for medical or religious reasons)
Wear shirts with a low neckline
Put on glasses, except for medical reasons. In that case, you need to have a signed statement from your doctor
Where To Take a Green Card Passport Photo
Since the passport photo requirements are strict and numerous, you might want to get the picture taken professionally instead of taking it at home. One of the main reasons to hire a professional photographer is to reduce the risk of having your photo rejected.
Here are a few places you can visit to get your passport photo taken:
Shipping centers
Retail outlets
Pharmacies
Passport offices
Passport expediting centers
Photography studios
Before you visit any of these locations, you should call and check if:
The location near you provides passport photo services
You can walk in or need to schedule an appointment
The waiting time for printed copies is more than an hour
The cost of the photos is not too high
The process of going out to get your photo taken can be quite a bother. Go for the easier option—, and get your green card passport photo in the blink of an eye!
Use DoNotPay To Generate the Best Passport Photo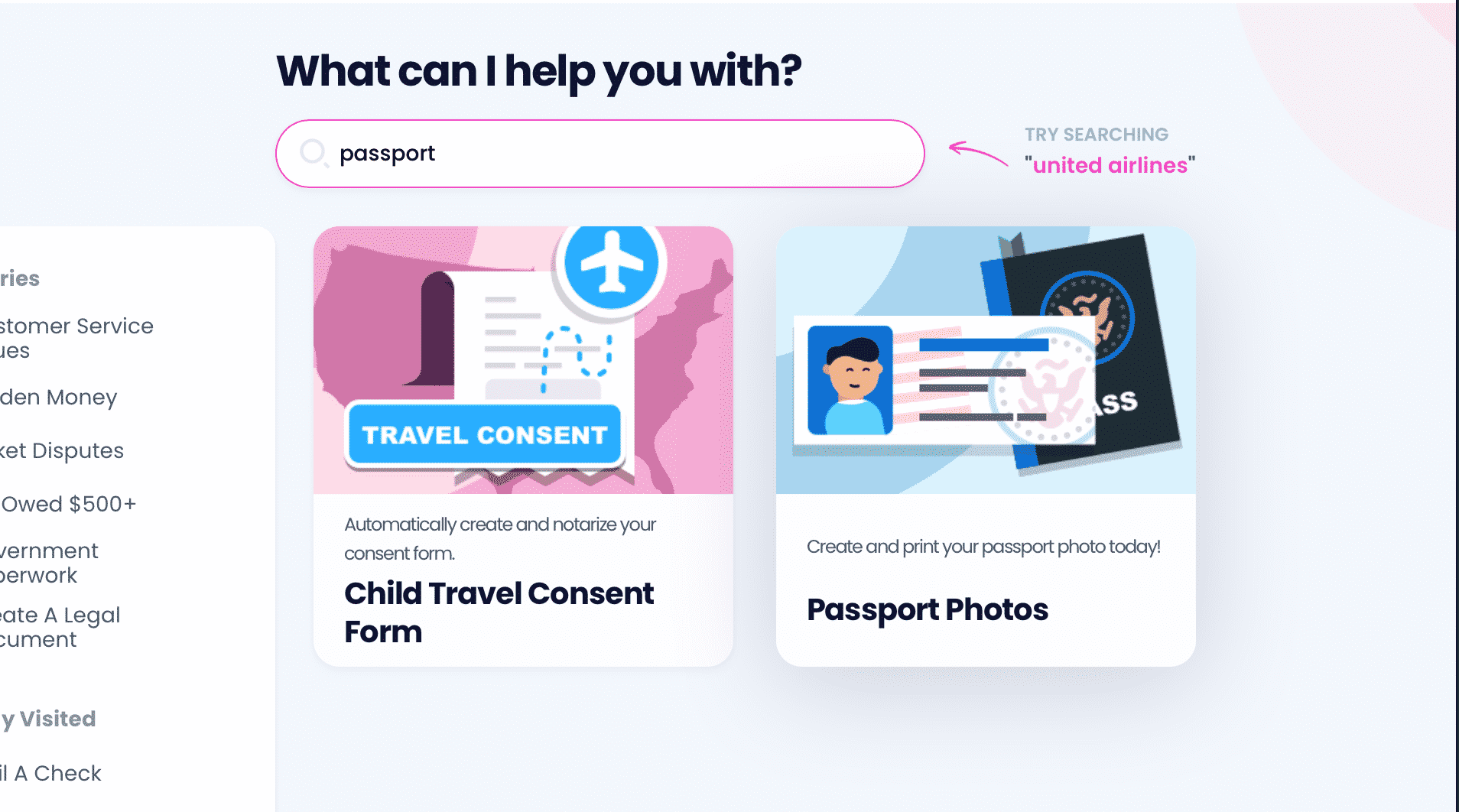 What's the best part about using DoNotPay to generate your passport photo? We are fully aware of the government requirements and will ensure that your photo meets all of them. For a small fee, we can email the photo to you in a matter of minutes.
Here are a few easy steps that you need to follow:
from your web browser
Type Passport Photos in the search bar
Take a headshot using your phone or upload an existing photo
Enter your email address
You don't have to worry about business hours—you can use our service at any time and cross this task off your to-do list!
Once you upload your headshot, our AI-powered app will make the required edits. In case your photo does not fit the official standards, we will inform you promptly.
After the process is complete, we will email the photo to you. You can also provide your home address and request printed copies.
Find your place of residence in the table below to see where you can have your passport photo taken:
Have More Questions About Passport Photos? DoNotPay Has All the Answers!
Want to learn more about passport photos before taking one? DoNotPay offers numerous guides on passport photo requirements, such as:
DoNotPay Makes All Issues Go Away in Several Clicks
Using DoNotPay comes with plenty of advantages, the main one being that you can resolve just about anything in a matter of clicks. It doesn't get any easier than that!
Do you need to fax a document, draw up an agreement, submit a FOIA request, get a contract notarized, file a warranty or insurance claim, get a burner number, schedule a DMV appointment, or appeal a parking ticket as soon as possible? Sign up now and clear out your schedule because we'll handle it all!
Are you looking for your missing money? Do you need help with your utility bills or property taxes? We're here to help!
Get Rid of Paperwork With Your AI-Driven Assistant
Even though paperwork belongs in the past, we have to keep dealing with it almost daily. To avoid this annoyance, you can just use DoNotPay!
If you need to compose a demand letter to a rude neighbor, submit a claim for a late or missing package, request compensation from an airline, or sue any company in small claims court, we have your back!
All you need to do is sign up, tell us what you need, and resolve any issue in a matter of minutes!