Where To Get Passport Photos Taken in Indianapolis—The Best Option
Are you applying for a passport in Indianapolis? Knowing reliable passport photo services helps if you want to get the passport photo professionally taken.
In this article, DoNotPay will provide all the info on where to get passport photos taken in Indianapolis. We can also teach you how to take passport photos at home with minimal time and effort! Subscribe to our app, and get a digital passport photo in a few clicks!
Locations That Offer Passport Photo Services
Indianapolis has various locations that offer professional passport photo services. The most common examples are:
Retail stores
Shipping centers
Pharmacies
U.S. passport offices
Photography studios
Retail Stores
Retail stores, such as AAA, Target, and Walmart, offer passport photo services. Whichever location you choose, you should call it beforehand to confirm the cost, business hours, and waiting time.
Shipping Centers
Some courier services and shipping centers offer passport photo services. Common examples include:
Pharmacies
CVS, Rite Aid, Walgreens, and other pharmacies have photo booths as part of their offer. You should call a pharmacy near you to schedule an appointment or check whether they accept walk-ins.
U.S. Passport Offices
Most passport offices offer passport photo services. You can submit your passport application at the same place once you get the photos.
Photography Studios
You can visit a photo studio to get your passport photo taken. Confirm beforehand that the photographer taking your picture is aware of the official passport photo requirements. The only drawback of this option is that they might charge you a high amount for two passport-size photos.
How Much Do Passport Photos Cost?
Depending on the location you pick, you can expect to pay the following amounts for your passport photos:
You should also consider other factors when choosing a location, such as the business hours and printing time.
Can I Take Passport Photos at Home?
If you want to avoid the hassle of driving to a store, looking for parking, and waiting to get your photo taken, you can take it at home.
While it may sound easy in theory, you need to be acquainted with all the official regulations to make sure your passport application goes through. The essential ones are explained in the list below:
Date of the photo—The photo should not be older than six months
Background and lighting—The background should be white or off-white, and there shouldn't be any uneven lighting or shadows
Dimensions—Your photo should measure 2 x 2 inches (5 cm x 5 cm), with your head measuring between 1 and 1 ⅜ inches (2.5 cm to 3.5 cm) from top to bottom
Paper—Your photo should be printed on matte or glossy photo paper
Pose—You should sit straight and look directly at the camera. Both your eyes should be open, and your ears should be visible
Expressions—Keep a neutral expression, with a slight smile. Avoid frowning, grimacing, or smiling with your teeth showing
Attire—You should wear everyday clothes or business attire. Avoid wearing:

Hats or scarves unless you wear them for medical or religious reasons
Sunglasses—In case you have prescription glasses or an eyepatch, present a signed note from your doctor verifying you have a medical problem
Face masks or veils
Chunky jewelry
Uniform
Costume

Filters—Since filters and digital enhancers can change your facial features, they are strictly prohibited. If you're worried about dark circles or blemishes, use a concealer to hide them
Selfies—You cannot use a selfie as a passport photo
How To Take Passport Photos Yourself
Since selfies are not allowed, taking a photo yourself might not be as easy as it sounds.
You need the following equipment to take your picture at home:
Good-quality phone or camera
Tripod
Good lighting source
The process of taking your passport picture is as follows:
Set up your phone or camera on a tripod
Set a timer on the device. Use burst mode to take multiple photos
Sit or stand facing the camera
Take a deep breath to straighten your posture and wait for the camera to click
Upload the photo to your laptop and edit it using a photo editing program
Print it on matte or glossy photo paper
Cut it to the correct size
Is the process too complicated? Sign up for our app, and get your photo edited and printed in a few simple steps!
How Can DoNotPay Help With Passport Photos?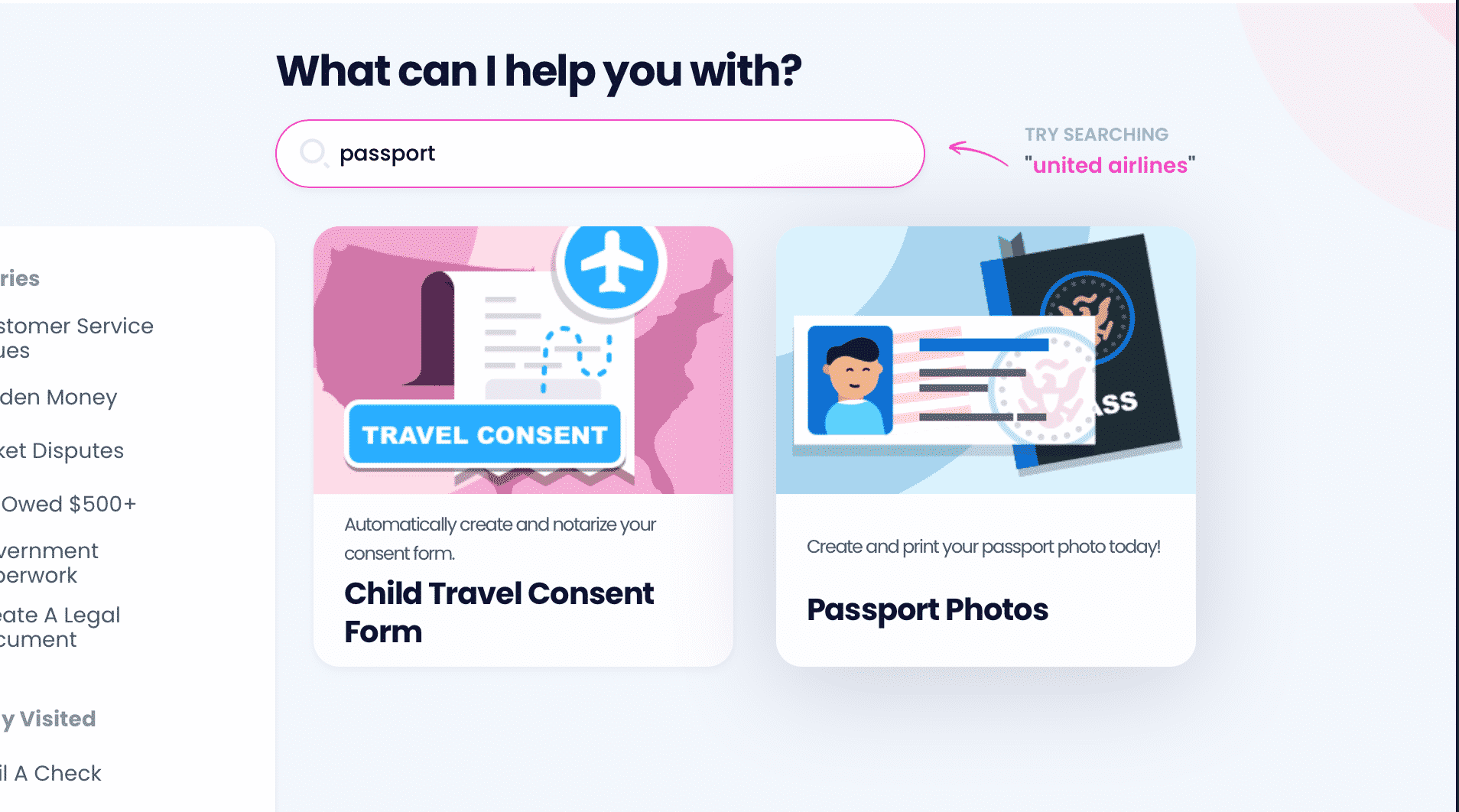 DoNotPay makes it easy to get a passport photo online without leaving your home. Our amazing Passport Photos feature can edit and crop your picture, print it, and send it your way in a few minutes.
All you need to do is follow these instructions:
Access DoNotPay from a web browser
Select the Passport Photos feature
Upload your photo
Type in your email address
We will edit your photo according to the government requirements and email it to you right away. If you need prints, expect to receive them within three to ten business days, based on your choice of shipping.
Find your place of residence in the table below to see where you can have your passport photo taken:
DoNotPay Resolves Both Bureaucratic and Legal Issues
One of our app's best qualities is its versatility. You can use your personal AI-powered assistant to overcome both legal and bureaucratic obstacles without breaking a sweat. No more waiting in lines or breaking the bank due to sky-high lawyer fees!
Take a look at what you get access to for a low monthly fee:
Can DoNotPay Do Anything Else?
The world's first robot lawyer is capable of so much more! No matter if you want to find your unclaimed money, apply for clinical trials, get rid of email or text spam, prepare for a government test, fight workplace discrimination, or get gift card cash back, DoNotPay can help!
What are you waiting for? Sign up for DoNotPay now to enjoy our nifty products!