Where To Take Passport Photos in NYC—Mystery Solved
Do you want to go on a trip abroad, but your passport has expired? Besides getting the supporting documentation for the renewal, you will need to get a new digital or physical passport picture.
This service is available at many locations, but the prices and waiting time may vary depending on the individual policies. This is why our guide offers you the best tips on where to take passport photos in NYC and complete your application the easy way!
Where To Get Passport Photos Taken in NYC
New York City boasts a vast number of places where you can have your passport picture taken. This service isn't offered by photo stores only but also by many other companies and facilities that belong to different fields, such as drugstores or shipping companies.
Here's a table listing the ones available in this city:
Locations
Companies
Local photo studios

Columbia Photo Studio
This Pix
Luster Photo and Digital
Sammy's Photo Lab

Passport offices and stations

Around 30 stations, including:

Ansonia
Cathedral
Cherokee Finance
Church Street
Colonial Park
Franklin D Roosevelt
Grand Central
Greeley Square
Madison Square
Midtown
Old Chelsea
Planetarium
Radio City
Rockefeller
Roosevelt Island
Times Square

Pharmacies and retail locations
Courier companies and post offices
Are There Cheap Passport Photos in NYC?
The least costly option is to have your photos taken in the specified retail locations around the city. You can get them for:
$7.44 in Walmart
$10.00 in AAA stores
$12.00 in Target
When it comes to courier companies, UPS offices offer the most affordable service—two passport photos for $11.99. FedEx and USPS will charge from $14.95 to $15.00.
The same goes for pharmacies as they also charge a lot. In CVS or Walgreens, you will get two passport photos for $14.99.
If your goal is to find a less expensive photo service, you probably won't be satisfied with the prices in photo studios and stores either. The pictures taken at these locations are more pricey due to the professional equipment, photo quality, and expertise of the professionals who work there. Photo studios often don't put all the prices on their websites, but you can always call them and check if you want to consider them after all.
Besides the total price of the photos, you should also keep the other possible expenses in mind, such as fuel costs if you are traveling from one part of the city to the other.
What Are the Official Passport Photo Standards in NYC?
Regardless of the option or facility you choose for getting your passport pictures, they must adhere to the rules provided by the U.S. Department of State. You can find more details in the following table:
Criteria
Details
Not older than
Six months
Size
2 x 2 inches (5 cm x 5 cm)
Head size
Between 1 and 1 ⅜ inches
Preferred printing paper size and type
4 x 6 inches, matte or glossy finish
Resolution
From 600 x 600 pixels to 1200 x 1200 pixels
Background
White or off-white without shadows
Face and position

Neutral face expression
Slight smile or no smile at all
Direct look at the camera

Clothes

Neutral or everyday clothes
National costumes, uniforms, and camouflage are unacceptable

Accessories
Acceptable:

Thin or small pieces of jewelry

Unacceptable:

Hair accessories covering parts of the face
Hats and head coverings that aren't worn for religious reasons
Headgear and headphones
Glasses, sunglasses, or lenses that change the appearance of the eyes
Get a Top-Notch Passport Picture in a Snap With DoNotPay
Did you realize you don't have enough money for professionally made passport photos, but you need them urgently? Don't pay hefty amounts or edit the pictures online yourself if you aren't sure you can do it right. and let us help you within minutes!
Our app can create a great passport image at home by editing the photo you upload. We will:
Run a search and scan your photo for all imperfections
Fix the picture by adjusting the basic settings and make sure it matches the prescribed standards
Email the digital copy of your new passport picture right away
Send you physical copies if you want them
DoNotPay also allows you to make another attempt if we can't detect your face or the picture is unclear.
How To Use DoNotPay to Create a Passport Photo
To take advantage of DoNotPay's Passport Photos feature, proceed as follows once you and log in:
Navigate to the Passport Photos product
Add the photo you want to have edited
Leave your email address
Submit your shipping address and choose a mailing option in case you want to order physical pictures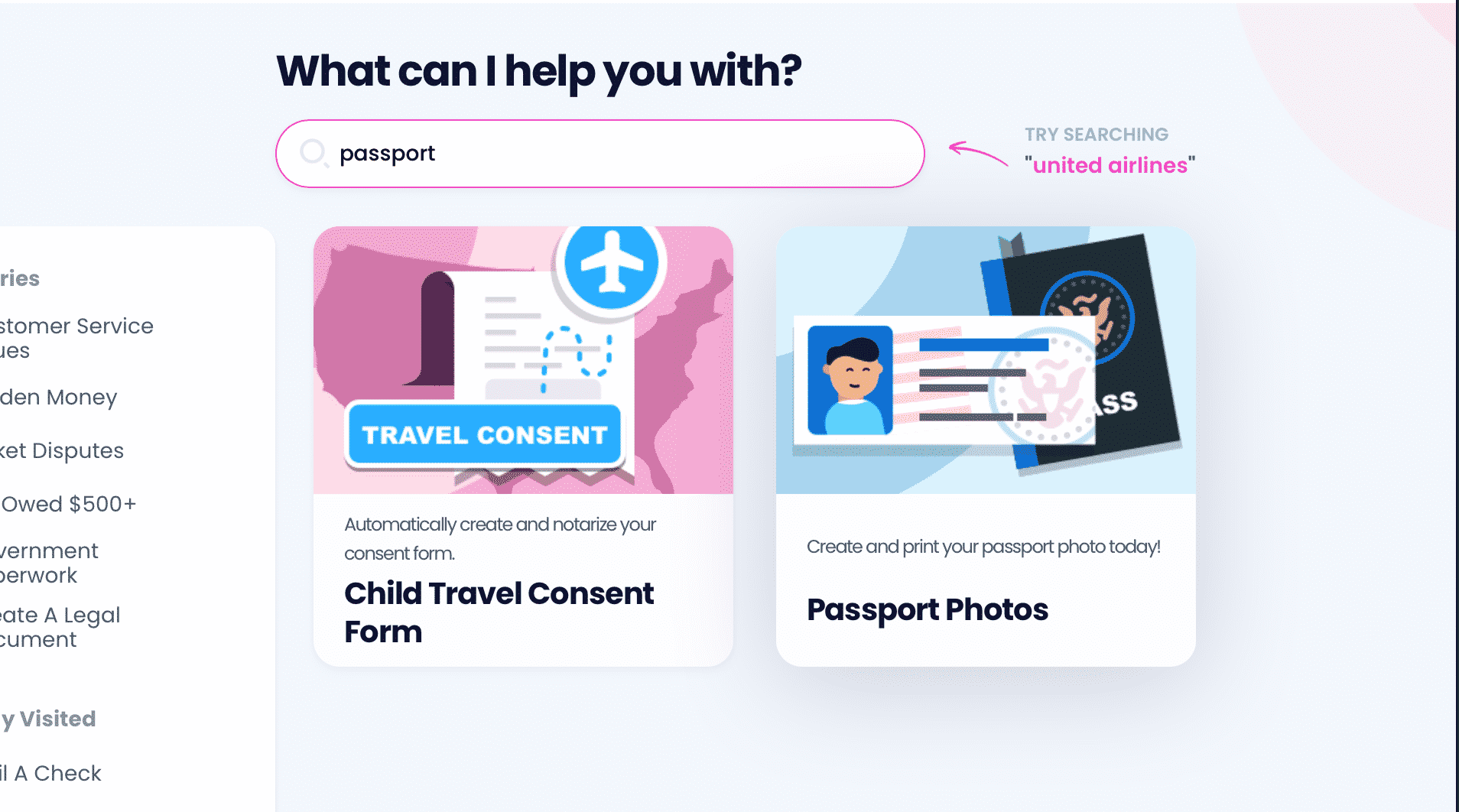 When ordering physical copies, you can choose between three shipping options. If you pick Rush Shipping, you will receive the pictures within three business days. With the Economy or Expedited Shipping method, the courier will deliver them in four to ten business days.
Find your place of residence in the table below to see where you can have your passport photo taken:
You Can Count on DoNotPay To Resolve Any Issue
Are you stuck in the never-ending subscription cancellation procedures? Do you want to demand a refund once you finally reach a customer support rep? Is the company refusing to cooperate? No need for stress—your personal assistant can lend a helping hand.
Is there anything else we can help you with? You bet! Once you sign up, we can resolve a number of issues in your stead. Count on our app if you're struggling with:
You Don't Have To Suffer in Silence
Have you been experiencing workplace discrimination lately? Do you have a real-life stalker or harasser that you're too scared to confront? Do you want to get rid of robocalls and text and email spammers once and for all? You're not alone—DoNotPay is by your side and will help you deal with all of these issues.
As soon as you subscribe to our app, you'll be able to use our products to your advantage and fight for your right worry-free!