Where To Get Passport Photos in Portland, Oregon, Without a Hassle
The first thing you need to do when applying for a passport is having your picture taken. It might seem like a piece of cake because we take pictures all the time, right? But there are a lot of requirements for a passport photo. If even one of them is not fulfilled, the photo is automatically rejected.
In this guide, we will explain where to get passport photos in Portland, Oregon, without a hassle. Our learning center can provide practical advice on:
Important Info About Passport Photos
Before getting your picture taken, you need to know what the official government requirements are. If you don't, you risk making a mistake and getting your photo rejected for one reason or the other. To cover all the bases, you need to take the following into account:
| | |
| --- | --- |
| Requirements | Brief Explanation |
| Date of the photo | The photo must not be older than six months |
| Size and dimensions | The size of the photo needs to be 2 x 2 inches (5.1 x 5.1 cm) |
| Pixels and resolution | The image needs to be in high resolution. Acceptable resolution ranges from minimum 600 x 600 to maximum 1200 x 1200 pixels |
| Paper | The photo needs to be on good quality paper, such as matte or glossy photo paper |
| Background | The background should be plain white. Any other color or pattern is unacceptable |
| Pose and expression | You cannot take a selfie. You need to be sitting up straight, facing the camera directly, with your face and ears visible. Your facial expression should be neutral, but you can still show a natural smile |
| Filters | You are not allowed to use filters or enhancers to alter your picture. In case you have red eyes in your picture, you need to retake it |
What Not To Wear When Taking a Passport Photo
If you want to avoid getting your passport photo rejected, don't wear the following items:
Glasses—You can only wear prescription glasses if they don't have a glare, but you must provide a doctor's signed statement confirming that you can't take them off. Sunglasses and tinted glasses are not allowed
Hats or head coverings—Hats are not allowed in passport photos unless you wear them for medical or religious reasons. Either way, you need to present a signed statement verifying this
Jewelry—Permanent facial piercings are allowed. Jewelry that obstructs your face should be taken off beforehand
Uniform—Uniform or camouflage attire is not allowed for either children or adults
Face masks—You are not allowed to wear anything that obstructs your facial features. If you're concerned about social distancing, ask the photographer to maintain a proper distance
Hair accessories—Large, colorful headbands or scrunchies should be removed
If you have long hair, you need to tie it up or hold it back to keep your entire face visible. We also recommend not wearing a light-colored shirt since it might blend into the background.
Where To Get a Passport Photo in Portland, Oregon
In case you want a professional to do the job for you, here's a list of places you can visit to get your passport photo taken:
Walgreens—Visit a Walgreens location near you. Pay $14.99 to get your picture taken. Wait for an hour while they print your photos
CVS—Locate a CVS Pharmacy and confirm that they offer passport photography services. You need to pay $14.99 for two passport photos. If you need more copies, pay $2.99 for two extra pictures. In case your photo is rejected by the government, you can return the photos and get new ones made (provided you have the purchase receipt)
UPS—Find a suitable UPS store online and schedule an appointment. Make sure to check the cost beforehand because it varies from city to city
FedEx—Pay $14.95 at your nearest FedEx location and request them to take a passport photo for you
If you are looking for travel agencies, camera shops, and professional photographers, use Yelp to discover the most suitable ones. Call them first to find out about the cost, location, and business hours. A better option is to subscribe to our app and get passport photos emailed to you within five minutes.
How To Get Passport Photos at Home Using DoNotPay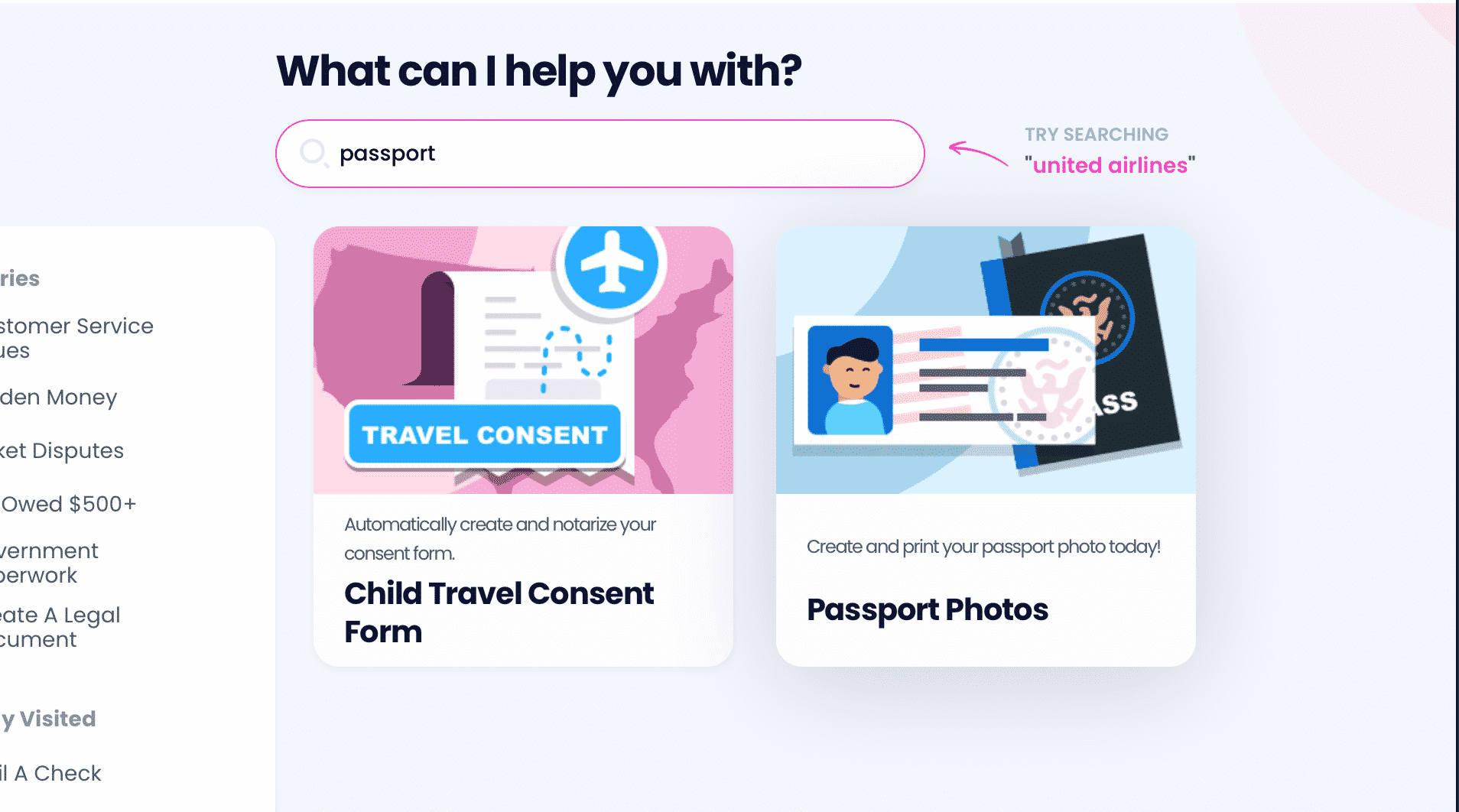 While hiring a professional photographer might seem like your best bet, you should know that this option can be quite expensive and time-consuming. You have to take time to go to the store, get your picture taken, and wait for them to be printed.
Why go through the hassle when you can do it from the comfort of your own home? With our Passport Photos feature, you can get your photo taken and adjusted according to the government requirements at any time of the day.
Finish this errand by following these instructions:
Open DoNotPay on your web browser
Type Passport Photos in the search bar
Take a picture or upload an existing one
And you're done! DoNotPay will do its photo magic, and once the processing is over, we will email you the photos. If you want physical copies, we can ship them to a valid U.S. address. The delivery time ranges from three to ten business days, depending on the shipping option you choose.
Find your place of residence in the table below to see where you can have your passport photo taken:
DoNotPay Resolves Both Bureaucratic and Legal Issues
One of our app's best qualities is its versatility. You can use your personal AI-powered assistant to overcome both legal and bureaucratic obstacles without breaking a sweat. No more waiting in lines or breaking the bank due to sky-high lawyer fees!
Take a look at what you get access to for a low monthly fee:
Can DoNotPay Do Anything Else?
The world's first robot lawyer is capable of so much more! No matter if you want to find your unclaimed money, apply for clinical trials, get rid of email or text spam, prepare for a government test, fight workplace discrimination, or get gift card cash back, DoNotPay can help!
What are you waiting for? Sign up for DoNotPay now to enjoy our nifty products!