Where To Get Passport Photos in Rochester, NY, Swiftly
Getting your passport renewed is stressful, but knowing where to have the passport photos taken can help you lift that burden at least a little. It's crucial to be familiar with the most reliable locations since your photo has to meet strict government standards.
Are you wondering where to get passport photos in Rochester, NY, without too much hassle? DoNotPay will give you a brief on the most convenient and pocket-friendly places in the area. We'll show you how to simplify the process even more by taking the passport photo at home and submitting it online!
Passport Photo Service in Rochester, NY
If you live in Rochester, you may be surrounded by places with the passport photo service without even knowing it. Take a look at the common places in Rochester where you can have your passport photo taken:
Pharmacies and drugstores—Walgreens, CVS, or Rite Aid typically provide passport photo service. With these particular pharmacies being staples in almost any neighborhood, you'll have no trouble finding one in your vicinity
Membership-based companies—If you're a member of the AAA, you'll get passport photo service at a much more affordable price than regular folks
Passport acceptance facilities—Many government facilities that accept passport applications offer to snap your passport photo as well. You can call and confirm at your local:

Post office
Court clerk's office
Public library

Shipping stores—FedEx and UPS centers in your area will likely be able to take your passport photo. Since both companies have specific rules regarding their passport photo service (UPS requires setting up an appointment), it's best to call them ahead
How Much Do Passport Photo Services in Rochester Cost?
Passport photo service locations in Rochester have a wide range of prices—from retail stores being the most affordable to pharmacies being among the priciest. Take a look at the table below for more details:
| | |
| --- | --- |
| Locations | Prices |
| Walmart | $7.44 |
| Target | $12.99 |
| Walgreens | $14.99 |
| CVS | $14.99 |
| Rite Aid | From $7 |
| FedEx | $14.95 |
| UPS | $11.99 |
| USPS | $15 |
| AAA | $15 for non-members ($10 for members) |
Visiting the above-listed locations may take up a lot of your time and empty your pockets. You can try saving some time and cash by taking a digital photo at home, as long as you're familiar with the official passport photo requirements.
Passport Photo Requirements—All You Need To Know
The U.S. Department of State has established a specific set of rules regarding passport photos, which state that:
Image must be recent (not older than six months) and measure 2 x 2 inches (51 mm x 51 mm) in size
Head size should be between 1 and 1 ⅜ inches (25 and 35 mm), measured from the top of your head to the bottom of your chin
The background should be white or off-white, free of shadows
You should wear regular, everyday clothes (no costumes or uniforms)
Accessories, such as glasses, hats, or headgear, are forbidden, except for medical or religious reasons
You should look directly into the camera and have a neutral facial expression (a natural smile is allowed)
Photo must be in high-resolution, printed on quality photo paper, and free of smudges, creases, and holes
How To Take Passport Photos at Home
While you have to meet numerous requirements, mastering the art of taking passport photos is possible with some certified tricks.
The crucial factors you need to pay attention to are:
Finding a reliable photographer (you can ask a friend or a family member)
Using a device with a high-resolution camera (it can be your phone, tablet, or a digital camera)
Choosing good lighting
Following other regulations regarding:

Background
Posture
Facial expressions
Clothes and accessories

Adjusting the photo to meet the government standards
Bear in mind that making the slightest mistake can cause your passport photo to be denied. If you don't feel confident taking on such a delicate task, give a go. Our app will help you nail your passport photo on the first try!
DoNotPay Is Your Reliable Passport Photo Assistant
Choosing DoNotPay is both the most practical and affordable option since you'll be able to avoid:
Walking or driving to a passport photo service location
Paying a hefty amount for having your photos taken
Trying to fulfill government requirements by yourself
Our app will take the burden off your back by:
Checking if the photo meets the standards
Adjusting it in your stead
Informing you if taking another photo is necessary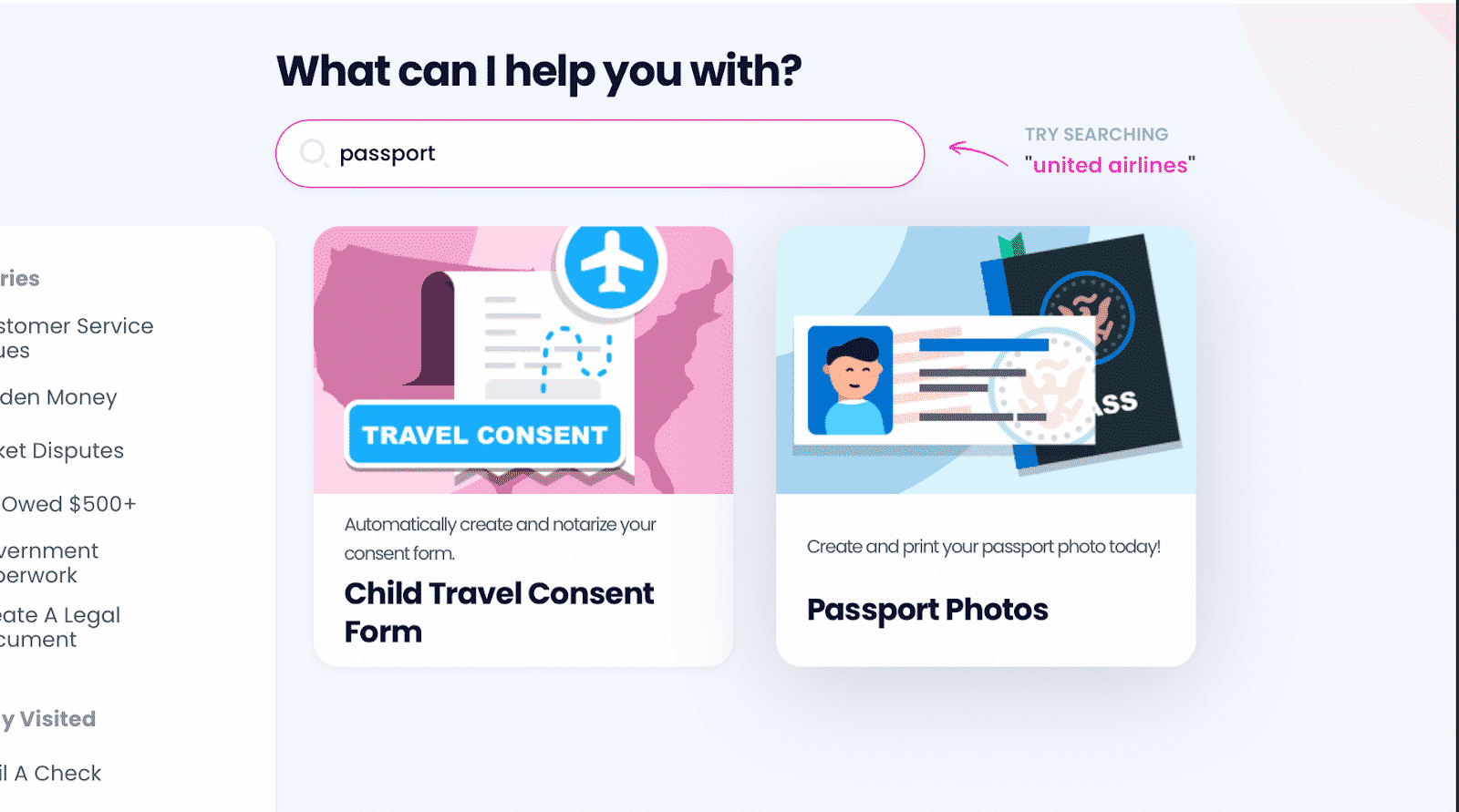 You will initiate the process if you and:
Go to our Passport Photos tool
Upload a photo
Select whether you'd like to receive printouts of your images and what shipping option suits you (you'll get the digital copies in minutes)
Your next step is to head down to the nearest passport issuance facility with physical copies or upload digital images with your online application, and you're done!
Find your place of residence in the table below to see where you can have your passport photo taken:
Outsmart Big Corporations by Using DoNotPay
Our platform is always on the side of regular people, and the number one item on our agenda is fighting for your rights.
If you need help requesting refunds for faulty products, late parcels, or canceled flights, you can turn to DoNotPay for help. Protect your privacy and stay one step ahead with our spam email collector, burner phone numbers, and virtual credit cards.
We will provide you with everything else you need in your fight—online fax, mailing service, and products for drafting legal documents and having them notarized online.
Improve Your Leisure Time Too!
You can win some serious battles with the help of DoNotPay—after all, our app can even get you ready for small claims court—but we offer numerous useful features that will improve the quality of your entertainment.
Signing up for free trials doesn't come with the risk of losing money anymore, and if you get bored with that new streaming service, you can easily cancel it using our app.
If entering raffles is your idea of fun, you'll be glad to know we can help you participate in all kinds of these games of chance. You can also review your knowledge using our government test prep quizzes or retrieve any unclaimed money under your name and spend it on something fun!