The Best Tips on Where To Get Passport Photos in Herndon, VA
Have you been considering a passport renewal so that you can travel abroad? Besides taking care of other application parts, you must ensure that the picture in your document complies with the specific requirements provided by the U.S. Bureau of Consular Affairs.
If you are wondering where to get passport photos in Herndon, VA, how much you should pay for them, and what criteria they need to meet, we can help! We'll also show you how to use DoNotPay to save some time and prepare your passport photo at home in less than five minutes!
What Should Your Passport Picture Look Like?
The agency can easily reject your application or place it on hold if your passport photo doesn't meet the established standards. This is why it's crucial to take care of each detail when getting a photo for your document. You can find the basic requirements in the following table:
Technical Criteria
Other Requirements

The size of the photo must be 2 x 2" (51 mm x 51 mm)
Your head size should be between 1" and 1 ⅜" (25 mm x 35 mm), measuring from the bottom of the chin to the top of the head
The background should be plain white or off-white and shadow-free
The photos should be printed on 4 x 6" paper with a glossy or matte finish
The pictures shouldn't be older than six months

You should look at the camera without tilting your head
Eyes must be open
Grimaces are unacceptable—you must keep a straight face
Smiles are allowed as long as they are slight and natural
Clothes that shouldn't be worn include uniforms, costumes, and camouflage pieces
Accessories that may cover some parts of your face must be removed—these include:

Hats
Head coverings
Headphones and other headgear
Bulky hair accessories
Glasses and sunglasses
Huge pieces of jewelry
Where Can You Get Passport Pictures in Herndon, and How Much Do They Cost?
When thinking about getting a passport photo, the first place that comes to your mind is probably a local photo studio. While this is a common choice because of the high-level expertise it provides, the prices are often twice as high as at any other place. If you still prefer to get professionally taken pictures, you should check out some of the best-rated photo stores in Herndon on Yelp or Yellow Pages.
Should you prefer to get your picture at a lower price, you can turn to other locations in the city offering passport photo service. Here's a table showing most of the places in Herndon where you can get pictures for your document and the prices:
Can You Take Passport Photos Yourself?
Yes, you can. If you don't want to spend cash on professional photo services, you can try to take your own digital passport photo at home. This process involves following a few important steps listed below:
Ensure that you can comply with all technical requirements
Have your picture taken by a friend or a family member or use a tripod—selfies aren't allowed
Use online tools, photo apps, or built-in computer programs to edit the photo, but comply with the requirements
Print the photo on a suitable, high-quality piece of paper
Generate a Top-Level Passport Image in Minutes With DoNotPay
Even though taking a photo at home with your smartphone camera seems easy, it's not always the case. You must set all the required parameters, crop or resize the photo, and adjust contrast and lighting yourself. If you don't want to take chances, rely on DoNotPay and have your picture created within minutes!
Our AI-powered system lets you upload the photo you want to use as a passport picture and have it scanned for irregularities. Once we detect anything that doesn't align with the prescribed standards, we will fix it and forward the brand-new picture to your email address! You don't need to edit the photo yourself or waste your time and money traveling to photo stores—we do all the work!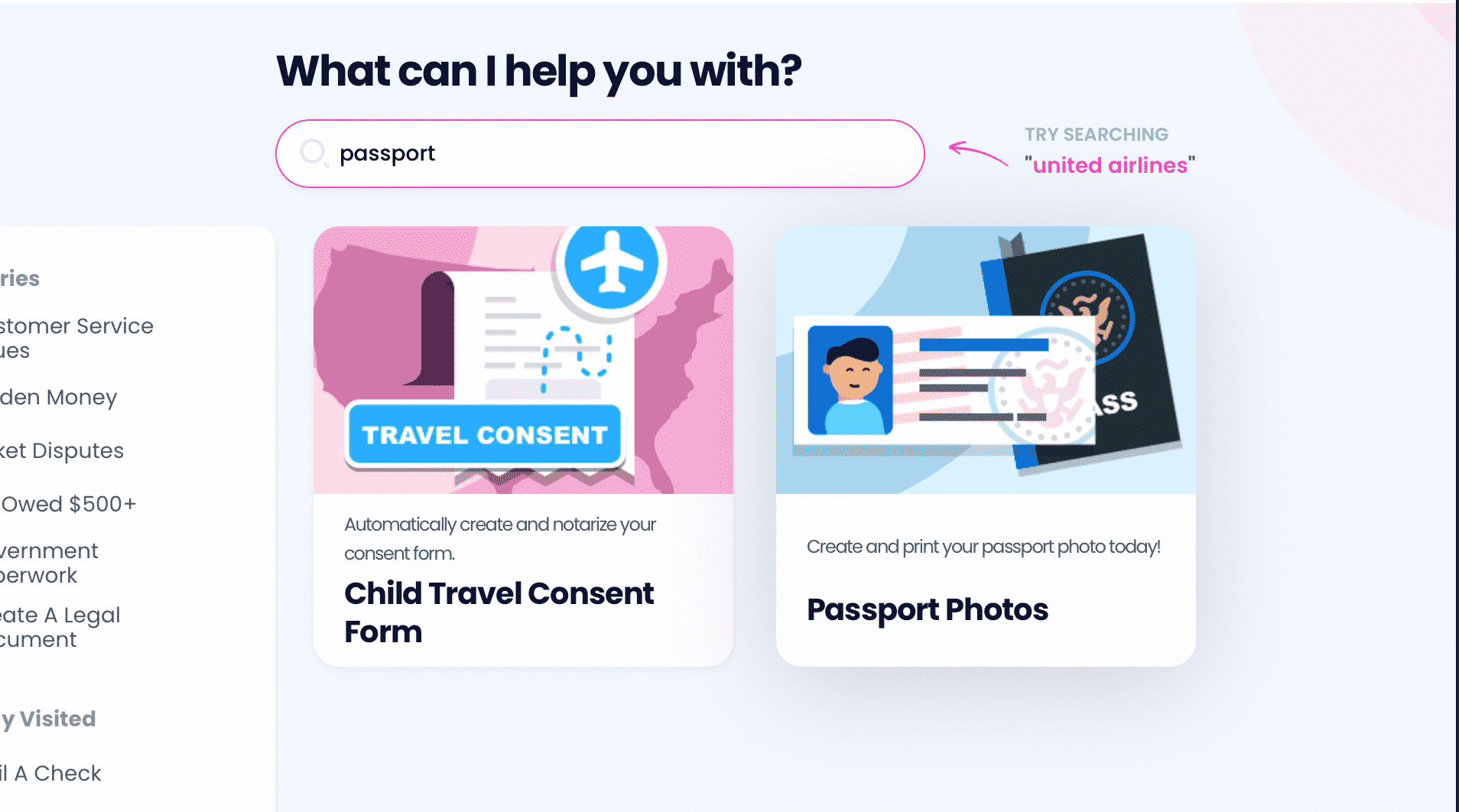 How To Create Your Passport Photo Using DoNotPay
Here are the instructions you must follow to use our feature:
Access DoNotPay from any web browser and sign in
Open the Passport Photos service
Attach your photo
Provide our chatbot with your email address—and your physical address if you want to receive physical pictures as well
We will send the electronic copies of your new passport photo as soon as you complete these steps! If you opt for receiving physical copies too, choose among three shipping methods—Economy, Expedited, or Rush Shipping—and get the photos in three to ten working days!
Find your place of residence in the table below to see where you can have your passport photo taken:
Not Sure if You'll Have Enough Money at the End of the Month? We Can Help
Most Americans go through financial hurdles daily. You don't need to put up with it all—as soon as you sign up for our app and voice your struggles, we will provide our assistance! DoNotPay is capable of:
Dealing With a Greedy Company? No Need To Worry
Are you dealing with a company that doesn't want to cooperate and keeps ignoring your consumer rights? No problem—DoNotPay can help you sue the company in small claims court and win your case.
If you need us to draw up a legal document, get it notarized, and fax it to the court, we can do that as well.
Have you been trying to reach the company's customer support reps with no success? Don't get stressed—our app will gladly wait in the phone queue in your stead and notify you as soon as someone picks up.