Where To Get Passport Photos in Cincinnati—Mystery Solved
Getting a proper passport picture is one of the most significant tasks on your to-do list if you are planning to travel from Ohio to other destinations. It seems easy, but there's much to take care of, such as the size of the picture or the requirements proposed by the U.S. Department of State.
Not sure where to get passport photos in Cincinnati or what they should look like? In this article, you will get suggestions for places that offer this service and inform yourself of the current prices. That's not all—we also show you how to rock your digital passport picture at home by using DoNotPay!
Places in Cincinnati That Offer Passport Photo Services
Cincinnati offers a wide range of places that provide passport photo services. You can choose among various types of locations, which are listed in the table below:
Locations
Details
Photo stores and studios
Choosing a professional service is the most secure option but also the most pricey one. At times, two passport photos can cost twice as much as at other locations. Some of the most popular and best-rated photo stores in Cincinnati include:

Dodd Camera
Keepsake Photography Studio
Western Hills Photo & Hobby

Libraries and offices
The Cincinnati Public Library is also a place where you can submit a passport application or have passport pictures taken. Besides here, you can also turn to local passport offices
Shipping companies
FedEx, UPS, USPS, and PostalAnnex provide photo services but not at all locations in the city. Make sure to contact the nearest one to check if you can get a headshot for your document there. The Village Post is also an acceptable solution if you need pictures urgently as they have favorable working hours
Retail outlets and stores
Some retailers go the extra mile by providing passport photo services at most of their locations in Cincinnati. These include:

All you need to do is enter their photo booth and take as many photos as you need

Pharmacies
Consider visiting Walgreens or CVS Pharmacy—they have a bunch of locations all around the city where you can get the snapshot you need
What Are Passport Photo Prices in Cincinnati?
You can expect the highest prices in photo studios—usually because of high-quality gear and a high level of expertise in this field. These companies don't always display the prices on their websites, so it's necessary to visit or contact them to get the cost info. Courier facilities usually charge between $10 and $15 for two physical passport-size photos.
If you can do fine without professional services or courier photo services are too expensive for you, turn to stores and pharmacies. They are less pricey than photo stores and shipping companies—the prices range from $5 to $12. You can even get additional copies if you pay a few extra cents.
How Will Your Passport Photo Be Taken?
Whether you opt for a studio session or a photo booth in a store, the picture you take must align with the above-mentioned specific standards. Here are the steps you must follow when taking a photo for your document:
Choose the right size of the picture—2 x 2'' (approximately 5 cm x 5 cm)
Pose in front of a white or off-white background
Make sure your eyes are wide open and not covered by hair
Have a blank face expression—a slight smile is acceptable
Look straight at the camera
Remove the following accessories if you have them:

Glasses—unless you have a special signed statement from your doctor that says you can't take them off for medical reasons
Other types of eyewear—sunglasses, tinted glasses, or lenses that alter your natural look
Face masks
Head coverings—unless you are wearing them for religious reasons
Headphones and hands-free devices
Other headgear—unless you must wear it for medical reasons
Jewelry or head/hair accessories that hide parts of your face

Have the photo printed on a quality 4 x 6" piece of paper
You shouldn't wear camouflage clothes or national costumes. Your photo will also be rejected if you pose in a uniform, so make sure you put on an everyday outfit. Plain-colored garments without patterns or prints are the best option.
Forget About Expensive Services—Get Your Passport Photo Easily With DoNotPay
Giving ten or more dollars for two tiny photos is everything but great news for your wallet, especially if your budget is tight at the moment. You can always take a picture at home and edit it online, but in such cases, you must take care of all aspects of the photo, such as lighting or background settings. This is where DoNotPay enters the scene!
We made a super useful AI-based tool that can scan your photo for irregularities and fix them, making sure the image complies with the established criteria!
To use our feature, you must:
Open DoNotPay in any web browser
Select Passport Photos
Upload the photo you want us to scan
Type in your email address so that we can send a new version of the picture to your inbox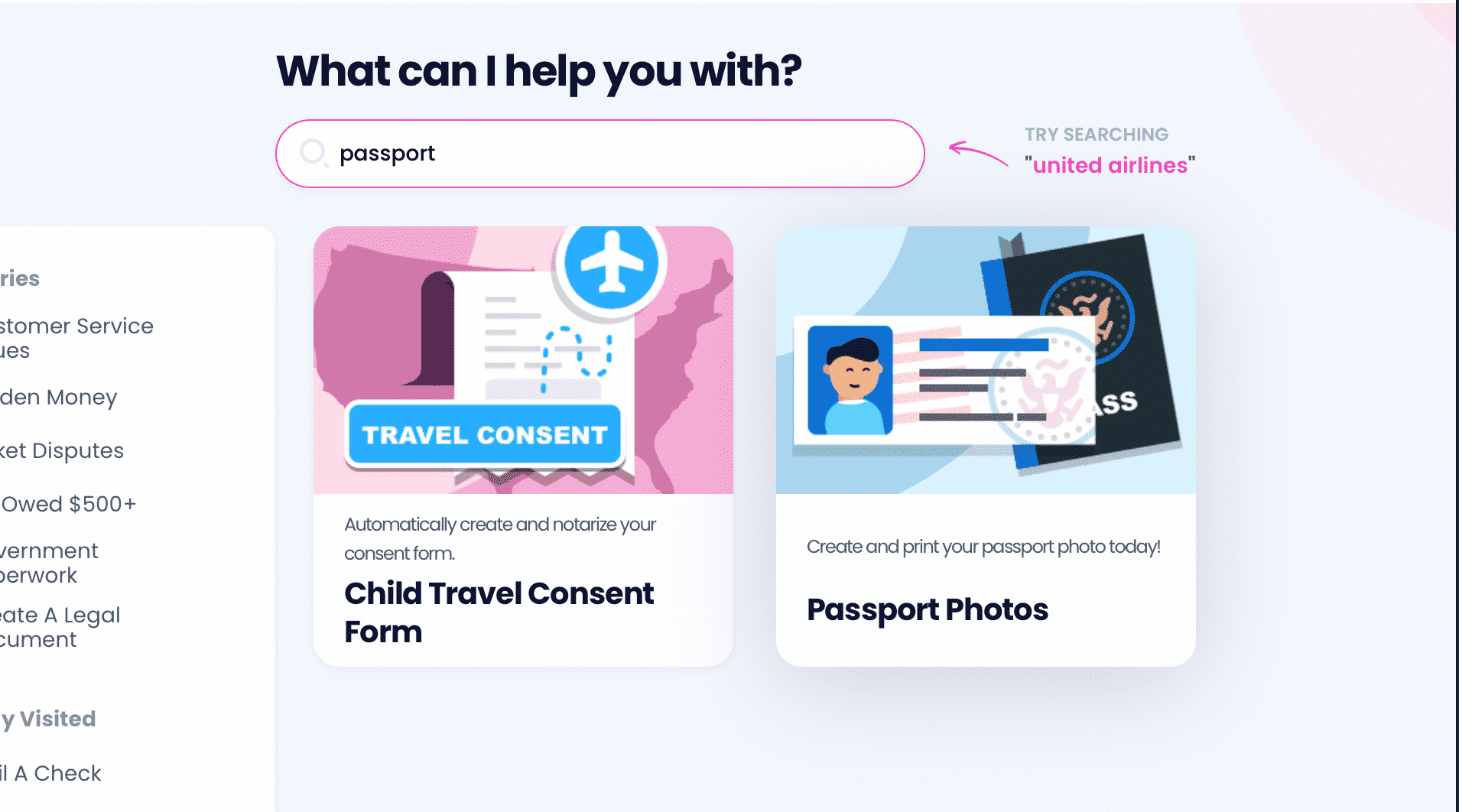 Note that we may ask you to submit another photo if the app fails to detect your face.
There's also an option to have two physical copies of your photo mailed to your home address. If you choose the Rush Shipping option, they will be at your place within three business days!
Find your place of residence in the table below to see where you can have your passport photo taken:
Discover DoNotPay's Product Range
DoNotPay has a vast range of products that help you earn and save money and fight bureaucracy. Check out how to get insurance or warranty, file a FOIA request, send anything through online fax, draw up a tailor-made legal document, get documents notarized, get a college fee waiver, sign up for any clinical trial, and so much more!
Your personal AI-powered assistant can also lend its helping hand if you need to fight email or text spam, get robocall compensation, request refunds from airlines, draw up a child travel consent form, prepare for government tests, and combat workplace discrimination successfully.
Save and Earn Money
The best part of using DoNotPay is that you can both save and earn money. As soon as you sign up, make sure you check out how you can find missing money, get free raffle tickets, get compensation for victims of crime, report a late or missing delivery and get a refund for it, and request gift card cash back.
If you want to sign up for a free trial risk-free, cancel any subscription-based service, request a refund from a company, sue anyone in small claims court, or jump the phone queue when getting in touch with customer service reps, you can always count on us.