What Happens if Your Passport Photo Is Rejected—Question Answered
Even though you may think that you rocked that passport photo you have just made, it could get rejected for a number of reasons. This problem may cause a significant delay during your passport application and bring about further issues.
We will explain what happens if your passport photo is rejected, list possible reasons for this issue, and help you get a flawless shot online!
The Basic Passport Photo Requirements in a Nutshell
Each U.S. passport photo must match certain criteria for the U.S. Department of State to accept it. This institution has determined the essential rules you must abide by when getting a picture for your passport.
Regardless of whether you are taking a digital photo or visiting a photographer, your passport picture must:
Be taken within the past six months
Have a specific size—2 x 2 inches (51 mm x 51 mm)
Be printed on matte or glossy paper
Get stapled at the specific place on the application
Remain damage-free and clear
Be taken in front of a white background without patterns or other colors
Why Can My Passport Photo Get Rejected?
The passport photo guidelines established by the U.S. Department of State are strict. This means you must follow all of them if you want to create an acceptable photo that won't get rejected.
Find the lists of most common problems causing the rejection of submitted photos in the table below:
Issue
Details
Photo quality errors

Filters
Shadows
Bad lighting
Overexposure
Underexposure
Bad paper quality
Wrong size of the photo
Wrong size of your face in the picture

Face position and expression problems

Frowning
Wide smile
Blinking or smirking
Overly emotive expression

Unacceptable clothes and accessories

Eyewear, including:

Prescription glasses
Sunglasses
Tinted glasses
Lenses that can change the appearance of your pupils

Hats
Head coverings (unless they are a part of religious clothes)
Huge or reflective jewelry
Piercings that can hide parts of your face
Uniforms
Camouflage print
High collars
What if My Passport Photo Is Rejected?
You will know if your passport picture gets denied soon after submitting it along with the other necessary documents. The agency will inform you that they have faced an issue while processing your application and disclose the reason for rejecting your photo.
Once you receive a letter from them, you must resubmit the photo according to the instructions given to avoid further complications during the process. Your application will probably remain on hold until you send the appropriate picture.
Here's what the procedure looks like:
Create a new photo that will match all the requirements
Include any other supporting documentation if necessary
Send it to the institution within 90 days from receiving their letter
If you have any doubts about the instructions you got, you can always contact the agency via email or phone and get all your questions answered.
How Can DoNotPay Help Me Obtain a Proper Passport Picture?
DoNotPay offers a fast and affordable solution for getting an impeccable passport photo that complies with all requirements. Skip expensive photo services and avoid taking risks with unchecked pictures made at home—rely on our app and solve the matter quickly and easily!
Provide us with a photo you made, and we will make all necessary corrections, including cropping, adjusting the size and background of the picture, or fixing the contrast.
Here are the steps you must follow to use our app:
and navigate to the Passport Photos feature
Attach a photo or snap one with your phone
Let us scan your picture and adapt it to the proposed requirements
Provide your email address to receive electronic copies of your photo
You can also submit your shipping details if you want us to send physical copies your way!
Depending on the mailing option you choose, you can receive the pictures:
Right away—if you select the email option only
In three to ten business days—if you want to receive pictures by mail
You will also be able to express concerns or ask questions once you submit the necessary information.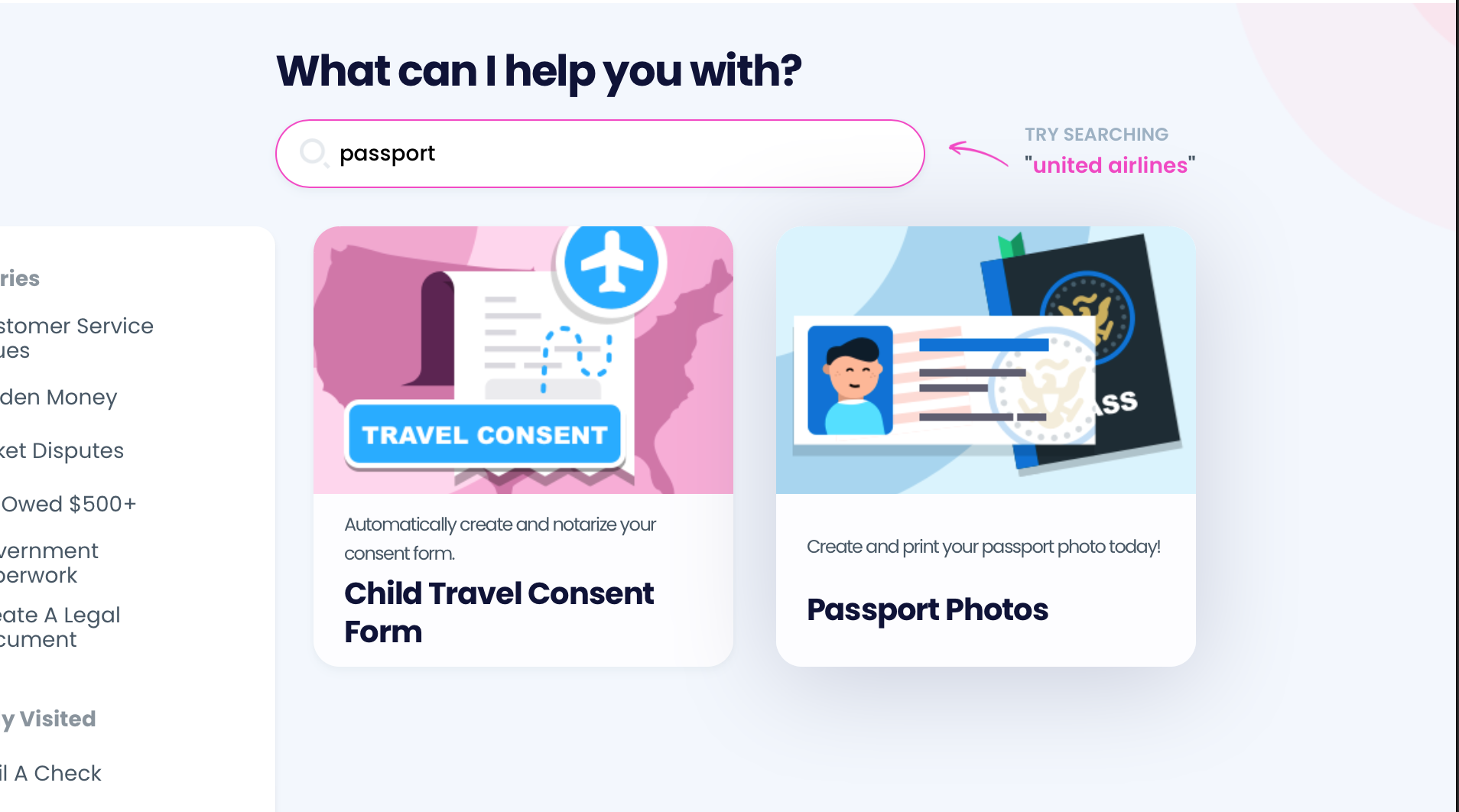 Find your place of residence in the table below to see where you can have your passport photos taken:
Discover More About Passport Photos in Our Learning Center
If you want to get some practical tips for obtaining proper passport pictures, and find all the info you need in one place—our vast learning base!
Below is the table showing some super handy guides that will make your life easier and simplify your passport application process:
| | |
| --- | --- |
| | Common Questions |
| | Can you get photographed for a passport at: |
You Can Count on DoNotPay To Resolve Any Issue
Are you stuck in the never-ending subscription cancellation procedures? Do you want to demand a refund once you finally reach a customer support rep? Is the company refusing to cooperate? No need for stress—your personal assistant can lend a helping hand.
Is there anything else we can help you with? You bet! Once you sign up, we can resolve a number of issues in your stead. Count on our app if you're struggling with:
You Don't Have To Suffer in Silence
Have you been experiencing workplace discrimination lately? Do you have a real-life stalker or harasser that you're too scared to confront? Do you want to get rid of robocalls and text and email spammers once and for all? You're not alone—DoNotPay is by your side and will help you deal with all of these issues.
As soon as you subscribe to our app, you'll be able to use our products to your advantage and fight for your right worry-free!