How To Print a Passport Photo at Target—The Ultimate Guide
Spending a huge amount on passport pictures at a photo store is usually inconvenient, which is why most people opt for having their photos taken at retail stores. Many famous merchants, such as Walmart and Target, offer this type of service at a lower price. In this article, we bring you some handy tips that will help you print a passport photo at Target in a snap. We also provide an extra tip on getting a physical and digital passport photo in less than five minutes !
How To Print a Passport-Size Photo at Target
There are two ways to get a passport picture from Target:
Having a photo taken at a Target store
Ordering a photo online and having it shipped to your home address
Below you can see a short overview of both available methods:
Method
Instructions
Price
Getting photos at a Target store
Many Target retail locations offer photo services, which means you can get a pair of passport photos on site. Once you have a picture taken, you need to wait for a while until the staff prints the copies
$9.99 for two 2" x 2" photos
Receiving ordered photos via mail
Here's what the ordering procedure looks like:

Visit the Passport Photo page on the official Target website
Check the Ship to Home option
Set the quantity you want to order—one order contains two photos
Click on Get Started
Upload the photo and edit it online by using the company's photo app
Select Add to Cart
Choose Proceed to Checkout
Disclose the necessary shipping and payment info
Hit Place an Order

Once you complete these steps, the pictures will be mailed to your address. The estimated delivery time depends on the shipping option you pick

$12.99 for two 2" x 2" (shipping costs included)
There's also an option to order the photos by following the procedure mentioned above and pick them up at the nearest Target store, but it's currently unavailable. As it's temporary, you can always look for updates by checking the website or contacting the company.
The photos are printed on a piece of glossy paper, and they have crop lines to make cutting easier.
What Should Your Passport Picture Look Like?
Whichever option you pick, you should know that there are specific criteria you should stick to when having your passport picture created. Here are the basic ones:
The size of the photo must be 2" x 2" with a head size between 1" and 1 ⅜"
The resolution has to be high, ranging between 600 x 600 and 1,200 x 1,200 pixels
Paper with a matte or glossy finish measuring 4" x 6" is the best option for printing the pictures
The background should be white
Selfies and posing aren't allowed—you should sit up straight, facing the camera without tilting your head
Smiling is allowed if it's gentle, and your facial expression must be neutral
Eyes must be open, and you have to remove your glasses unless you have a signed statement from your doctor saying that you shouldn't take them off
Your face mustn't be covered with:

Hair
Hats
Scarves
Large pieces of jewelry
Huge piercings that may alter the natural look of your face
Head coverings (unless your religious beliefs propose them)
Hair accessories and headbands

Clothes you shouldn't wear in a passport photo include uniforms, all garments resembling uniforms, camouflage outfits, and costumes
Create a Top-Level Passport Photo From Home With DoNotPay
Did you know that we created a tool that can turn a simple snapshot into a flawless passport picture that meets all established requirements? With DoNotPay, you can finally avoid searching for a local photo service and take a passport photo from home within minutes.
We will:
Check the photo you want to use for your document
Discover all parameters that deviate from the prescribed propositions
Adjust the picture based on the official standards by fixing:

Background settings
Bad lighting
Wrong contrast

Send you the photos in electronic form in the blink of an eye
Give you a chance to request physical copies and ship them to your home address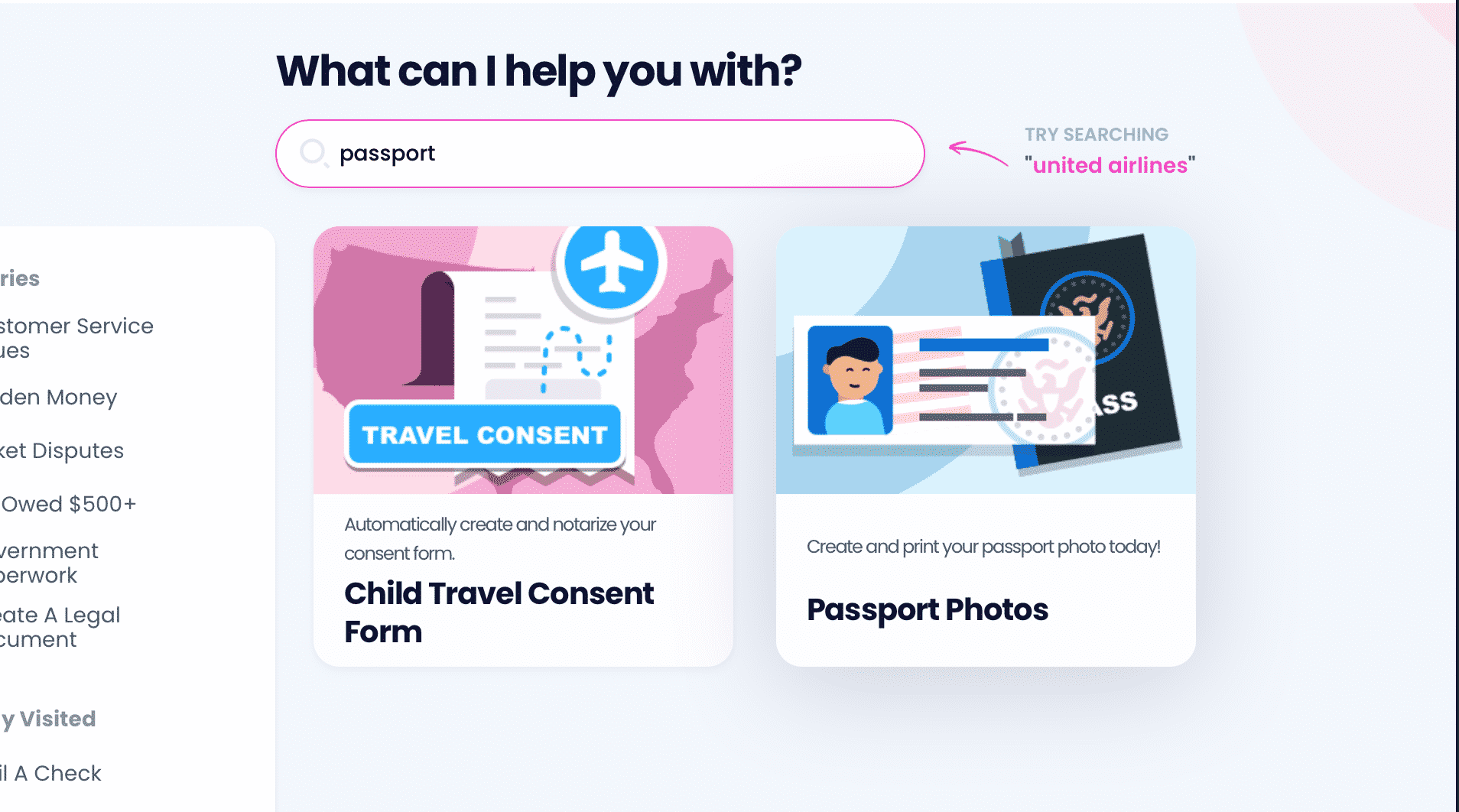 Check out the instructions below:
and sign in to your account
Pick Passport Photos
Provide us with the photo from your gallery or take a picture with your cellphone camera
Enter your email address
Input your shipping info if you want physical passport pictures to arrive at your place
Our app can't recognize your face in the picture? This may happen if the photo is unclear, but no worries—you will get a chance to attach or take another one and try again!
Discover Other Secrets to a Flawless Passport Photos in Our Learning Base
Great headshots for your passport aren't the only perk we are offering. Our learning center features loads of handy tips that will make your passport application much simpler, such as the ones on:
Find your place of residence in the table below to see where you can have your passport photo taken:
You Can Count on DoNotPay To Resolve Any Issue
Are you stuck in the never-ending subscription cancellation procedures? Do you want to demand a refund once you finally reach a customer support rep? Is the company refusing to cooperate? No need for stress—your personal assistant can lend a helping hand.
Is there anything else we can help you with? You bet! Once you sign up, we can resolve a number of issues in your stead. Count on our app if you're struggling with:
You Don't Have To Suffer in Silence
Have you been experiencing workplace discrimination lately? Do you have a real-life stalker or harasser that you're too scared to confront? Do you want to get rid of robocalls and text and email spammers once and for all? You're not alone—DoNotPay is by your side and will help you deal with all of these issues.
As soon as you subscribe to our app, you'll be able to use our products to your advantage and fight for your right worry-free!