All About the U.S. Passport Photo Requirements for Minors
Planning a trip with minors for the first time requires a lot of preparation, including passport applications. While getting a passport picture for your little ones may seem easy, there are many aspects you should consider, such as:
This guide will list the basic rules you must be aware of and show you how to get a satisfying picture for your document in the blink of an eye using DoNotPay!
The Passport Photo Criteria Explained
Most of the standard passport photo requirements for adults provided by the U.S. Bureau of Consular Affairs also work for children under the age of 16. Here are some essential criteria you must have in mind when getting a photo of your child or any minor:
Technical rules:

Photo mustn't be older than six months
Resolution should be high—at least 600 x 600 pixels
Image has to be clear and in focus
Matte and glossy paper is recommended for printing the photo
Filtered and modified pictures aren't acceptable

Face and position

Selfies aren't allowed—the applicant must be facing the camera without tilting their head
The person should be sitting or standing in front of a plain white background
Face and ears should be fully visible
Smiling is acceptable only in moderation
Grimaces and facial expressions are unacceptable

Clothes and accessories

Outfits in neutral colors are desirable
Applicants can't wear uniforms, camouflage clothes, or national costumes
Hats and headscarves aren't allowed unless they are used for religious purposes
Eyewear must be removed—the only exception is prescription glasses, but only if you have a signed statement from a doctor
Headphones and wireless hands-free devices can't be worn in the picture
Specific Passport Picture Requirements for Minors
Besides the official passport photo criteria for all generations, there are specific rules applying to young children and babies. These are listed in the table below:
Children Should
Children Shouldn't

Lie on a white blanket or sheet or be photographed in a car seat covered by a white blanket or sheet
Have their head supported, but the parent's hand mustn't be visible
Look directly at the camera unless they are unable to
Stand still

Be photographed with a parent or any other person
Have a shadow on their faces
Hold pacifiers in their mouths
Have toys in their hands
Ways To Get a Passport Photo for a Minor
Depending on your preferences, you can choose one of the following ways to get a passport picture of a minor:
Visiting a professional to get a physical passport photo—Feel free to take your child to any photo studio in your vicinity. Professional photographers know how to make a proper 2 x 2'' or 4 x 6'' picture, so you don't need to wonder whether your photo will meet the requirements
Taking passport pictures in stores or facilities that offer such a service—The photos can be taken at:
Taking a digital picture by yourself at home—This option is free, but it's quite difficult to meet all the requirements. You must take care of all the aspects of the photo, including contrast, lighting, and background settings. Once you snap a photo, you can adjust it to your needs by using online programs and apps
What Happens if Your Passport Photo Gets Rejected?
Failing to comply with the prescribed rules can make the U.S. Department of State reject the photo of a minor.
The good news is that not everything is lost if this happens. Your application will be put on hold until you provide the institution with an acceptable picture.
Here's what the resubmitting procedure looks like:
Read through the instructions you get from the agency by mail
Create a new photo that aligns with the proposed requirements
Prepare any other additional documents if necessary
Send everything to the agency
Your Perfect Passport Photo Is Only a Click Away With DoNotPay
If you aren't sure whether the snap you just took is good enough to be accepted by the U.S. Department of State, we can help!
DoNotPay will run a few checks, scan your photo, and correct all the details that don't match the official requirements, including:
Bad lighting
Contrast issues
Incorrect dimensions
Wrong background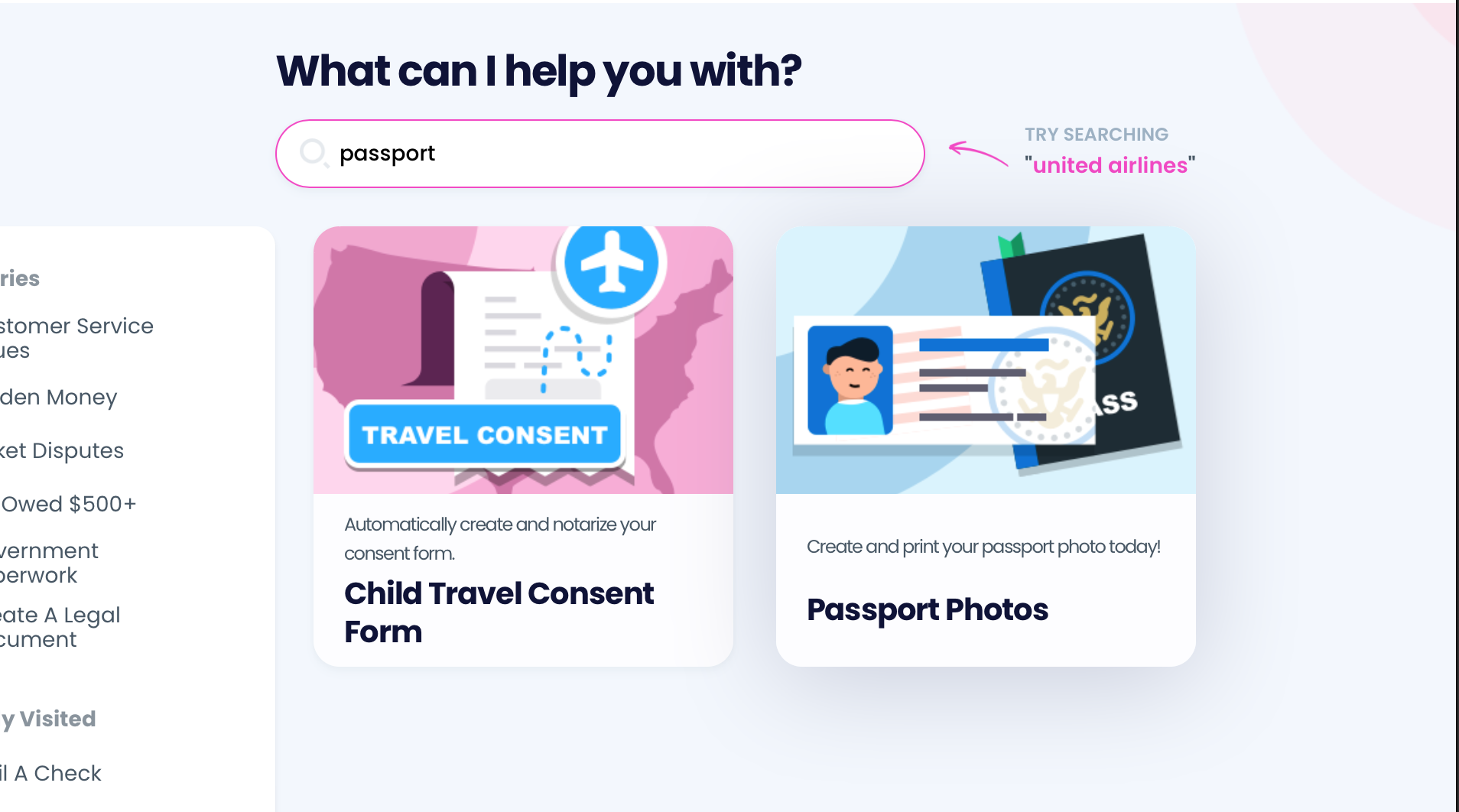 All you should do is:
Visit DoNotPay in your preferred web browser
Navigate to the Passport Photos product
Submit a photo
Provide us with your email address—and optional shipping details—so that we can send you the photos
If you upload a photo and we can't detect your face, you can submit another one.
We will automatically send you digital copies by email, but if you order physical ones too, they will reach you within three days if you opt for Rush Shipping! If you don't mind waiting, you can also choose:
Expedited Shipping—delivery within four business days
Economy Shipping—delivery within five to ten business days
Find your place of residence in the table below to see where you can have your passport photo taken:
You Can Count on DoNotPay To Resolve Any Issue
Are you stuck in the never-ending subscription cancellation procedures? Do you want to demand a refund once you finally reach a customer support rep? Is the company refusing to cooperate? No need for stress—your personal assistant can lend a helping hand.
Is there anything else we can help you with? You bet! Once you sign up, we can resolve a number of issues in your stead. Count on our app if you're struggling with:
You Don't Have To Suffer in Silence
Have you been experiencing workplace discrimination lately? Do you have a real-life stalker or harasser that you're too scared to confront? Do you want to get rid of robocalls and text and email spammers once and for all? You're not alone—DoNotPay is by your side and will help you deal with all of these issues.
As soon as you subscribe to our app, you'll be able to use our products to your advantage and fight for your right worry-free!