All About University of Cincinnati Scholarships
The University of Cincinnati (UC) is one of the oldest and largest institutes of higher learning in Ohio, with over 45,000 students enrolling in its degree programs each year. Currently, a UC student has to pay between $12,000 and $37,000 towards tuition and living expenses—depending on whether they are an in-state or out-of-state learner.
University of Cincinnati scholarships and grants are not only reinforcement to your education funds, but they can also help you avoid student debt! This guide will help you:
Find and evaluate the existing scholarship opportunities at UC
Check out other scholarships in the U.S.
How To Find University of Cincinnati Scholarships ASAP
Searching for scholarships at UC can be an excruciating chore if you don't know where to look. We have explained three possible ways to navigate through available scholarship programs:
Browse the university website—The University of Cincinnati website provides information on some of the school's major scholarships, but there is no structured way to view them. The scholarship data is scattered over multiple pages on the website—you'll find one scholarship in the Financial Aid section and another in the Resources and Perks section. You may lose hours researching the website for scholarships and still miss out on the important ones
Scan the internet—Many websites claim to be scholarship search engines for national, state, and local scholarships. If you use these resources, watch out for expired scholarships within the search results and clickbait student loan advertisements
Use DoNotPay—DoNotPay's Apply for Scholarships tool is a systemized way to get a list of all scholarships relevant to you. Our's app's comprehensive database is constantly updated with the latest deadlines and eligibility requirements for:

All University of Cincinnati scholarships
Federal and state scholarships
Every other kind of scholarship in the country (like academic, athletic, and minority scholarships)
DoNotPay saves your time by checking your eligibility for all scholarships in our database! Sign up for our app and let us curate a personalized list of scholarships you can apply for in under five minutes!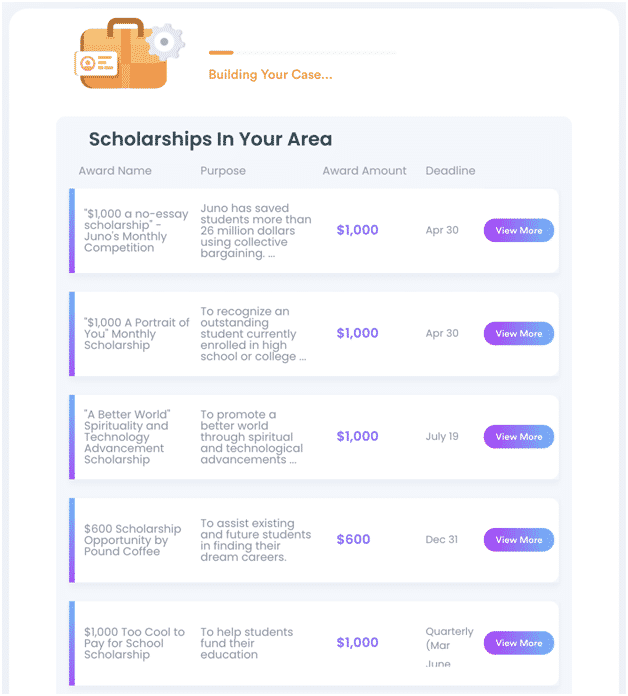 Which University of Cincinnati Scholarship Is for You?
Almost 75% of incoming freshmen at UC get some form of a scholarship or grant. At present, you'll find over a hundred different college scholarships at the university—they can be:
Renewable or full-ride scholarships
Various other types of awards
Renewable Scholarships at University of Cincinnati
Renewable UC scholarships usually cover full tuition, room, board, and book expenses. Check out a few of the most competitive renewable financial aid options at UC:
Scholarship
Details
University of Cincinnati Cincinnatus Scholarship
This is the university's cornerstone scholarship program that offers different annual rewards for different scholars:

A Presidential scholar gets benefits worth $23,000
A Distinction scholar gets $11,000 annually
A Century and University scholar qualifies for yearly benefits worth from $1,500 to $6,000

As per Cincinnatus Scholarship requirements, you should submit the following to be considered for the award:

National Outreach Award

This opportunity is offered to entice talented high school seniors from different states to enroll in an undergraduate program at UC. Currently, the National Outreach Award is available to residents from:

District of Columbia
Pennsylvania

University of Cincinnati Global Scholarship
This scholarship is specifically meant for international students. At present, an international UC scholar can get $31,000–$46,000 for education expenses and health insurance
Transfer Student Scholarships
Students who transfer from a community college can find several UC scholarships that will support their expenses for four semesters
Other Lucrative Awards at UC
The University of Cincinnati offers several robust scholarships that are either awarded one time or offered for a couple of semesters. Here are a few examples:
The Choose Ohio First scholarship is awarded to recruit and retain more students in the university's STEMM (Science, Technology, Engineering, Mathematics, and Medicine) program
The Darwin T. Turner Scholars Program offers scholarships to the underrepresented:

Diversity groups, like Native Americans, Hispanics, Filipinos, Africans, Asians, Indians, Muslims, Catholics, Jews, and other legal immigrants
Underprivileged or marginalized groups, such as transgender people, women, veterans, first-generation college students, disabled students, foster youth, dyslexic students, undocumented students, teen moms, adult learners, etc.
The applicants are awarded based on their overall financial need, community leadership, and grades.
The University of Cincinnati also offers merit scholarships to National Merit Scholarship finalists and students who excel in sports.
Graduate School Scholarships at University of Cincinnati
You can find fellowship and scholarship options for graduate or doctoral studies at individual UC colleges and schools, like:
Want To Apply for Multiple Scholarships? DoNotPay Can Help!
If you're serious about getting financial aid, you should apply for multiple scholarships to raise your chances of winning them. DoNotPay can help you by applying for all relevant no-essay scholarships on your behalf!
Our Apply for Scholarships tool can show you a list of all scholarships that don't require you to write an essay or complete a competitive task. Tap on the ones you like, and we'll use your profile info to apply for them in your stead. You can keep track of your applications via our confirmation emails.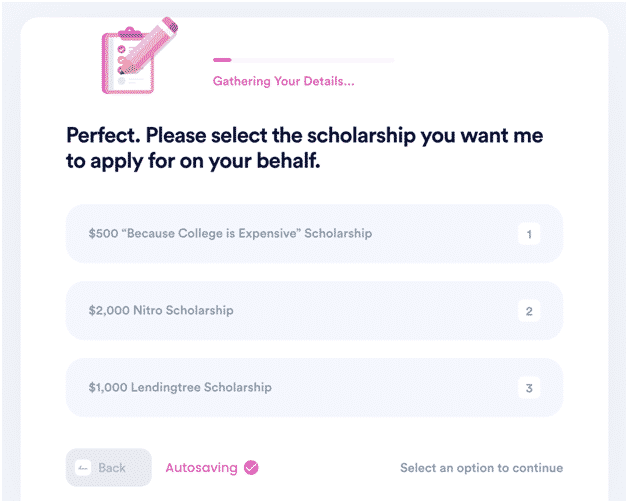 Our top-notch scholarship search and application services are just a few steps away:
Open your DoNotPay account and search for Scholarships
Give your details to our chatbot (your grades, location, extracurricular interests, minority classification, etc.)
Tell us if you'd like to search or apply for scholarships
Use our app regularly to apply for all the latest no-essay scholarships that you're eligible for—doing so will give you an edge over your peers!
What's Next?
Once you complete the task at hand, you don't have to stop there—we offer a myriad of products that can relieve you of the stress that comes with dealing with admin and legal hurdles.
DoNotPay can assist you in drawing up a divorce settlement agreement, child travel consent form, power of attorney, and other legal documents, contacting government representatives, getting tourist visas, fighting workplace discrimination, getting a burner number, appealing banned accounts, getting access to public records, scheduling a DMV appointment, and much more.
Tackle Any Energy-Draining Task With DoNotPay
With DoNotPay by your side, you don't have to worry about how you'll cover your utility bills at the end of the month—we'll provide swift assistance as soon as you sign up!
Wondering what else our app is capable of? Check out how we can: