The Difference Between a Scholarship and a Fellowship Explained
If you're a high school junior or senior, you should already be considering financial aid for college. Most prospective college students hope to receive gift aid when applying for financial assistance because—unlike loans—they don't require repayment. The two most popular forms of gift aid are scholarships and fellowships.
What is the difference between a scholarship and a fellowship? These types of financial aid, while seemingly identical, differ in many ways—from eligibility requirements to the application process. This comprehensive guide breaks down both types of awards so you can find out which works for you!
Scholarship vs. Fellowship—Which One Is Better?
The main difference between a fellowship and a scholarship is that fellowships usually require some sort of act of service from their members. The type of service depends on the fellowships you apply for, but it's typically participation in research or part-time work.
The answer to which award is better depends on your personal and academic needs and circumstances.
Scholarships and Fellowships—Pros and Cons
Here is a breakdown of the pros and cons of scholarships and fellowships to help you understand how they work:
Type of Award
Pros
Cons
Fellowships

Award students mainly for academic merit
Offer valuable expertise in a specific academic field
Open doors for future employment opportunities
Can offer funds for research, dissertations, thesis projects, and more

Focus primarily on graduate students
Have a complicated and extensive application process
Can offer financial aid but don't necessarily have to
Require students to meet specific requirements to be eligible, such as:

Displaying leadership
Being involved in extracurricular activities oriented towards their field of study
Having work experience

Scholarships

Are:

Less competitive than fellowships
Available to students of all levels of study

Award students for both financial need and academic excellence
Have a less complex application process

Require students to submit:
Both

Don't require repayment
Can help students achieve their educational goals

Are not guaranteed to applicants
Require:

Maintenance of satisfactory academic progress
Tedious research to find them
Where Can You Find Scholarships and Fellowships?
Whether you decide to apply for scholarships or fellowships, you need to know where to look for them.
Your school's financial aid office can provide information about the available awards for your study program. The value and amount of information you will get depends on how well-informed the financial aid consultant is and how much they're willing to help you.
Organizations and associations in your field of study are often the benefactors behind many awards. Even if you don't receive an award from a specific organization, you will establish valuable connections that might lead you to even more opportunities.
Scholarship websites and search tools seem like the go-to approach because:
They are easy to use and available to everyone
You don't have to leave your home or call anyone to get the information you need
In reality, you can quickly end up submitting your personal information to fraudulent organizations.
If you want a way to look for scholarships while not risking anything, ! After you complete a short questionnaire about your qualifications, we will create and update a list of scholarships tailored to your answers!
Types of Scholarships and Fellowships
Another way scholarships and fellowships differ is in the eligibility criteria. Scholarships offer more opportunities for awards than fellowships, and this is because fellowships primarily focus on academic achievements.
You can receive a scholarship for being a:
Retired

or

active member of the U.S. Armed Forces

Child of a parent who's:
To be eligible for most fellowships, though, you usually need to:
Participate in research and have work experience in your field of study
Have several publications
Participate in teaching and leadership activities
Be an active member of associations in your field of study and participate in their projects and events
Fellowships Don't Work for You? Find Scholarships and Grants With DoNotPay!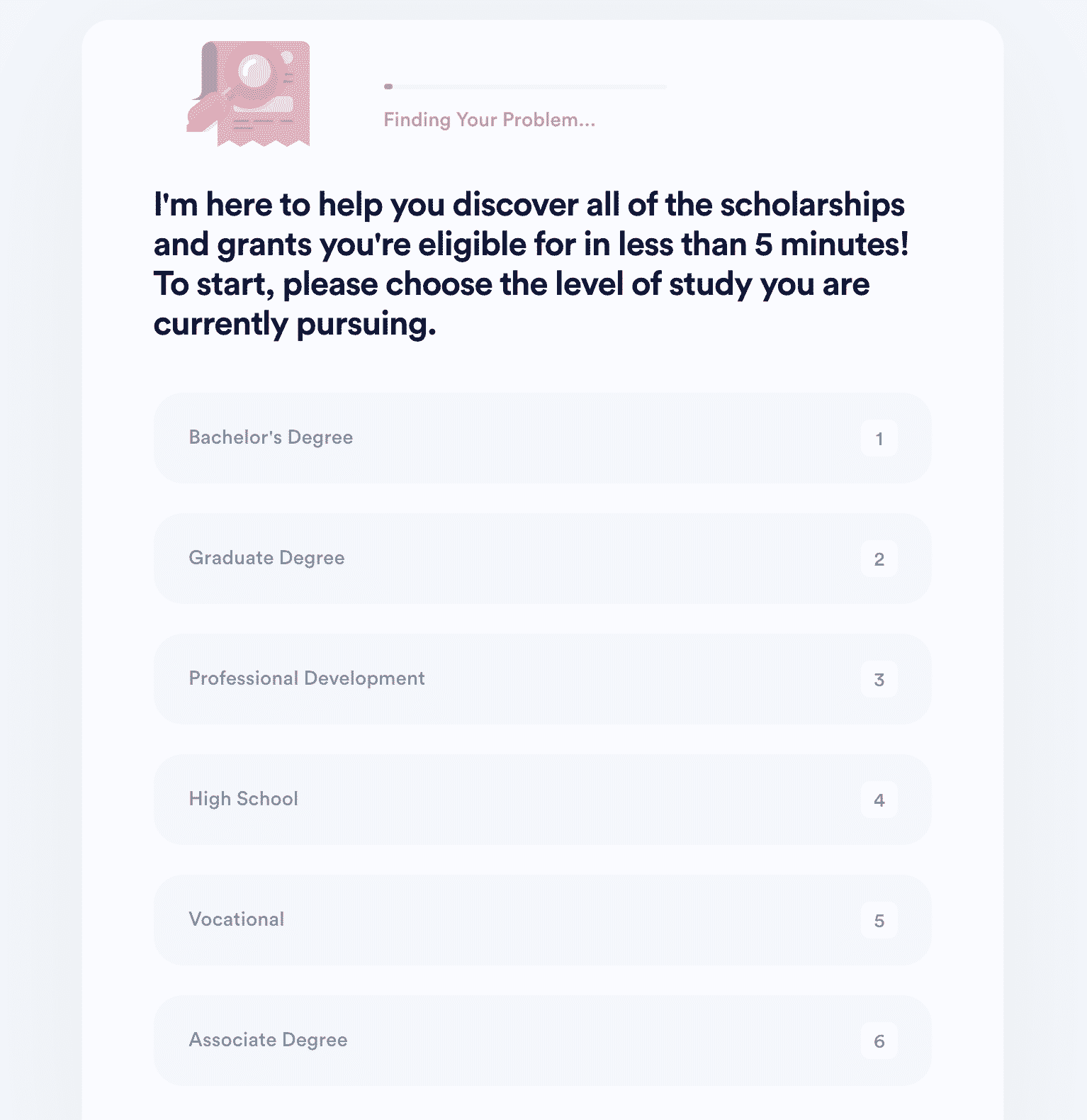 Getting a fellowship is no easy task. Luckily, scholarships and grants are a more accessible way to get that extra college money, and DoNotPay can help you find them! Our app compares your qualifications to the requirements of thousands of scholarships! That way, we ensure you find awards that work for you!
You can also use our app to apply for no-essay scholarships automatically. No-essay scholarships usually consist of the same forms you need to complete with basic information, such as your:
Name
School's name
Contact information
With DoNotPay, you only need to enter those details once, and we will submit your application to all no-essay scholarships you qualify for.
To get started:
Search for Apply for Scholarships
Complete the short questionnaire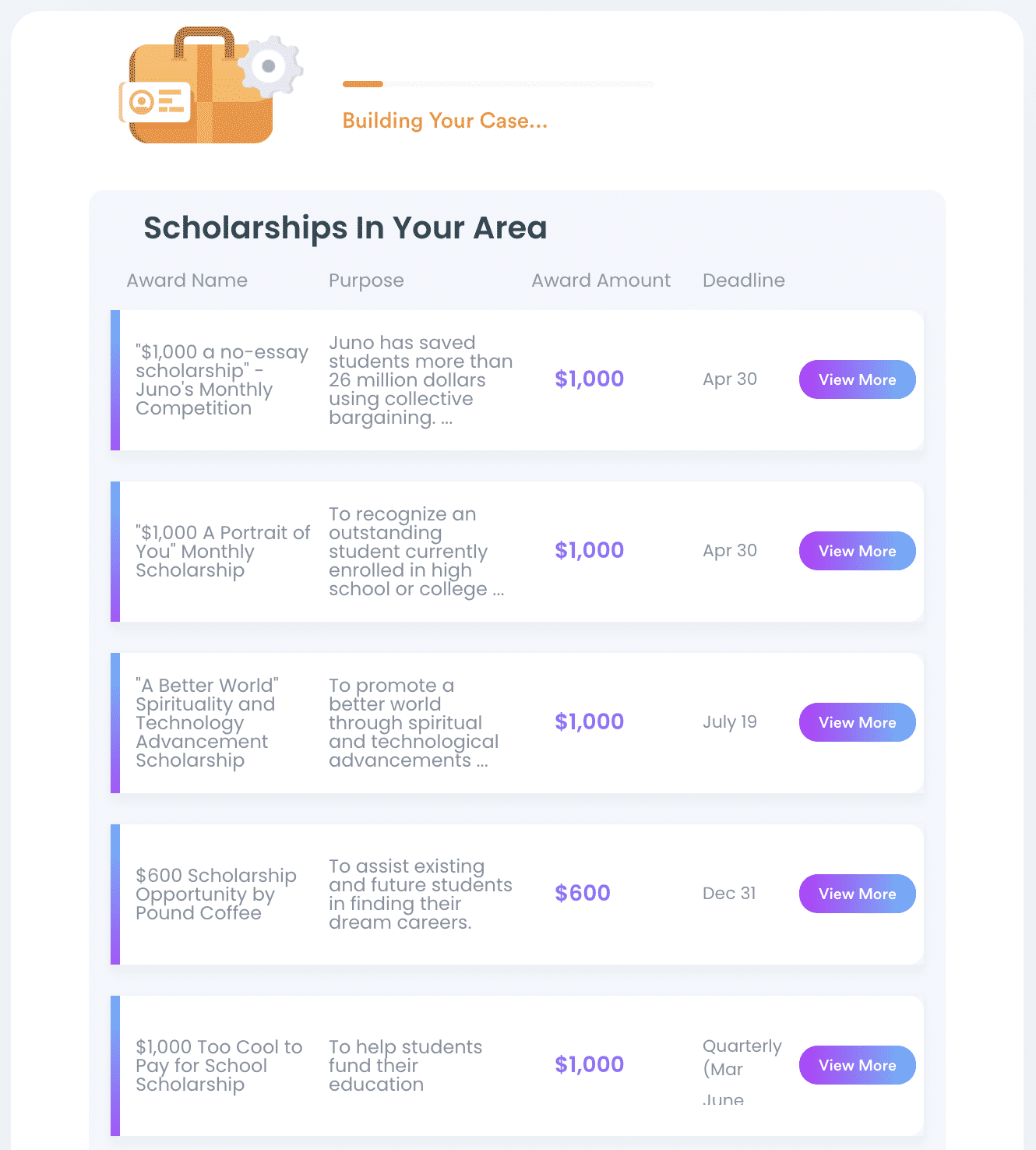 DoNotPay Offers Quick Solutions to Tedious Problems
Are you overwhelmed by your never-ending to-do list? We're happy to jump in with a perfect solution to deal with everyday tasks the easy way!
Once you subscribe to DoNotPay, you'll be able to schedule DMV appointments, lower your monthly bills, and contest parking tickets without breaking a sweat!
If you are looking for further assistance, our app will show you how to deal with the following tasks effortlessly:
Rely on DoNotPay's Legal Assistance Any Time!
If a company refuses to cooperate, use DoNotPay—the world's first robot lawyer—to sue it in small claims court! Getting the justice you deserve is only a few clicks away!
You can also use our app's various features to do the following:
Demand refunds

Reduce your property taxes