How To Approach Writing a Personal Statement for a Scholarship
If you've been looking for scholarships, you must have noticed the various requirements they entail. For some, you need letters of recommendation, and for others, you may have to write essays. What is a personal statement for a scholarship, though?
This guide provides answers to that question and explains:
The process of writing one
Pro tips and tricks to improve it
What Is a Personal Statement for a Scholarship?
A personal statement for a scholarship is a letter or essay-like portrait of yourself. Its purpose is to complement the other parts of your application, for example, your resume or college transcript. While academic merit is an essential factor in picking award recipients, the scholarship committee wants to know who's behind it.
Some of the questions that can help you think of a concept for your personal statement include:
Why did you choose your field of study?
Have you ever had weak points in your life? How did you overcome them? What did you learn from the situation?
What do you think are your greatest strengths and why?
Can you think of a turning point in your life? For example, an achievement that shaped your later academic progress
How To Write a Personal Statement for a Scholarship
Storytelling usually works best for personal statements for scholarships. To win over the scholarship committee, follow these steps:
Think of how your love for your field of study started
Show how those early interests influenced your educational path
Explain how the scholarship funds would help you reach your goals
Edit your work by correcting any mistakes in spelling/grammar, replacing words that repeat often, and improving the overall flow
Proofread your personal statement several times
Give your personal statement to someone else to proofread
Are you applying for scholarships for specific student categories, such as women, international students, or veterans and their dependents? If so, make that the focus point of your statement.
Personal Statement for Scholarship Application—Examples
By following the previous steps, you can end up with the following examples:
You helped your parents in the kitchen as a child. After years of helping your parents in the kitchen, you've grown enough to start cooking on your own. Your love for food inspired you to pursue a culinary degree. This particular scholarship you're applying for will enable you to follow your childhood dreams
You adored your family pets, so whenever you saw a hurt animal, you tried to help. Knowing how many animals don't get the necessary medical help inspired you to go to a veterinary school. That special scholarship you're applying for will allow you to save more animals in the future
Keep in mind that those are only examples. In your personal statement, you should expand on the topic and illustrate your experiences more vividly.
After you finish writing, subscribe to DoNotPay to learn about opportunities that would allow you to utilize your personal statement.
What Is the Appropriate Format for Personal Statements for Scholarships?
For some scholarships, the format of your personal statement can be a big deal. You can be disqualified if you fail to meet the formatting requirements. Most scholarship requirements state that you should use a specific:
Font type and size
Line spacing
Document formatting
You will often encounter a mandatory word count, usually from 250 to 500 words, but for some awards, you can expand your personal statement up to 650 words.
If there are no formatting requirements, you should stick with:
A standard font like Arial or Times New Roman, size 11 or 12
Single-line spacing
Default document formatting
An average of 500 words
Personal Statement for Scholarships—Dos and Don'ts
Check the table below for pro tips you should keep in mind while writing your personal statement for a scholarship:
Dos
Don'ts

Write in your own voice
Keep it simple
Write in short paragraphs
Create original personal statements for every scholarship and grant you apply for
Show that you're goal-oriented
Mention additional circumstances you didn't allow to impact your education, such as having:

Use overused cliches
Use complex words to demonstrate your vocabulary
Write long paragraphs with even longer sentences
Reuse the personal statement you wrote for a different scholarship
Use profanity in your writing
Explore Scholarship Opportunities With DoNotPay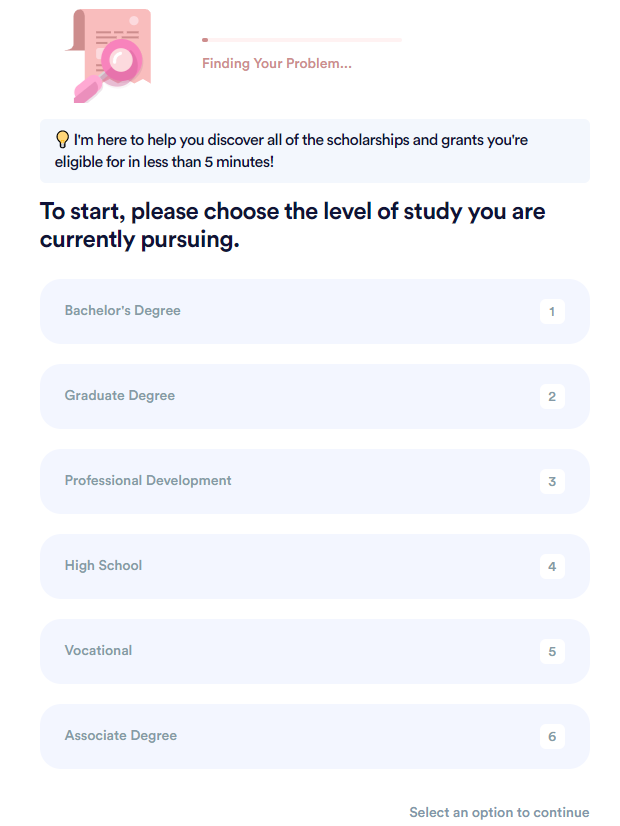 Now that you know how to write a personal statement, it's time to learn where to find scholarships to utilize your new skill. Regardless of whether you're a high school senior, college freshman, sophomore, or graduate, our app will compile a list of available scholarships catering to your level and field of study. While you're busy writing your personal statement, our app can submit applications to a multitude of no-essay scholarships on your behalf.
To make use of your killer personal statement for scholarships:
Search for Apply for Scholarships
Tell us more about your education and scholarship preferences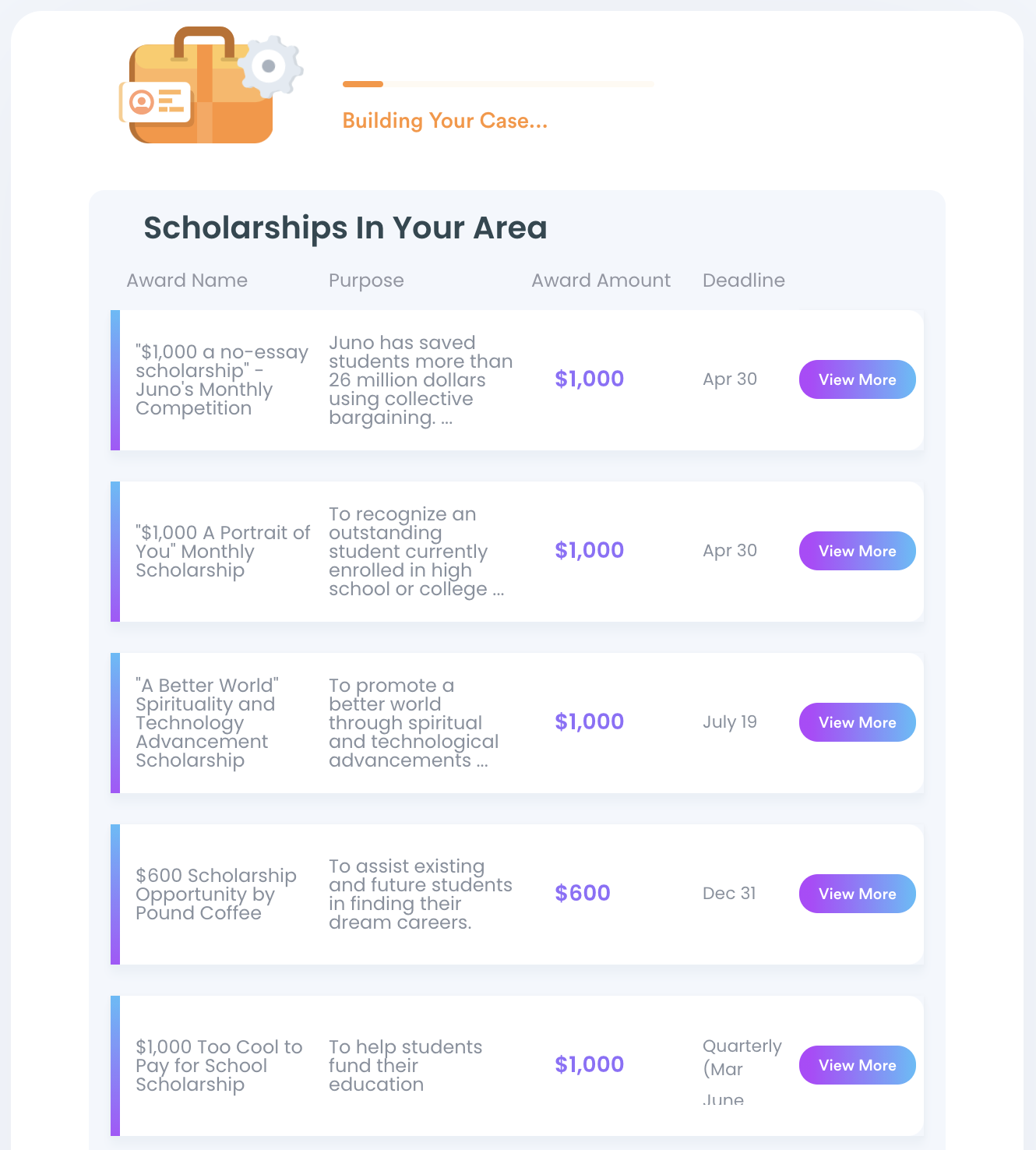 After you complete all steps, you can:
Pick out awards to apply for
Compare the amounts of aid they offer
Check out their requirements
DoNotPay Helps You Run Errands Without Leaving the Comfort of Your Home!
If you're on a tight schedule and you can't afford to spend hours running errands, DoNotPay steps in with a perfect solution! You can skip going to the post office to request an item return or visiting a notary public to get your documents notarized—Our app will help you get it all done without going anywhere!
Visiting your local Walmart to have your passport photo taken is unnecessary since DoNotPay can help you get it at home!
Consult the list below to see what other tasks you can complete using our app:
Unsubscribe From Unwanted Services at Any Time
Companies tend to keep charging their clients monthly subscription fees automatically if they don't end their subscriptions. Stop wasting money on forgotten memberships—DoNotPay will show you how to terminate your subscription in a few clicks!
You can also learn how to sign up for a free trial without getting charged, create a burner phone number or a virtual credit card hassle-free!