Use Community College Scholarships To Polish Your Career Aspirations
The standard four-year college or university education cost has risen exponentially in the past decade. With the pandemic worsening the financial stability of many households, several undergraduates are now enrolling in community colleges to be job-ready in a shorter time.
Almost 60% of the existing community college-goers study part-time and support themselves with jobs. Community college scholarships and grants can be a boon to students who are struggling to pay for education and basic living expenses. In this article, we will tell you all about finding the topmost community college financial aid options that'll help you race ahead in your career!
Community College Scholarships and Grants—How Can They Help?
Community colleges—also known as junior or two-year colleges—often get a bad rap for being a cheap, last-resort option for high school seniors who are not accepted elsewhere. In reality, these colleges are a life-altering sanctuary for students who:
Cannot fund their university education (like foster youth or students with deceased parents)
Want to take a break before transferring to a public or private school of their choice
Seek degrees to get entry-level jobs in a particular industry
Choose to stay near their home for further studies
Restart their education as adult learners (like moms, women over 40, veterans, teachers, and senior citizens)
If you are one of the above students, community college scholarships or grants can be your launchpad. They are not mere financial packages but also a boost to your application if you want full-ride scholarships for grad school or doctoral studies.
Who Else Can Benefit From Scholarships for Community Colleges?
The majority of the community college students are not Caucasians, so racial and ethnic diversity plays a big role in the scholarship distribution scheme.
Currently, you can find dedicated community college scholarships catered to different minority groups, as summarized in this table:
Demographic Classification
Details
Ethnicity
You'll find many scholarships earmarked for providing growth opportunities to Native Americans, Africans, Hispanics, Asians, Filipinos, or Indians
Religion
These scholarships are mostly sponsored by local religious bodies, aimed at groups like:
Nationality
Non-U.S. students can apply for relevant scholarships issued for:
Women
Female learners can find exclusive financial help for attending college if they are:
Disease, disability, or any adversity
A large number of community college students suffer from some kind of mental health issue or physical disability. Currently, many scholarships are aimed to help students impacted by setbacks like:

You can also find adequate help if you have disabled parents or have survived cancer or domestic violence
Where To Find Scholarships for Community College Students?
If you are looking for scholarships at your community college, you can ask your college counselor for guidance. Most schools have the latest information on federal or state scholarships. If you want to explore further options, you can browse the internet to find:
Corporate scholarships or study internships
Scholarships announced by non-profit organizations
Vocational school scholarships (for community college students gifted in fields like music, art, creative writing, poetry, or videography)
As of now, you can win over $20,000 by participating in scholarship programs throughout the country. The problem is that many students don't realize the vast number of college scholarship options available to them and never apply.
DoNotPay offers a no-nonsense scholarship search tool built to give you a full insight into the scholarship options meant for you. Our app acts as a single-source scholarship finder that lets you check out all relevant scholarships in under five minutes!
to start applying!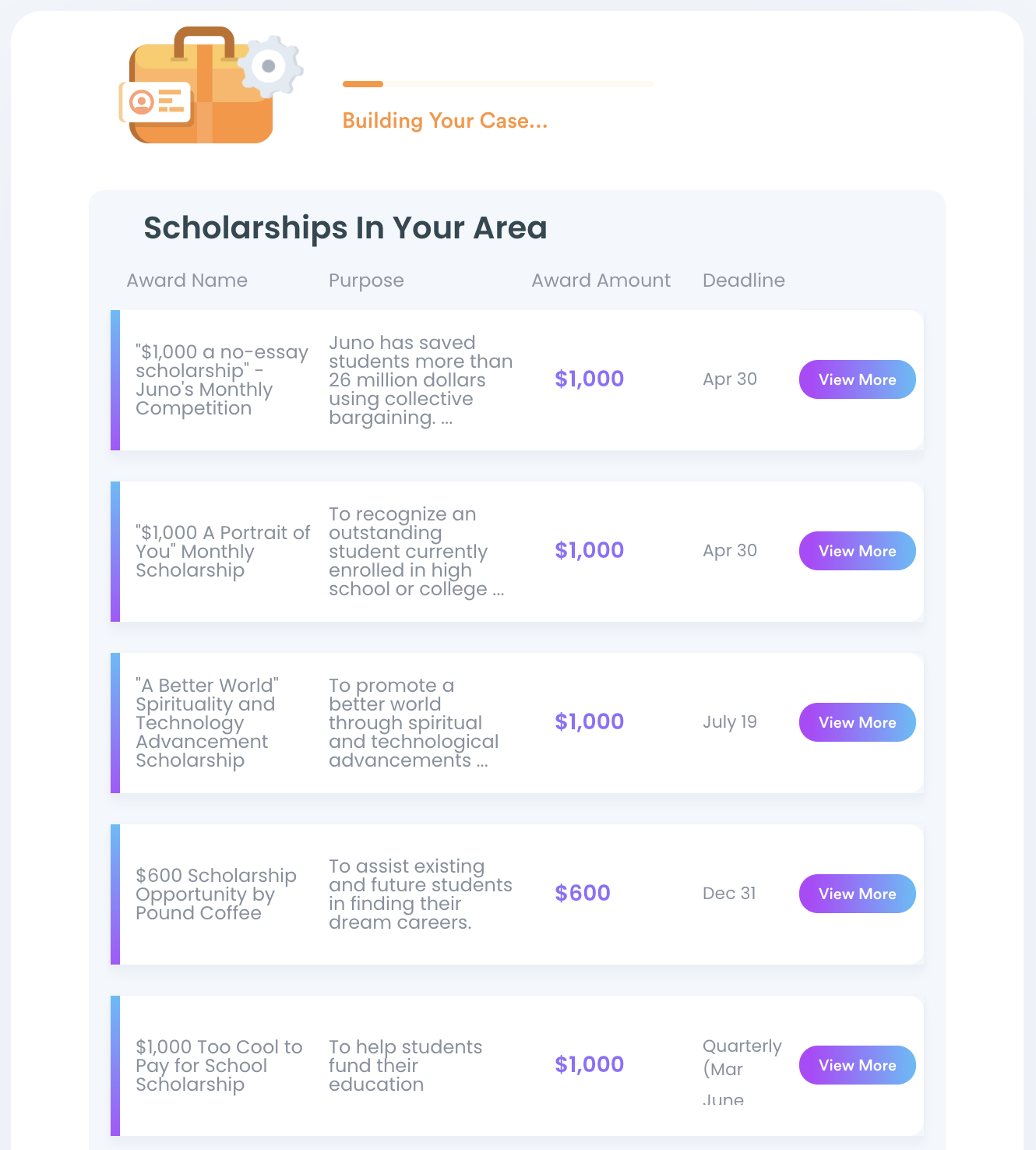 Community College Scholarships—DoNotPay Offers You the Best Strategy
Most community college students qualify for both need- and merit-based assistance. The best strategy for them would be to apply for all the scholarships that they qualify for. While this can be a tedious chore, DoNotPay makes it a hundred times easier for you!
Our app also functions as a direct application tool for no-essay scholarships—we let you pick all no-essay scholarships that look promising to you and apply for them on your behalf! This leaves you with enough time to concentrate on perfecting your applications for the scholarships that require writing an essay or completing a competitive project.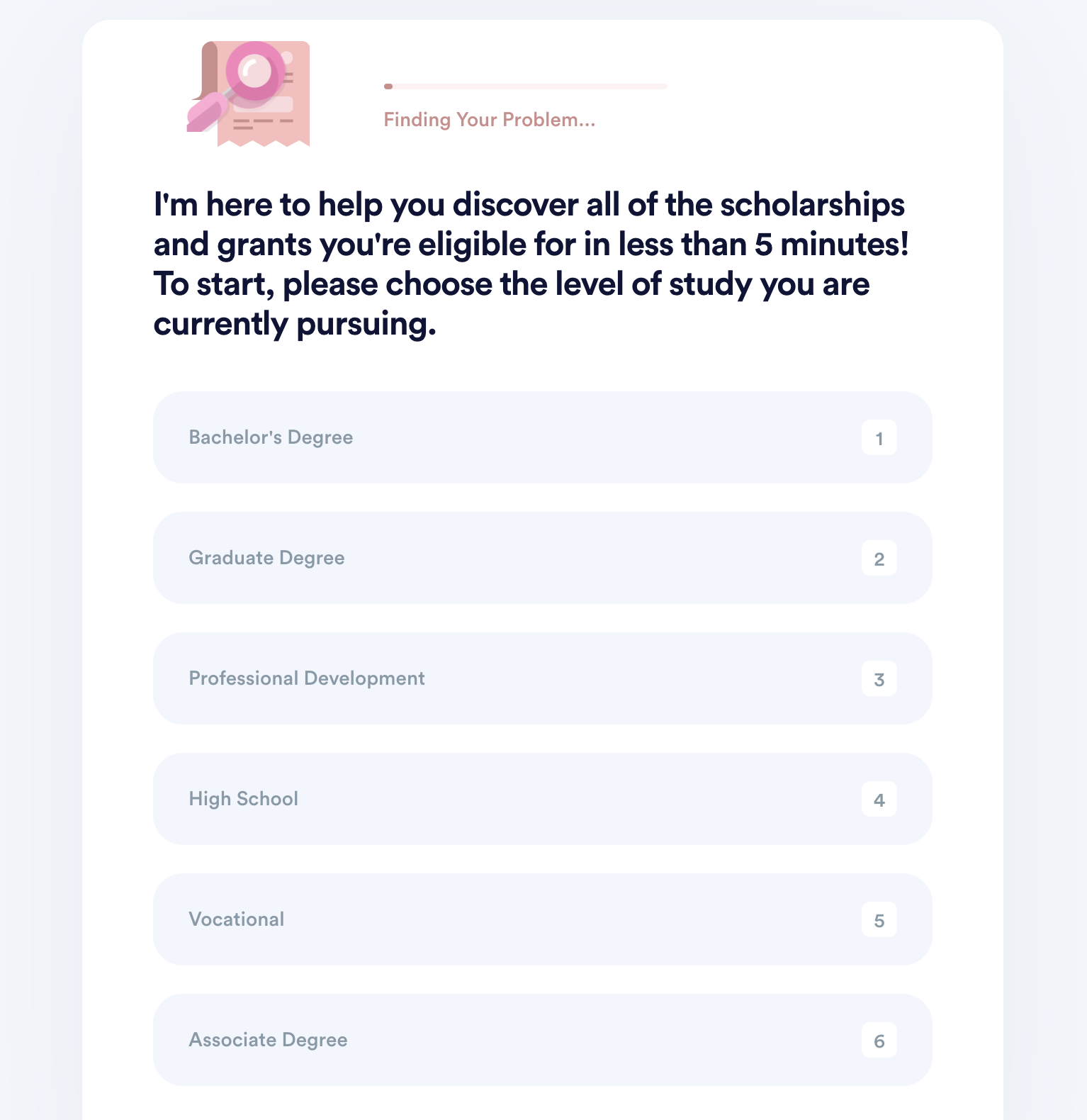 Our convenient search and application services are just a few taps away:
account and click on Apply for Scholarships
Enter your student details—age, grade, hobbies, additional qualifications, etc.
Choose if you want to use our View or Apply feature
You should use the View tool first to analyze the range of options available for you. Once you are done, use our Apply tool to submit applications automatically. We will send you an immediate email confirmation to help you keep track of your active scholarship applications.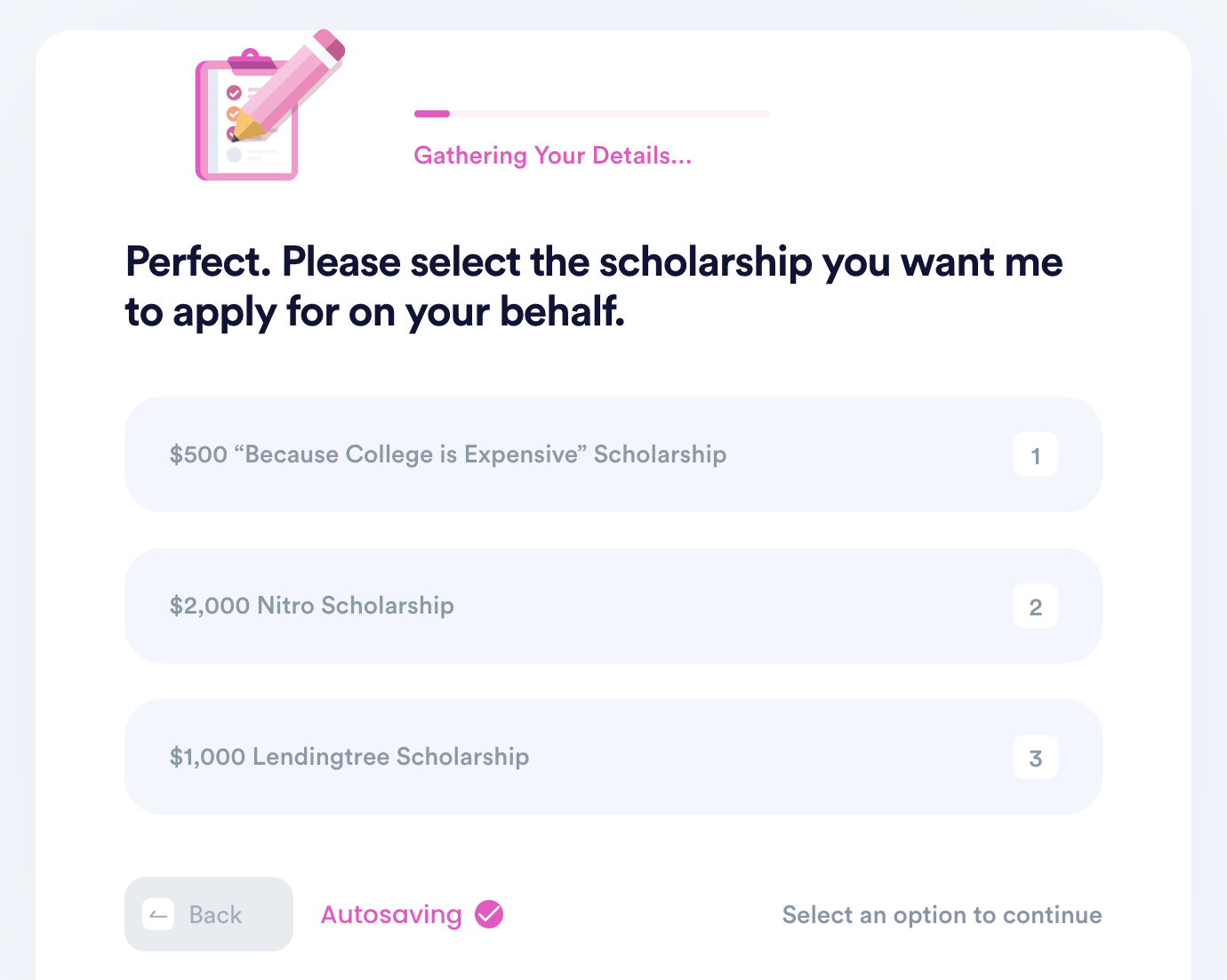 Important Pointers Before Applying for a Community College Scholarship
Community college scholarships are highly competitive, but you can get an edge over other applicants if you follow these tips:
Save Time With DoNotPay
DoNotPay is not done helping you! We offer you assistance in completing a variety of tasks quickly and efficiently, such as:
Canceling Subscriptions Has Never Been Easier!
If you keep getting charged a monthly subscription fee even though you no longer want to use a certain service, don't let your money go to waste! Some companies tend to renew your subscription automatically, but that doesn't mean you have to put up with it—use our app to terminate your membership or subscription in a few clicks!
Do you want to sign up for free trials and create a virtual credit card or a burner phone number to protect your sensitive info? Once you subscribe to DoNotPay, we will walk you through the process of doing all of the above in no time!
You can also count on our assistance if you need to get rid of spam or robocalls.