All You Need To Know About Scholarships for College Students in NJ
Are you headed to the Garden State to get your college or graduate degree? New Jersey is a popular choice for students because of its top-notch colleges and universities, sandy beaches, and a rich choice of activities.
The resurfacing problem of the State of New Jersey is its notoriously high cost of studies. To balance it out, the state, schools, and private institutions offer scholarships for college students in NJ.
Don't give up on your dream—you have gift-aid opportunities that can help you pay for the school you want to attend. Use this simple guide to learn all there is to know about financing your NJ education.
Eligibility Requirements for Federal and State Scholarships in New Jersey
While private and college-specific scholarships express their eligibility requirements in the program descriptions, federal and state aid have general criteria—such as:
Be a U.S. citizen or an eligible noncitizen
Be a New Jersey resident for at least 12 months before the enrollment
Have a high school diploma or a recognized equivalent
Demonstrate financial need
Be an undergraduate student enrolled full-time in an approved program
Maintain a satisfactory academic achievement
Be registered with Selective Service (if necessary)
Don't have a baccalaureate or associate degree if enrolled in a two-year college
Have no unpaid loan or grant payments
Don't be enrolled in a theology or divinity program
College Scholarships in NJ
College scholarships can be funded by a variety of sources. With that in mind, you should revise these types of aid:
State scholarships
College-specific scholarships
Private scholarships
Group-specific scholarships
State Scholarships
To receive state scholarships, you need to meet the federal and state eligibility requirements and reside in one of the following cities:
Asbury Park City
Camden City
East Orange City
Irvington
Township
Jersey City
Lakewood Township
Millville City
Newark
New
Brunswick City
Paterson City
Plainfield City
Roselle Borough
City of Trenton
Vineland City
If you are a qualified candidate, here are a few notable state programs for you:
New Jersey Student Tuition Assistance Reward Scholarship (NJ STARS)—for students who rank in the top 15% of their class at the end of their junior or

senior year of high school

Governor's Urban Scholarship—for students who rank in the top 5% of their class and attain a 3.0 GPA or higher at the end of the junior year in high school
New Jersey World Trade Center Scholarship—for children and surviving spouses of New Jersey residents killed in the terrorist attack on September 11, 2001
Law Enforcement Officer Memorial Scholarship (LEOMS)—for children of New Jersey law enforcement officers killed in the line of duty
Governor's Industry Vocations Scholarship (NJ-GIVS) for Women and Minorities—for women and minority group members
College-Specific Scholarships
When you get admitted to a certain college, you get considered for the school's scholarships automatically. You can get in touch with prospective colleges to ask about their aid opportunities. Some of the popular schools in NJ are:
Monmouth University
Montclair State University
The College of New Jersey
Kean University
Brookdale Community College
Ramapo College of New Jersey
Private Scholarships
Foundations, for- and non-profit organizations, philanthropists, and corporations can provide funds for students who support or promote their missions. Private scholarships in NJ that you should look into are:
Frank D. Visceglia Memorial Scholarship—for high school seniors who are Eagle Scouts
New Jersey State Golf Association (NJSGA) Caddie Scholarship Foundation—for caddies
Meland Foundation Nursing Scholarships—for prospective nurses
New Jersey Society of Certified Public Accountants (NJCPA) One-Year Scholarships—for future financial services leaders
NJ Sharing Network Foundation: the Betsy Niles Scholarship and Missy's Miracle Scholarship—for students who are lifelong organ donation advocates
Group-Specific Scholarships
If you belong to or can relate to a certain group—such as moms, Asians, Christians, or football players—you can receive a specific scholarship. Think about your demographic, descent, religion, and interests, and you can discover a program that you can apply for.
Check out the table below for some unique groups and scholarships awarded to their members:
Specific Group of Students
Scholarship Example
Wildlife enthusiasts
Species On The Edge 2.0" Social Media Contest
Children of members of the Disabled

American Veterans

NJ department
Charles Kosmutza Scholarship Fund Scholarship
Women over 25 years old
The American Association of University Women (AAUW) Lew Williams Scholarship and Leila Sulkes Scholarship
African-American students
Congressional Black Caucus (CBC) Foundation Spouses Performing Arts Scholarship and Visual Arts Scholarship
Students of Greek descent or majoring in Greek
Hellenic University Club of Philadelphia–Undergraduate Scholarship
Where To Find New Jersey Scholarships
If you want to find all scholarships you qualify for, you need to be meticulous and persistent. Turn to different sources to gather information about aid possibilities and requirements. A good place to start is to do the following:
Call or email the financial aid offices at your prospective schools
Contact your local community
Ask organizations you are a member of about their scholarship options
Perform an internet search
A better way to surface every grant and scholarship you can get is to . Let us know about your needs and preferences, and we'll generate a custom-made list of gift aid in a jiffy.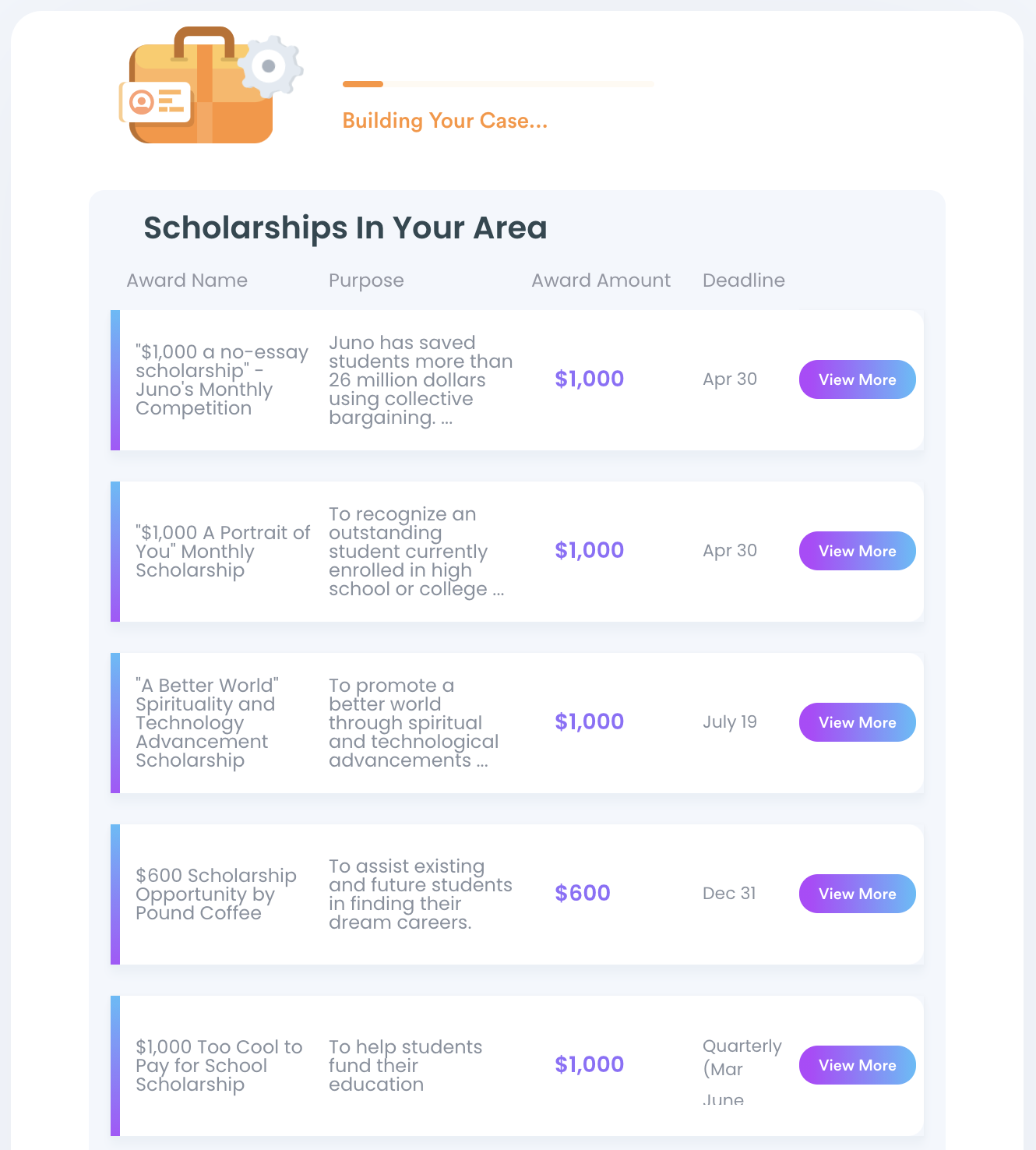 How To Apply for NJ College Scholarships
Besides following the specific requirements set by the funders, for most scholarships, you will need to take these application steps:
Fill out the Free Application for Federal Student Aid (FAFSA) in one of these ways:

Find an online form on FAFSA official website
Download the PDF form from the website
Request a paper FAFSA copy by calling 1-800-433-3243

Submit the New Jersey Alternative Financial Aid Application—for students who don't meet the federal eligibility requirements
Write a

scholarship essay

—the topics depend on the program, and they can be more general—such as what your career goals are or why you deserve the aid—or related to the funder's mission
Collect letters of recommendation
Discover NJ Grants and Scholarships in Two Minutes With DoNotPay
Whether you need undergraduate, graduate, or international students scholarships, DoNotPay has your back! Our nifty app will create a tailored list of every aid type you can apply for—yours is only to:
Navigate to and choose the Apply for Scholarship tool
Answer our chatbot's questions
If you spot no-essay scholarships you are eligible for, we can send the application request in your stead.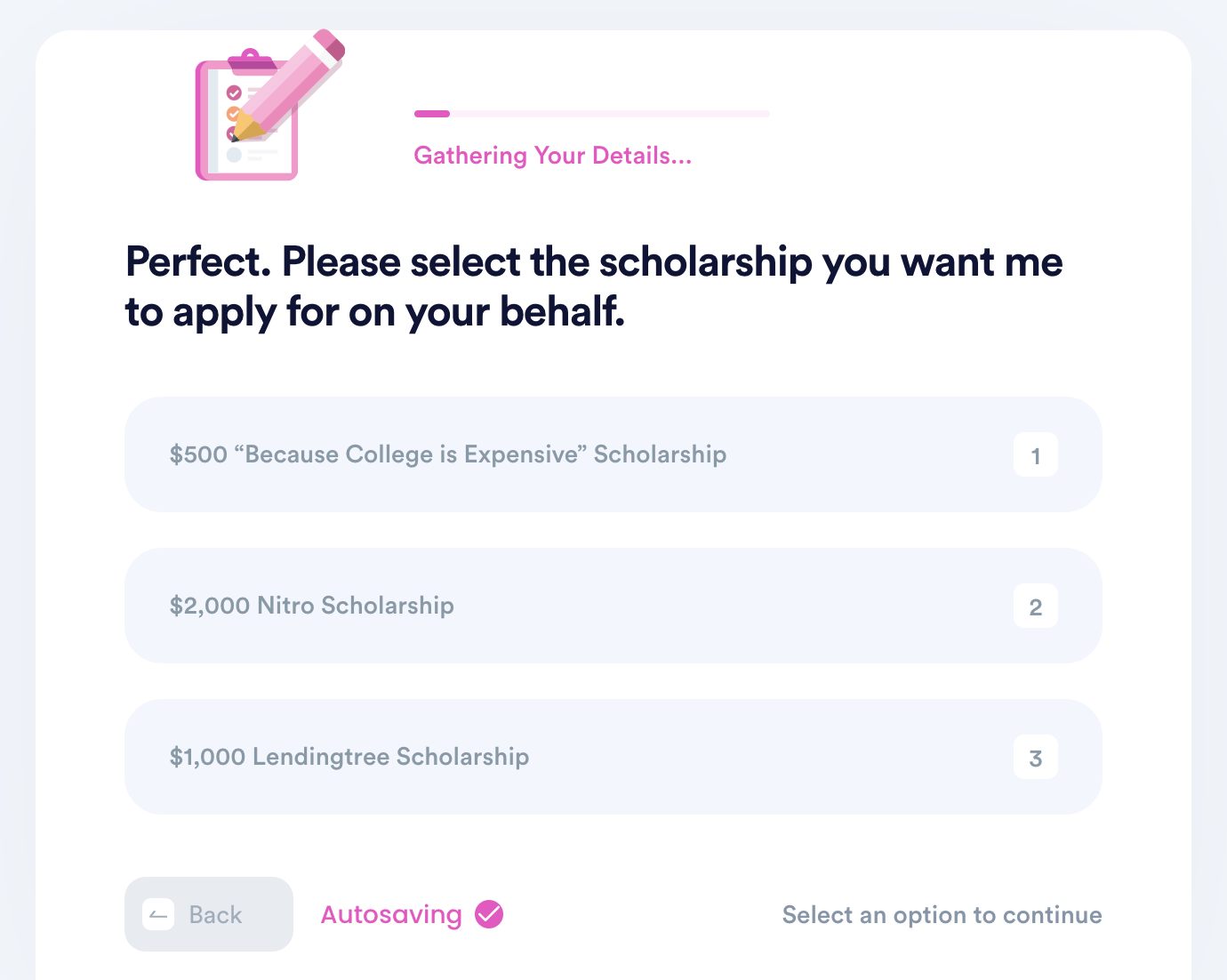 Administrative Issues? We Don't Know Them!
Forget about getting frustrated and overwhelmed by the administrative tasks waiting for you to complete them! With DoNotPay's numerous tools, you can easily resolve such tasks in a heartbeat! All you need to do is sign up for our app, and you'll be able to:
Get
Create
File

Divorce settlement agreements

Powers of attorney
Use DoNotPay To Protect Yourself at All Times
Are pesky robocalls and email spammers working your last nerve? Don't despair—we are happy to help you get rid of them! In a few clicks, you can also stop text spam and avoid the incessant phone buzzing!
You can use our app to protect your privacy by creating burner phone numbers and virtual credit cards. That way, you don't have to disclose personal info when subscribing to online services.
In case you're looking for a way to keep yourself safe from stalkers or work discrimination, we'll help you report the case and walk you through the entire process!
Protecting your work from copyright violation and asking for violent crime compensation in your stead is also something DoNotPay can do!