DoNotPay Brings the Ultimate List of the National Merit Scholarship Requirements
The National Merit Scholarship program has fierce competition. There are around 1.5 million entrants every year. You need to know and respect the requirements if you want to get on the list.
Getting a high score on the test isn't the only criterion you need to meet. There is a lot more you need to pay attention to if you want your application to be valid.
DoNotPay will reveal all the National Merit Scholarship requirements, including what makes a candidate eligible and which deadlines you need to follow.
What You Need To Know About National Merit Scholarships
The National Merit Scholarship Program was established in 1955 to award high-achieving students. The funds come from the National Merit Scholarship Corporation (NMSC) and about 400 independent sponsors—including:
Colleges and universities
Businesses and corporations
Company foundations
Professional associations
When you take the Preliminary SAT (PSAT)/National Merit Scholarship Qualifying Test (NMSQT), you enter the competition automatically.
From all the qualified candidates, the NMSC chooses about 50,000 with the best scores as commended students or semifinalists who are eligible to become finalists. The differences between these groups are:
Commended students—Around 34,000 out of 50,000 who don't continue with the competition but have a chance to get Special Scholarships
Semifinalists—Around 16,000 students selected on a state-representational basis
Finalists—Around 7,600 who meet all the requirements as semifinalists and who have the best academic record, scholarship essay, letter of recommendation, and similar
What Score Do You Need for a National Merit Scholarship?
The highest-scoring students are the top candidates for scholarships. Revise the official cut-off PSAT scores according to states for semifinalists in the class of 2021:
States and Qualifying Scores for the Class of 2021
AL—212
DE—219
IN—215
MA—222
NV—215
AK—212
D.C.—222
IA—212
MI—216
NH—215
AZ—218
FL—216
KS—214
MN—218
NJ—222
AR—212
GA—219
KY—214
MS—211
NM—211
CA—221
HI—217
LA—212
MO—214
NY—220
CO—217
ID—214
ME—213
MT—210
NC—217
CT—220
IL—219
MD—221
NE—213
ND—209
OH—215
OK—211
OR—217
PA—217
RI—216
SC—212
SD—209
TN—215
TX—219
UT—212
VT—212
VA—221
WA—220
WV—209
WI—213
WY—209
U.S. Abroad—222
U.S. Territories—209
Types of National Merit Scholarships
If you meet the requirements for the National Merit awards, you will qualify for three types of aid:
Scholarship Program
Details
National Merit $2,500 Scholarships

Single-payment scholarships
Awarded on a state-representational basis
Awarded by a committee of college admission officers and high school counselors without considering students' financial circumstances, college choice, or major

College-sponsored Merit Scholarship awards

Renewable for up to four years of undergraduate study
Awarded by colleges who sponsor the scholarship
Awarded to students who have been accepted for admission

Corporate-sponsored Merit Scholarship awards

Single-payment scholarships or renewable for four years
Awarded by corporate sponsors
Given to children of employees or students with career plans which the sponsor wants to support
Special Scholarships
Besides these three main types, there are also Special Scholarships for all students who participate in the program but aren't the finalists. NMSC evaluates these students based on their skills, abilities, and accomplishments and names around 1,100 of them as the winners of Special Scholarships.
You will need to meet the sponsor's requirements in addition to the National Merit Scholarship Program criteria. The application also needs to go through the entry form on the sponsor's website.
This aid can be a one-time award or renewable for four years of undergraduate study.
How To Qualify for a National Merit Scholarship
To enter the application system for any National Merit scholarship, you need to meet some basic requirements:
Be a high school student and plan to enroll in college full-time
Attend high school in the U.S., District of Columbia, or U.S. commonwealths and territories
Meet citizenship requirements for students attending high school outside the U.S.:

Be a citizen of the United States
Be a U.S. lawful permanent resident
Prove that you have applied for permanent residence and intend to become a U.S. citizen as soon as possible

Take the PSAT/NMSQT during your junior (third) year of high school
Requirements for Finalists
To qualify as a finalist, you need to satisfy these criteria:
Candidates Who:
Must Meet These Requirements:
Were named Semifinalists in the previous year

Continue to meet the program entry requirements
Be enrolled in the last year of high school and plan to enroll full time in college in the fall of the same year
Be enrolled in the first year of college—if you completed grades 9–12 in less than three years
Have the support and recommendation of the high school principal to be named a finalist
Have a record of consistently high academic performance throughout grades 9–12
Submit the completed National Merit application to your high school
Provide any additional paperwork requested by NMSC

Have enrolled full-time in college

Meet all the requirements mentioned above
Arrange that your college sends an official transcript of all college coursework immediately after the end of the current term to NMSC

Meet citizenship requirements for students attending high school outside the U.S.

Provide a signed letter explaining your plans to become a U.S. citizen—including the date when you expect that to happen—if you have applied for permanent residence
Submit a copy of your Permanent Resident Card (Green Card) or a copy of your passport—including the biographical page and the I-551 stamp—if you are a U.S. permanent resident
Provide a copy of Form I-797 Receipt Notice from U.S. Citizenship and Immigration Services (CIS)—if you have applied for U.S. permanent residence
What Is the National Merit Scholarship Application Deadline?
If you want to apply for a program, you must submit your SAT scores by December 31 of the previous year. For example, to be eligible for the 2022 National Merit Scholarship award, send your score by December 31, 2021.
Besides taking the test, you also need to meet these deadlines:
The Forms or Documents You Need To Submit
Deadline

Completed application in the NMSC's Online Scholarship
Application (OSA) system ready to be submitted to high school officials

October 7 of the previous year—the final transmittal date
Letter and/or documentation for semifinalists attending high school outside of the U.S.
January 31 of the scholarship award year
Report of the sponsoring college that is your first choice for college-sponsored awards
May 31 of the scholarship award year
How To Apply for a National Merit Scholarship
The application process for a National Merit Scholarship goes as follows:
Take the PSAT
Ask for letters of recommendation
Complete the online application
If you want to send requests for Special Scholarships, you need to complete the form on the issuer's website and follow any additional steps they ask for.
Do you want to streamline the procedure? Use the DoNotPay app and apply for any no-essay scholarship in less than two minutes. We can help you diversify your options so that you don't depend solely on National Merit Scholarships.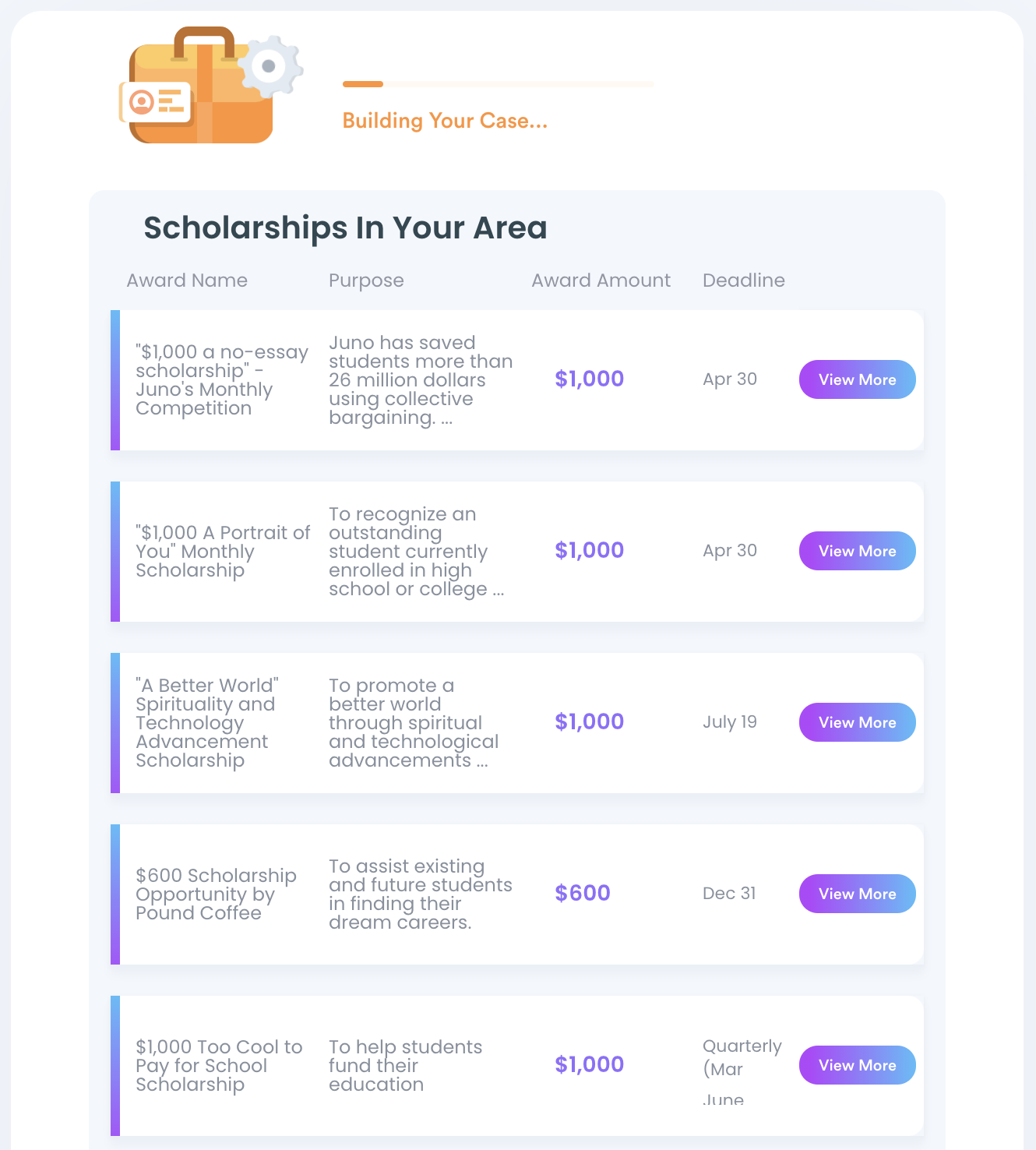 Apply for Scholarships Within Minutes With DoNotPay
Keep your options open and find all college scholarships you are eligible for with DoNotPay. We can single out programs that you relate to—such as scholarships for women, veterans, minorities, or international students—and help you apply for them.
If you plan to go to graduate studies, our app will find financial aid for that level of education as well.
Want to get your personalized list of scholarships and grants you're eligible for? Do the following:
Navigate to the Apply for Scholarships product and click on it
Answer our chatbot's questions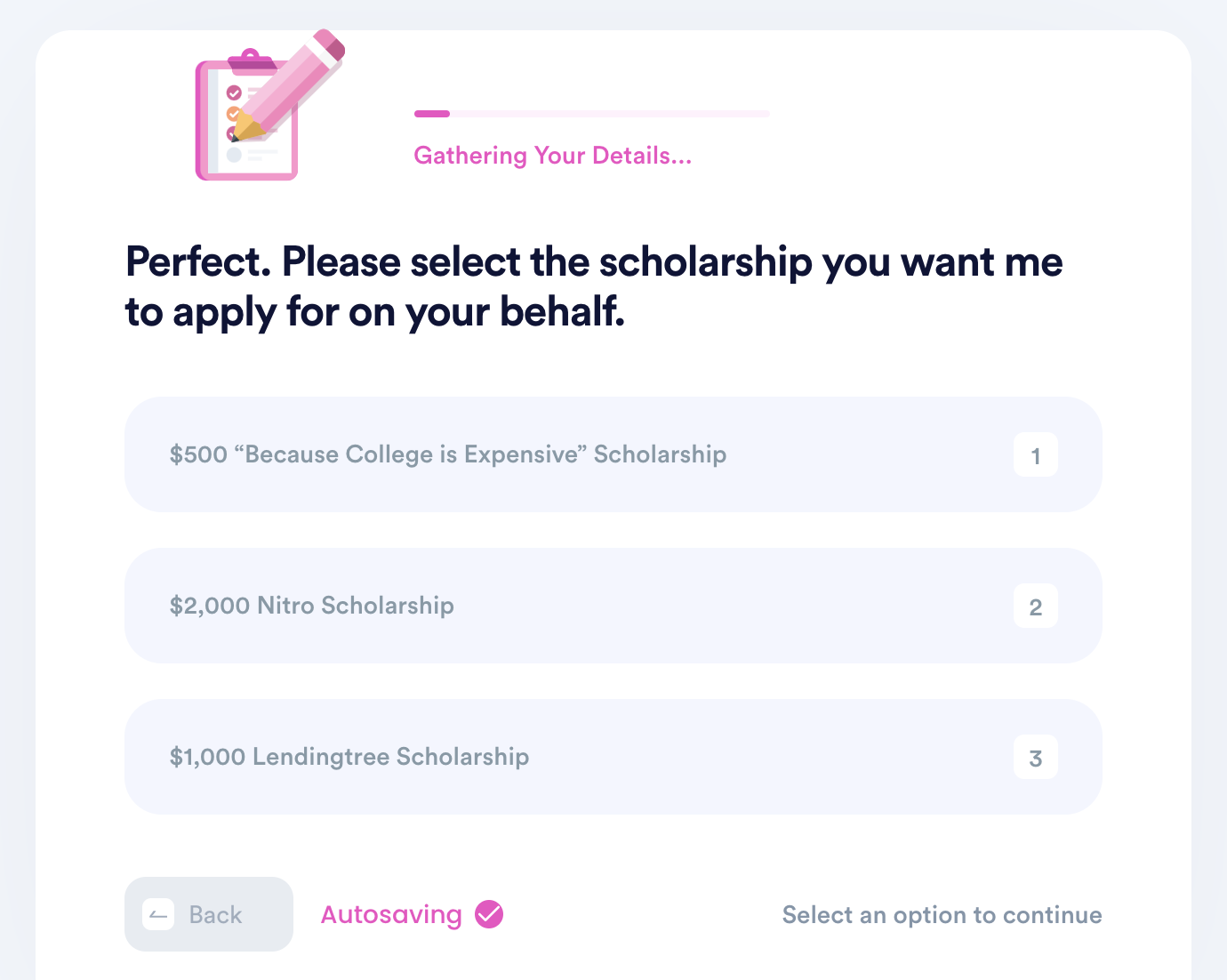 Managing Everyday Tasks With DoNotPay Is a Breeze
Completing mundane tasks doesn't have to be a nightmare! With our help, you can relax and finish them in a few taps! All you need to do is register for DoNotPay and let us help you with:
Have Your Documents Drafted and Notarized With Our Help!
If you need to draft a legal document, such as a divorce settlement agreement, power of attorney, or a child consent form, hiring a lawyer to assist you is probably the first thing that comes to mind. What if we told you that spending hundreds of dollars on legal services is unnecessary? Not only can DoNotPay draft contracts and agreements in a few minutes, but it is also your most affordable and effortless option!
The benefits our app provides don't stop there! After we generate your document, we'll connect you with a remote notary and show you how to get it notarized online without leaving the comfort of your home! You can even fax the document online and skip dealing with outdated fax machines.