How To Check Your eBay Gift Card Balance Hassle-Free
Have you bumped into an old eBay gift card while cleaning your room? Don't throw it away—there may be some extra cash on it! If you aren't sure whether you spent all the funds during your last purchase, you can check your eBay gift card balance and think about ways to take advantage of the remaining money. Read our guide and discover some excellent tips for getting cash back from used gift cards from any retailer stress-free!
eBay Gift Cards in a Few Words
When it comes to eBay gift cards, there are two types—physical and digital cards. Here's a table explaining the basic differences between them:
Info
Physical Gift Cards
Digital Gift Cards
Available
Online or in the shops that belong to participating retailers
Online only
Redemption code
On the back of the card—needs to be scratched off
Stated in the email eBay sends you
Price range
$10.00–$200.00
To use eBay gift cards, you must have an existing account with a registered U.S. shipping address, and the only way to redeem them is by placing an online order on the platform. You can use up to four gift cards during a single online purchase and combine them with other promotional codes offered by eBay.
How To Check the Balance on Your eBay Gift Card
You can check the remaining balance on your eBay gift card online or let DoNotPay do it for you. Consult the table below for instructions:
How To Check Your eBay Gift Card Balance
Instructions

Online

Log in to your eBay account

Go to the

gift card page

Click on

Check your balance

Enter the card redemption code in the required field

With DoNotPay

Pick the

Check Gift Card Balance

feature

Upload photos of your eBay gift card (front and back)

Once you upload the photos, you will need to confirm your email address. DoNotPay will contact eBay for info about your remaining balance
What Can You Do With a Used eBay Gift Card?
eBay gift cards don't have an expiration date, which means that you can always put them to good use in case you find them after a certain period. The most logical way to use the card is to redeem it during your next order by combining it with other payment methods. These may include PayPal, credit cards, Google Pay, or Apple Pay.
In case you don't feel like spending those funds on orders, here are some other ways to take advantage of them:
Does eBay Offer Cash Back for eBay Gift Cards?
eBay approves returning or exchanging gift cards for cash only in the states that have a cash back policy. These are:
Oregon
Maine
Missouri
Vermont
Colorado
California
Washington
New Jersey
Massachusetts
Connecticut
Rhode Island
Puerto Rico (an incorporated U.S. territory)
These locations have laws that oblige companies to provide a gift card cash back for specified amounts. While in California you can reclaim up to $10, the limit in most other states is $5.
How To Request a Gift Card Cash Back Effortlessly With DoNotPay
Cashing out the remaining amount from your eBay gift card usually requires you to contact the company's customer care center and negotiate your cash back claim. With DoNotPay, you don't have to waste your time on endless email correspondence or tiresome phone calls. We help you convert the unused gift card money to cash without dealing with representatives ever again!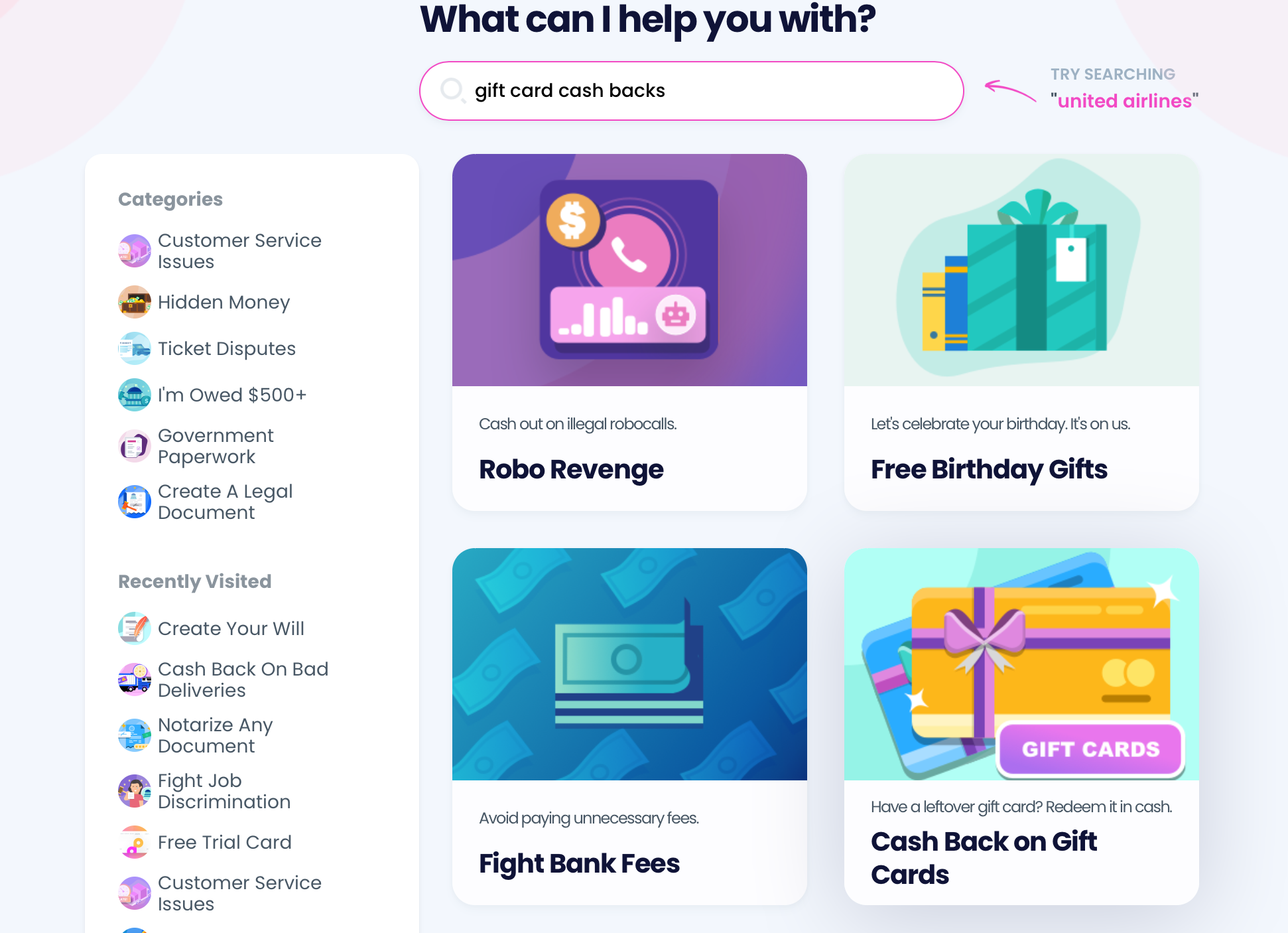 While processing your gift card info, our app will check whether you are entitled to receive cash back according to your state's laws. If your state doesn't approve this option, we will find out if the company in question has an office near your location and forward your cash back request to it. This means we can help you redeem the unspent funds even if it's not required by law in the state where you live!
Take advantage of our service by following these easy-breezy steps:
Visit DoNotPay and sign in to your account
Go to Gift Card Cash Back
Input the card information, including the company name, gift card number, and the remaining amount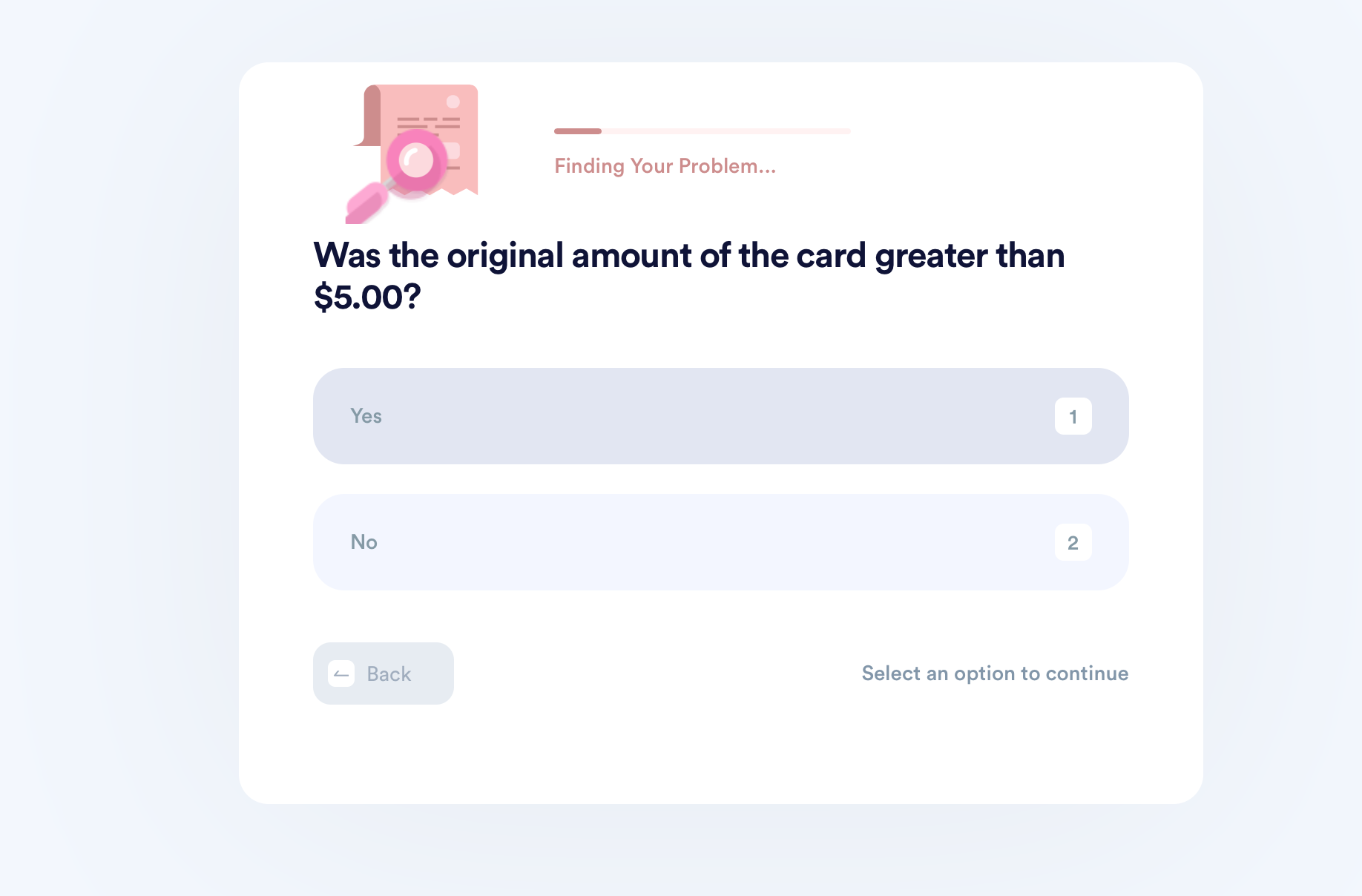 Which Gift Cards Can DoNotPay Help You Cash Out?
Do you have free gift cards from some retailers that you want to turn into cash? Start using DoNotPay, and we will help you do it the easy way! Our app can assist you in requesting cash back from various companies, some of which are listed in the following table:
| | | |
| --- | --- | --- |
| Clothing Stores | Food Stores and Restaurants | Other Retailers |
| | | |
Learn About DoNotPay's Awesome Products!
DoNotPay is a multifunctional app that can solve numerous everyday challenges swiftly.
You can use our app to protect your work from copyright violations, schedule your driving exam or any other appointment with the DMV, reduce your property taxes in a few steps, and similar.
We have created many useful products to help our users take care of their issues through the same app. With us, you can:
DoNotPay Connects You With Your Loved Ones
Sending letters to inmates can be difficult since you have to follow certain rules to a T to avoid having your letter rejected. The situation is even more complicated if you don't know where your incarcerated loved one serves time. DoNotPay's app can help you locate prisoners and correspond with them without worrying whether you're breaking any rules.
Do you want to send a letter, but you don't feel like heading over to a post office? By using our mailing service, you can mail as many letters as you want from the comfort of your home. With DoNotPay, you can also send online faxes in under five minutes!
Email and text spam is something that everyone experiences at least once in their lives. DoNotPay has a solution for that too. Access your DoNotPay account and count on us to help you block spam and get compensation by reporting pesky robocalls.