Check Your Hobby Lobby Gift Card Balance Within Minutes
Anyone who loves home decor knows the importance of the Hobby Lobby gift card. If you have a used gift card, check your Hobby Lobby gift card balance to figure out what to do with it. You have many options to use the leftover amount, but you can also exchange it for cash if you want.
Sign up for our app and get practical advice on:
How Does a Hobby Lobby Gift Card Work?
You can use a Hobby Lobby gift card at any Hobby Lobby store in the United States. They currently only offer physical gift cards made of plastic. Since it's a physical gift card, you can not use it on their website.
The value of gift cards ranges from $10 to $200 in any denomination. Each gift card has a unique card number and PIN code assigned to it. There is no expiration date on the card, so you can use it whenever you want. You get a replacement card if you lose or damage your card, provided you can present the purchase receipt.
Hobby Lobby—Check Your Gift Card Balance Easily
To check your Hobby Lobby gift card balance, you have the following options:
Call customer service
Visit the official website
Go to a Hobby Lobby store

Use DoNotPay
Call Customer Service To Check Your Gift Card Balance
You can reach customer support at 1-855-329-7060. Follow the voice prompts to speak to a support agent. Provide your gift card details, including your card number and PIN, and ask them to check the balance for you.
The support agent will respond immediately with the requested details.
Visit the Official Website To Perform a Balance Check
If talking to a customer support agent makes you uncomfortable, visit the Gift Card Balance section on Hobby Lobby's website. Type your gift card number and PIN, and enter the reCAPTCHA. Click on Check Balance to find out what leftover balance you have on your card.
Go to a Hobby Lobby Store To Check the Leftover Balance on Your Card
Visit the nearest Hobby Lobby store and hand your gift card to the store manager. Ask them to check the leftover amount on your card. The store manager will check the database and provide the info to you.
Use DoNotPay To Check Your Hobby Lobby Gift Card Balance
Who says you have to check your gift card balance by yourself? DoNotPay is here to simplify the process to a tee and perform a Hobby Lobby gift card balance check for you! All you need to do is finish a quick three-step guide:
Navigate to the

Check Gift Card Balance

feature

Upload photos of your gift card from the front and back
After you confirm your email address, we'll contact Hobby Lobby and inquire about your remaining balance.
You Have Some Dollars Left on Your Card—What Can You Do With It?
Surprise! You've found that your gift card is not entirely empty. You have multiple options to use the leftover amount:
| | |
| --- | --- |
| How To Use the Remaining Balance | Brief Explanation |
| Shop at Hobby Lobby | If you're an arts and crafts or home decor fan, grab your gift card and go shopping at Hobby Lobby. In case you have a low balance, use your credit card to pay the difference |
| Put the card up for sale | Not a Hobby Lobby fan anymore? Consider selling your card to someone you know. If you don't know anyone who could use the card, put it up for sale on online marketplaces, such as eBay or Craigslist |
| Trade it for another card | Use online platforms to trade your gift card for another. Bear in mind that such platforms are breeding places for scammers who will try and exchange a fake or empty gift card. Make sure to check user reviews before doing an exchange |
| Return your gift card for cash | If you want to return your gift card for cash yourself, you need to live in a state with a cash back policy, where the store personnel will be obliged to take the gift card back |
DoNotPay Can Redeem Your Gift Card for Cash in Any State!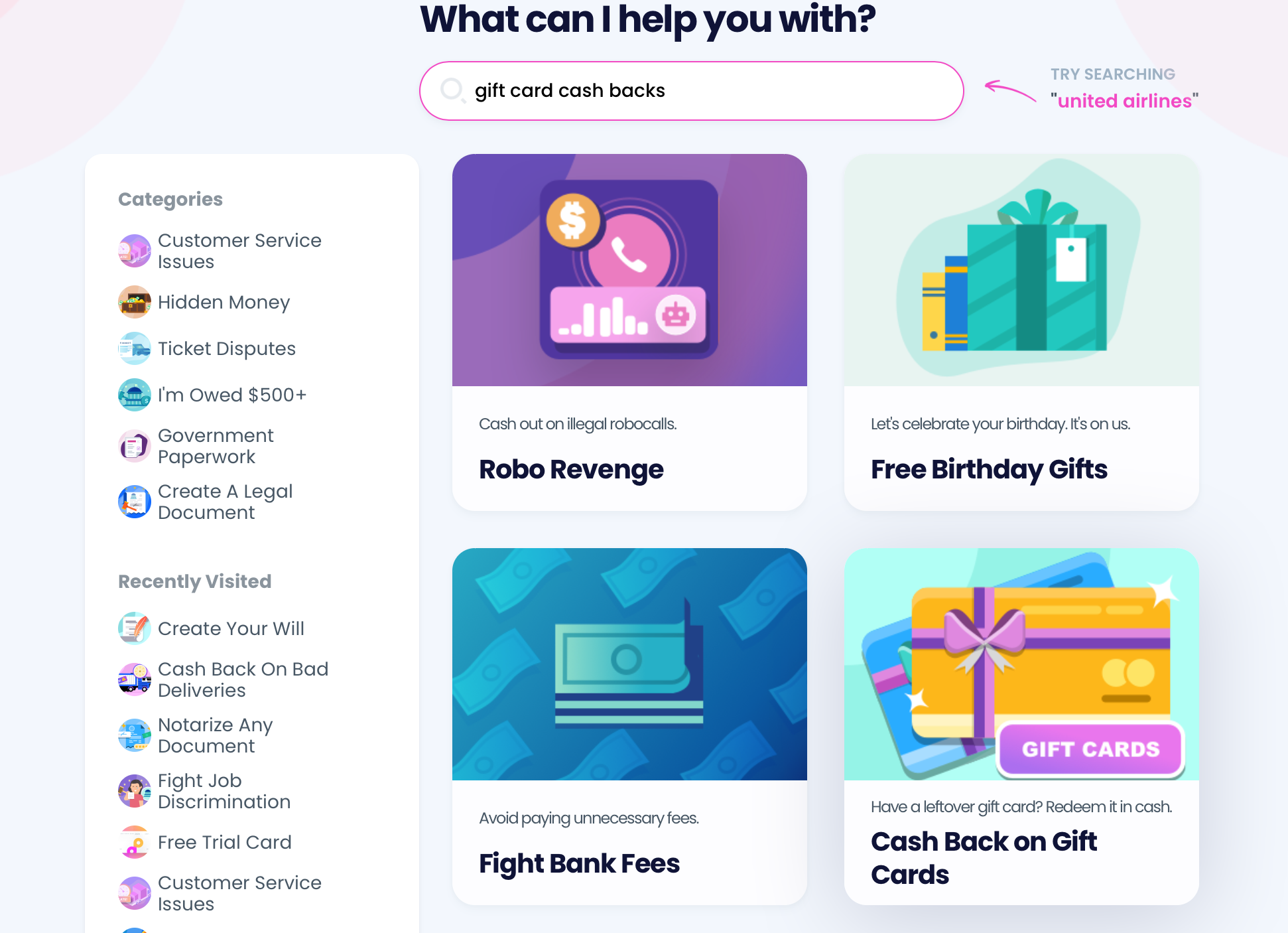 Do you have a used gift card that you want to redeem for cash? Talking to customer support can be a hassle because most agents don't even know if the company has a cash back policy. DoNotPay is here to help you out! Get started with these easy-to-follow instructions:
in your web browser
Choose the Gift Card Cash Back product
Type the necessary details, such as the company name, card number, and remaining balance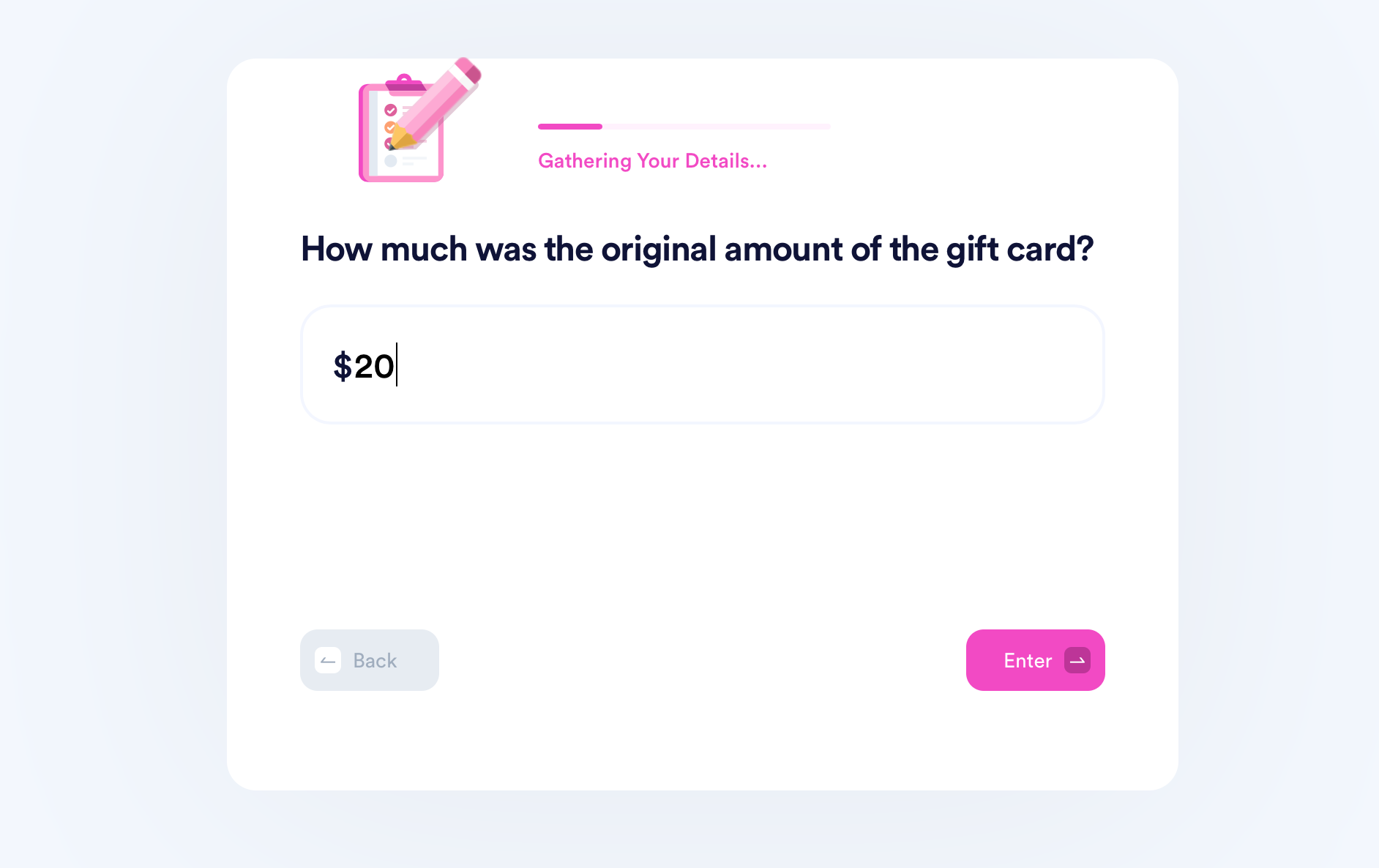 Once we've processed your info, we will send a request to the company on your behalf. In case your state does not have a cash back policy, we will find the company's office in Puerto Rico or one of the 11 cash back states. We forward your request there, and you will receive your cash or check by mail within 14 business days.
If you're unhappy with the item you've purchased with your Hobby Lobby gift card, we can help you return it and get a full refund!
Do you have other used gift cards you want to redeem for cash? DoNotPay's learning center can provide info on gift cards from various companies, such as:
Easy-Breezy Ways To Deal With Not So Breezy Issues
Administrative and similar tasks don't have to be as complicated as we've known them to be. With DoNotPay, dealing with paperwork and companies is done in a few clicks. Let the world's first robot lawyer help you:
Draft various legal documents
Money Troubles? I Don't Know Her!
As our app's name says, DoNotPay's mission is to put a stop to losing money and overpaying. We will help you get your hands on free trials and snatch free raffle tickets. DoNotPay can also provide solutions for you to get help covering bills and reduce your property taxes.
If you want to get some additional funds, use our app to sign up for clinical trials. You may also take our practice tests to ace a government test and land a better-paying job.
It doesn't hurt to check whether you are owed some unclaimed money, and we can help you with the application.