Check Your Fandango Gift Card Balance and Get Your Money Back
Did you receive a Fandango gift card, and you're not sure how much balance is left on it? Do you want to find out whether you're eligible to get the remaining funds back in cash? DoNotPay has got your back.
In this article, we will teach you how to check your Fandango gift card balance and get your money back within minutes! Subscribe to DoNotPay to learn how to exchange your gift card for cash hassle-free.
What Is a Fandango Gift Card?
You can use a Fandango gift card to purchase or rent movies and TV shows on the Fandango or FandangoNOW app or website. You will not be able to use the card to watch movies in theaters or on other third-party websites.
If you lose or damage your gift card, Fandango will not replace it, and you will have to buy a new one.
How To Use a Fandango Gift Card
You can redeem your gift card by following the instructions below:
Select a movie your want to see
Pick Use gift card when you go to the payments section
Enter your gift card number and PIN
Complete the purchase and enjoy the movie
If your purchase amount is lower than the value of the gift card, use the extra money for another purchase. You can add a debit or credit card as an additional payment method if the purchase amount is higher than your gift card's remaining balance.
How To Check Your Fandango Gift Card Balance
You can check your Fandango gift card balance in two ways:
Options
Steps To Take
Over the phone

Call 1-866-857-5191
Provide your name, contact information, and gift card number to the customer service representative
Let them know you want to check your gift card balance

The customer support representative will inform you about the remaining balance

On the Fandango website

Head over to the Fandango or FandangoNOW website
Enter your card number and PIN
Press enter to check your balance
What To Do if You Have Extra Balance on Your Gift Card
If you have checked your balance and found some extra money on your card, here's what you can do:
Spend the remaining funds—Plan a movie night with your friends and use your gift card to buy a ticket. If there's not enough money left on your gift card, you can use your credit card to pay the difference
Sell the gift card—Sell the card to someone you know or put it up for sale on an online marketplace, like eBay
Gift the card to a friend or family member—Consider giving the card as a gift to someone who would love a free movie night
Can You Exchange Your Fandango Gift Card for Cash?
Officially, Fandango gift cards are non-refundable and non-exchangeable. This means that you cannot exchange the card for cash or use it to buy more gift cards unless required by law. If the company has an office in Puerto Rico or one of the 11 cash back states, you have the right to request reimbursement.
Regular Fandango gift cards don't expire, but the company sometimes offers promotional gift cards with expiration dates. If you are not sure which one you own, contact customer support immediately.
Need Help Filing a Gift Card Cash Back Request With Fandango? Rely on DoNotPay!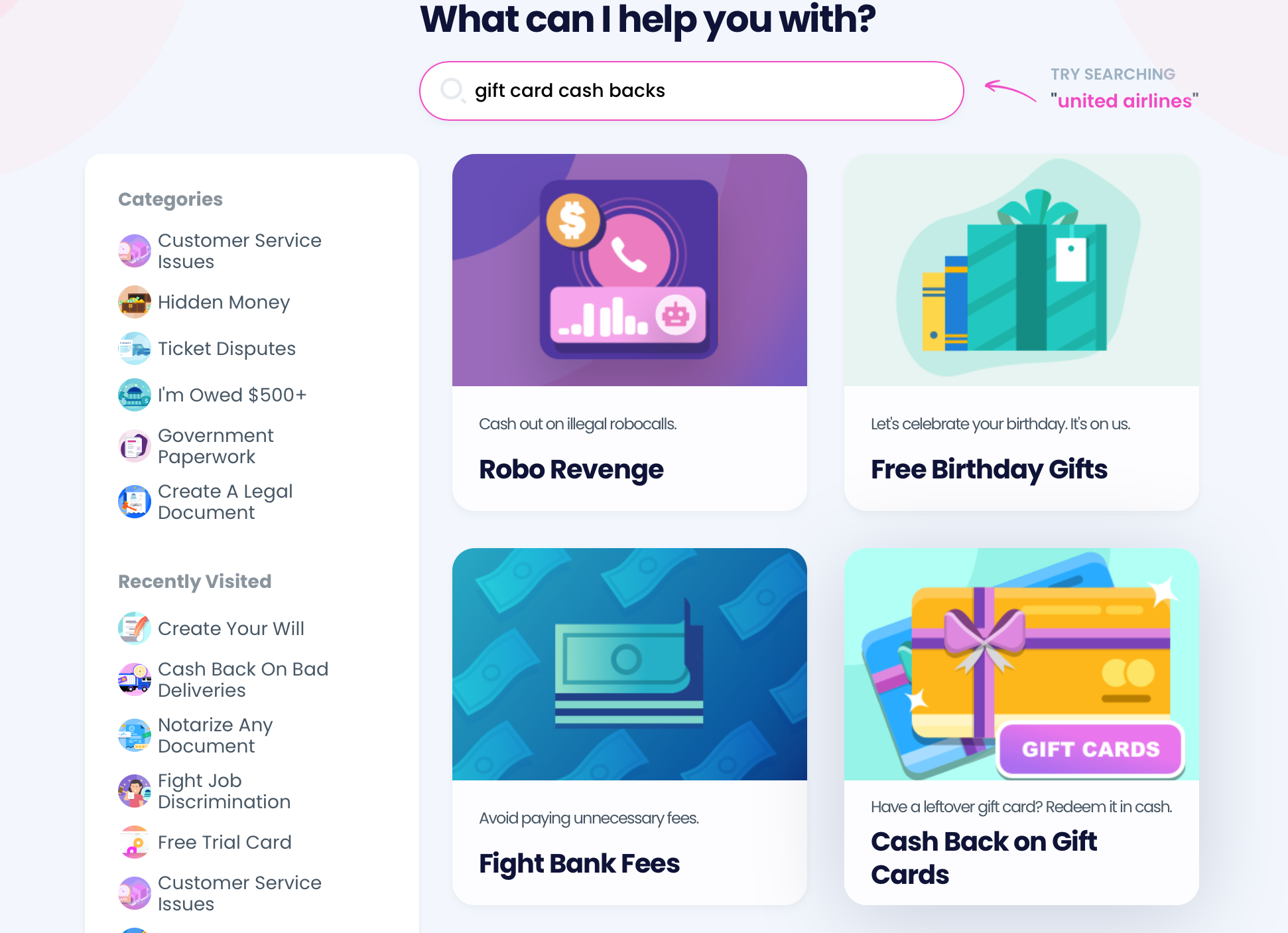 Would you like to squeeze every dollar out of your Fandango gift card? Let us help you get your money back! With DoNotPay's amazing Gift Card Cash Back feature, you can get your gift card money back in no time.
To file your cash back request in a matter of minutes, follow these instructions:
Open our Gift Card Cash Back feature
Provide details regarding the company name, your gift card number, and the remaining balance on the card
DoNotPay will check if your state has a cash back policy and file a request with Fandango on your behalf. If the company has an office in any of the cash back states, DoNotPay can send your request there. You will receive your money by mail within 14 business days.
If you want to learn more about gift cards, DoNotPay's learning center has useful information about different topics, such as:
Do you have other gift cards you want to get your money back from? DoNotPay's feature can help you get cash back from gift cards of various companies, including:
Easy-Breezy Ways To Deal With Not So Breezy Issues
Administrative and similar tasks don't have to be as complicated as we've known them to be. With DoNotPay, dealing with paperwork and companies is done in a few clicks. Let the world's first robot lawyer help you:
Money Troubles? I Don't Know Her!
As our app's name says, DoNotPay's mission is to put a stop to losing money and overpaying. We will help you get your hands on free trials and snatch free raffle tickets. DoNotPay can also provide solutions for you to get help covering bills and reduce your property taxes.
If you want to get some additional funds, use our app to sign up for clinical trials. You may also take our practice tests to ace a government test and land a better-paying job.
It doesn't hurt to check whether you are owed some unclaimed money, and we can help you with the application.