Doing a Darden Gift Card Balance Check Has Never Been Easier!
Did you find an old Darden gift card, and you're not sure how much money you have left on it? You don't have to bother following confusing instructions on doing a Darden gift card balance check online. We are here to offer you a streamlined way of checking your gift card balance and useful info on what to do with the remaining cash!
to get your remaining gift card balance back quickly!
What Are Darden Gift Cards, and Where Can You Use Them?
If you received a Darden gift card as a present—or for free as a loyal customer—we'll explain how you can put it to good use instead of throwing it away. Darden gift cards can be used as a payment method if you want to avoid spending cash at your local restaurants. Apart from Darden restaurants, these gift cards can be used at the following locations throughout the U.S.:
If you have a Darden gift card, don't let it go to waste. We'll offer you useful tips on how to use it or exchange it for cash!
How To Check Your Balance on a Darden Gift Card
There is more than one way to check your Darden gift card balance. Consult the table below for specifics:
Ways To Check Your Darden Gift Card Balance
What To Do
Over the phone
Dial 800-642-7336 and speak to a Darden representative. Explain your request and provide any required info
Online
Follow the next steps to check your gift card balance online:

Go to the Darden website
Enter your gift card number
Prove you're not a robot and click on Check Balance

In person
To check your Darden gift card balance in person, complete the following instructions:

Visit the closest Darden restaurant
Ask an employee to check your balance
Provide them with the necessary info
What To Do After You Check Your Darden Gift Card Balance
If you're wondering what to do with the remaining balance on your gift card, we're here to offer a few ideas:
Use it at Darden or other locations we listed above—You can have a lunch or dinner date with your friends or a significant other. You probably won't have to spend any extra cash if you pay with your gift card
Give it to someone as a gift—If the remaining balance on your gift card isn't enough to give it to someone as a gift, you can always add a few bucks. It's the perfect present because the person you give the card to gets to decide what to buy with it
Exchange it for cash—You don't have to use your gift card at all. Exchanging it for cash is also an option, and we can show you how to do it easily
After You Check Your Darden Gift Card, Use DoNotPay To Get Your Cash Back Easily!
You don't have to throw away or sell your used gift cards! You can use DoNotPay to exchange them for cash easily!
By law, you have the right to return your used gift cards for cash in Puerto Rico and 11 states with a cash back policy. Those states are:
California
Colorado
Connecticut
Maine
Massachusetts
Montana
New Jersey
Oregon
Rhode Island
Vermont
Washington
Even if you're not from one of the above-listed states, don't worry! We can still help you get your money back with little to no effort.
With DoNotPay, you'll be able to relax and let our app do the job for you. Your only task is to answer a few short questions regarding your gift card, and you're done!
Here's what you need to do:
Select the Gift Card Cash Back feature
Provide the required info
DoNotPay will check whether your state has a cash back policy and file a request on your behalf in a matter of minutes!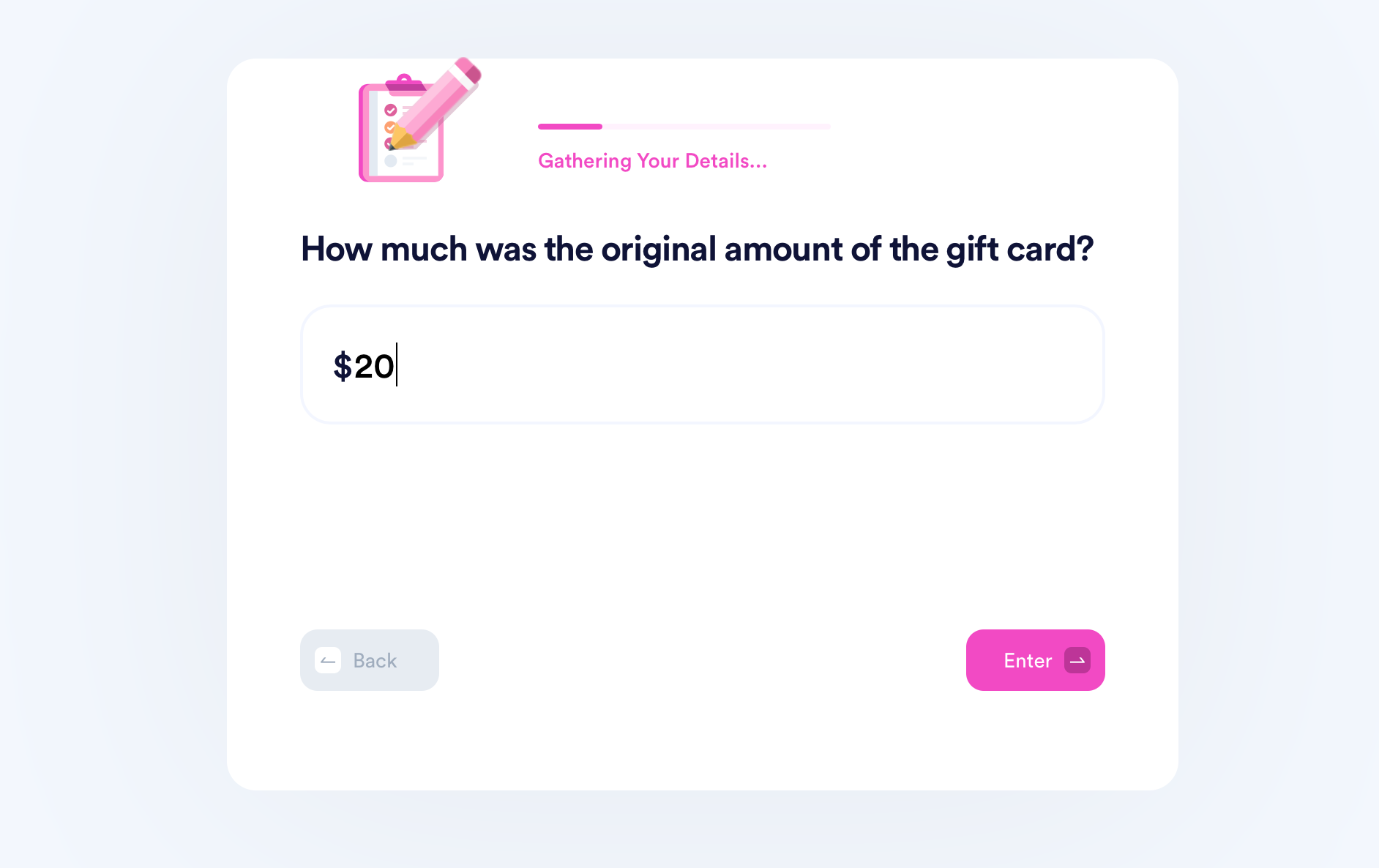 If DoNotPay concludes that your state is among the ones that don't have the said policy, we offer additional assistance! Our app will check if Darden has an office in any of the cash back states and send your request there. Darden reps should respond quickly and send your money by mail within 14 days.
DoNotPay Offers Assistance With More Than Darden Gift Cards!
Do you have multiple other half-used gift cards lying around your house? We're happy to show you how to check your balance on each card and get your money back with ease! Here are some of the companies we can assist you with:
Say No to Spam and Unnecessary Paperwork
If your inbox, mailbox, or to-do list is overflowing, our app is exactly what you need! Check out ways to declutter your life:
You can have your cake and eat it too—DoNotPay makes it possible to cut down on unnecessary red tape and save you money—all in one full swing. We can help you overturn your parking tickets, apply for a college fee waiver, uncover missing money, submit a FOIA request, and much more.
Discover Numerous Fast and Easy Solutions
DoNotPay is all about helping you through a complicated task by coming up with simple solutions: