Ways To Check Your Crate and Barrel Gift Card Balance
Did you use a Crate and Barrel gift card during your kitchen or living room remodeling project? If so, it may still contain a few unspent bucks. Should you sell your gift card, exchange it for cash, return it to the retailer for money, or convert it into cash?
Before you start planning on using the remaining amount, you have to check your Crate and Barrel gift card balance to know the exact amount left on the used card. You'll find some super useful tips in this article. We will also show you how to request the gift card money from this company in no time using DoNotPay's Gift Card Cash Back feature!
The Crate and Barrel Gift Card Policy in Brief
If you get a Crate and Barrel gift card as a present or buy it yourself, you can redeem it in the USA only. The offer consists of two card types—standard (plastic) and electronic ones. These cards can be used for purchasing all kinds of merchandise or services in any Crate and Barrel shop, online, or during a phone order.
The great news is that you have a lifetime to redeem the available credit as these cards can't expire. Another benefit lies in the absence of any extra charges related to gift card maintenance. There are no additional costs even if you don't spend the card balance for years.
You are allowed to join multiple gift cards for a single purchase or combine the gift card with other accepted payment methods, such as:
Visa
PayPal
Optima
Novus
MasterCard
Click To Pay
American Express
Crate and Barrel Credit Card
How To Check the Amount Left on My Crate and Barrel Gift Card
Depending on your possibilities and preferences, you can choose one of the four available balance check methods:
Online
By phone
By visiting a store

With DoNotPay
Doing a Crate and Barrel Gift Card Balance Check Online
Here are the instructions for inquiring about your gift card credit by using the Crate and Barrel online balance checker:
Access the homepage of the Crate and Barrel website
Select Holidays & Gifts
Choose Gift Cards from the drop-down menu
Click on Check Gift Card Balance
Type the gift card details in the required fields
Tap on Check Balance
Doing a Crate and Barrel Gift Card Balance Check Over the Phone
To request your gift card balance info by phone, do the following:
Call (877) 477-4567
Give your gift card details to the customer care representative
Let them run the search and check the remaining credit amount for you
Doing a Crate and Barrel Gift Card Balance Check in Person
If you want to avoid contacting the customer care center and do the check in person, you should:
Go to the store you picked and take your gift card with you
Inform the store manager or shop assistant that you want to know the current balance
Hand them the card and let them check the amount left for you
Doing a Crate and Barrel Gift Card Balance Check With DoNotPay
DoNotPay saves you from unnecessary hassle and checks your gift card balance in your stead! All you have to do is follow our quick guide, and we'll do the rest:
Tap the

Check Gift Card Balance

feature

Submit photos of your gift card from the front and back
After you confirm your email address, we'll contact the card provider and get all the info about your remaining balance.
| | |
| --- | --- |
| Can You Check Your Crate and Barrel Gift Card Balance Via | Yes/No |
| DoNotPay | Yes |
| Email | No |
| Phone | Yes |
| Online | Yes |
| Chat | No |
| Letter | No |
| In person | Yes |
What if I Want To Get Cash for My Old Crate and Barrel Gift Card?
Crate and Barrel stipulate that they don't accept gift card returns for cash, but there are state-specific statutes that say otherwise.
If the unspent credit would be more useful to you in the form of cash, you should check your state laws and see if they approve the cash back option.
Twelve locations—11 U.S. states and Puerto Rico—permit this method and propose that retailers are obliged by law to reimburse customers for the remaining amount upon request. This means that regardless of the company's general rules, you can retrieve the gift card money if you live in:
Colorado
Connecticut
Maine
New Jersey
Oregon
Rhode Island
Massachusetts
Vermont
California
Missouri
Washington
Puerto Rico
You should also check the cash back limits mandated by your local statute as they range from $1 to $10, depending on the location.
Can DoNotPay Help Me Reclaim the Unused Gift Card Credit?
If you don't use the money from your gift card, these funds are proclaimed the local government's property or returned to merchants. To help you avoid this and claim what's yours with minimal fuss, we created DoNotPay—an app that demands gift card cash back on your behalf within minutes!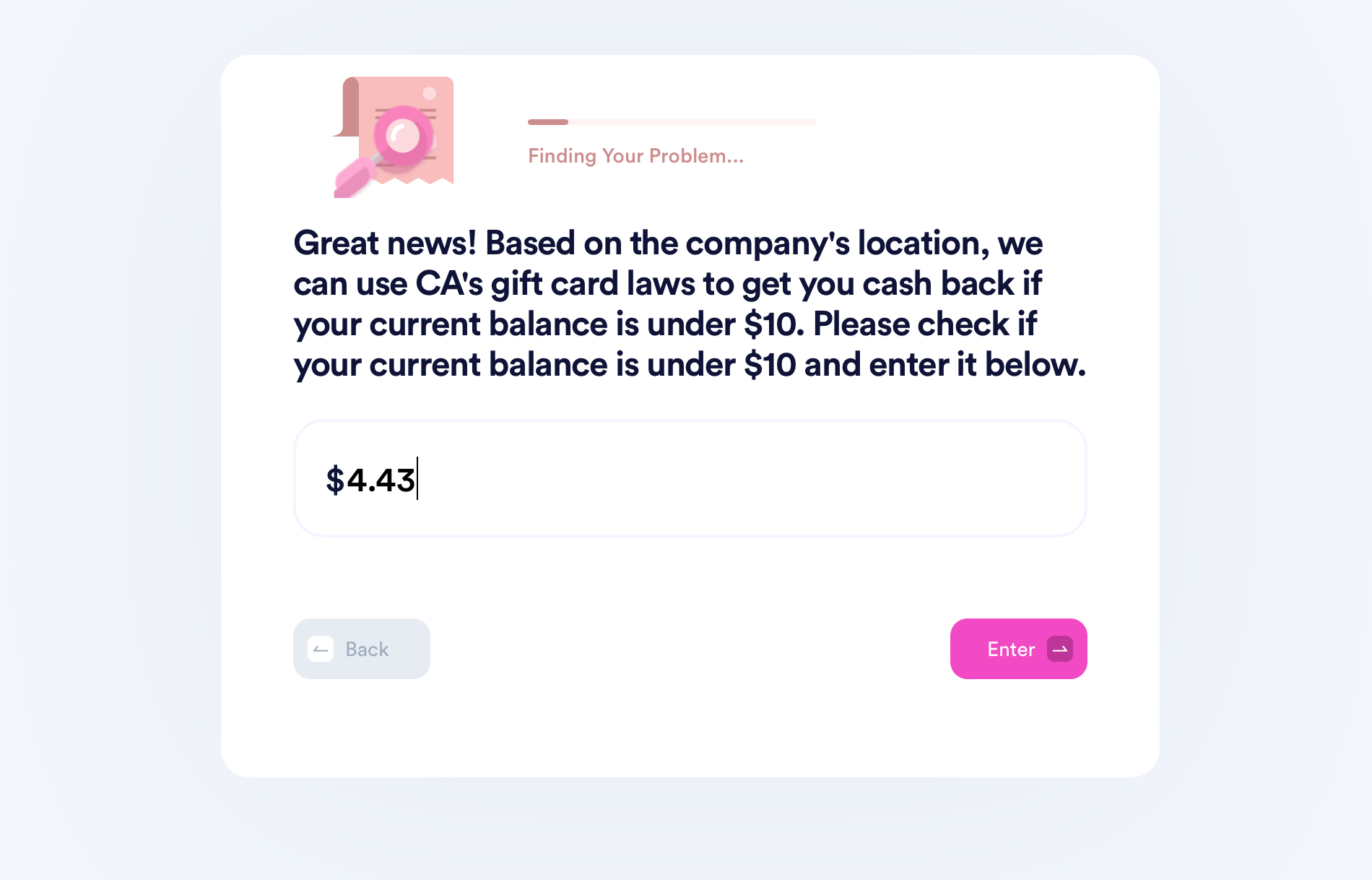 The process is super simple—you should:
Access DoNotPay and log in to your account
Navigate to the Gift Card Cash Back feature
Respond to a few questions to help us compose a request in your stead
After confirming that cash back is permitted in your location, DoNotPay will direct your request to the company's main office.
Should we notice that your state doesn't allow this option, our app will send your claim to a merchant's retail location in one of the approved locations! The mailman will bring the money to your home address within 14 business days after submitting the request!
Learn More About Gift Card Use and Cash Back With DoNotPay
More gift cards to cash out? Fearing that the merchant whose card you have wouldn't accept to receive it back for cash or wanting to get free gift cards? No worries—we have answers to all your burning questions in our knowledge base.
Check out some of the retailers and companies we can demand gift card cash back from:
| | |
| --- | --- |
| Furniture & Home Improvement | Other Merchants |
| | |
Not Sure if You'll Have Enough Money at the End of the Month? We Can Help
Most Americans go through financial hurdles daily. You don't need to put up with it all—as soon as you sign up for our app and voice your struggles, we will provide our assistance! DoNotPay is capable of:
Dealing With a Greedy Company? No Need To Worry
Are you dealing with a company that doesn't want to cooperate and keeps ignoring your consumer rights? No problem—DoNotPay can help you sue the company in small claims court and win your case.
If you need us to draw up a legal document, get it notarized, and fax it to the court, we can do that as well.
Have you been trying to reach the company's customer support reps with no success? Don't get stressed—our app will gladly wait in the phone queue in your stead and notify you as soon as someone picks up.