Check Your Wendy's Gift Card Balance—Get Cash Back with DoNotPay!
Are you craving a Wendy's bourbon bacon cheeseburger? You might get one for free, but what if you can't? In this article, you will learn how to check your Wendy's gift card balance in a snap! Not enough cash for that cheeseburger? Use DoNotPay to get your remaining balance back!
All You Need To Know About Wendy's Gift Cards
Plastic and electronic Wendy's gift cards can be used solely to purchase beverages and food in Wendy's participating locations across the U.S. and Canada. They can't be used for purchasing more gift cards.
There are two types of Wendy's gift cards:
Gift cards for individuals—customizable cards you can mail to yourself or friends and family, with a personalized message
Corporate gift cards—bulk order cards
Wendy's gift cards hold a value between $10 and $100. These gift cards are not to be mistaken with credit or debit cards. They have no expiration date, and no fees apply to them. You can't get a refund on Wendy's gift cards unless required by law, and Wendy's won't replace your lost, stolen, or damaged card.
How Can I Check My Wendy's Gift Card Balance?
There are three ways to check your Wendy's gift card balance:
In person
By calling customer support
On Wendy's website
Note that the balance check will provide an estimated remaining amount, which won't always be completely accurate. Sometimes, balance changes are registered immediately, while other times, they are processed a bit later.
Learn About Your Wendy's Gift Card Balance in Person
Do you live across the street from Wendy's? You can check your remaining gift card balance by asking a cashier. If you're not sure about the whereabouts of the closest Wendy's, consult the company's website by entering your city, state, or ZIP.
Ask About Your Wendy's Gift Card Balance via Phone
You can call Wendy's customer service and ask about your gift card balance. The toll-free number you need to call is 1-888-624-8140. This number is reserved for both Canadian and U.S. customers.
Check Your Wendy's Gift Card Balance Online
Possibly the best, hassle-free way of checking your Wendy's gift card balance is using their website. Here's how to go about it:
Visit the company's homepage
Provide your card and personal identification number (both can be found on the back of the card)
Confirm that you are not a robot
Click on Check Balance
What Can You Do With the Wendy's Gift Card Balance?
The obvious choice for spending the remaining Wendy's gift card balance is to get food or beverages at your nearest Wendy's. Here is nearly everything you can get from the Wendy's menu:
Biscuits
Breakfast combos
Beverages
Classics
Croissants
Hamburgers
Salads
Side dishes
What happens if you don't have enough cash for any of that? Should you throw away this gift card and forget about those few extra bucks?
DoNotPay offers you an alternative because you can get some of your money back if you sign up.
Can You Get Cash Back for Your Wendy's Gift Card Balance?
The official website says that Wendy's gift cards hold no cash value. They can't be redeemed for cash, checks, or credit. The website also mentions the California redemption policy because this state allows up to $10 to be refunded from the remaining balance of any gift card. There are 11 more states and Puerto Rico that allow it, and DoNotPay can help you use this legislation and get your money back.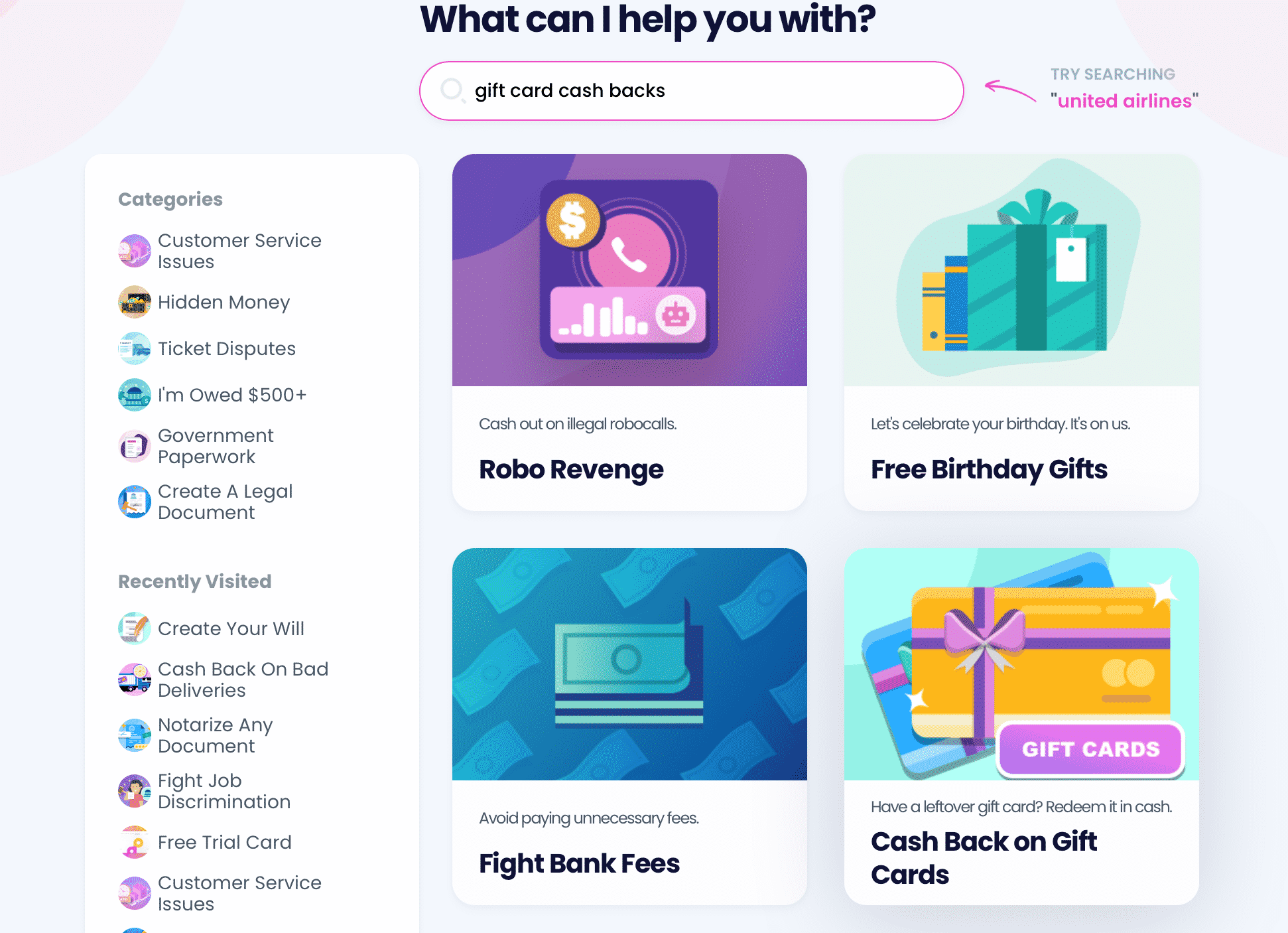 Have Any Leftover Wendy's Gift Card Balance? Get It Back With DoNotPay!
If you sign up for DoNotPay, you can get some of the remaining balance from your gift card back, thanks to our Gift Card Cash Back feature. Here is how it works:
Load the mentioned feature on our website
Type in the info about your gift card (e.g., the date you got the card, the remaining balance)
Wait while we check if you are eligible for receiving the remaining balance back in cash via mail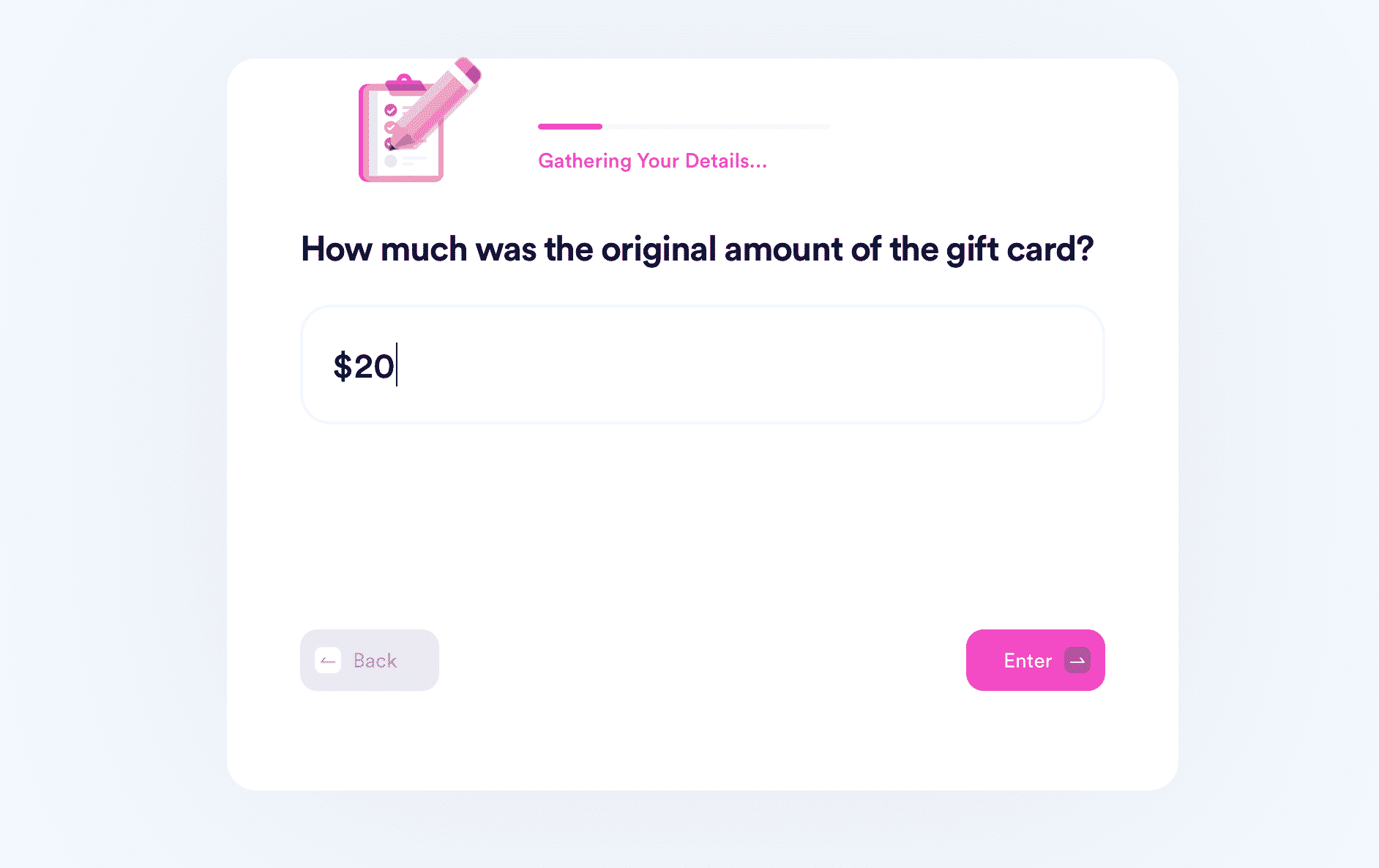 Note that you can't get more than a few dollars this way, but even a $5 bill is better than nothing. DoNotPay can also teach you a lot about gift cards:
Need To Check the Balance on Other Gift Cards? DoNotPay Has Got Your Back!
Do you wish there was a place that could help you get the scoop on using all your gift cards? Here it is! Check the table below and learn how to check the balance on dozens of gift cards:
DoNotPay Can Help You Solve Pesky Issues Stress-Free
Dealing with everyday issues can become overwhelming, especially if they include bureaucracy. DoNotPay can help you handle numerous problems in a few minutes. With us, you can schedule your DMV appointments, get documents notarized remotely, and create various legal documents—including child travel consent statements and demand letters for neighbor complaints—in a snap.
Do you need help paying your bills, disputing parking tickets, or getting cash back for your gift cards? Once you register for DoNotPay, you'll be able to manage all of these and many more issues in no time.
What Else Can You Use Our App For?
Besides helping you handle tedious administrative hurdles, DoNotPay can do much more for you! You can use DoNotPay to:
With us, you can send online faxes or mail letters from the comfort of your home. Do you have friends or family members who are serving time? We can help you connect with inmates in a flash by enabling you to locate them and send them letters.