A Comprehensive Guide on How to Exchange Your Amazon Gift Card for Cash
While an Amazon gift card can be a dream present for some, you may not feel that way. If your friends or family have made an error in judgment by buying you an Amazon gift card, know that you can exchange it for cash in several ways.
DoNotPay is here to explain how to turn a gift card into cash and give you helpful pointers on performing an Amazon gift card exchange!
Basics of an Amazon Gift Card
Amazon gift cards contain a specific amount of money that you can use to buy anything on Amazon's website. They are popular for their vast selection of features and customization options. An Amazon gift card can:
Contain a custom message and a set delivery date
Come in hundreds of different packages and designs
Be used anytime since it doesn't have an expiration date
There are several different types of Amazon gift cards, including:
eGift cards
Print at Home cards
Gift cards by mail
Anytime greeting cards
Considering that Amazon has such an extensive selection of products, almost anyone will find their gift card useful. However, if you would rather have money, you can use one of the certified ways to exchange an Amazon gift card for cash.
How To Convert an Amazon Gift Card to Cash
Amazon won't let you return the gift card for cash, and you can't ask the person who gave you the card to take it back and give you money instead.
Luckily, you can exchange your gift card for cash in numerous other ways, as presented in the table below:
Methods
Description
Use Reddit
This popular social platform has a subreddit for gift card exchanges, where you can exchange your card for cash or other gift cards
Buy presents for family and friends and get the money in exchange
Your friends or family members could probably use a few items from Amazon. You can buy those items and ask for cash in exchange
Sell the card on eBay or Craigslist
You can sell your gift card on eBay for even more money than it's worth. Craigslist is one of the fastest ways to get cash for a gift card, provided you are willing to lower the price a bit
Use gift card reseller sites
This is a valid option, even though it's not the fastest or most profitable. You should also do thorough research to find a reliable website, as well as the one offering the biggest payout
Buy your groceries via an Amazon card
Amazon sells groceries that can be delivered to your doorstep, including:

Drinks
Coffee
Snacks
Household items

Use the gift card to buy them and keep the equivalent amount in cash next time you get a paycheck

Use Coinstar
CoinStar has kiosks all over the country that you can use to exchange gift cards for cash. This method only works with physical cards since you have to insert them into the machine
Can You Get Cash for a Used Amazon Gift Card?
What happens if you have some leftover money on a used gift card?
If you have used your Amazon gift card to buy a few items and ended up with a small amount you're unable to spend, you shouldn't let that money go to waste. States impose different laws about gift cards, allowing you to get cash for the remaining amount under specific circumstances.
Your first step is to check the leftover balance on your Amazon gift card. The limit most states set for gift card reimbursements is $5, while in California, for example, the limit is up to $10.
Your next move is to subscribe to DoNotPay and let us redeem the remaining balance on your gift card for cash effortlessly!
Let DoNotPay Get You the Leftover Cash From Your Used Gift Card
Have you got spare dollars on your Amazon or any other gift card and don't know what to do with them? The last thing you want to do is let that money sit on the card unused. Researching state laws and trying to get the gift card cash back on your own is exhausting and time-consuming. You can save time and nerves and still get a gift card reimbursement by using DoNotPay!
Besides Amazon, we can help you get gift card cash backs from numerous other companies, including:
After you open DoNotPay in a web browser, you should:
Find our Gift Card Cash Back product
Give us essential details about the company
Let DoNotPay check if your state has a gift card cash back policy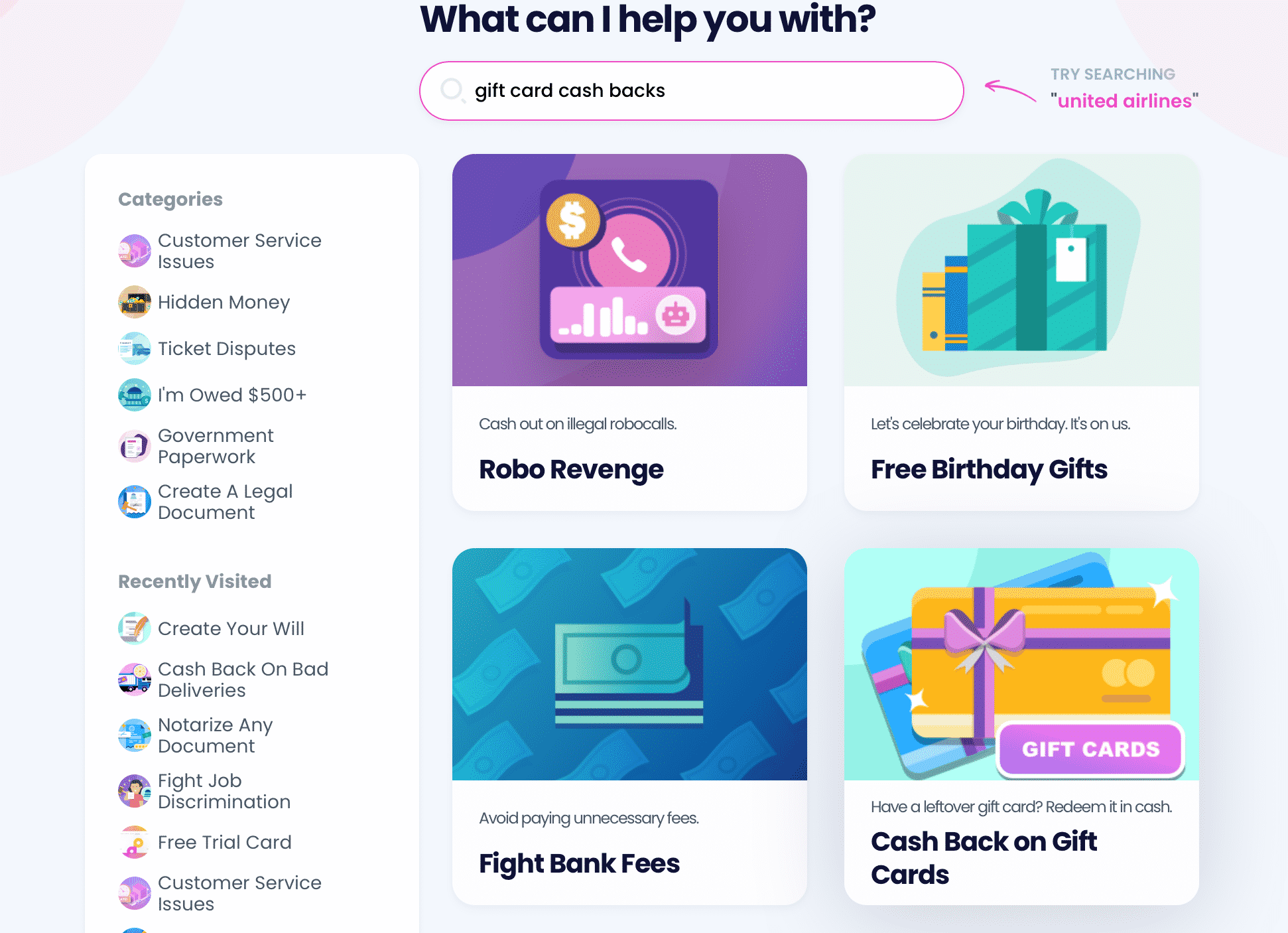 If it turns out that your state is not one of the 12 states with a gift card cash back policy, don't fret! DoNotPay will immediately locate the company's office in one of those states and send them the request. You will get the cash or check by mail within the next 14 business days.
Since many companies, Amazon included, offer free gift cards to their customers, you can count on us to get you cash reimbursement for the remaining balance on those cards as well!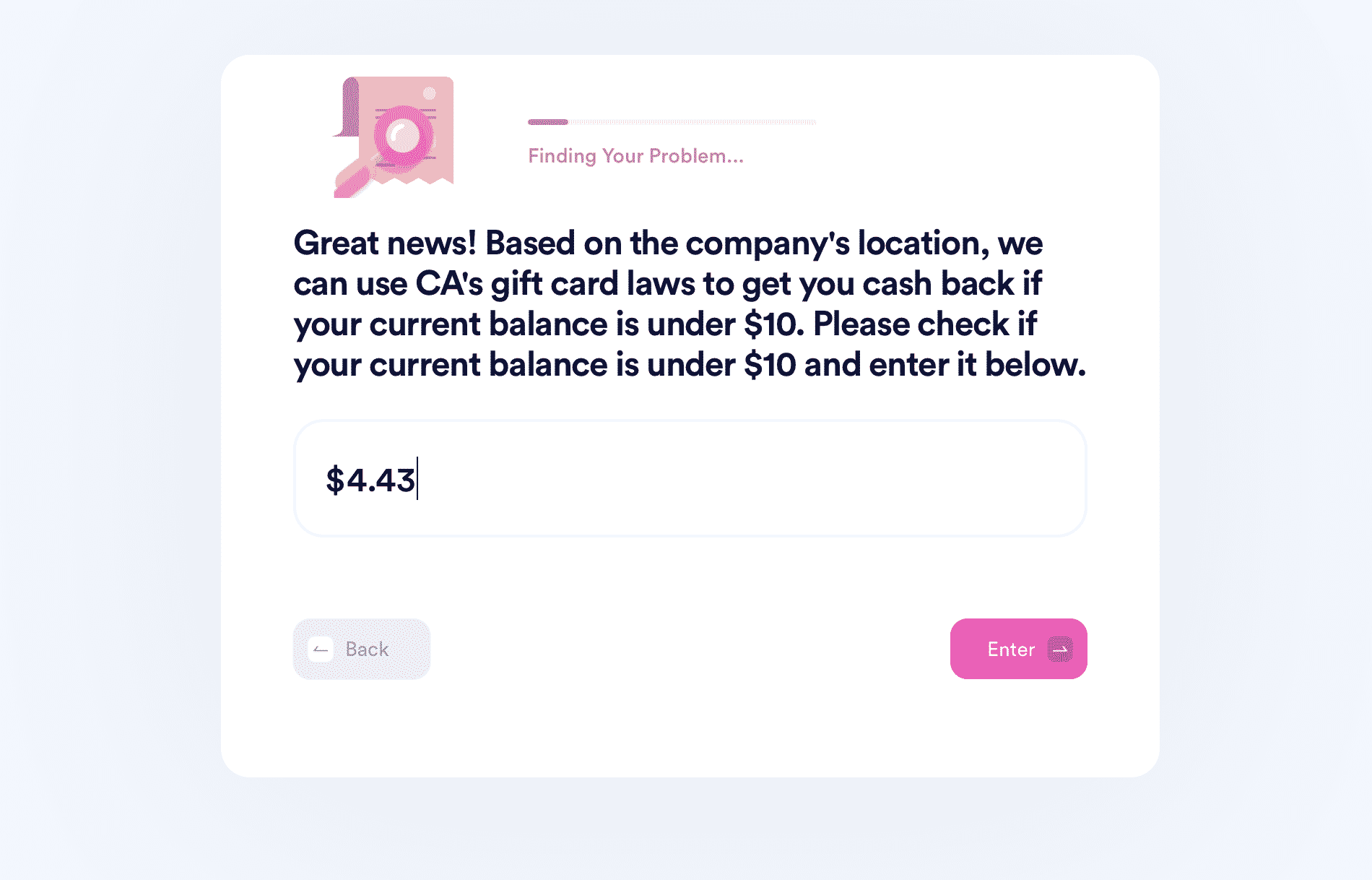 Let DoNoPay Help You With Your Paperwork
Why waste time on bureaucracy if you can rely on DoNotPay to handle pesky tasks for you? Cancel all your subscriptions at once, find unclaimed funds in a matter of minutes, appeal parking tickets hassle-free, and discover the best way to get your documents notarized remotely.
In case you need help paying bills or you want to earn some money by participating in paid clinical trials, DoNotPay is here to help you out!
Fighting workplace discrimination is of utmost importance, but the entire procedure seems rather complicated. The same goes for the crime victims' compensation application in most states. DoNotPay is here to change that. We will help you file a report, request compensation, and create numerous other documents, including demand letters for neighbor complaints.
Keep Your Online Safety in Check!
While internet safety should be one of your top priorities, staying anonymous while surfing the web is almost impossible. If you want to avoid giving out your number when registering for services, you should try out our Burner Phone product.
DoNotPay can also protect your credit card info, name, and email address, all through our handy virtual credit card. Sign up for free trials without worrying about unexpected charges.
With our app, you will learn how to deal with stalkers and harassers and how to access public records the easy way.
DoNotPay offers many other useful products that can help you prepare for government tests, have your college fees waived, and manage any annoying issue in minutes.