Where Can I Get a Sephora Gift Card? Get Your Answers Here!
What a terrific present a Sephora gift card is! Your daughter, sister, friend, or colleague can pick anything from cosmetics and beauty products to fragrances. Who would not like such a fantastic gift?
So, where can I get a Sephora gift card? We will list all the available options and help you cash out the remaining balance if a few dollars don't get spent.
Select a Suitable Sephora Gift Card
Depending on the person and the occasion, you can choose three Sephora gift cards in a variety of designs:
Sephora Gift Cards
Extra Info
Plastic gift cards
Physical cards with:

A gift card number
The PIN

You can pick one of the following designs:

Classic black and white
Happy birthday
Heart
Lips

eGift cards
Virtual cards with a gift card number and the PIN come in different designs suitable for various occasions, such as:

Birthdays
Celebrations
Mother's Day
Thank you events
Teacher appreciation

You can:

Pick from the offered designs
Upload your photo
Choose English or Spanish
Enter the amount that suits you—anything between $10 and $500
Type in your message
Provide the recipient's email address
Select the delivery date

Corporate gift cards
Companies order Sephora gift cards for their employees or clients to:

Build loyalty
Celebrate success
Show appreciation
Increase motivation
Where To Get a Sephora Gift Card
You can get a plastic Sephora gift card in the following ways:
In Sephora stores
Via Sephora mobile app
On the Sephora website
From Sephora customer service by calling 1-877-737-4672
Sephora eGift cards are available online on the:
Sephora website
Websites of authorized retailers
As you cannot get a refund for a Sephora gift card, make sure you pick the appropriate one before completing the purchase process.
Combine Sephora Gift Cards
If you have more than one Sephora gift card, you can combine up to:
Two gift cards during online purchases
Ten Sephora gift cards for your online orders, but you must first get in touch with customer service
Your gift card can also be combined with other methods of payment, like cash or credit cards.
Check Your Sephora Gift Card Balance
To make sure you have enough funds to make a purchase, check the remaining balance on a Sephora gift card in the following ways:
Online
At a store
Via phone—call 1-888-860-7897
By logging in to your Sephora account
Can I Add Money to an Existing Sephora Gift Card?
You can add money to an existing plastic gift card in any Sephora store, but only if you bought the card:
On the Sephora website
In a Sephora retail store
Via Sephora mobile app
Keep in mind that you cannot add extra funds to eGift cards.
Sephora Gift Card Specifics
Before ordering a card, you should know that Sephora gift cards:
Cannot be redeemed
Have no expiration date
Will not be replaced when lost or stolen
Cannot be exchanged for cash unless required by law
To bypass the annoying no cash back policy, to collect the unused balance of your Sephora gift card smoothly!
DoNotPay Helps You Get the Remaining Balance From Your Gift Cards
If you have a Sephora or any other gift card lying around your home because there are only a few dollars left on it, and you cannot use them for new purchases, do not give up on your money!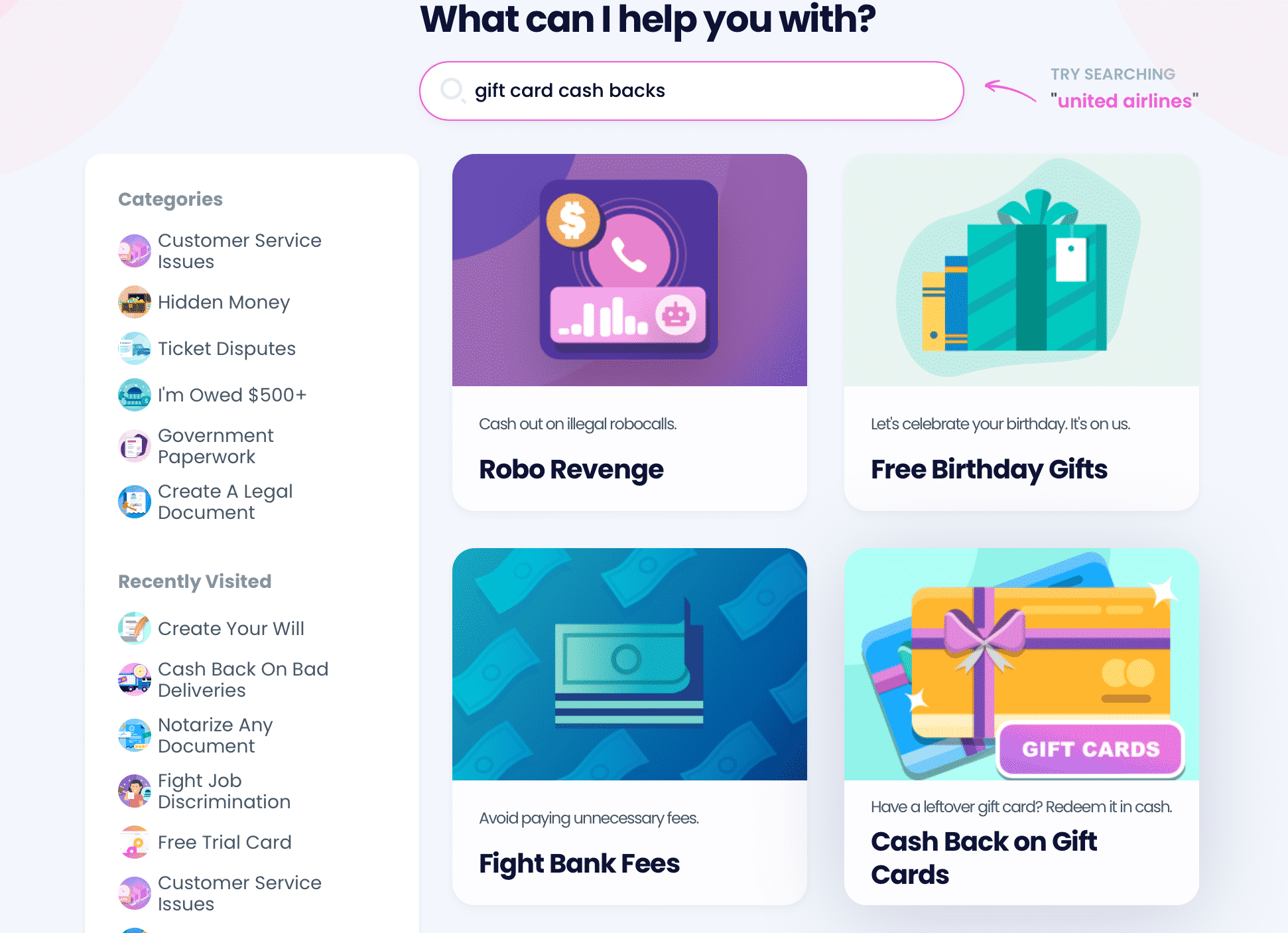 As some U.S. states require companies to reimburse the unused amount of up to $5 or $10 (depending on the state), you can get your money back easily!
You do not need to waste any time checking your state legislation since DoNotPay created a product that automatically determines whether your state has a cash back policy.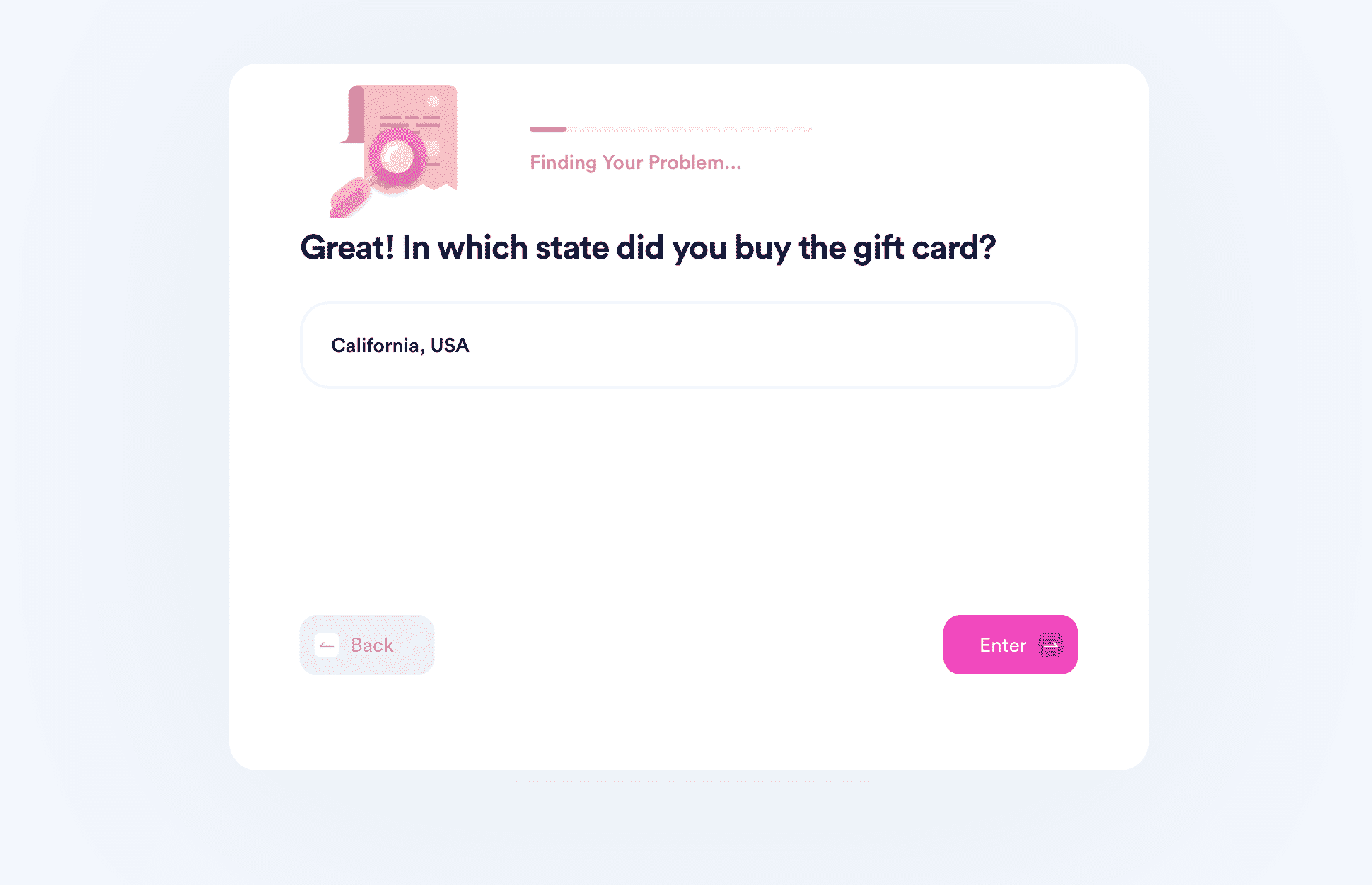 If your state does not have the policy in place, we will check whether the gift card issuer has an office in one of the states that mandate cash back and send the request there!
What should you do? and go through these easy-breezy steps:
Opt for the Gift Card Cash Back feature
Provide the required information, e.g., the card number, company name, and date of purchase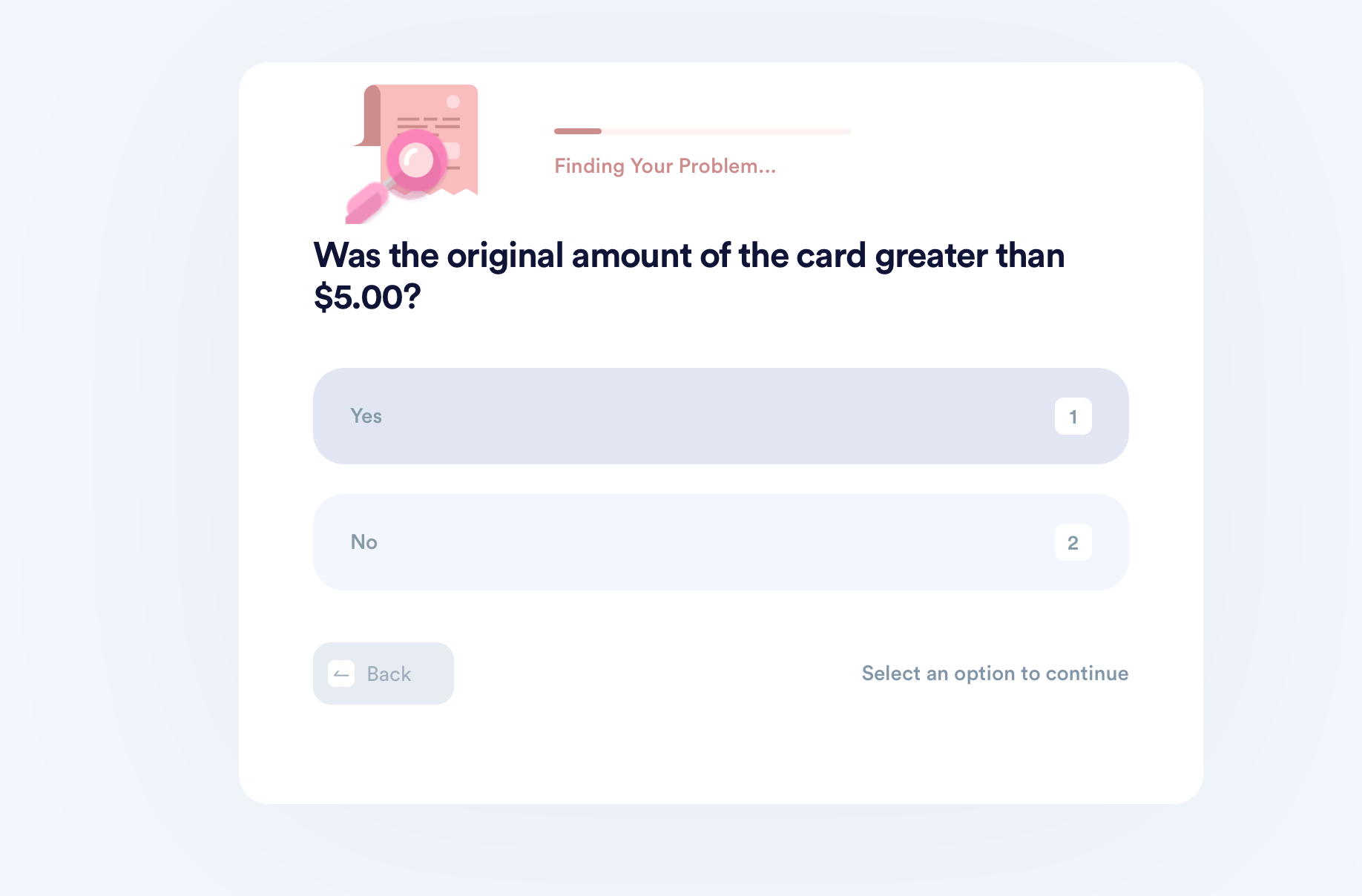 That's it! DoNotPay takes over and sends your refund request to the gift card provider.
Resolve Gift Card Issues in the Blink of an Eye
Gift cards are gaining popularity, so DoNotPay added these helpful articles about various gift certificates. Check out some of them in the following table:
| | |
| --- | --- |
| Find Out How To | Check the Remaining Balance on the Following Gift Cards |
| | |
DoNotPay—The Quickest Way To Deal With Greedy Companies
Spending hours on the phone with customer care reps struggling to get a refund or cancel certain services due to complicated procedures can be tiresome.
If you sign up for DoNotPay, we can help you:
Unsubscribe from all unused subscriptions in a few clicks
Get a refund for faulty products and late deliveries
Request compensation from any airline because of canceled flights, poor Wi-Fi, and similar
Return an item that's damaged or defective
Has a company refused to accept your warranty claim even though it was valid or wronged you in any other way? Make sure to serve them justice by bringing them to small claims court with DoNotPay's help!
Use Our App To Resolve Any Issue
DoNotPay has numerous products you can use. We can help you resolve any problem in a few clicks.
Do you want to find unclaimed money? Would you like to know how to protect your work from copyright infringement? Are you wondering how to apply for a college fee waiver because the application fee is too expensive for you? If you rely on us, you will solve all of these and many more issues stress-free!
Even victims of violent crimes—such as stalking—can use DoNotPay to solve their problems. Having a stalker is traumatic and potentially dangerous. We can tell you how to deal with the situation and apply for crime victims compensation in your state if you need help covering counseling expenses.
We can simplify the document notarization process and help you send online faxes and mail letters from the comfort of your home in less than five minutes.