A Guide to Performing the Adidas Gift Card Balance Check
Did you get an Adidas gift card, use it once, and shove it in your drawer? If so, the chances are that there's still a small amount on it you can use or withdraw by .
We'll walk you through the entire procedure of performing the Adidas gift card balance check and show you how to get the remaining money with zero fuss!
Adidas Gift Cards in Brief
Adidas currently offers three gift card models:
Physical (plastic) gift cards
Digital (email) gift cards
Bulk gift cards
The cards can be loaded with an amount between $10 and $250, and you can choose the design you prefer since there are a few available options. Whichever type you pick or get, you can redeem it either online—by making a purchase in the company's online store—or in any:
Adidas Outlet store
Adidas Originals facility
Adidas Sport Performance shop
These cards don't have an expiration date—they remain active and usable as long as there are some funds remaining.
The bad news is that the company can't replace gift cards if lost, stolen, or damaged. Adidas also doesn't allow customers to purchase other types of gift cards or Yeezy drops using this payment method.
How To Check the Adidas Gift Card Balance
The most common way to check how many funds are left on your Adidas gift card is to use the online app on the company's official website. Here's how to do it:
Go to the homepage of the Adidas website
Scroll down and select the Gift Cards option under the Products section
Tap on the black Check Your Balance button
Input the 19-digit gift card number and the security code in the required fields
Click on Check Balance
Once you do this, you should be taken to the page to see the current gift card balance.
If you experience any problems regarding the balance check or the value doesn't show up, you can contact Adidas customer care by:
Sending a message via chat
Dialing (800) 982-9337
What Should You Do With a Used Adidas Gift Card?
Finding out that there are a few bucks left on your used Adidas gift card may not seem like a big deal, but you can definitely make good use of this money. Below is a table showing some available options:
Method
Explanation
Spend the rest of the funds from your used gift card on a new purchase
A dollar or two may not make too much difference, but it's still a small discount! You can redeem the remaining gift card value in combination with other payment methods accepted by Adidas, such as:

PayPal
Afterpay
Apple Pay
Affirm
Klarna
Credit cards—Visa, Discover, MasterCard, or American Express

Exchange the gift card
If there are any gift cards from other merchants you would like to have, you can try trading yours for one of those
Sell the gift card
Selling the card online or near you for cash is the way to make a profit if you don't want to buy from Adidas anymore. There are also special machines called gift card exchange kiosks—you can insert a partially used gift card and turn the remaining balance into cash
Is It Possible To Get Cash Back for a Few Dollars Left on Your Card?
The Adidas gift card policy stipulates that the company will accept returns for cash only if local gift card laws and statutes require it. Only 11 U.S. states and Puerto Rico have favorable cash back policies requiring merchants to let customers reclaim the remaining balance on their gift cards. Each of these states proposes the maximum gift card amount that can be cashed out, and the table below contains more information on this:
State

Maximum Cash Back Amount Allowed
$1

Connecticut

$3

Oregon
Colorado
New Jersey
Maine
Missouri
Massachusetts
Washington
Puerto Rico

$5

California

$10
How Can DoNotPay Help You Get the Remaining Money From a Gift Card?
You don't have to throw those few dollars out the window or use them to buy something you don't need at all. DoNotPay offers you a quick and reliable way to get cash off your free or regular gift card in a heartbeat!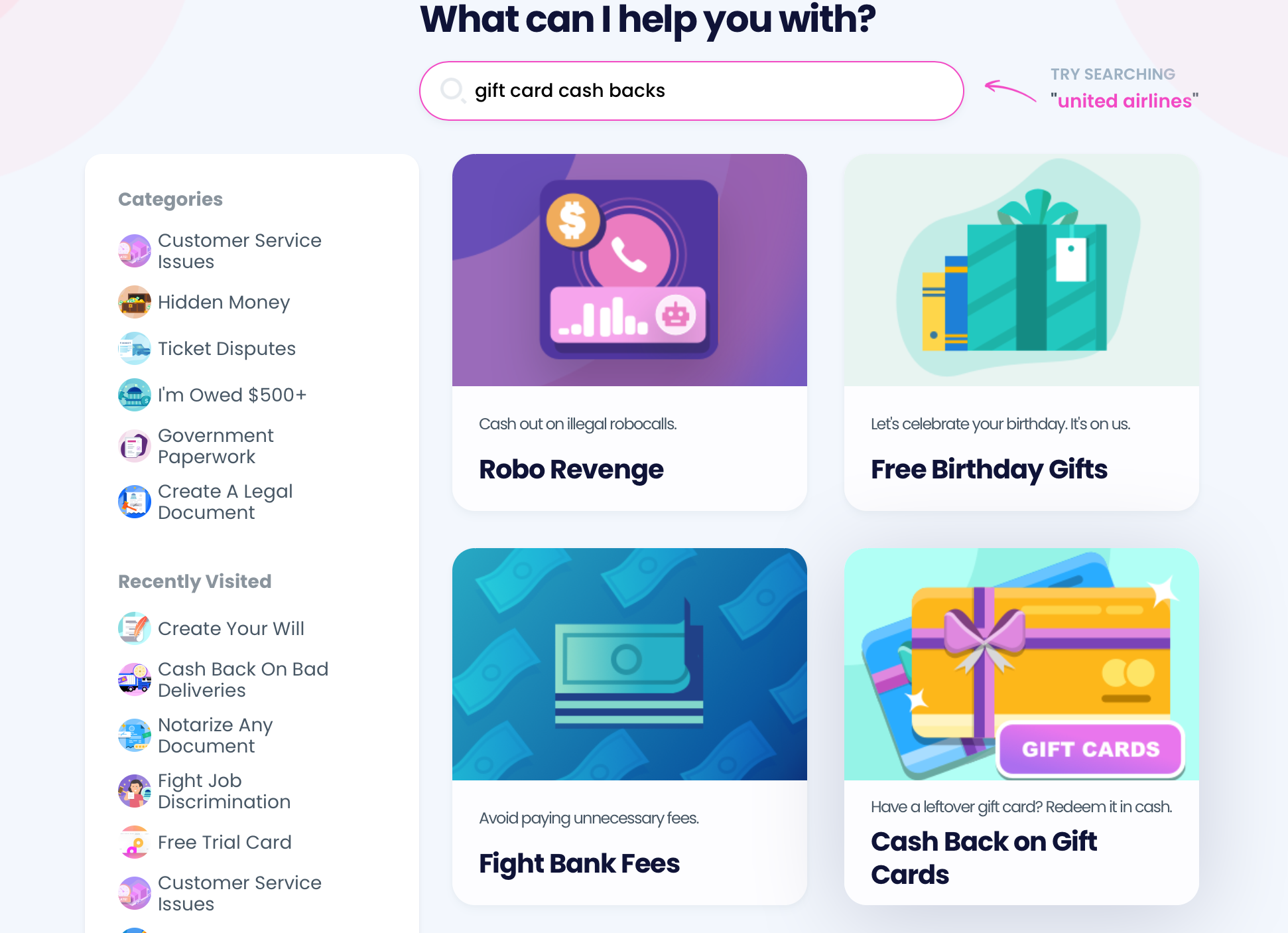 Our app can help you get the remaining value of your card by reviewing the state laws and their cash back policy. If this option is allowed at your location, we will create a request and send it to the merchant in question right away. There is no need to get in touch with customer care agents—we do everything in your stead!
Here's how to use our app:
Choose Gift Card Cash Back
Disclose your gift card info, including the card number, the amount left, and the name of the company
What if your state doesn't support providing cash back to customers? We have a solution for that too! It's simple—we will check whether the retailer has any offices in one of the states with cash back policies. If they do, our system will forward your request to that particular office, which means you can reclaim the funds even if the laws in your state say otherwise!
Here's a list of some companies whose gift card funds we can turn into cash for you:

Learn About DoNotPay's Awesome Products!
DoNotPay is a multifunctional app that can solve numerous everyday challenges swiftly.
You can use our app to protect your work from copyright violations, schedule your driving exam or any other appointment with the DMV, reduce your property taxes in a few steps, and similar.
We have created many useful products to help our users take care of their issues through the same app. With us, you can:
DoNotPay Connects You With Your Loved Ones
Sending letters to inmates can be difficult since you have to follow certain rules to a T to avoid having your letter rejected. The situation is even more complicated if you don't know where your incarcerated loved one serves time. DoNotPay's app can help you locate prisoners and correspond with them without worrying whether you're breaking any rules.
Do you want to send a letter, but you don't feel like heading over to a post office? By using our mailing service, you can mail as many letters as you want from the comfort of your home. With DoNotPay, you can also send online faxes in under five minutes!
Email and text spam is something that everyone experiences at least once in their lives. DoNotPay has a solution for that too. Access your DoNotPay account and count on us to help you block spam and get compensation by reporting pesky robocalls.