Check Your Hollister Gift Card Balance and Get Your Money Back
You found a Hollister Co. gift card while cleaning your drawers, and now you want to know how much money you have left on it. We are here to provide a step-by-step guide on how to check your Hollister gift card balance easily.
If you don't want to spend the remaining balance—or if you don't have enough money to make a purchase—DoNotPay can help you turn the remaining money on your gift card into cash in three steps.
What You Need To Know About Hollister Gift Cards
Hollister Co. has three types of gift cards—check out the table below for more details:
Gift Card
Details
Physical
Physical cards are redeemable both online and in Hollister Co. stores across the U.S. If you want to redeem your gift card online, you need to type in a 16-digit account number and a PIN at the checkout.

Physical gift cards have no expiration dates

Electronic
You can redeem your electronic gift card for an item on the Hollister website or at any store in the U.S. They are available in denominations from $25 to $500.

Electronic gift cards don't have expiration dates

Promotional
Promotional gift cards are not traditional gift cards, and they have a specific date range. They can be redeemed for merchandise only.

As opposed to physical and electronic ones, promotional gift cards have expiration dates
If your card gets stolen or lost, Hollister won't replace it.
How To Perform a Hollister Gift Card Balance Check
To check your Hollister gift card balance, you need to visit the Gift Card Balance Check page on the Hollister Co. website and follow the steps below:
Select your country
Type in your Gift Card Account Number
Enter your PIN (it is not required for an electronic gift card)
Click on Check Balance
What To Do After You Check Your Hollister Gift Card Balance
You checked the balance on your used gift card and are unsure what to do with the extra money. We have some advice on what you can do with your Hollister Co. gift card:
Spend the remaining funds—If you have enough money left on your gift card, you can redeem it for an item online or at a Hollister store
Give the card away—You can give your gift card as a present to someone
Sell the card for cash—Many designated stores and online websites offer cash in exchange for gift cards. You can find the closest store or a kiosk and head over there to exchange your gift card for real money anytime. The downside of selling your gift card is that most kiosks and websites offer around 80% of your card's value
Return the card for money—Officially, Hollister Co. doesn't reimburse the remaining balance on gift cards unless required by law, but this is where DoNotPay steps in. , and we will help you get your money back in a few clicks
DoNotPay Can Get Your Cash Back in Three Easy Steps
You shouldn't throw away your gift card when you still have a few dollars left on it. If the amount isn't enough to purchase an item or if you can't sell the card to someone, DoNotPay has a solution!
, and we will help you file a cash back request within minutes. DoNotPay will:
Collect all the necessary information for your request
Check if your state has a cash back policy (by law, only 11 states and Puerto Rico require companies to reimburse certain amounts of cash left on gift cards)
Send the request to the company on your behalf
You should receive your money in cash or a check by mail within 14 business days.
If you don't live in a state that has a cash back policy, DoNotPay can still get you your cash back. We'll send your request to a Hollister office in a state that does have the policy in question, and the company will reimburse you.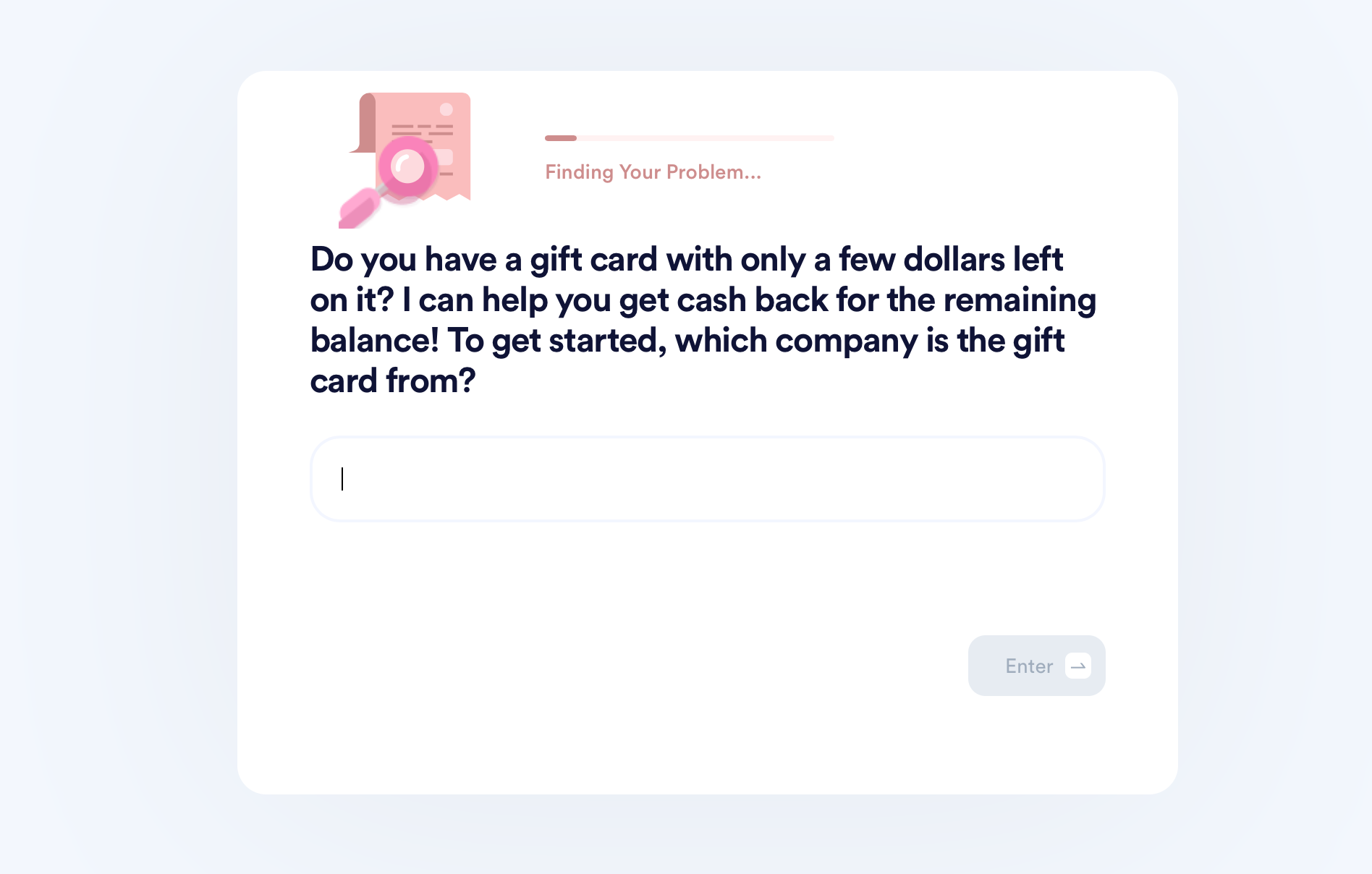 Follow the steps below to use our product:
Find the Gift Card Cash Back product on our website
Provide the necessary details—company's name, your remaining balance, the gift card number, your email, etc.
Tap on Sign and Submit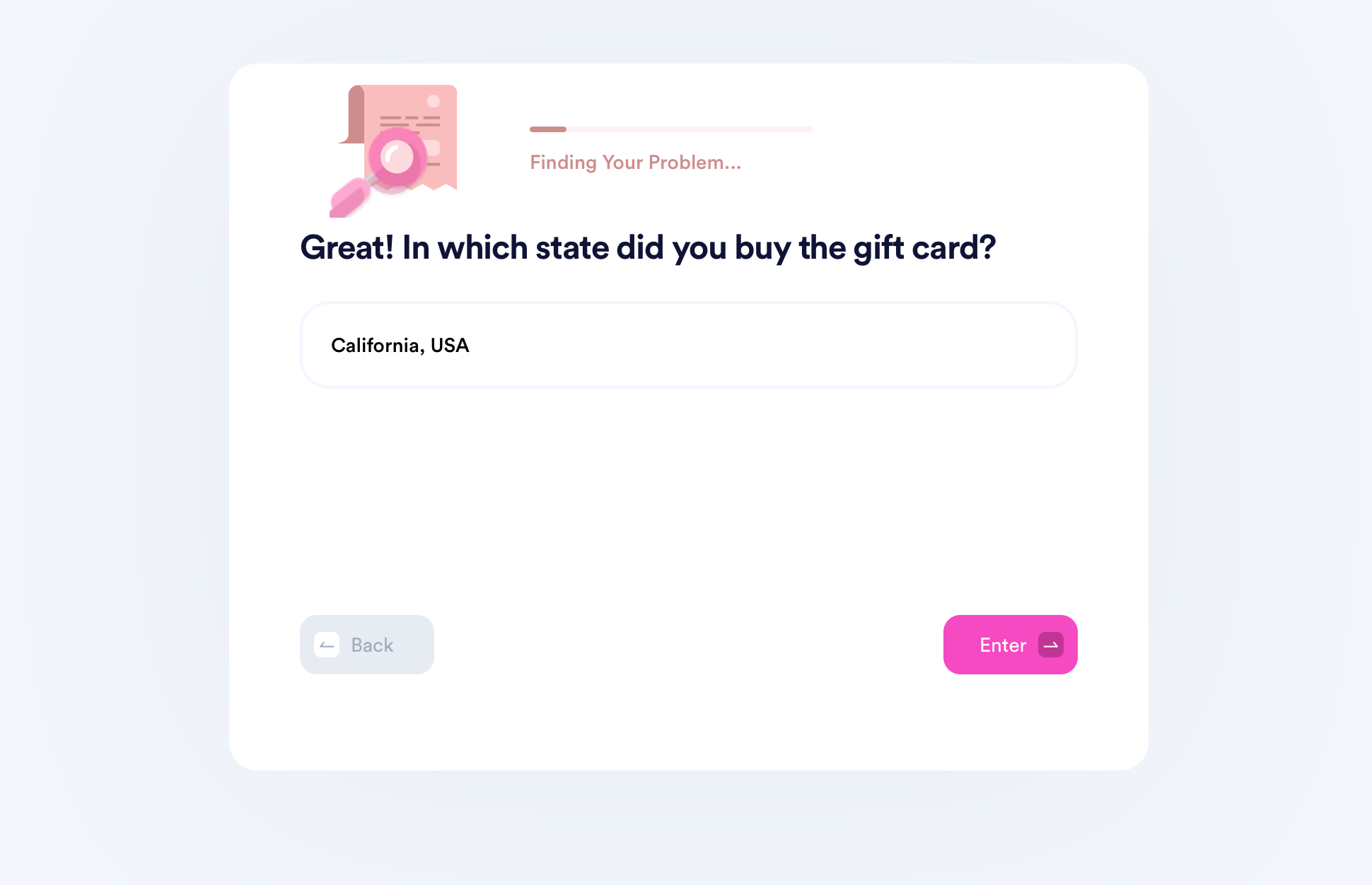 What Other Gift Cards Can DoNotPay Help With?
We can offer you more helpful information in our learning center, which you can access even if you don't sign up for DoNotPay.
Visit our website to find out how to:
Check your gift card balance on any of the following gift cards:
Explore DoNotPay's Products and Save Both Time and Money
Are you sick and tired of spending ages on the phone with customer support trying to get more info about how to return a faulty product and get a refund? Maybe you'd like to cancel memberships you don't use but can't find that unsubscribe button anywhere? DoNotPay can help you sort out all of these issues in a jiffy!
Contest parking tickets, claim your car warranty and insurance, schedule a meeting with the DMV, and handle your other problems through the same app on your tablet or smartphone.
Getting access to public records or drawing up various legal documents with DoNotPay is child's play.
That's Not All!
The first thing you'll notice when you open DoNotPay is that you can use our app for almost anything.
Do you wish to enter raffles or sweepstakes? Are you interested in applying for paid clinical trials and earning some cash? Would you like to send mail without going to the post office? You're in the right place!
We will help you feel safe while browsing the Internet by assisting you in blocking and reporting spam emails, suspicious text messages, and pesky robocalls.