Check the Outback Gift Card Balance in a Flash
Did you get an Outback Steakhouse gift card and used it to buy some delicious steaks? You should know how to check the balance on your used gift card and decide what to do with the remaining amount.
In this guide, DoNotPay will explain the easiest way to check the Outback gift card balance and offer suggestions on what to do with the leftover funds!
Where Can Outback Gift Cards Be Used?
You can purchase the gift card on the Outback Steakhouse official website and use it in their restaurants and to order meals online. Since Outback Steakhouse is one of the Bloomin' Brands restaurants, you can use the gift card in their other chains, including:
Bonefish Grill
Carraba's Italian Grill
Fleming's Prime Steakhouse & Wine Bar
An Outback gift card is pre-loaded with a specific amount of money (typically between $10 and $500) and comes in two forms:
Both cards are equally valid, with the digital card being more practical for online purchases.
Outback recommends checking the balance on your gift card regularly and offers several options for managing the remaining funds.
How To Perform an Outback Gift Card Balance Check
You can check the balance on your Outback gift card in one of the three ways presented in the table below:
Method
Steps
In person

Visit one of the local Outback restaurants
Provide necessary details about the card to the cashier
Get the information on the remaining balance right then and there

Online

Access the Outback Steakhouse website
Find the Check Balance button at the bottom of the page and click
Enter the card number and the security code
Hit Submit

By phone

Call Outback Steakhouse at (888) 731-2610
Give the employee details of your gift card
Find out your balance instantly
I Have Performed an Outback Steakhouse Gift Card Balance Check—What Can I Do With the Remaining Money?
Is there some remaining balance on your Outback gift card? You may be wondering what to do with it if:
You don't want to use the card anymore
The remaining amount is too small to make a purchase
Depending on the situation, you can choose between the following options:
Use the gift card in other restaurants—If you have enough money to buy yourself a dinner but are sick of eating from the same restaurant, you can use the Outback gift card in other Bloomin' Brands restaurants in the U.S.
Recharge the card—If you want to continue using the card, you can recharge it. Make sure to check the balance regularly. If there is no more money on it, the card will no longer be valid, and you will have to buy another one
Combine multiple gift cards—If you have more Outback Steakhouse gift cards with small amounts of cash on them, you can combine them to make a purchase
The last option is to get a cash reimbursement for the remaining balance on your gift card.
Can You Ask for Gift Card Cash Back From Outback Steakhouse?
What if you have a couple of dollars on your Outback Steakhouse gift card that you don't want to or can't spend? Most people let that money go to waste, not knowing that they can get it in cash easily!
While Outback Steakhouse claims the gift cards are not redeemable for cash unless required by law, that doesn't mean the case is closed. Your first move is to check if you live in one of the U.S. states (including Puerto Rico) that require companies to provide gift card cash reimbursements to their customers. Bear in mind that the balance on the gift card usually cannot be higher than $5, while in California, the limit is up to $10.
You can research your state laws and fight the battle with Outback employees yourself or let DoNotPay get the gift card cash back for you without any trouble!
When the Steaks Are High, DoNotPay Will Get You the Outback Gift Card Cash Back
DoNotPay provides a fast and effortless way to get those last few bucks from used gift cards in cash, be it from Outback Steakhouse or various other companies, including:
Did you get a free gift card? Use our app to get the remaining cash from those as well!
All you have to do is:
Access DoNotPay in a web browser
Go to our Gift Card Cash Back product
Provide specific details about the company and the card
DoNotPay will check if your state has a gift card cash back policy. If it doesn't, we will locate the Outback Steakhouse office in one of the cash back states and send them a request. You can expect to receive the cash or check by mail within the next 14 days.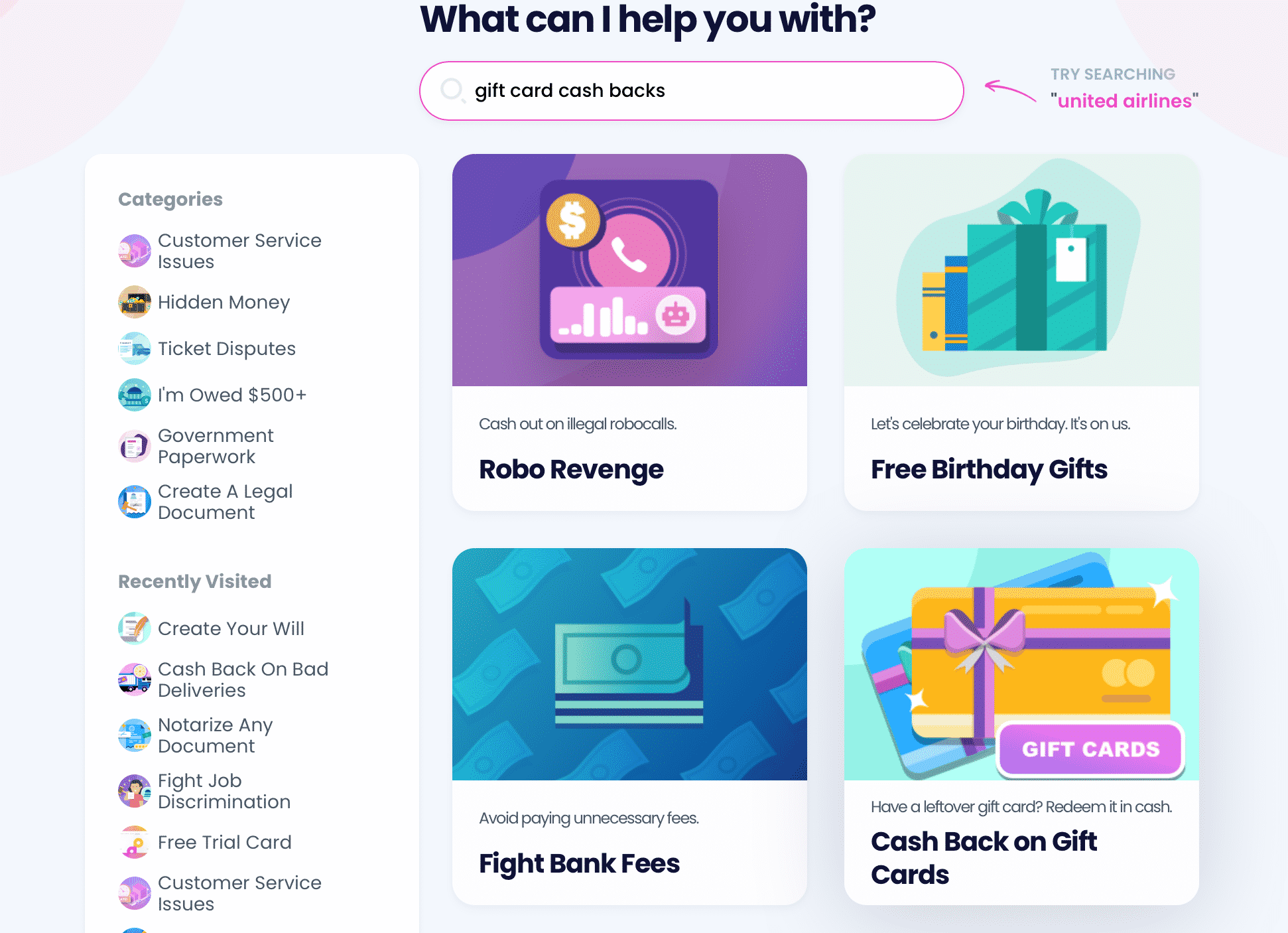 Do you have an unused gift card? Access our extensive knowledge base to find out more about: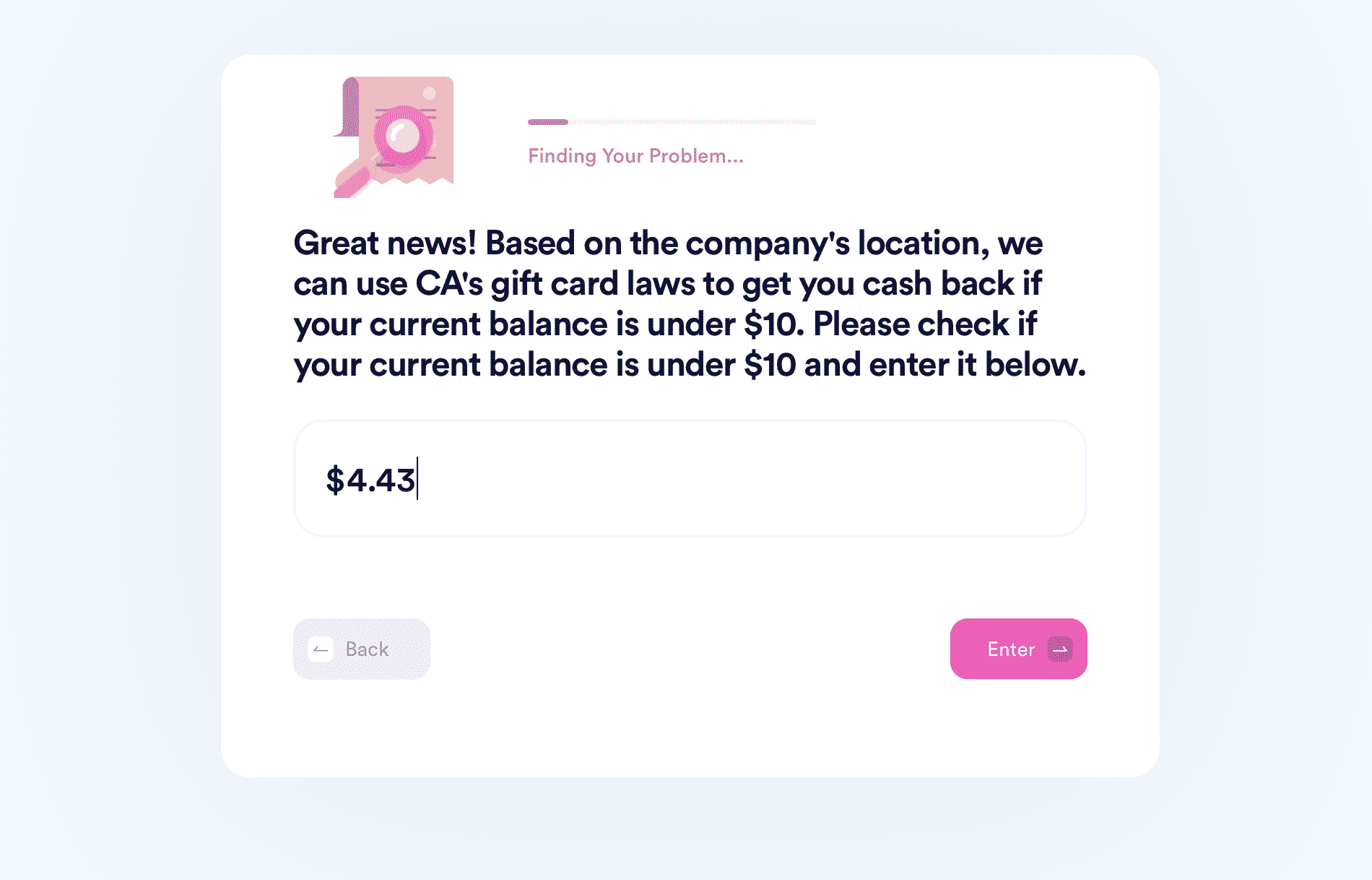 Rely on DoNotPay To Solve Your Administrative Issues
Getting your documents notarized, drawing up legal paperwork, appealing parking tickets, and similar activities usually require a lot of effort. DoNotPay offers various useful products that can help you deal with administrative problems quickly and save a lot of time. We can assist you with:
Protect Your Consumer Rights With DoNotPay
Companies complicate cancellation and refund processes intentionally, hoping that consumers wouldn't want to spend hours trying to solve the issue they're having. DoNotPay knows how important consumer rights are, and that's why we created numerous products that can help you:
Many people forget to cancel their free trials on time and end up paying for the services they don't even use. To prevent that, DoNotPay has developed a nifty virtual credit card that will allow you to enjoy free trials risk-free. Our virtual credit card will also help you avoid spam email notifications by generating a random email address that you can use when signing up for a free trial.