Story and Cash Matter Here—How To Check an AMC Gift Card Balance With DoNotPay
An AMC gift card gives you many options for enjoying the movie theater experience at one of AMC's approximately 950 theaters across the nation.
Maybe the thought of being in a crowd hasn't appealed to you in the last few months, though. If you have an AMC gift card and don't fancy using it to visit a theater, DoNotPay has the answer.
We can show you how to check the balance on an AMC gift card and decide what to do with the remaining cash!
What Can I Use an AMC Gift Card For?
AMC gift cards can be used to buy tickets or concessions at any AMC theater.
They are fully transferable, so you can give them as a gift to someone else or use them yourself to visit AMC, AMC Classic, and AMC Dine-In locations.
You can buy AMC gift cards at any theater with loaded amounts between $5 and $100. If you prefer an eGift card, these can be bought online and delivered via email.
How To Check Your AMC Gift Card Balance
Performing an AMC theater gift card balance check is easy and can be done in the following ways:
Online
By phone
In any AMC theater
Online
AMC has an online AMC theatre gift card balance check service for eGift and plastic cards.
By Phone
You can call 1-800-255-0311 to find out your balance. Remember to have your card details handy when you make the call.
In Any AMC Theater
Cashiers at an AMC, AMC Classic, or AMC Dine-In theater will be able to swipe your plastic gift card and tell you your balance.
Once you have found out how much is left on your card, you can decide what you are going to do with the remaining value.
Visiting a theater is not your only option, and DoNotPay can show you how to !
What Can I Do With My AMC Gift Card Remaining Balance?
Your easiest option is to use the remaining balance on your gift card to buy theater tickets, but we understand if this is not your preferred route.
If you decide you don't want to visit an AMC theater, you may be able to get your hands on the remaining balance on your card and convert it to cash. Here are your options for doing this:
Cash Conversion Options
Explanation
Sell the card at a kiosk
Many grocery and department stores have machines that pay instant cash for the residual value on gift cards.

All you need to do is insert the card into the machine, and you will receive a cash offer in return. The offer will not reflect the full value of the card's remaining balance, though. You can expect to get between 85 and 90% of the full amount

Sell the card online
Several websites will offer to buy your AMC gift card. Similarly to using a kiosk, you will only be able to get around 90% of the true value remaining
Swap the card for a different one
Some sites offer a card exchange service, through which you can swap your unwanted card for a gift card from a vendor you want to use. You will be limited in your choice, though, and you may not get what you are looking for
Can I Get Cash Back From AMC?
AMC states that gift cards are not redeemable in cash except as required by law. This refers to laws passed in certain states that can help you convert your unwanted gift card into something more tangible.
In certain states, legislation has been enacted that means you can convert remaining balances on gift cards to cash by going directly to the original vendor.
The amounts you can claim back are limited as follows:
$10 maximum
$5 maximum

Colorado
Maine
Massachusetts
Montana
New Jersey
Oregon
Puerto Rico
Washington

$3 maximum
$1 maximum
The issue with this approach is that you have to:
Live in one of these states
Visit an AMC theater there
Explain the law to the cashier
This could be a long and difficult process.
Thankfully, DoNotPay can make it simple and get a cash refund for the full remaining value of your AMC gift card online—irrespective of where you live!
Get Cash for Your AMC Gift Card Balance With DoNotPay

DoNotPay makes complicated processes simple! Getting a cash refund for the unused balance on your AMC gift cash is as easy as one, two, three:
in your web browser
Click on our Cash Back on Gift Cards feature
Fill in your gift card details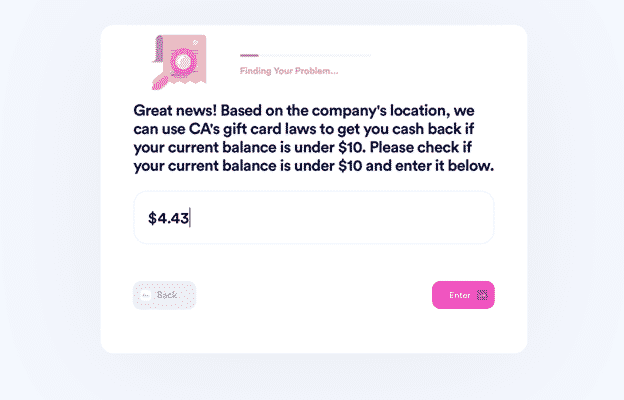 We will check whether you are in one of the states that have cash back policies. Even if you are not, we will send your application to an AMC theater in one of the above-mentioned states and ask them to process it. You should receive your money within 14 days.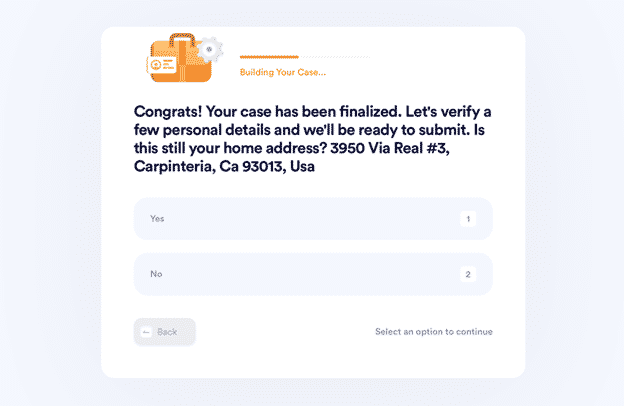 As another option, DoNotPay can help you get free gift cards from other vendors—you may even be able to get cash back on these, too.
Get More Gift Card Help From DoNotPay
DoNotPay doesn't only help with AMC gift cards—the list of gift card vendors we can assist with is growing every day. Here are a few examples:
Shortcuts and Solutions at Your Fingertips
DoNotPay provides both the easy way out and the easy way in. Use our app to get rid of spam emails, text spam, unwanted services, and unpaid parking tickets. We can also assist you in signing up for services without revealing your real number and getting free trials using our virtual credit card.
Our app is all about saving you time and money. Forget about the obsolete fax machine and post office—you can use DoNotPay to send faxes, mail letters, and connect with your incarcerated loved one.
DoNotPay Goes Above and Beyond To Help
We understand how bureaucratic hurdles get too much to handle. This is why so many of our products deal with these types of issues. From getting a document notarized, filing a warranty claim, and skipping the phone line when calling customer service to requesting a refund, booking a DMV appointment, and drawing up legal documents—there's not much we can't do for you.
Dealing with the never-ending paperwork is a thing of the past for DoNotPay users! Our app makes it easy to: