Performing an IHOP Gift Card Balance Check Without a Hitch
Enjoying fantastic meals from IHOP may have made your gift card quite exhausted, but there's always a chance that you forgot to spend the last few dollars. The safest way to find out how much credit is left is to do a quick IHOP gift card balance check.
Once you see the exact remaining amount, you can decide how you want to use it, and believe us—there is a bunch of options! Our guide will explain the checking process thoroughly and show you how to reclaim the rest of the gift card credit in cash easily by signing up to DoNotPay.
Getting Familiar With IHOP Gift Cards
IHOP customers can opt for:
Physical (traditional) gift cards sent by mail
e-Gift (digital) gift cards sent by email
Bulk gift card orders
You can redeem any of these in all IHOP locations in the USA and Canada or make online purchases on the official IHOP website. The maximum amount the IHOP gift cards can be pre-loaded with is $500, while the purchase limit when using them mustn't exceed $10,000.
Except for shipping costs for ordering a physical card, there are no extra fees related to the use of these cards. Their value can't decrease over time, nor can they expire—you can use them at your convenience as long as they have some funds left.
IHOP gift cards can't be:
Reloaded
Used in other states if they were purchased in the USA
Transferred to another person
Used for buying other gift cards
All the Ways To Check Your IHOP Gift Card Balance
Before deciding how to spend the remaining gift card credit or turn it into cash, you must check the exact available sum. Here's a table listing all possible methods of doing it:
Method
Steps
Online checker

Go to the IHOP website
Pick the Gift Cards tab
Click on Check My Balance
Input the 19-digit gift card number and the four-digit security code from the back of the card
Tap on Look Up

Website contact form

Navigate to the Contact Us page on the website
Fill out the electronic form with the required details
Type in your balance inquiry to the Comments section
Click on Submit

Phone

Dial (866) 444-5144
Speak to the first available operator and ask them to check the gift card balance for you

In person

Go to the Locations tab on the website
Type your address or the ZIP code in the search field
Pick the nearest IHOP restaurant
Visit the location and request to have your remaining value checked by the store manager or staff members

DoNotPay

Select the

Check Gift Card Balance

feature

Submit your gift card photos (front and back) and confirm your email address

DoNotPay will contact iHop and provide you with info about your remaining gift card balance
You Have Some Extra Bucks on the IHOP Gift Card—How Can You Use Them?
Have you checked the used gift card and realized that there are a few dollars left on it? The next step is to decide what you want to do with them.
As IHOP doesn't allow gift card revaluation, you can redeem the entire remaining sum the next time you go for lunch or dinner.
If you are not interested in buying more meals, consider the following options:
Selling your gift card online using convenient websites
Looking for nearby places where you can sell the card for cash
Exchanging the card:

With other people online or in person
At a gift card exchange kiosk

Cashing out the remaining sum with DoNotPay
Can You Always Return a Used IHOP Gift Card for Cash?
No, you can't. Returns for cash are possible only if your state's gift card law stipulates so. For now, this option is available in:
Oregon
Missouri
New Jersey
Connecticut
Massachusetts
Vermont
Washington
Colorado
California
Maine
Rhode Island
Puerto Rico
These locations have specific statutes stating that companies must provide gift card cash back to customers who request it. The bad news is that this rule doesn't apply to free gift cards or the cards you got as a reward.
How To Claim Gift Card Credits for Cash Using DoNotPay
DoNotPay is the best solution for skipping exhausting conversations and negotiations with customer care agents. Why waste your time explaining the reason you deserve the unused funds when you can just compose a gift card cash back request in a few clicks?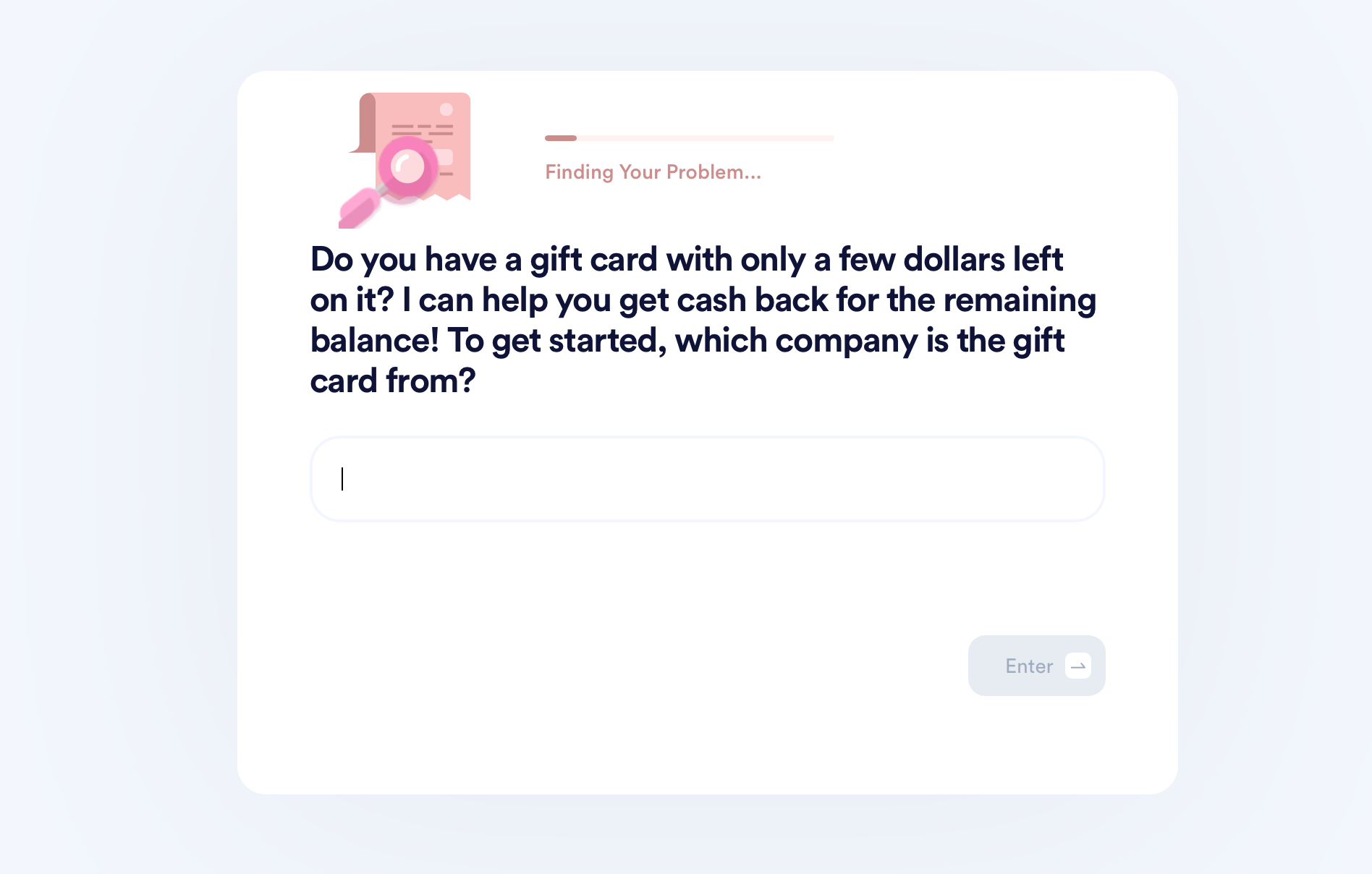 Our system can check the rules in your state. If we discover that your state allows the cash back option, we will compose a demand letter and send it to the company right away. No cash back at your location? It's not the end—we will do our best to direct your claim to any retailer's office in one of the states that approve this option.
To get the procedure started, do the following:
Go to Gift Card Cash Back
Enter your gift card info, the state where you live, and the other details our chatbot asks for
You should have your money back in up to 14 days!
Check out our guides to cashing out all types of gift cards from: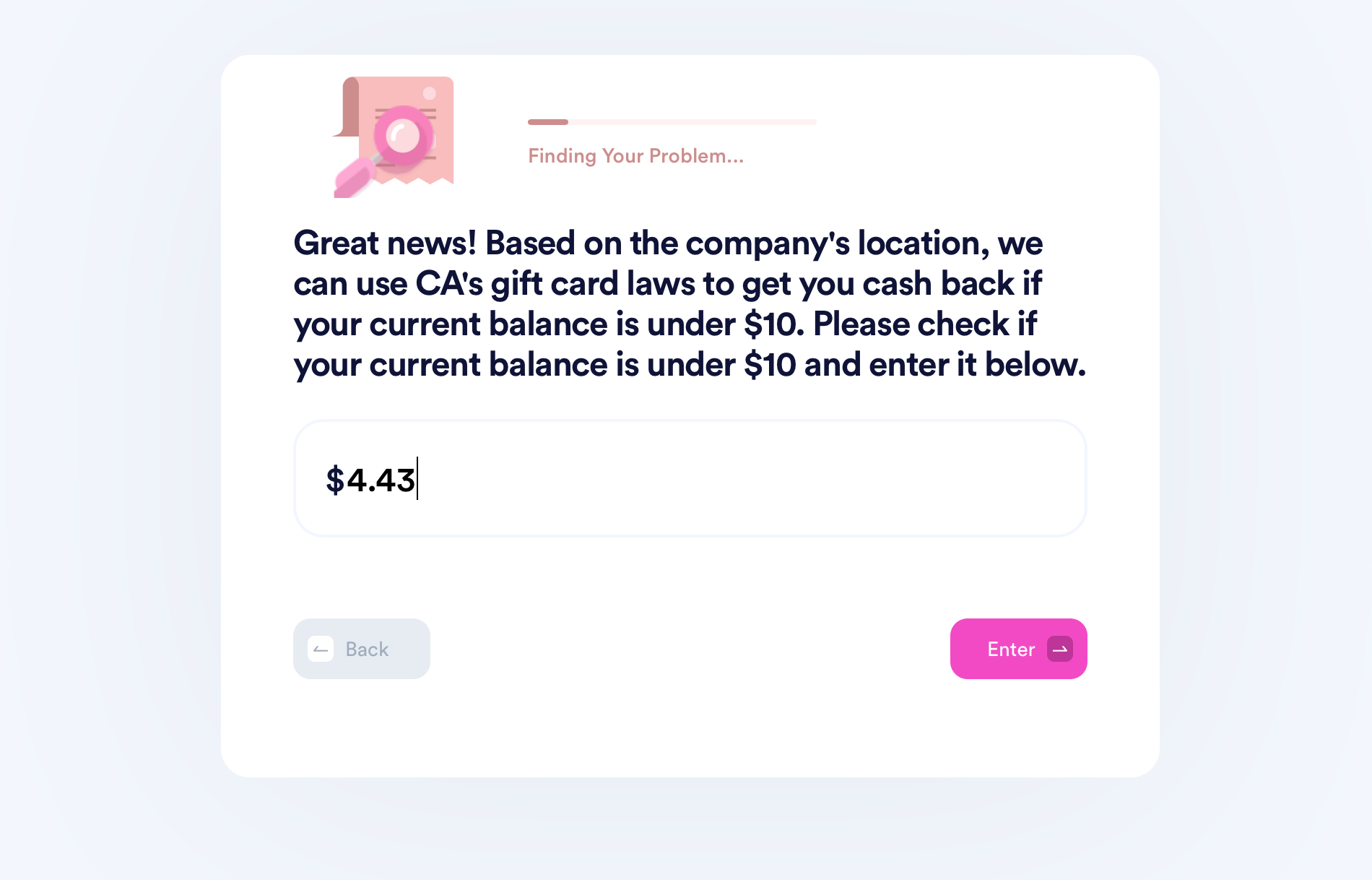 Rely on DoNotPay To Solve Your Administrative Issues
Getting your documents notarized, drawing up legal paperwork, appealing parking tickets, and similar activities usually require a lot of effort. DoNotPay offers various useful products that can help you deal with administrative problems quickly and save a lot of time. We can assist you with:
Protect Your Consumer Rights With DoNotPay
Companies complicate cancellation and refund processes intentionally, hoping that consumers wouldn't want to spend hours trying to solve the issue they're having. DoNotPay knows how important consumer rights are, and that's why we created numerous products that can help you:
Many people forget to cancel their free trials on time and end up paying for the services they don't even use. To prevent that, DoNotPay has developed a nifty virtual credit card that will allow you to enjoy free trials risk-free. Our virtual credit card will also help you avoid spam email notifications by generating a random email address that you can use when signing up for a free trial.