Check Your Staples Gift Card Balance and See if There's More Money You Can Use
Staples gift cards can come in handy if you need any office supplies, and you may have gotten one as a gift from a coworker, friend, or family member.
Did you use one but forgot its remaining balance? We can help you learn how to check your Staples gift card balance fast. DoNotPay will also show you how you can use the remaining balance and how to get your hands on those few extra bucks!
How Does a Staples Gift Card Work?
Staples gift cards can be used like cash in any Staples retail store across the U.S. or the Staples web store. Gift cards are shipped inactive, and you need to manually activate them so you can use them. Activation is easy, and it only takes about a day for a card to become active. You can always add more money to a Staples gift card in any Staples retail store.
You cannot refund or return Staples gift cards, nor can you use them to buy more gift cards.
If you lose or damage a Staples gift card, you can only replace it with valid proof of purchase and receive the remaining card balance. These cards have no transaction or dormancy fees and no expiration date.
The Types of Staples Gift Cards
There are three types of Staples gift cards you can buy:
Physical gift cards come in $25, $50, $75, and $100 denominations
Electronic gift cards come in denominations from $5 to $500
Bulk gift cards for businesses and education facilities come in flexible denominations from $5 to $2,000 in both electronic and physical options
How To Do a Staples Gift Card Balance Check
You can check your Staples gift card balance in only two ways—online or via phone.
Look Up Your Staples Gift Card Balance Online
The best way of checking your Staples gift card balance is using the official website. Follow the steps to do it:
Open the Staples Gift Card Balance page
Enter your card number and security code (PIN), both of which are on the back of the card
Click on Check Balance
Check Balance on a Staples Gift Card via Phone
If you prefer calling Staples about your gift card balance, you can do so by dialing 1-888-609-6963. Note that the online method is faster and more convenient because you don't have to wait for an operator to pick up the phone.
What Can You Do With the Staples Gift Card Balance?
Depending on the remaining gift card balance, you may be able to use your Staples gift card to buy products, such as:
Office Supplies

Binders
Backpacks
Staplers
Calculators
Clips
Tape
Scissors

Paper

Copy and printer paper
Envelopes
Notes
Notepads
Forms
Business cards

Computers and Accessories

Tablets
Desktop PC's
Laptops
Laptop bags
Mice and keyboards

Electronics

Cell phones
Hard drives
Batteries
Shredders
Projectors
Software

Food and Drinks

Coffee
Tea
Cocoa
Candy
Mints and gums
Energy drinks
Chips

Cleaning Supplies

Tissues
Paper towels
Toilet paper
Soap
Cloths
Sponges
Trash bags
Detergent
In case your balance is too low to buy anything useful, you have two options—recharge your card or find out how to get those few extra dollars back.
Can You Get Cash Back for Your Staples Gift Card Balance?
Only 11 U.S. states and Puerto Rico allow gift card cash back according to the law, and the amounts you can get from used gift cards are usually in the $5 to $10 ballpark. Still, the official Staples website says that you cannot redeem their gift cards for cash, except where required by law.
Explaining yourself to a Staples employee about wanting your money back can be complicated, but lucky for you, it doesn't have to be! If you sign up for DoNotPay, we can help you get your cash back!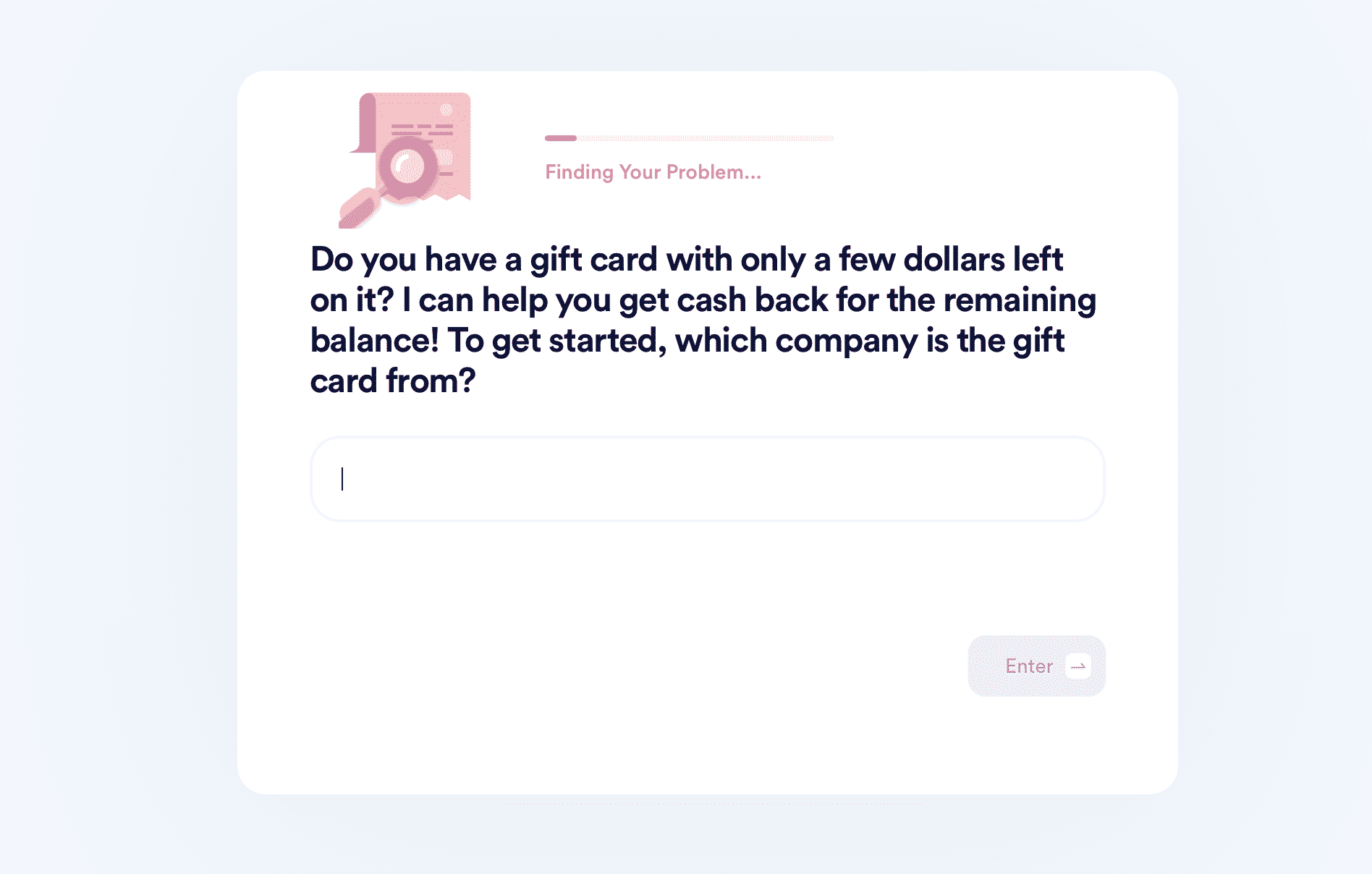 Have Any Leftover Staples Gift Card Balance? Get It Back With DoNotPay!
Sign up for DoNotPay if you want to get your Staples gift card remaining balance! Our Gift Card Cash Back feature allows you to do that quickly. Follow these steps:
Access the feature on our website
Type in the card info (Staples card, your balance, and card number)
Wait for our app to request your money back
You should have the remaining money from your gift card back in about 14 business days. We can also assist you with: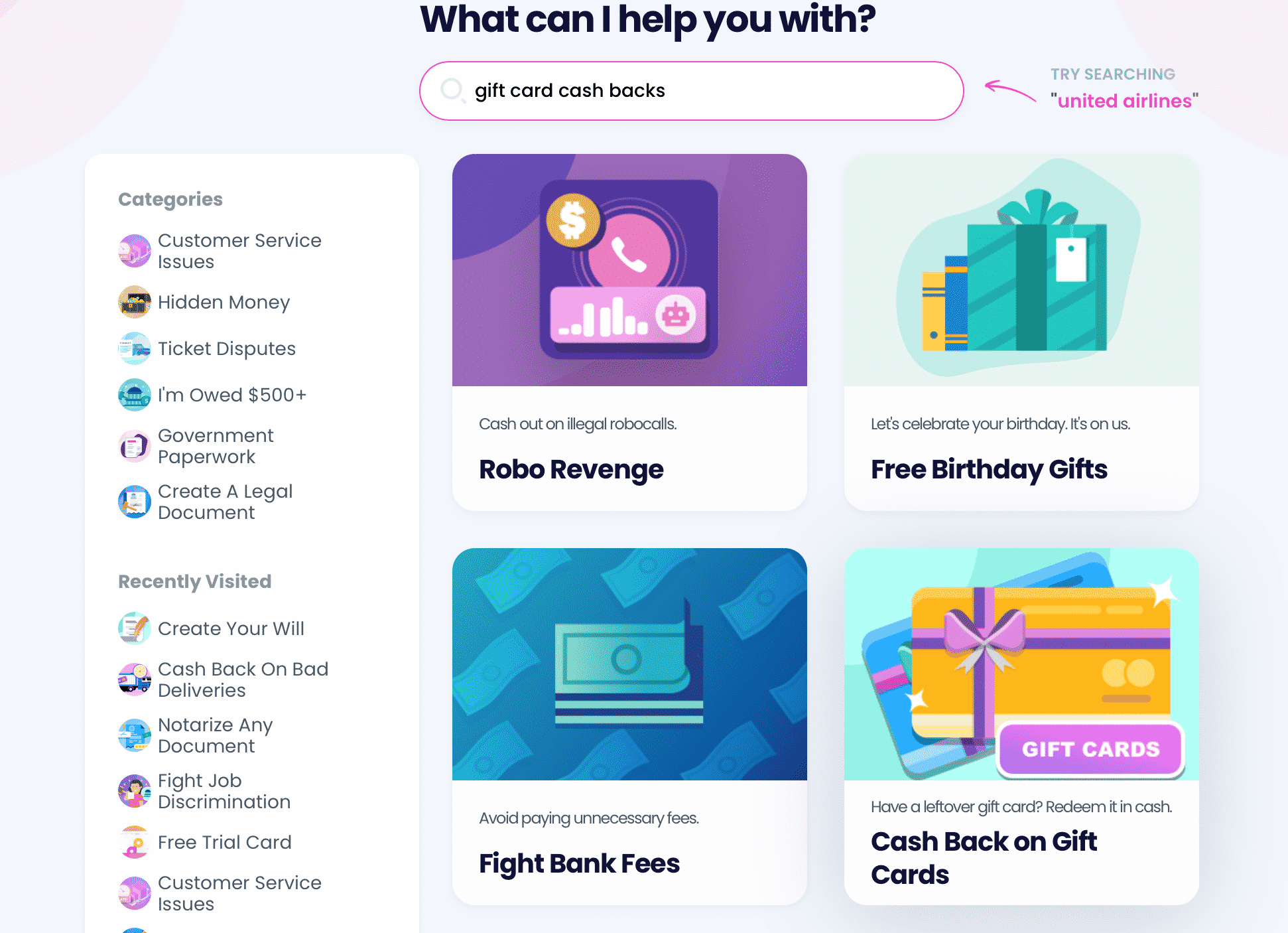 Do You Need Guides for Checking the Balance on Gift Cards From Other Companies? We Have That Covered Too!
DoNotPay has got your back if you're a gift card addict! We can help you check the balance on all the gift cards listed in the table below:
DoNotPay Can Help You Solve Pesky Issues Stress-Free
Dealing with everyday issues can become overwhelming, especially if they include bureaucracy. DoNotPay can help you handle numerous problems in a few minutes. With us, you can schedule your DMV appointments, get documents notarized remotely, and create various legal documents—including child travel consent statements and demand letters for neighbor complaints—in a snap.
Do you need help paying your bills, disputing parking tickets, or getting cash back for your gift cards? Once you register for DoNotPay, you'll be able to manage all of these and many more issues in no time.
What Else Can You Use Our App For?
Besides helping you handle tedious administrative hurdles, DoNotPay can do much more for you! You can use DoNotPay to:
With us, you can send online faxes or mail letters from the comfort of your home. Do you have friends or family members who are serving time? We can help you connect with inmates in a flash by enabling you to locate them and send them letters.