Check Your Altar'd State Gift Card Balance and Redeem It Effortlessly
Altar'd State is a fast-growing fashion brand that supports sustainability. Its products are not super affordable, so having a gift card is useful. If you have a used gift card, you'd probably want to know the remaining balance before continuing your shopping spree.
We can show you how to check your Altar'd State gift card balance quickly. Sign up for DoNotPay, and we'll redeem your gift card for cash swiftly!
Altar'd State Gift Card—Essential Info
Altar'd State offers two gift card types:
Classic gift cards
E-gift cards
The brand doesn't offer promotional or free gift cards.
Here is some useful information about these gift cards:
Altar'd State and A'Beautiful Soul (sister brand) gift cards are the same
A gift card's amount can range from $10 to $500
There are no purchase or usage fees
The value of the card never expires or goes down
You can use an Altar'd State gift card:
How To Check Altar'd State Gift Card Balance
Take a look at the following table to learn how to check the remaining balance on your Altar'd State gift card:
Check Your Altar'd State Gift Card Balance:
Steps
Online

Visit the Altar'd State or A'Beautiful Soul official websites
Find the GiftᐩBeauty/HomeᐩGift section
Choose Gift Cards
Scroll down to the bottom of the page
Enter your gift card's 16-digit code in the box
Hit the Check button

Over the phone

Call (800) 284-7348 (same number for both brands)
Tell the customer support agent you want to check your gift card balance
Give them the 16-digit code from your gift card

In person

Search for the nearest shop using the store locator
Bring your gift card and visit the store
Ask a salesperson to check your gift card balance
Give them your gift card or recite the 16-digit code

With DoNotPay

and pick the

Check Gift Card Balance

feature

Upload photos of your gift card from the front and back and confirm your email address

Let DoNotPay check the balance for you and inform you about the remaining amount
What Can You Do With the Remaining Funds on an Altar'd State Gift Card?
Did you uncover some money on an Altar'd State gift card and don't know how to use the remaining balance? You cannot return your gift card for cash, but you can explore some other options:
Load the card—If the remaining funds aren't enough for a new purchase, you can add more to continue shopping
Sell your used card—You can find numerous eMarketplaces where people resell their used gift cards. If there's a sensible amount left, you can set up an auction to sell the card to the highest bidder and maybe even earn extra cash
Exchange it for cash or a different gift card—Browse gift card exchange groups or websites to find someone to trade your Altar'd State card with
Convert your gift card to cash—Regardless of the brand's cash back policy, DoNotPay can help you retrieve leftover money from the Altar'd State gift card
Can You Get Cash Back From Your Altar'd State Gift Card?
Altar'd State doesn't specify whether the customers can redeem their gift cards for cash—retail companies rarely do. You should contact customer support at (800) 284-7348 to inquire about the company's cash back policy. Even if Altar'd State's policy is against it, companies are required by law to give you back the remaining funds in the following U.S. states and territories:
Maine
Oregon
Vermont
Missouri
Colorado
California
Washington
New Jersey
Connecticut
Puerto Rico
Rhode Island
Massachusetts
DoNotPay Can Redeem Your Altar'd State Gift Card for Cash in a Jiffy!
Are you left without options because you don't live in one of the states that require companies to provide cash back to gift-card holders for the remaining balance? Not if you choose DoNotPay!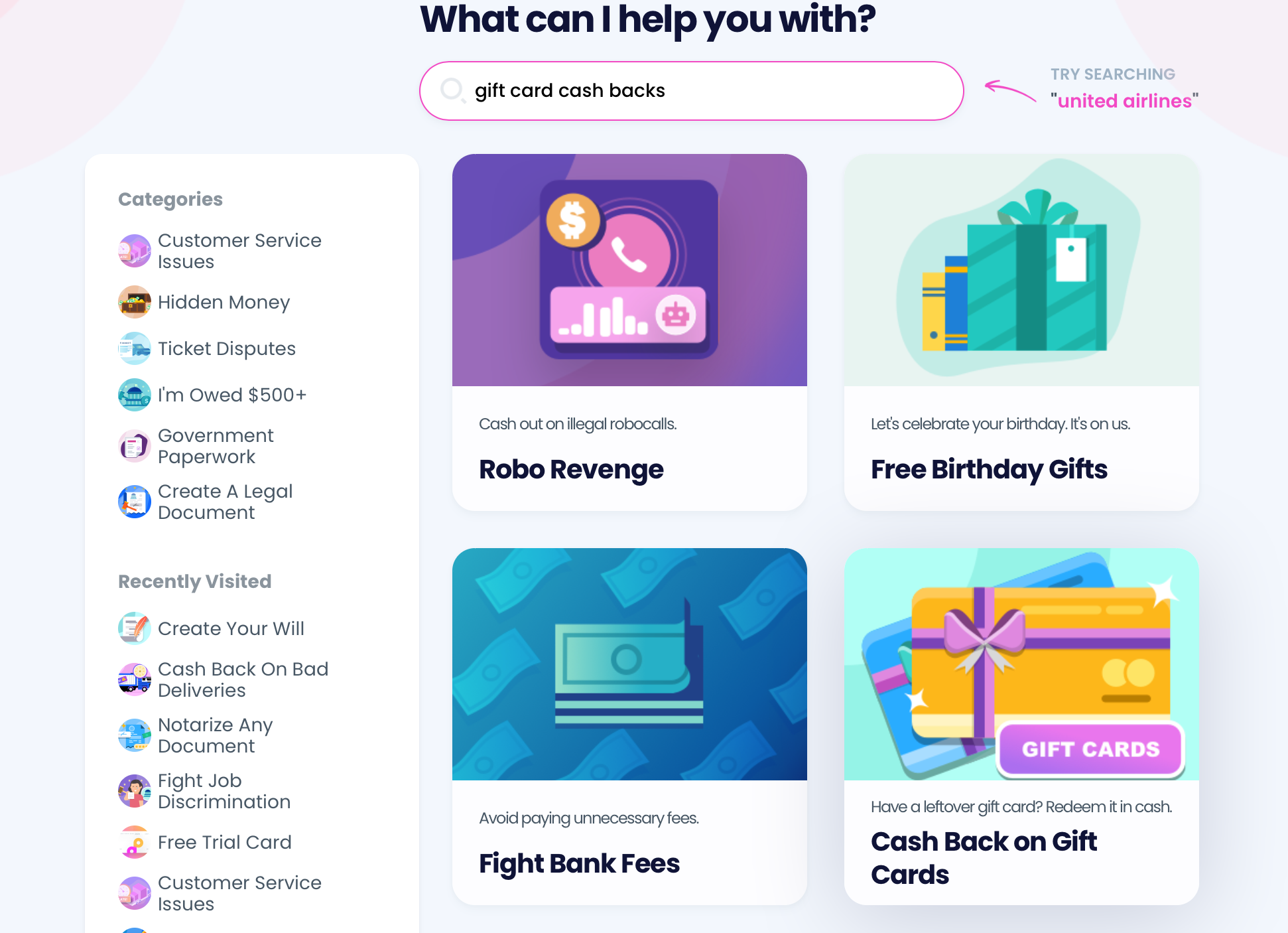 Using our Gift Card Cash Back product is more than simple. Here's all you need to do:
Find the Gift Card Cash Back tool
Enter your gift card information, including the card number, company name, and remaining balance
First, we'll check whether the company has a cash back policy. If it doesn't, we'll dig deeper! If your state of residence doesn't regulate cash back matters, our next step will be to check if the company has a branch in one of the states that do.
After that, we'll send a request to the company, requiring it to reimburse you for the leftover money on your gift card. You can expect your cash or check to arrive in the following 14 business days!
Have Leftover Money on Other Gift Cards? DoNotPay Can Help Retrieve It!
Not sure what to do with other used gift cards that have a couple of extra dollars on them? DoNotPay can help you check the balance and get cash back from many companies:
Good Things Come in Small Packages
Siri and Google Assistant are great in their own right, but their skills leave a lot to be desired when it comes to the practicalities of our daily lives. DoNotPay is an app, a true pocket-sized assistant that has the power and the know-how to help you deal with navigating bureaucracy and fighting for your rights efficiently.
Our platform, accessible from your phone or computer, is brimming with products that will help you:
From Government Tests Preparation to Copyright Protection
Whether you are getting ready for your driving test or wish to protect your creative work, DoNotPay has something in store for you.
We can help you handle some serious tasks—like suing someone in small claims court or reporting workplace discrimination—or deal with more mundane activities, such as getting that leftover money from your used gift cards.
The best part is that your DoNotPay subscription gives you access to all our services, be it online fax or virtual credit cards!