A Comprehensive Guide to Performing a Jimmy John's Gift Card Balance Check
If you have used gift cards lying around your house, don't let them go to waste! We'll show you how you can use them, exchange them for cash, and whether you can return them for money. There's no need for you to bother with confusing instructions online!
Sign up for DoNotPay and learn how to perform a Jimmy John's gift card balance check in four simple steps!
What Is a Jimmy John's Gift Card?
A Jimmy John's gift card can be used as an alternative payment method at any Jimmy John's restaurant in the U.S. If you have received one as a gift—or for free as a loyal customer—you can put it to good use and not let it go to waste!
The Jimmy John's gift cards do not expire, which means that you don't have to worry whether they're valid, and you can use them whenever you want. They are also rechargeable, and you can reload them at any Jimmy John's location.
You can also use your Jimmy John's gift card for:
Delivery orders made over the phone
Online purchases from their official website
How Can I Perform a Jimmy John's Gift Card Balance Check by Myself?
Before deciding what to do with your gift card, you should learn how much money you have at your disposal. You can check your Jimmy John's gift card balance in three different ways:
In person—Go to your nearest Jimmy John's restaurant and ask an employee to check your gift card balance. They will ask you to provide your gift card or the info from it and use it to check your balance
Over the phone—Dial 866-276-6302 and explain your request to Jimmy John's customer support rep. Follow the further instructions and wait for them to provide you with info about your balance
Online—Visit the Jimmy John's website and provide your gift card number and security code. Once you're done, click Check Balance, and the info you need should be there
With DoNotPay

—

and upload photos of your gift card from front and back. DoNotPay will get in touch with Jimmy John's and find out all the info about your remaining balance
What To Do After Performing the Jimmy John's Gift Card Balance Check
If you're unsure of what to do with the remaining balance on your gift card, we'll offer you a few options. Check out the table below for details:
Ways To Use the Remaining Balance
Explanation
Use your card at Jimmy John's
You can invite your friends or family to a dinner date and spend some quality time with them without spending any extra cash when paying.

This may not be an option if your gift card is low on balance

Gift your card to someone
If you can't figure out what to get someone for their birthday or another occasion, gift cards are a great way to avoid getting the wrong present.

If you don't like the food at Jimmy John's or you do, and you want your friends to try it, using your gift card will come in quite handy.

In case there is not enough money left on your gift card, you can always add a few bucks before giving it away

Sell your gift card
In case you would rather sell your gift card and spend the money elsewhere, you can do it online or at an exchange kiosk.

Note that you won't get your entire remaining balance back this way

Exchange your card for cash
You don't have to use nor sell your Jimmy John's gift card if you don't want to. Exchanging it for cash is also a possibility, and DoNotPay will show you how to do it
Get Your Cash Back With DoNotPay After Performing the Jimmy John's Gift Card Balance Check
If you want to avoid throwing away your Jimmy John's gift card, you can rely on DoNotPay to show you how to get your cash back in a few simple steps!
Puerto Rico, along with 11 other states, has a cash back policy that lets you get your gift card money back. That legislation is, unfortunately, not enacted in every state in the U.S, but don't fret! DoNotPay has a way to help you get your money even if you're not from any of those states!
All you need to do is finish the following steps and let our app do the rest of the work:
Select the Gift Card Cash Back feature
Provide the required info
DoNotPay will check if your state has a cash back policy quickly!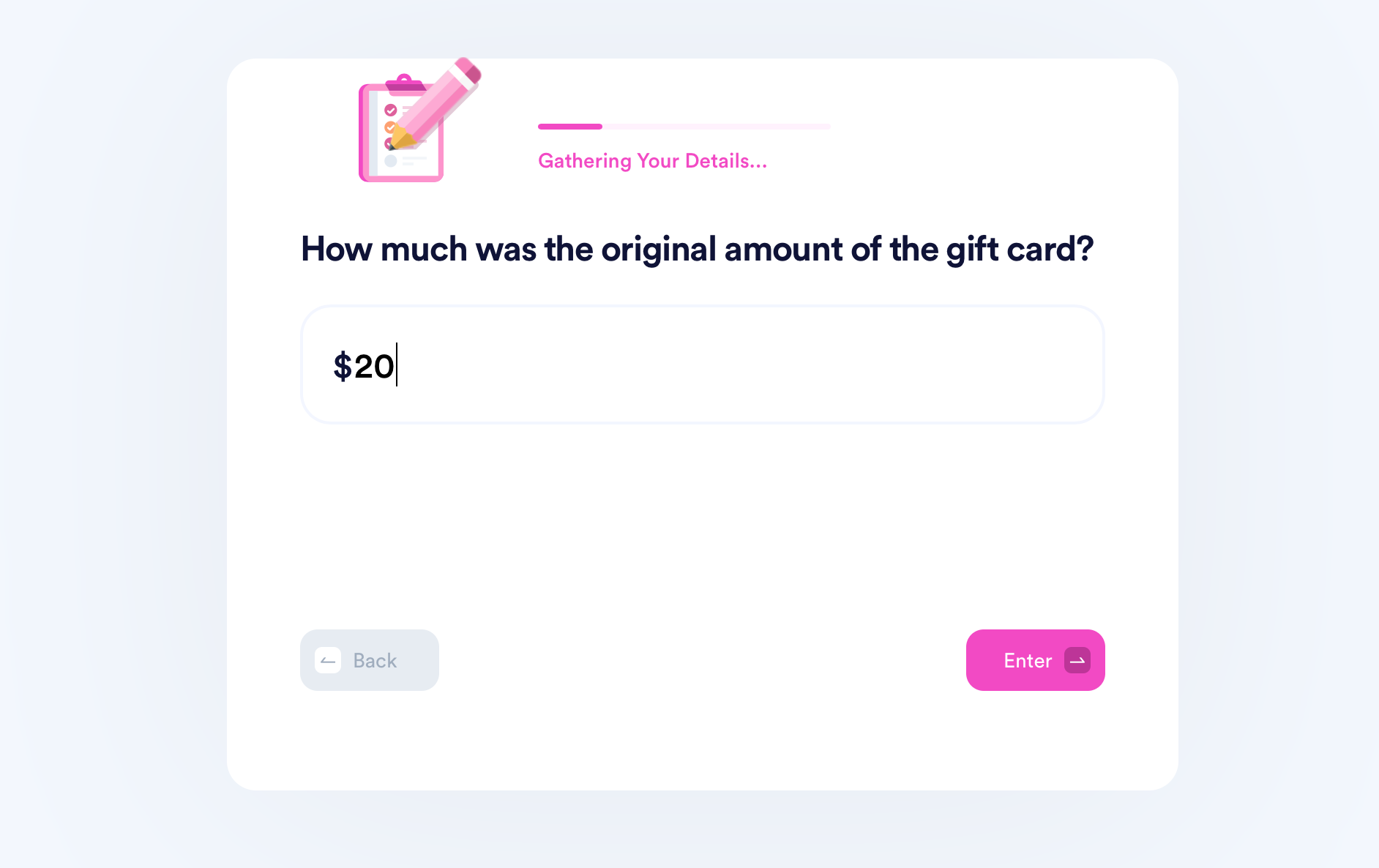 If your state isn't among the ones with the cash back policy, let DoNotPay work its magic! Our app will check if Jimmy John's has an office in one of the states with the policy and send them a request on your behalf. You should be seeing your money in the mailbox within 14 days.
DoNotPay Offers You Assistance With More Than Jimmy John's Gift Cards!
Jimmy John's gift cards are not the only ones DoNotPay provides you assistance with! There are various other companies we can help you get your money back from. If you have other used gift cards, don't let them go to waste! Find them and use our app to get your money back from any of the following companies:
Say No to Spam and Unnecessary Paperwork
If your inbox, mailbox, or to-do list is overflowing, our app is exactly what you need! Check out ways to declutter your life:
You can have your cake and eat it too—DoNotPay makes it possible to cut down on unnecessary red tape and save you money—all in one full swing. We can help you overturn your parking tickets, apply for a college fee waiver, uncover missing money, submit a FOIA request, and much more.
Discover Numerous Fast and Easy Solutions
DoNotPay is all about helping you through a complicated task by coming up with simple solutions: