Effects of Homeschooling Later in Life You May Not Be Aware Of
Starting homeschooling after being taken out of a public or private school is a massive change in your child's daily routine. Not only does it influence the way they learn but also affects their mood and mind. Many parents worry about the potential consequences of such a transition and look for encouragement from experts.
To help you solve this dilemma, we bring you a detailed explanation of the positive and negative effects of homeschooling later in life. You will also get some valuable advice on making homeschooling a pleasant experience for students and helping them build stable personalities through it.
Homeschool Learning in a Nutshell
Starting homeschooling is complex and includes:
Studying local laws to get familiar with the requirements related to homeschooling in your state or school district, such as:

Appropriate curriculum
Compulsory (core) subjects
Assessment qualifications
Recordkeeping requirements
Reporting criteria
Required number of homeschool hours

Deciding on the best available homeschool program
Evaluating additional expenses like purchasing learning materials or hiring another person to teach your child
Sending an official notice of intent to homeschool to the local authorities to let them know your child won't attend the school anymore. You can compose it yourself or generate it quickly
Creating a homeschool schedule and learning plan
The main advantage of home-based education is flexibility. Children are free to discover new interests, develop practical skills, and set their pace of learning while spending more time with their family, even if you hire a private teacher.
Positive and Negative Effects of Homeschooling
Homeschooling is fantastic but won't affect everyone the same way, so it's crucial to shed light on the potential psychological and emotional changes it may cause. Here's a table showing some common effects homeschooling can have on children later in life:
Positive Effects
Negative Effects

Children's self-perception and self-esteem grow during homeschooling as the attention of the parent/teacher is focused on them
They find the courage to go beyond their limits once they realize how restricting the regular school programs are compared to their flexible homeschool plans
Independent homeschoolers learn how to rely on themselves. At some point, their learning independence starts reflecting on other aspects of their lives
Students get more care and attention at home from their parents, which makes them feel safer and more stable
If children perform well at homeschool, they feel special satisfaction motivating them to pursue higher education
Life is much calmer for kids when they aren't exposed to bullying, peer pressure, and other stressors in traditional schools

Lack of strict discipline can spoil children and get them used to simpler, more comfortable tasks
Homeschoolers are prone to developing social awkwardness. They often face problems when interacting with other kids/people if their social needs aren't met. Their communication skills may be weak or, in rare cases, even non-existent
Once they get used to having a flexible schedule, homeschooled students can start procrastinating and postponing their duties for no particular reason
If parents get stressed about homeschooling their children, their feelings and moods may affect the kids
How To Minimize the Negative Effects of Homeschooling
Once you realize the downsides of home-based education, it's crucial to do your best to prevent them. Here's what can help:
Designing an appropriate homeschool plan for your children—Consider their interests, strengths, and weaknesses. Involve them in the process by letting them choose the subjects and activities they want to cover. The plan shouldn't be exhausting or require too much from them—its primary purpose should be to set a reasonable goal
Offer students a healthy environment full of love and support—They should be able to rely on you anytime they need help or motivation
Praise their progress—Whether you decide to grade their tests and assess their knowledge or not, a little bit of cheering can't hurt. Whenever they do something remarkable or make an important achievement, ensure they know how proud you are. This approach will bring them emotional stability and self-confidence
DoNotPay Is the Quickest Way to a Perfect Notice of Intent To Homeschool
If you opt for homeschooling your kids, keep in mind the extensive paperwork that comes with it. The first chore is submitting a letter of intent to homeschool. Writing this notice takes a lot of time and nerves, so many people turn to unreliable online templates and samples.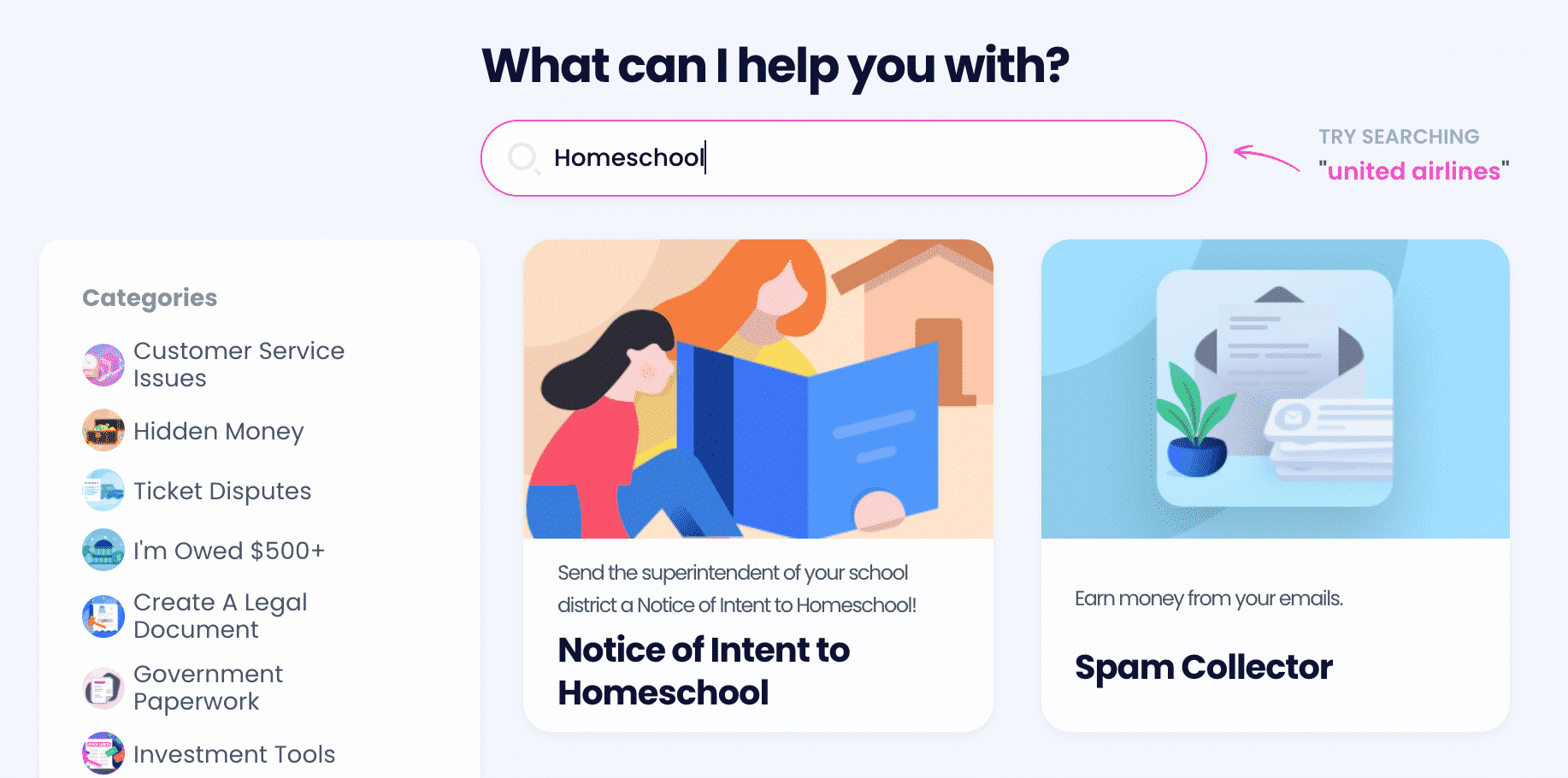 With DoNotPay, you can get a personalized notice and send it automatically to the public school authorities in no time! If you prefer to submit it yourself, we provide you with a printable copy of the document.
Here's how our service works:
and log in to your account
Search for the Notice of Intent to Homeschool section
Provide the necessary information about your school district, your child, and the desired homeschool method/program
If you must have your letter notarized, we will schedule an appointment with a remote official and help you get their signature with no stress!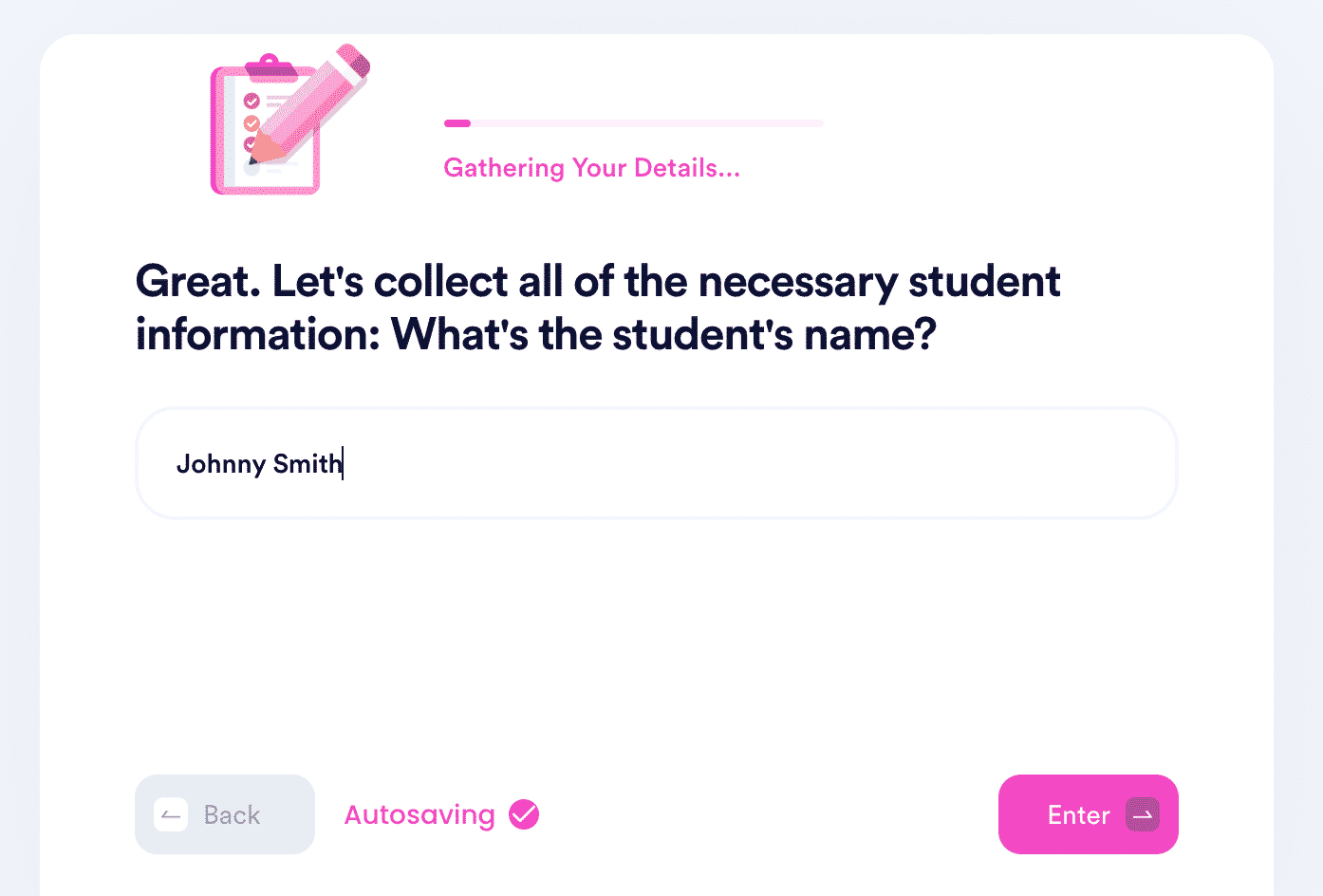 Don't Let Admin or Legal Issues Wear You Down—Hand Them Over to DoNotPay
Do you believe you may have some missing assets? Use DoNotPay's nifty product before the government claims them! Have you ever wanted to enter sweepstakes without purchasing anything? Our app will sign you up for them quickly! Trying to figure out how to reduce your property taxes or utility bills? DoNotPay can show you the way. Want to avoid getting charged for free trials that never fail to auto-renew into paid subscriptions? We'll help you cancel them before they expire.
Anything else you may need? Check out how our app can:
Check Out Our Other Robust Products
It doesn't stop there—DoNotPay can help you send a defamation demand letter, create passport photos, get gift card cash back, get any document notarized, request access to public records, claim insurance and warranty, request a college application fee waiver, appeal parking tickets, and much more.
Sign up now to get access to any of our products for one low monthly fee!