DoNotPay Gives You the Facts on America's Sex Offenders
According to SafeHome.org, the number of sex offenders in the U.S. has surpassed 780,000—and it only keeps on growing. The data on America's sex offenders is staggering, and it's more important than ever to stay on top of the facts and take the right steps to protect yourself and your family.
In this guide, DoNotPay will give you the stats on the sex offenders by state and their rates of recidivism. We will outline the registration laws they need to abide by and show you how to map out the ones near you. You will also discover a fast and convenient way to using the DoNotPay app.
The Rundown on Sex Offenders by State
The number of sex offenders by state is presented in the table below in descending order:
| State | Sex Offenders | State | Sex Offenders | State | Sex Offenders |
| --- | --- | --- | --- | --- | --- |
| Texas | 97,386 | South Carolina | 16,058 | Connecticut | 5,991 |
| California | 82,751 | Louisiana | 12,975 | Massachusetts | 5,214 |
| New York | 42,326 | Indiana | 12,720 | Idaho | 5,022 |
| Michigan | 39,921 | Colorado | 11,783 | Nebraska | 5,016 |
| Illinois | 32,541 | Kansas | 11,023 | New Jersey | 4,671 |
| Florida | 31,831 | Alabama | 10,878 | Delaware | 4,315 |
| Oregon | 31,570 | Kentucky | 8,984 | South Dakota | 3,825 |
| Wisconsin | 25,847 | Arizona | 8,855 | Alaska | 3,350 |
| North Carolina | 25,437 | Mississippi | 8,230 | Hawaii | 3,071 |
| Pennsylvania | 24,116 | Utah | 7,809 | New Mexico | 3,056 |
| Georgia | 23,567 | Nevada | 7,332 | Maine | 2,923 |
| Tennessee | 19,516 | Oklahoma | 7,068 | New Hampshire | 2,695 |
| Virginia | 18,903 | Washington | 6,798 | Wyoming | 2,436 |
| Minnesota | 18,657 | Montana | 6,485 | North Dakota | 1,940 |
| Ohio | 18,656 | Maryland | 6,432 | Rhode Island | 1,343 |
| Arkansas | 17,439 | Iowa | 6,313 | Vermont | 1,246 |
| Missouri | 16,845 | West Virginia | 6,197 | District of Columbia | 1,044 |
The states rank differently when the percentage of sex offenders in the population is considered. According to a study by ASecureLife, Oregon ranks first with 688 sex offenders per 100,000 residents.
Registry Rules for America's Sex Offenders
Under the Sex Offender Registration and Notification Act (SORNA), sex offenders need to register their details, contact information, as well as their work and/or school address with the local authorities. Those who fail to register may be fined and face up to ten years in prison.
Sex offenders are classified into tiers based on the nature of the offense they committed, the age of their victim, and their previous sex offense history. How long and how often America's sex offenders need to register is determined by their tier:
Classification
Registration Period
Registration Updated
Tier I

15 years
Ten years if the offender maintains a clean record and is granted a reduction

Annually
Tier II
25 years
Biannually
Tier III
For life
Quarterly
How Many Sex Offenders Are Likely To Repeat the Offense?
A sex offender who does not complete a treatment program has a 17.5% chance of repeating a sexual offense. Those who complete the treatment program are less likely to repeat a sex crime—only 11.1% of them recidivate.
Restrictions for America's Sex Offenders
America's sex offenders need to abide by certain rules that may limit their movements and residence.
In 21 states, they are not allowed to live in some areas that are frequented by children. While some states apply the same rules to all offenders, others limit the restrictions to a specific level or tier or other categorization:
State
Type of Offender
Residence Restriction
Alabama
All
2,000 feet of schools or childcare facilities
Arkansas
Level 3 or 4 sex offender
2,000 feet of schools or daycare centers
California
Sexually violent predator
One-fourth of a mile of a school
High-risk paroled sex offender
Half a mile of a place where children congregate
Florida
Child sex offender
1,000 feet of schools or places where children congregate
Georgia
All
1,000 feet of any place where minors are gathered
Illinois
Child sex offender
500 feet of a school
Indiana
Violent sex offender
1,000 feet of any school property
Iowa
All
2,000 feet of a school or daycare
Kentucky
All
1,000 feet of a school, childcare facility, or playground
Louisiana
Sexually violent predator
1,000 feet of a school
Michigan
All
1,000 feet of a school
Minnesota
All
Determined by the parole officer
Missouri
All
1,000 feet of a school or childcare facility
Ohio
All
1,000 feet of any school, daycare, or playground
Oklahoma
All
2,000 feet of a school
Oregon
All
Determined by the Department of Correction
South Dakota
All
500 feet of community safety zones
Tennessee
All
1,000 feet of schools, daycare, or prior victim
Texas
All
Determined by the state parole board
Washington
Level 2 or Level 3
Cannot live within 880 feet of any school or daycare center
West Virginia
All
1,000 feet of a school or childcare facility
Sex offenders traveling to another state may need to register with the local authorities of the visiting state, depending on the length of stay. They might have to register with their home state as well.
If planning to travel outside America, sex offenders need to register with their home state.
If a sex offender's victim was a minor, he or she will have to surrender his or her passport and have a new one issued with a unique identifier printed inside the back cover. The identifier will read, "The bearer was convicted of a sex offense against a minor and is a covered sex offender pursuant to 22 United States Code Section 212b(c)(l)." This comes from the International Megan's Law, which went into effect on October 31, 2017.
Find Out How Many Sex Offenders Live Close to You
You can use the national registry to find out how many sex offenders live in your vicinity or near any other address of interest, like your children's school, playground, etc.
Here's what you need to do:
Open the National Sex Offender Public website
Accept the Terms and Conditions of use
Enter your address in the Search by Location section
Hit the Location Search button
You can also search for offenders by name by accessing the Search by Name section.
Stay Safe From America's Sex Offenders With DoNotPay
Unfortunately, the national registry of sex offenders is full of errors, which include mixed-up addresses, incorrect physical traits, inaccurate lists of charges, and wrong photographs. Each state has its way of gathering information on sex offenders—the same standard is not kept in all states, so their respective local registries are not equally effective and practical.
The good news is that the national and state registries are not the only places where you can search for America's sex offenders. You can rely on DoNotPay to give you quick, neat, and comprehensive reports.
Here's what you need to do:
Click Sex Offender Search
Choose whether you want to search for a sex offender by name or address
Select the weekly check option
Hit Submit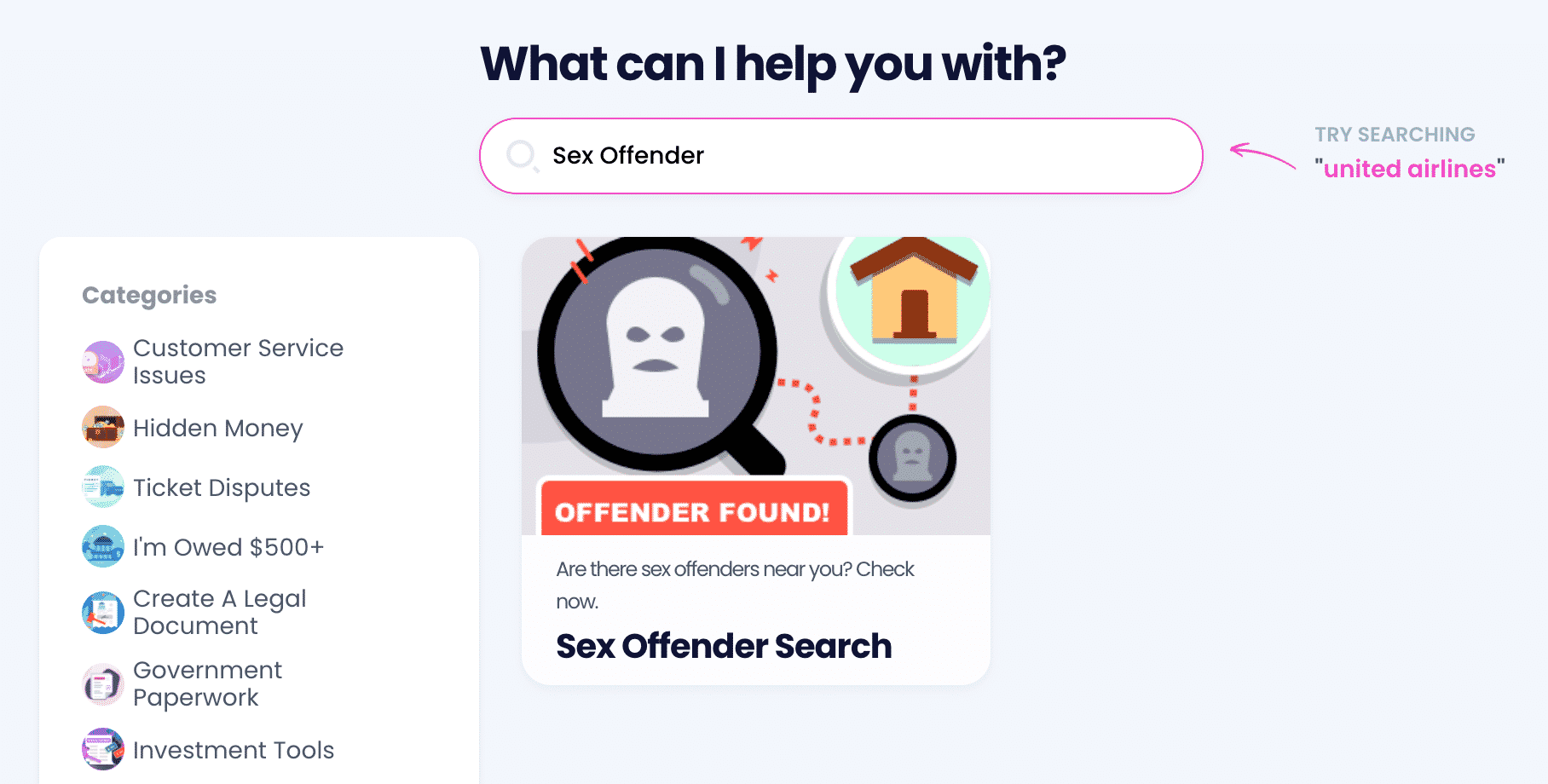 You will receive a report on the nearby sex offenders in seconds. You also have the option to sign up for weekly reports that will be sent to your email so you can stay up to date with the offenders near you.
Only the Sky Is the Limit for DoNotPay
DoNotPay has an insane number of features that keeps growing. Our platform can help you:
Say Goodbye to Spam Mail With DoNotPay
DoNotPay has designed a feature that will put a stop to the flood of junk and spam mail into your inbox! We can help you join a class action against a spammer or take any person or company that's wronged you to small claims court!
Need a virtual credit card number or a fake phone number to protect yourself from scammers? We've got you covered! We can help you fight text spam or even assist you in sending mail without any chance of error.
Our users' safety is our number one concern, so we've developed a feature that will protect you from cyber stalking or harassment!