Forget About the Sex Offenders Registry, DC—DoNotPay Gets You the Latest Updates Regularly and Automatically
There are nearly 700,000 residents in the District of Columbia. With 1,170 registered sex offenders on the Sex Offender Registry, DC has one sex offender on every 582 residents.
This registrant density shouldn't be taken lightly. The only way to keep your family out of harm's way is to stay informed about the criminals in your community.
DoNotPay can make the Sex Offender Registry browsing easier for you. and make the most of our Sex Offender Search tool. Our feature allows you to set up weekly notifications for new offenders in your area.
How To Search the DC Sex Offender Registry
The Washington DC Sex Offender Registry has two search options—you can look up:
An offender's name
An address
Once you type in your query and click the Search button, you'll get a list of registrants and their locations on the map. Note that the offender map shows the results based on the block where the registrant lives. You can't get detailed info.
The results of your online search will include only Class A and B offenders. If you'd like to get info about Class C offenders, you can visit any DC police station.
DC Sex Offender Registration Laws
The DC sex offender registration laws require all convicted offenders and those found not guilty by reason of insanity to register. In the case of adjudicated juveniles, they can stay unregistered as they weren't prosecuted as adults.
Washington DC Sex Offender Classification
The DC Sex Offender Registry has a unique sex offender classification system. Here is the DC classification compared to the rest of the country's sex offender tiers:
Other States' Classification
Classified According to Recidivism Possibility
DC
Classified According to the Offense Gravity
Tier/Level 1
Low
Class C
A crime against a person 18 years of age or older:

Third- or fourth-degree sexual abuse
First- or second-degree burglary or kidnapping with the intent to commit a sexual offense
Threatening, attempting, or conspiring to commit any of the listed crimes

Tier/Level 2
Medium
Class B
A sex offense against a person under the age of 18:

First-, second-, third-, and fourth-degree sex abuse
Misdemeanor sex abuse
Carnal knowledge
Sodomy
Indecent acts on a child
Enticing a child
Incest
Prostitution
Assault
Conspiring, attempting, or threatening to commit a sexual offense

Tier/Level 3
High
Class A
The following sex offenses:

First- and second-degree sexual abuse
Forcible rape
First-degree sexual abuse of a child under the age of 12
Carnal knowledge of a child under the age of 12
Murder or manslaughter committed before, during, or after engaging in or attempting to commit a sexual act, contact, or rape
Forcible sodomy
Sodomy committed against a child under the age of 12
Metropolitan Police Department—Community Notification Duties
Megan's Law, Sex Offender Registration Act, and other sex offender registration laws allow the public to access registered sex offender information.
The Metropolitan Police Department is responsible for maintaining the DC Sex Offender Registry website. They must also inform the public about the release of convicted sex offenders. MPD does this in the following way:
Active/Passive Notifications
Description
Provided To
Active

Community meetings
Flyers
Telephone calls
Door-to-door contacts
Direct mail
Media releases

Class A to everyone
Class B and C:

Schools
Daycare centers
Other youth organizations
Institutions for the elderly
Victims of sexual abuse and their families
Witnesses of sexual crimes and their families
Any person that may be in danger and their families

Passive

Internet posts
Online Sex Offender Registry
Responding to all inquiries over the phone or email or in person

Class A and B to everyone
Class C to everyone but not via the online Sex Offender Registry
Sex offender rules and regulations in DC don't prohibit the offenders from changing their residence or traveling as long as they inform the police. This doesn't apply to the convicts whose sentences include residential and traveling limitations.
Search the Washington DC Sex Offender Registry With DoNotPay—Get Timely Alerts About Offenders' Movements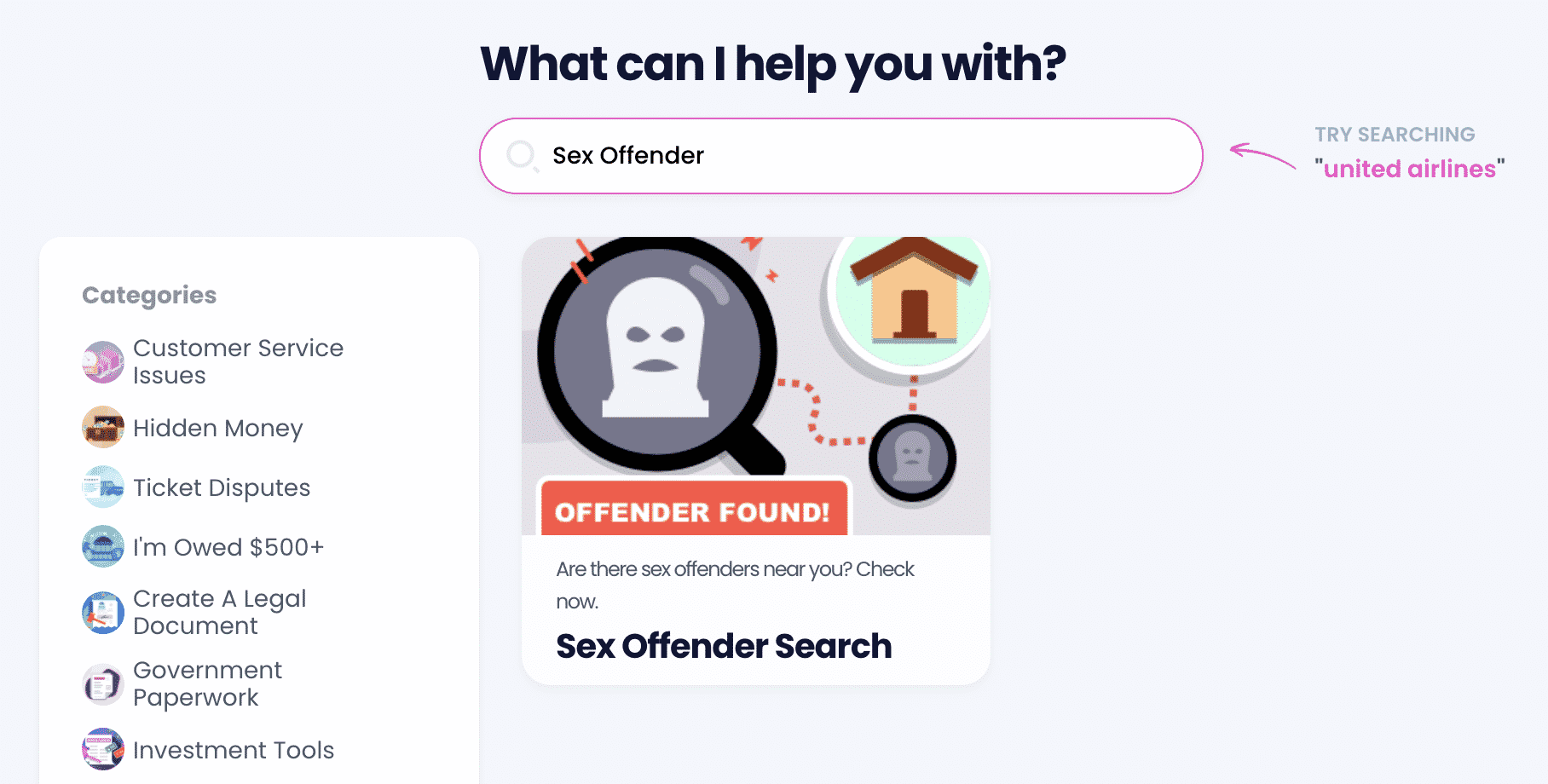 The sex offender info can change quickly as they don't have any general relocation limitations in DC. To stay up to date, you should visit the state's registry or police stations regularly.
DoNotPay offers a more efficient method. Our Sex Offender Search tool entails the following benefits:
Fast and user-friendly search
Great choice of search options
Flexible area scans—you can pick a one-, two-, or three-mile radius search
Automated and customizable reports because you set the search parameters once and get detailed notifications weekly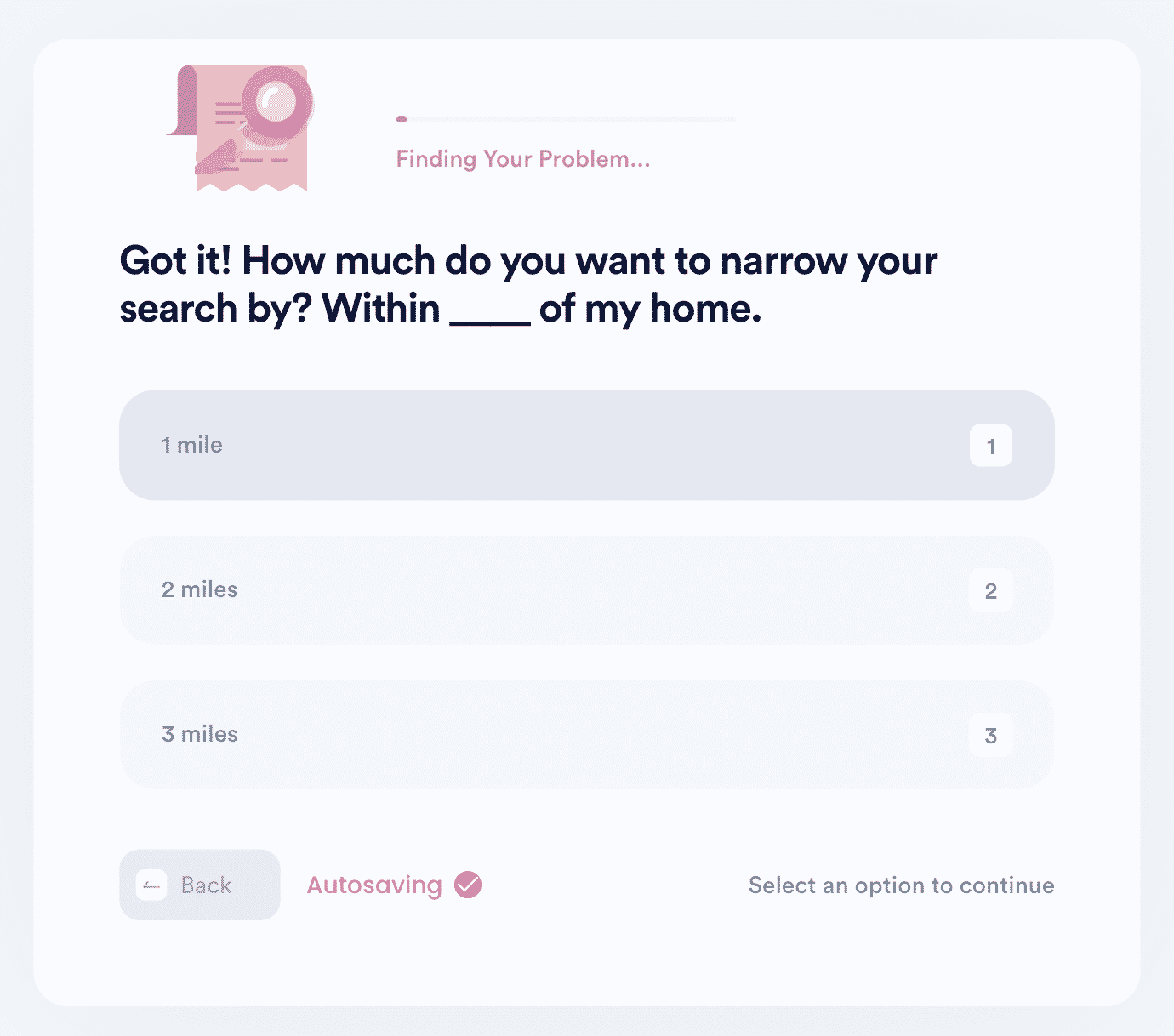 The Sex Offender Search tool is reliable and easy to use:
and tap Sex Offender Search
Select the search method
Choose the desired search perimeter
Fill out your search criteria and turn on the weekly notifications
DoNotPay will scan the area for new offenders regularly and send you reports so that you can stay safe and not worry about offenders' recidivism rates.
Drowning in Paperwork? DoNotPay Comes to the Rescue!
Dealing with administrative procedures is never a fun experience. Not only is it time-consuming, but it's also extremely inconvenient and impractical. Luckily, we have a practical solution!
Use DoNotPay to cut through the red tape and handle any bureaucratic issue that comes your way stress-free! Check out the list below to see a fragment of tasks you can tackle with our help:
Explore DoNotPay's Other Services
DoNotPay provides you with a ton of other services you can find useful when completing your everyday tasks.
You can contact customer service support without waiting for hours, request refunds from various companies, file a missing package claim, and get compensation for missed or delayed flights in a few clicks!
If you want to earn some money, we can help you with: