Let DoNotPay Scan the Oregon Sex Offender Registry for You!
In 2019, Oregon was the state with the most registered sex offenders per capita, a whopping 749 per 100,000. Ironically, the state has quite lenient registration laws and restrictions for sex offenders. If you are worried about the safety of your family, check the Oregon sex offender registry and see if there are offenders living near you.
if you need help searching the registry in under five minutes. We can also keep you updated about any changes in your area by providing weekly reports on recently registered offenders close to you.
Oregon Sex Offender Laws You Should Be Aware Of
The Oregon Revised Statute 163A regulates sex offender registration with updated Megan's Law requirements. There are three types of sex offenders in Oregon, and they are categorized based on the risk they pose, as follows:
Level 1—low-risk
Level 2—medium-risk
Level 3—high-risk
Every registered sex offender needs to submit the following info to the Oregon State Police:
Fingerprints
DNA
Photograph
Physical description
Vehicle info
Legal names and aliases
Physical addresses
Phone numbers
Sex offenders in OR must register within ten days of being released from a correctional facility. They also have ten days to update their registration info in case they:
Move residences or states
Change names
Change their employment status or enroll in a higher educational institution
When in the registry, sex offenders must keep registering annually within ten days of their birthday. Sexual offenders in Oregon must stay on the sex offender registry permanently unless they are first-time convicts of a C felony, in which case they can request to be removed from the registry after ten years.
In Oregon, only the info on Level 3 predatory offenders is publicly available on the registry since they present the group that is most likely to re-offend.
What Oregon Sex Offenders Can and Cannot Do
Refer to the table below to learn about registration, travel, and residency restrictions for sex offenders in Oregon:
Oregon Sex Offenders Are Not Allowed To
Oregon Sex Offenders Are Allowed To

Avoid initial registration. If they do, it counts as committing a class C felony that can result in up to 25 years of prison time
Fail to submit fingerprints, photos, descriptions, or information required by the law for registering (class A misdemeanor)
Fail to update the registry info. The convictions for that range from a class A misdemeanor to a class C felony

Travel to other states as long as they follow the registration rules of their destination location and report the intent for international travel no later than 21 days ahead of departing
Reside anywhere they want freely, even near places frequented by children. This leniency could be one of the reasons why the recidivism rate in Oregon is as high as 29.6%
Visit public spaces where children congregate, such as schools, parks, playgrounds, libraries, daycare facilities, etc.
How To Search the Sex Offender Registry of Oregon
You can search for sex offenders in your area using the official Oregon State Police registry section. Here are the steps you should follow:
Open the sex offender registry website
Read the conditions
Validate the CAPTCHA code
Agree to the conditions
Browse the sex offenders map by entering your location
You can also click on the Search option if you wish to search for the offenders by name or address.
Most sex offender registries are slow and poorly optimized, which means that you will probably spend too much time looking for the offenders. DoNotPay provides a much more convenient and reliable option!
DoNotPay Can Find Sex Offenders in Oregon for You Fast!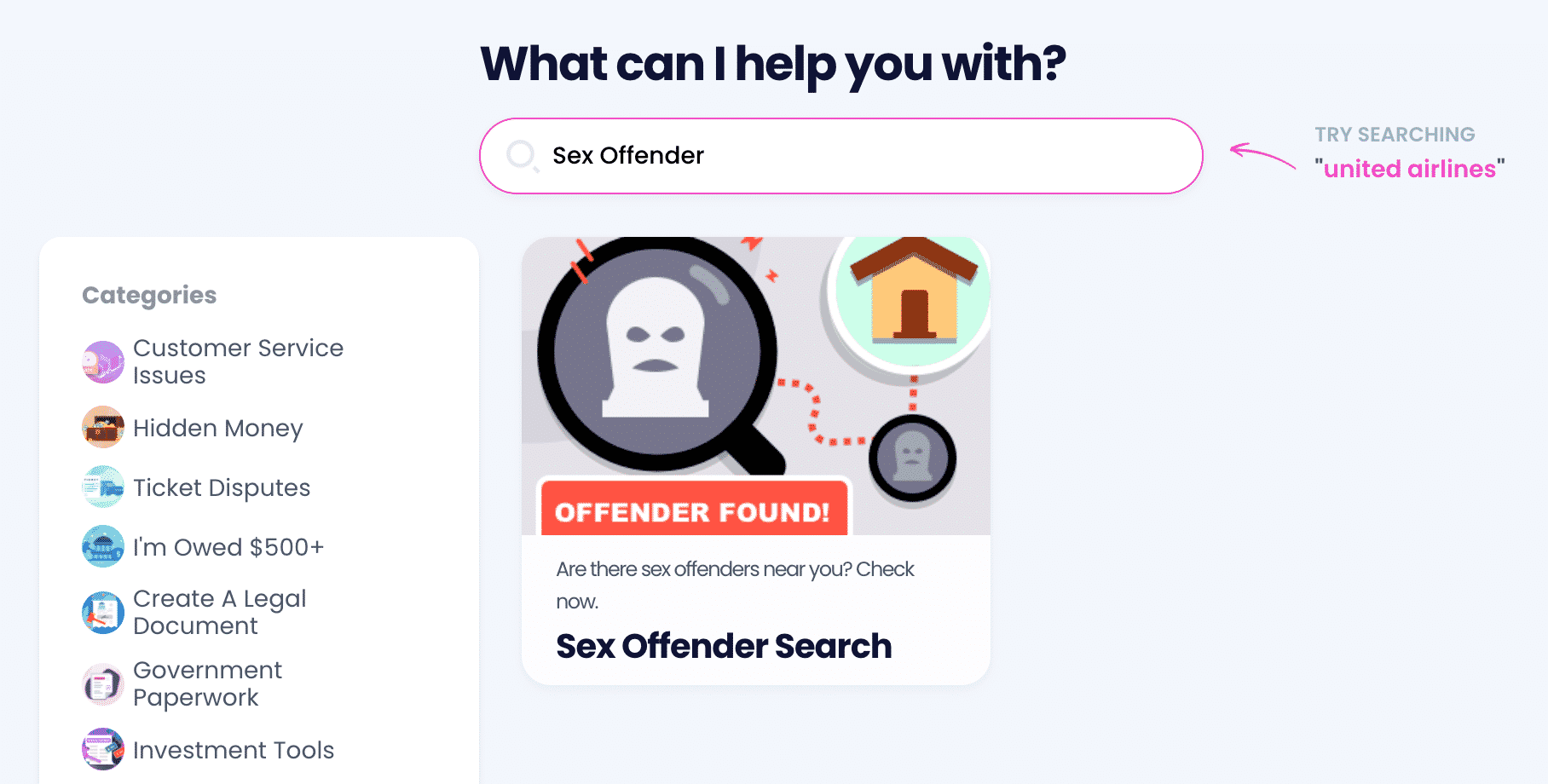 Most people struggle when using sex offender registry websites. That's why we are here to help you search the Oregon sex offender registry in three easy steps:
Choose the Sex Offender Search feature and select the search type
Input the necessary details to narrow down the results
You can choose to sign up for our weekly reports that will keep you updated about newly registered sex offenders in the area.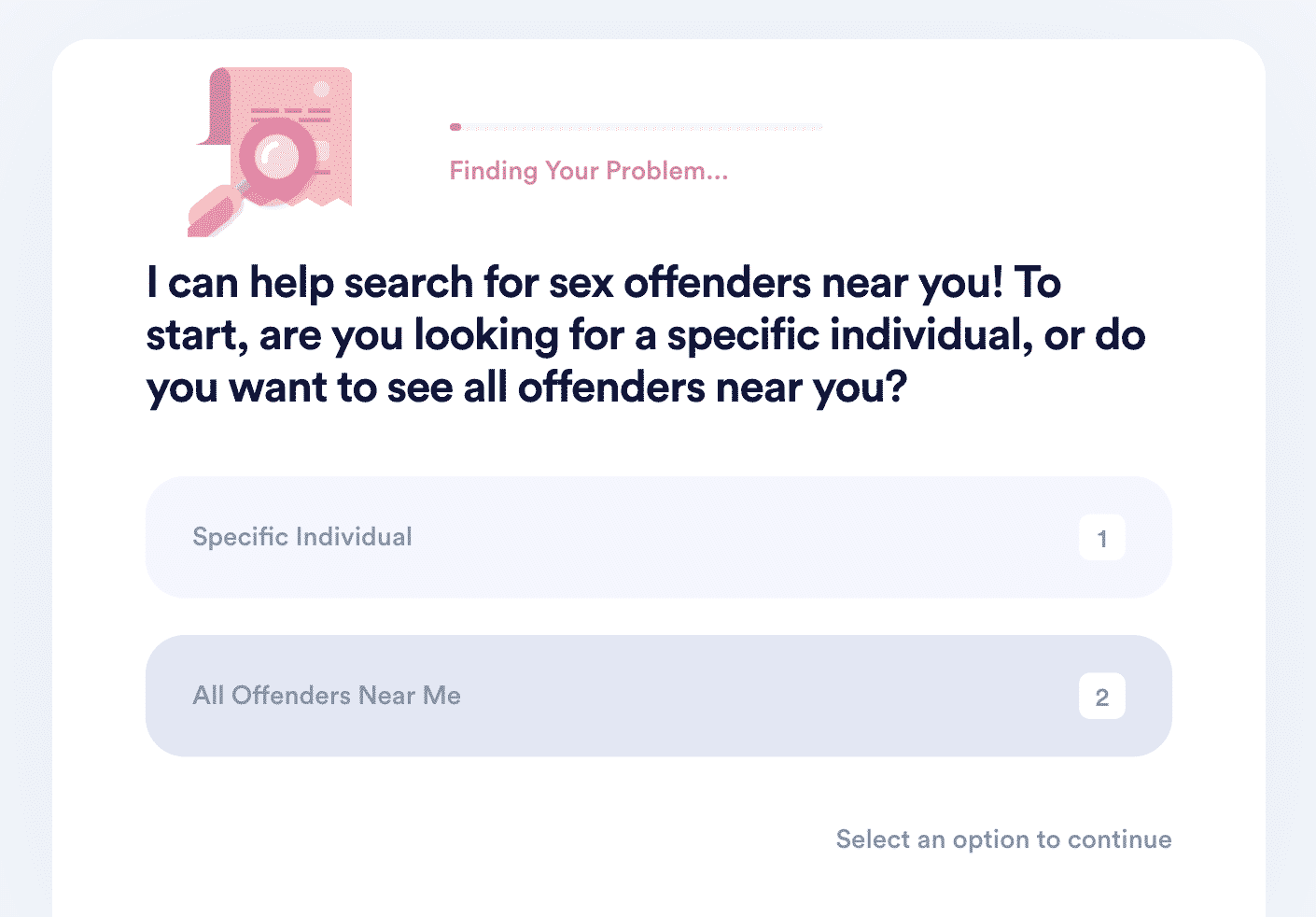 How To Keep Your Family Safe From Sex Offenders
Discovering that there's a registered sex offender living close to you and your loved ones can be scary, but you can take precautions to try to keep everyone safe.
Your first step should be informing your family and friends about the offender and the potential danger he/she poses. Talk to minors in your family and make sure they understand why it's important to report any strangers that try to approach them.
Organizing a neighborhood watch is also not a bad idea. If you notice anything out of the ordinary, report it to the sheriff's office, and be on the lookout! Try not to take matters into your own hands because sex offenders can often be unpredictable and violent.
DoNotPay Is the Robot Lawyer You Need!
Dealing with the law and understanding legal protocols is difficult if you're not used to doing it on a daily basis. That's why DoNotPay comes to the rescue!
Assisting you in drafting legal documents, creating a neighbor complaint letter, and suing companies in small claims court is what we do best.
That's not all! With us, you can tackle any legal task head-on, no matter how big or small, including:
Deal With Companies Hassle-Free
If you love to shop and you want to make the experience as easy and enjoyable as possible, you're in the right place! DoNotPay provides you with various features that allow you to accomplish just that.
You don't have to struggle trying to reach customer support or figuring out how to claim a warranty or file an insurance claim by yourself. You can cancel any subscription, sign up for free trials, and discover how to use every last penny from your gift cards in minutes!
In case you made a purchase, but your package is missing, don't fret! Finding your missing parcel is only a few clicks away.