Ohio Sexual Offender Laws May Be Volatile, but DoNotPay Won't Fail You
Ohio has over 18,500 registered sex offenders in 2021, but authorities have failed to trace hundreds of them. What worsens this situation is the several loopholes that plague the Ohio sexual offender laws, making it easier for offenders to blend into any neighborhood.
If the thought of bumping into a terrifying sex offender keeps you up at night, DoNotPay's automated alerts are just what you need!
Our Sex Offender Search feature can scan any address for sex offenders and warn you well ahead of time. Don't let safety concerns bring you down— and let us be on the lookout for the sneaky predators in your neighborhood!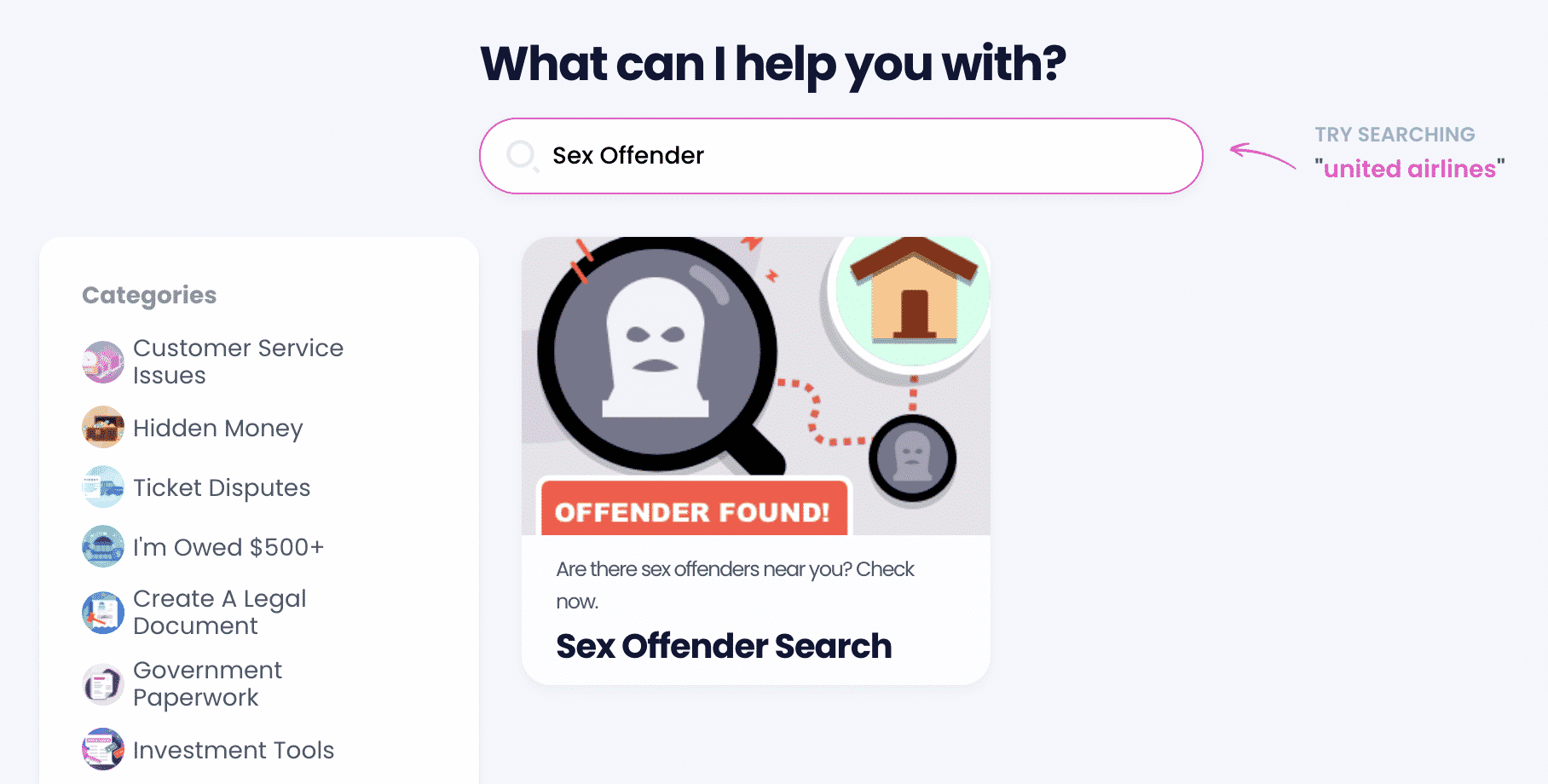 Stay Up to Date With the Ohio Sex Offender Law
Ohio's sex offender laws were enacted as per Megan's Law in 1996, which made it mandatory for states to maintain public sex offender registries. Over a decade later, the lawmakers introduced the Adam Walsh Act (AWA) to reform the existing sex offender laws.
The AWA was effective from January 1, 2008, and all the existing offenders convicted before this date were tagged as pre-AWA offenders. This dual tagging of offenders has created much confusion for everyone over the years.
What Is a Pre-AWA Sexually Oriented Offender?
We have compiled a table to help you understand the types of offenders in the pre-AWA era and their corresponding registration requirements for the Ohio Sex Offender Registry.
| | |
| --- | --- |
| Pre-AWA Classification | Registration Period |
| Sexually oriented offender | Ten years with annual verifications |
| Habitual sex offender | 20 years with annual verifications |
| Sexual predator | Lifetime with quarterly verifications |
Post-AWA Classification—Ohio Sexual Offender Tiers
The current Ohio laws segregate offenders by tiers determined by their risk of recidivism, which is the likelihood of recommitting a crime. Unlike the pre-AWA classification, certain offenders under the tier system can have their registration discontinued.
What Is a Tier 1 Sex Offender in Ohio?
Tier 1 offenders commit non-severe sexual offenses, like voyeurism or stalking with sexual intent. They are:
Not considered a huge threat to society
Required to register for 15 years and must verify their details with law enforcement every year
Allowed to request their registration to be terminated if they meet eligibility criteria
What Are the Tier 2 Sex Offender Rules in Ohio?
Tier 2 offenders commit major sexually motivated crimes, like prostitution and pornography. Such offenders are assigned a moderate risk level—they must register for 25 years and verify their details every 180 days.
What Are the Tier 3 Sex Offender Rules in Ohio?
Tier 3 sex offenders are guilty of severe crimes, like rape, sexual battery, or any sex crime involving a minor. They remain on the Registry for life and need to check in with law enforcement every 90 days.
Ohio Sex Offender Registry Laws—Community Notification
Ohio mandates community notifications for sexual predators and Tier 3 offenders. The local Sheriff's Office will mail a qualified offender's details to:
Every household within 1,000 feet of the offender's address
Concerned establishments, like schools and parks within the specified radius
The notification mail will contain the offender's conviction, photo, physical feature details, and other identifiers.
Some counties in Ohio may provide email notifications instead. You need to check your local Sheriff's website for info about email alerts.
Rules for Registered Sex Offenders in Ohio
Ohio's sex offender registration laws list out certain rules and restrictions that all registrants must follow, such as:
Residency restrictions
Travel restrictions
Ohio Sex Offender Residency Restrictions
Ohio has placed strict residential restrictions on its sex offenders. Here are all the features of this limitation:
No sex offender must reside within 1,000 feet of a school, daycare center, or pre-school
This rule may apply to unregistered sex offenders as well, who may or may not be under any parole or probation
The residency prohibitions in Ohio are usually applicable for life
Ohio Sex Offenders—Travel Laws
This is what you need to know about the state's travel restrictions:
Sex offenders need a permit issued by their parole or probation officer for any travel within or outside the state
They must apply for the travel permit two weeks before the date of departure
International travels need permission from the court or Parole Commission
Sex offenders may also be restricted in other ways—like employment prohibitions, banned contact with minors, or monitored use of the internet and social media.
Violation of Ohio Sex Offender Registration Requirements
Ohio laws tie any violation of the registration requirements to the original crime. For example, if a sex offender has to register based on a second-degree felony conviction, any non-compliance will also be a second-degree felony. The penalty and imprisonment for each default could be similar to the original sentence.
No Need To Wrestle With Complex Laws When DoNotPay Is on Guard
Diving deep into Ohio's sex offender laws can drain your brain out of battery, and you still won't have a clear answer. The state's lethargic public Sex Offender Registry is another frustrating setback, especially if you are trying to locate the offenders in your neighborhood.
DoNotPay's Sex Offender Search tool provides a blanket solution to all your safety woes. Our app's AI-powered search tool can scan any address and access any public registry database to put together a report customized for you in under a minute!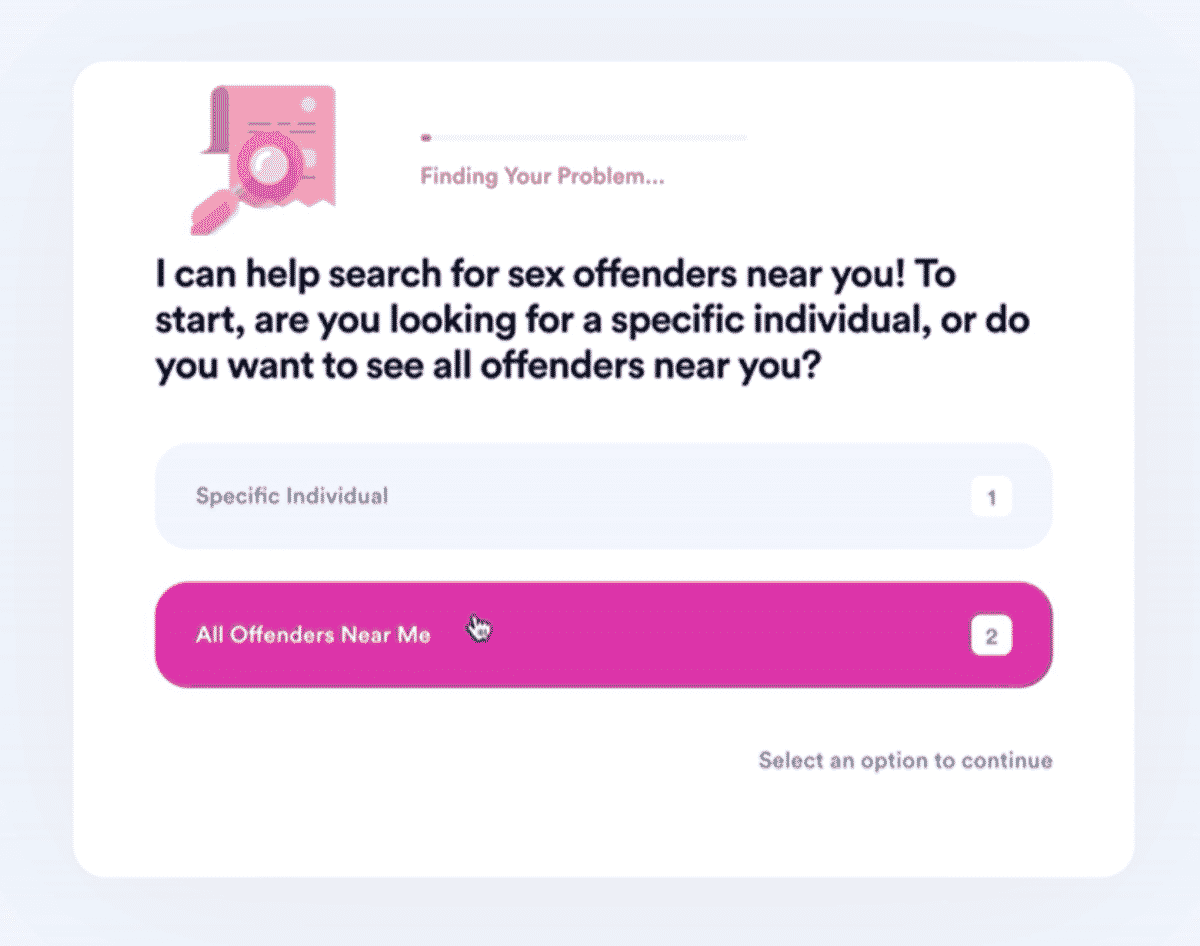 You are mere steps away from a stress-free safety plan:
and click on Sex Offender Search
Specify your search intent—a single-offender report or a comprehensive list of offenders near an address
Set a perimeter radius for an intensive address scan
Tell us if you want to opt for our weekly search
You will quickly get a thorough report containing the latest mugshots and registry details of the offenders. Our weekly scan automates this process to ensure that you have all the relevant details from the ever-changing Registry database!
Recognized an Offender Near You? Stay Calm!
If our report alerts you of a sex offender in your neighborhood, you need to stay calm but vigilant. Follow this strategy to enhance your safety:
Educate your kids or other at-risk targets about caution against strangers
Inform your immediate community and help everyone be alert
Reach out to the offender's parole officer if you witness suspicious behavior
Use DoNotPay To Resolve Administrative Tasks in Minutes!
Tired of brainstorming the easiest way to deal with administrative issues? We know how you feel, and we're here to take the burden off your back!
Once you subscribe to our app, you'll be able to resolve an abundance of bureaucratic issues with ease.
Taking a valid passport photo, reporting workplace discrimination, reducing property taxes, preparing for a government test, applying for a college fee waiver, and appealing a parking ticket are some of the many tasks we assist you with.
In case you need a quick way to draft a legal document, such as a power of attorney, divorce settlement agreement, or a child travel consent form, DoNotPay will do it for you!
Learn How To File Claims the Easy Way
Are you dissatisfied with a certain company and/or its products? You don't have to stay quiet! Use DoNotPay to file your insurance, warranty, or missing/late parcel claim effortlessly! We'll also show you how to request an item return in a few steps.
If you want to cancel a subscription or request a refund or chargeback, you can do it with our assistance without breaking a sweat. Use one app to deal with countless issues!