Searching the Wisconsin Sex Offender Registry Doesn't Have To Take Forever!
There are around 25,847 registered sex offenders in Wisconsin. That doesn't mean you have to panic! We're here to provide you with a super quick and easy way to search the Wisconsin sex offender registry! We'll also give you tips on how to keep yourself and your loved ones safe.
Subscribe to DoNotPay to learn all there is to know about sex offenders, and perform a Wisconsin sex offender registry search in no time!
Who Needs To Register as a Sexual Offender in Wisconsin?
Sexual offenders in Wisconsin are classified based on the severity of their crimes, as follows:
Tier
Crimes
Tier I

Receipt or possession of child pornography
Public indecency (voyeurism)
False imprisonment of a minor

Tier II

Production or distribution of child porn
Sexual contact with pubescent minors
Prostitution or enticement of minors

Tier III

Non-parental kidnapping of a minor
Rape
Use of any force or coercion to commit sexual acts
Sexual acts with minors aged under 12
Each sex offender is obliged to register with the local authorities after going out of prison. An offender has to provide personal information when registering, such as:
Their name and any aliases
Date of birth
Gender
Race
Info about their convictions
Terms of any probation or supervision
Vehicle description
Details about their employer or school
Offenders who don't register risk facing serious legal consequences when caught.
How Long Do Wisconsin Sex Offenders Have To Stay Registered?
Depending on the crimes the offenders committed, they will have to stay registered for:
15 years for tier 1 and tier 2 offenders
Lifetime for tier 3 offenders who:

Are labeled as sexually violent
Had two or more convictions of the same sexual offense
Committed first- or second-degree sexual assault of an adult or child
Acted with a child in substitute care
Repeated acts with a child
Wisconsin Sex Offender Restrictions
There are certain restrictions that sex offenders in Wisconsin face. Check out the table below for details:
| | |
| --- | --- |
| Restrictions | Explanation |
| Travel restrictions | An offender can travel to another state, but he or she has to register with that state five days upon arrival |
| Residential restrictions | Registered sex offenders have to live at least 1,500 feet away from schools, playgrounds, and other areas that children frequent |
Learn How To Search the Wisconsin Sex Offender Registry
Under Megan's Law, all sex offender registries—including the Wisconsin one—must be available to the public. You can search registered offenders by their names or use a sex offender's map to find the ones near you. To search the Wisconsin sex offender registry, follow the next steps:
Agree to terms and conditions
Prove you're not a robot
Decide whether you want to search the offender by name or do a geographical search
Type in the required info
Click on Search
Once you finish the search, you'll get a list of registered offenders, along with their names, aliases, and primary residences. The info is updated annually, so if you want to take extra precautions and obtain weekly reports about registered sex offenders near you, DoNotPay has the perfect solution!
Searching the Wisconsin Sex Offender Registry With DoNotPay Is a Piece of Cake!
DoNotPay provides you with the easiest and quickest way to search the Wisconsin sex offender registry with no hassle! You can choose to receive updated weekly reports from us so that you're always in the loop when it comes to sex offenders lurking nearby. Complete the following instructions to get started:
Subscribe to DoNotPay and select the Sex Offender Search feature
Decide if you want to:

Search for a specific offender
Get a list of all registered ones close to you

Set the search proximity radius and choose whether you want to get weekly reports from us
Our app will perform the search and provide you with a full report on sex offenders near you in a flash!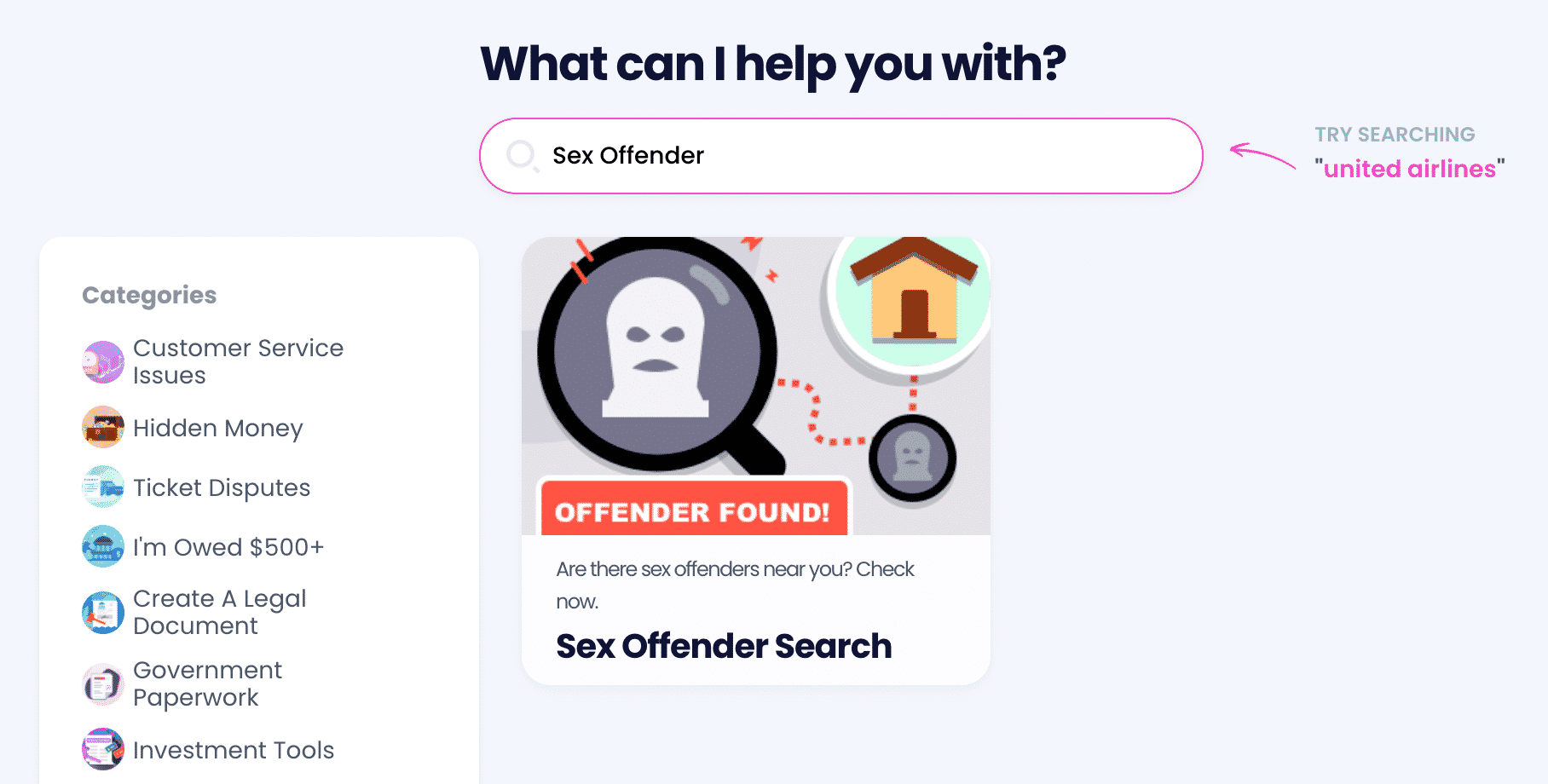 Can I Share the Info About Registered Sexual Offenders in Wisconsin?
While you're allowed to share the info you find, you have to be careful and make sure you're not using it to harass or discriminate against the offenders. Inform your loved ones about the registered offenders near you to keep them and yourself safe.
Learn How To Stay Protected From Sexual Offenders in Wisconsin
Learning that a registered sex offender is near you isn't pleasant, but there are steps you can take before running into one to ensure your safety. Check out the table below for specifics:
| | |
| --- | --- |
| Steps | What To Do |
| Talking to your loved ones | Talk to your loved ones and tell them about the offender nearby. If you have kids, remind them not to talk to strangers and to report anyone who tries to approach them |
| Contacting the authorities | Inform the police about the situation and express your concerns. That will give you peace of mind and ensure the authorities are vigilant |
| Having an escape plan | Come up with a safety plan in advance and think about what to do, where to go, and how to act in case you run into a registered sex offender. That way, you won't panic, and you'll be able to get away from him or her quickly |
DoNotPay Helps You Deal With Any Administrative Issues Effortlessly
Tedious administrative tasks are always headache-inducing, but they don't have to be if you use DoNotPay. With our AI-powered app, you will be able to:
Solve Any Issues Like a Pro With DoNotPay
DoNotPay is an AI assistant that is able to solve almost all issues you're facing. Whether that be your noisy neighbors, the annoying text and email spam you're receiving, or the frustrating robocalls that won't leave you alone. We'll even cancel your unneeded subscriptions and get you a few extra bucks you've been cheated out of.
The world's first robot lawyer app can help you get: